The Official E-Newsletter of the SAG-AFTRA Arizona-Utah Local
UPCOMING DATES TO WATCH FOR
April 1: Membership meeting at the Leonardo Museum, Salt Lake City
April 7: Industry night at the Phoenix Film Festival
April 29: Membership meeting in Phoenix
May: Information regarding elections for board positions
October: Convention
STUDENT WORKSHOPS IN TUCSON
On Tuesday, Jan. 31, Regional Education and Outreach Liaison Cynthia Williams conducted a Low Budget and New Media Contracts presentation to independent filmmakers associated with Independent Film Arizona (IFA) and film students from The Art Institute of Tucson. The workshop was held at The Art Institute. There were 15 in attendance (12 from IFA) and, based on a quick survey of the room, the majority of them were unfamiliar with the SAG-AFTRA low budget contracts. The workshop was an effective way to introduce them to SAG-AFTRA, the contracts and the signatory process.  
Williams also conducted a workshop for the University of Arizona's course Directing for the Screen. Thirty students were able to learn about the benefits of SAG-AFTRA, the low budget agreements, member eligibility requirements, member responsibilities and member resources.
Words From Your Local President
Spoiler Alert: This is not a fake news article. It is reality–based, with hopefully just a wisp of whimsy, motivating motivation, commonly common sense and usefully useful information. As we venture forward into this interesting and different world called 2017, I want to reaffirm that our AZ-UT Local Board is committed to ensuring that our membership is informed and involved.
To that end, I have been extremely encouraged by past and upcoming events that are proving the old axiom that communication and involvement are cornerstones of any combination that unlocks a gate that allows us to wander down the path toward organizational success. It also can lead to run-on sentences, but I digress.
Thanks to all those who attended and helped with our Phoenix SAG Awards event. It was, as always, splendidly splendid. See you all next year.
The meet-and-greet with our southern Arizona membership was outstandingly outstanding, not to mention energizing and motivating. Thank you, Bill Killian, for your kind and validating words about the evening:
"It takes great leaders to have a dynamic meeting and follow-up action and service. Thank you for providing that leadership as president of the SAG-AFTRA Arizona-Utah Local. It was an incredible meeting in Tucson, and I'm so glad that I decided to attend our union meeting. It was also important to go around the room and have individuals introduce themselves — powerful. Cynthia was spot-on perfect and Margie added much to the process and energy. Food [was] outstanding! Great night. Thank you for your leadership over the years." 
If you are attending the Phoenix Film Festival, stop and say hello at our SAG-AFTRA booth on Industry Night on Friday, April 7, from 5 – 10 p.m. It's a great chance to meet, mingle and network with our members as well as other actors, directors, producers, agents and everyone else working in the Arizona film industry, who gather to rub elbows and exchange business cards during this free event. 
The annual Utah membership meeting in Salt Lake City, which is held once every year, will be on April 1 and, speaking of meetings, the annual Arizona membership meeting, which also is held once every year, will be April 29. Details will be forthcoming soon or in the near future, whichever comes first.  
I am sorry, as well as apologize and feel remorse, for the previous redundant thread of bad writing. I got distracted for an instant by four unexpected and inexplicable measures of the movie theme from La La Land running through my brain. OK, I'm back now, but I don't know for how long, so I will wrap this up before It's a Small World takes over. Please feel free to contact me if you have any concerns or questions. If I don't know the answer, there are people who do and I know how to get ahold of them. I also will contact them.
Joe Corcoran
President, Arizona-Utah Local
Message From Your National Board Representative
The 2017 TV/Theatrical Contract negotiation proposals were approved by the National Board in January. The package is a result of the largest and most diverse wages and working conditions team in our history, per National Executive Director and Chief Negotiator David White. Challenges in the ever-changing landscape in which our members work is performed brought hard work and active members together to make relevant and useful proposals. Members were engaged throughout the country for their input, which brings me to the next point: member involvement.
We are experiencing a new and exciting purpose going forward, with increased communication and the ability to say what is important to us, as members, in our diverse geographical turf. On a national level, we are being visited by both member and staff leaders to listen and hear our concerns in our ever-varied markets.
A new direct deposit program has been rolled out to help cut the processing time to receive residuals payments. I'm sure most of you have heard about our new SAG-AFTRA app to track and give individualized info to you at your fingertips. If you haven't tried it yet, please do yourself a favor and check it out! We got to experience it at the last board meeting prior to launch, and it is really sharp and easy to use.
Our recent trip to Tucson was exhilarating, fun and informative. Meeting new people and seeing old friends joined by a common sense of community helped us all remember why we joined a union in the first place. Our union's regional education and outreach liaison, Cynthia Williams, presented seminars to future filmmakers and students in Tucson in order to demonstrate the ease of using our professional members and contracts. This was followed by a meet-and-greet with members to encourage activism and staying in the loop to promote our careers.
We had a terrific turnout at our annual SAG Awards viewing party, and I want all of you to know that your entire board worked hard on each aspect: choosing a venue, soliciting donations for our fabulous drawings throughout the evening, decorating, meeting and greeting everyone — they all participated and helped make it such a successful and fun night. Thank you to all! There was lots of networking with other actors, upcoming opportunities, directors and surprise guests, which made for a great social and business event for getting together and staying connected.
We have upcoming workshops planned based on what we have heard from you. I encourage you to attend Industry Night at the Phoenix Film Festival April 7  from 5 – 10 p.m.  While you are at it, catch some great movies, educational opportunities and Q&As with writers and directors. The festival begins April 6. We will be there with a table and so will most people involved with the industry in Arizona. Find out what you may have been missing and mix it up with a lot of colleagues and those you have not had a chance to meet. Did I say it is free to attend?
If you've been away for a while or have been enjoying our great Arizona locations without television, phone or computer, I just want you to know that we finally have a state film office, headed by the very capable Matthew Earl Jones. He came armed with ideas to reignite our film industry in Arizona.
Please don't forget to support our interactive strike and, if you are somewhere that is holding a rally, show your support. Again, I promise you will learn a lot, have fun and receive more than you give.
The more we support each other, stay involved, communicate and socialize, the stronger we will be! Please join us when you can. Let us know your concerns and stay strong. We are union! We are SAG-AFTRA!
Margie Ghigo
Arizona-Utah National Board Representative 
SAG Awards Viewing Party – Another Success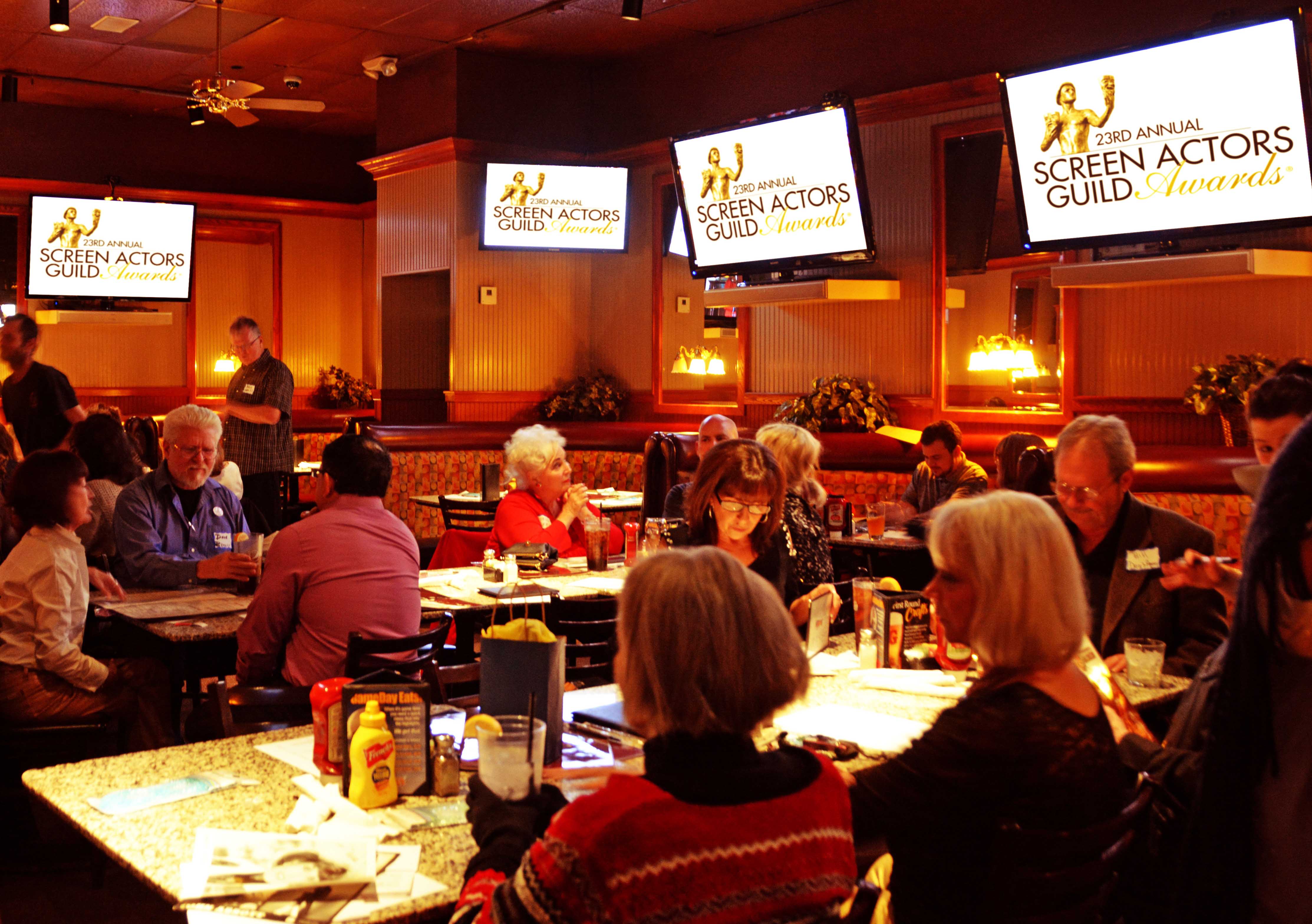 Members gather for the SAG Awards party in Phoenix.
The clothes, the lights, the prizes, the music, the camaraderie and the stars were everywhere at the 23rd Annual SAG Awards, which began a night of honors and festivities on Jan. 29, 2017, at Gallagher's here in Phoenix. The gaiety and applause in Los Angeles was pretty good too! We had 65 attendees, all showing varying reactions to the winners on the Los Angles stage. There were so many incredible performances this year, diversified and powerful, simple and complex. 
Margie Ghigo, our National Board member, together with our mascot Kobe, entertained, introduced and read off the winners for the many beautiful prizes donated this year. Kobe handed the prizes to the winners. Thank you, Margie, for everything you do. We thank Earl and Nancy of Still 'n Motion Picture Company, who caught all the excitement and surprise on film. There were more than 40 prizes, not including Rodd Wolff's movie posters he donated to the group, as well as books from our dear Grace Etchen. Thanks for all your hard work, Joey Evans and Deborah Hall, always diving into the things that need to be done. And to Joe Corcoran, our actor, stand-up comedian, jack-of-all-trades and president, there is no way to thank you for your service except to say how proud we all are to serve with you!  
Noticing all our attendees in their "best-dressed" wardrobes, I couldn't help but think about our own "best–dressed" list right here at Gallagher's — and choosing is always difficult. As I carefully scanned the crowd, a top hat caught my eye. Way to go, Larry Chebowski, you get my vote with your red-and-purple evening ensemble. For Larry's photo and photos of the entire evening, check out Still 'n Motion Picture Company's gallery by clicking here.
As this industry — our industry — becomes vastly more competitive, our mindset needs to be spot on. Each of us is unique. Work at your craft and be informed as the technical age takes over. Network with other professionals who can help sharpen your star. Be an energetic part of your Arizona-Utah Local. Together, we can make each other better because this industry isn't a one-man band. It takes all of us. Thanks to everyone for attending. You are all winners! 
Respectfully,
Linda Rae Jurgens 
Secretary, AZ-UT Local Board 
If You Invite Them, They Will Come!
By Matt Welch
SAG-AFTRA Member
Promise them free food and they will definitely come. Such was the case on Wednesday, Feb. 1, when Southern Arizona SAG-AFTRA members were invited to a mixer hosted by SAG-AFTRA at Zinburger Wine and Burger Bar Restaurant. Over 27 members and industry people got together to meet Cynthia Williams, the new regional education and outreach liaison for SAG-AFTRA. Also in attendance were Arizona-Utah Local President Joe Corcoran and Margie Ghigo, Arizona-Utah Local's National Board representative.
While the meeting was social in nature, it was also the first attempt in the years since the merger, to recognize Southern Arizona and Tucson as a strong member of the SAG-AFTRA family. Williams and Corcoran both welcomed attendees and commented the huge turnout. No one could recall such a large group. The energy in the room was evident, as members renewed old friendships and vowed to revive the Southern Arizona part of the Arizona-Utah local. Three members even came from Casa Grande and Phoenix. The oldest member in attendance joined SAG in 1964 and the newest member just joined in January. All decades and talents were covered.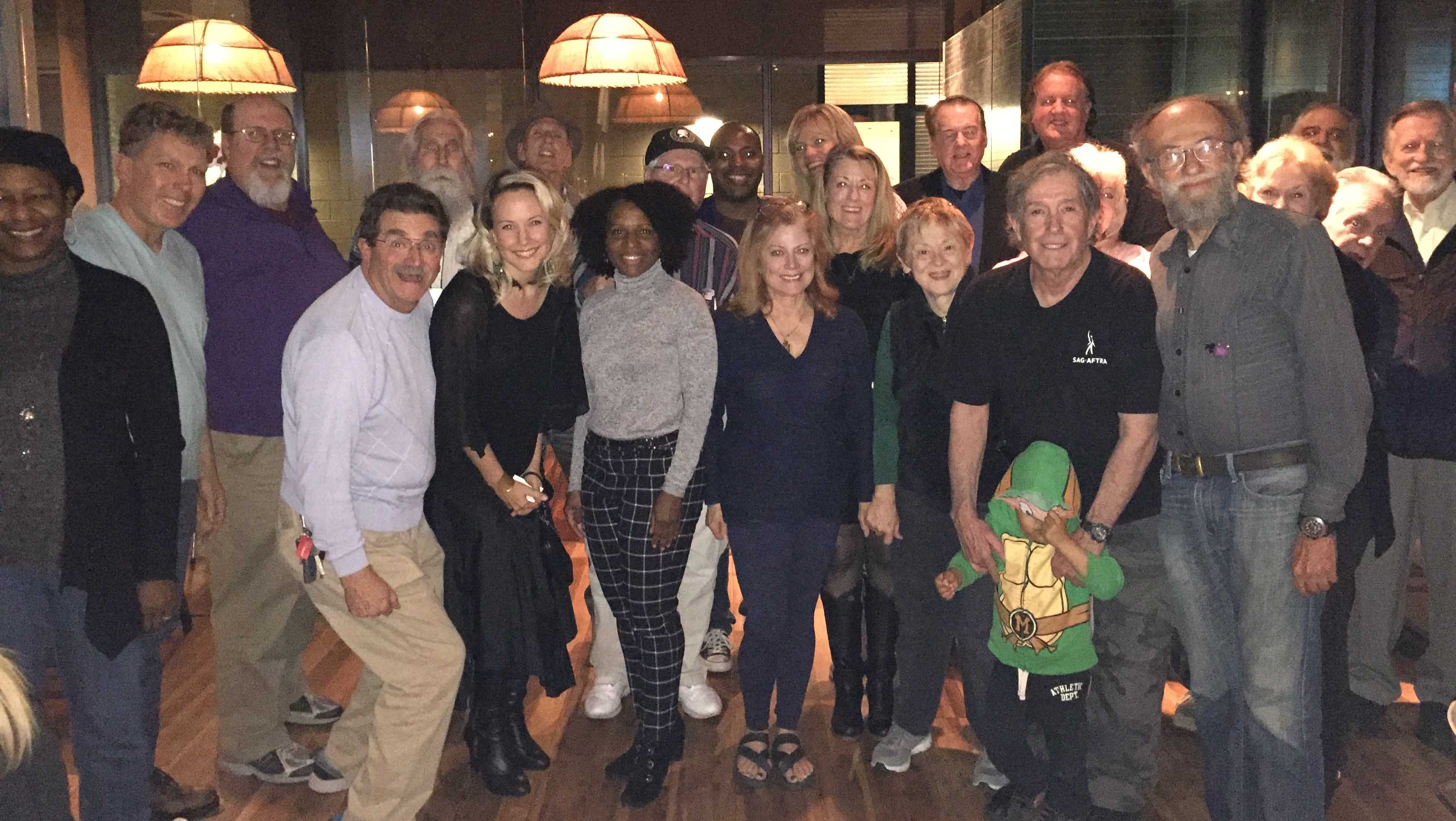 Members at the mixer
Williams emphasized that since we no longer have a SAG-AFTRA staff member in our local, we may contact her if we have any questions, issues or concerns. She also answered questions from the crowd. One question and discussion centered around our partnership with Utah when it seemed New Mexico would be closer in matters of concern with Arizona.  
Corcoran, welcoming such an energetic turnout, told the group that there are close to 300 dues-paying SAG-AFTRA members in Southern Arizona alone and it would be welcome and prudent to try to reach out to members to get them involved locally, whether for lobbying or even just attending events like this mixer. He encouraged attendees to consider the two positions for Southern Arizona on the Board.
Cards were exchanged, good food was shared and a group photo was taken before the evening ended. One longtime member, Rev. Bill Killian, said he hasn't felt this excited or energized about the Southern Arizona part of SAG-AFTRA in years and was looking forward to great days ahead. 
Interview With Stuntman/Actor Steve 'Bunker' DeFrance
Arizona-Utah Local Board Vice President Rodd Wolff, the chair of the Arizona-Utah Stunt Committee, sat down with stuntman/actor Steve "Bunker" DeFrance to discuss the business. Both have been members and stunt performers for more than 40 years.
Rodd Wolff: How did you get in the picture business?
Steve DeFrance: After being discharged from the Navy in 1962, I returned to New Mexico. My dad had passed away while I was in the service, leaving his home in Tucson to me. In October 1963, I came to Tucson to sell the house, and while waiting I went to work at Rillito Racetrack. In December, [I read] a piece in the paper about a movie, The Outrage, [that] was to be made in the area. Having no prior experience and just plain dumb luck, I was hired. My first job with several other riders was to chase Paul Newman on horseback for a couple of days in the desert out behind the Desert Museum. In July 1964, I traveled to Gallup to work on The Hallelujah Trail and from this job I never looked back.
Wolff: Who has helped you along the way?
DeFrance: When starting out, Red Morgan was the first to give me a boost up and, until he retired, taught me a lot and helped to get me work. Al Wyatt always had a lot of good advice and a job for me. But the person I owe the most to and the stunt coordinator I most admire is Henry Wills. Oh, yes, a special thanks to Hal Needham and Bill Hart.
Wolff: What are some of your most memorable memories?
DeFrance: Any time on horseback, and the 52 episodes of High Chaparral and the series Petrocelli. 
Wolff: Would you do it all over again?
DeFrance: Definitely, yes!
Wolff: What advice can you give to your fellow members of SAG-AFTRA?
DeFrance: Get all of the education you can, and listen to and respect those who went before you. Always work on your skills and learn new ones. Be early, work hard and don't let your ego get in the way. Take care of those around you in the business and at home.
Wolff: Thanks, Bunker!