The Official E-Newsletter of the SAG-AFTRA Arizona-Utah Local
SAG-AFTRA ARIZONA-UTAH LOCAL
The SAG-AFTRA Arizona-Utah Local represents members working in Arizona and Utah.
If you wish to contact any of your board members, email them at azut@sagaftra.org.
2015-2017 LOCAL BOARD
Joe Corcoran – President
Rodd Wolff – Vice President (Northern Arizona)
Linda Rae Jurgens - Secretary
Joey Evans
Margie Ghigo
Nancy Hall
Stan Kansas
Kyle Marsh
Message From Your Local President
The theme of this year's national convention was "Educate, Engage, Empower." I want you to know that those of us on the Arizona-Utah Local Board are embracing that notion and working at implementing projects and events that will educate, engage and empower our membership. We can achieve that goal with your help by letting us know your concerns, ideas, suggestions and asking how you can get involved. Contact me and let me know how we can help you help us.
Save the Date for the SAG Awards
The SAG Awards will broadcast live on TNT and TBS on Saturday, Jan. 30, 2016, at 6 p.m. Visit sagawards.org and be sure to follow SAG Awards on social media.
Hopefully you all have paid your dues and met the Dec. 1 deadline as it pertains to the SAG Awards to have been eligible to vote and receive whatever screeners the studios decide to distribute. Many members have commented to me on how much they appreciate the opportunity to vote for the awards and how enjoyable it is to then watch the ceremony knowing we play a role in selecting the year's best performances.
You can now pay your dues bill by phone at (866) 855-5191. Call today and have your SAG-AFTRA ID number handy. This is a new and convenient way for members to pay their dues — not online, not via snail mail, but immediately over the phone.
Joe Corcoran,
SAG-AFTRA Arizona-Utah President
Message From Your National Board Rep
Hi Everyone!
Hoping all of your Thanksgiving celebrations were filled with love and laughter. The board and I would like to tell you all how thankful we are to have met more of you and appreciate all of you who have stepped up to help or join us.
You've probably heard about the anticipation of the health funds being merged. Stay tuned for changes.
SAG-AFTRA is doing well and the union's revenue is better than budgeted, much in part due to the aggressive dues collections and members wanting to be current and available for work.
Our convention for 2015 was a very successful event with industry seminars, resolutions for improvement and member involvement.
The prestigious George Heller Memorial Award gold card was awarded to four recipients this year. These people have exemplified the hard work of the union and their above-and-beyond commitment. They were awarded to Dave Corey of Miami, a tireless local and national leader for the union; our own national President Ken Howard; our National Executive Director David White; and National Associate Executive Director Mathis Dunn. Need I say more?
Thanks to all of you who joined in our letter-writing campaign to Gov. Ducey, encouraging him to create an Arizona Film Office. We will call on you again as we continue our campaign to let the industry know we are open for business!
Both Joe Corcoran and I are looking forward to coming to Utah to meet more of our Utah members and continuing to learn how we can all assist each other in both our markets.
We look to the future of our Arizona-Utah Local, anticipating ways to strategically blend and assist our combined membership. While in Utah, we look forward to seeing Betty Ann Carr and Anne Sward, who have served you well and having them introduce us to all the other leaders willing to assist our members.
Happy holidays to all,
Margie Ghigo
Arizona-Utah National Board Member
Saying Goodbye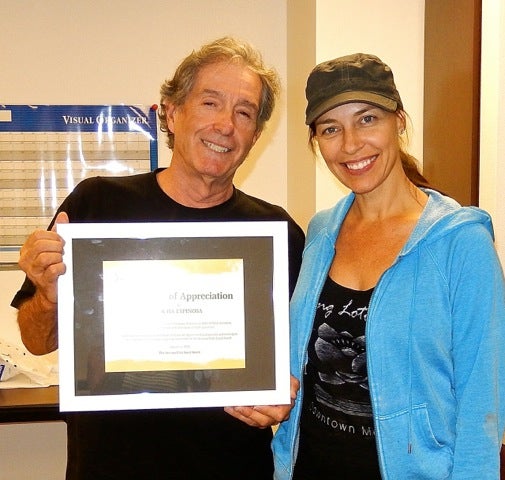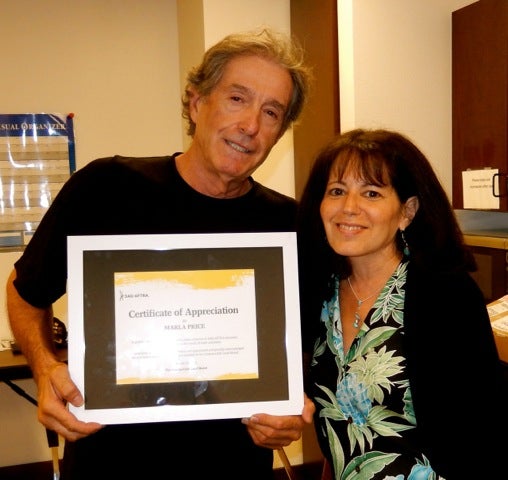 Left, Joe Corcoran and Micha Espinosa; right, Corcoran and Marla Price
At the Local Board meeting of Aug. 12, a farewell was bid to those who did not run for a new term of office. Pictured are those who were at the board meeting: Micha Espinosa and Marla Price. A goodbye was also said to Anne Sward and Betty Ann Carr.
Arizona-Utah Delegates Attend Convention
AZ-UT Local Delegates Reflect on Their Experiences at the National Convention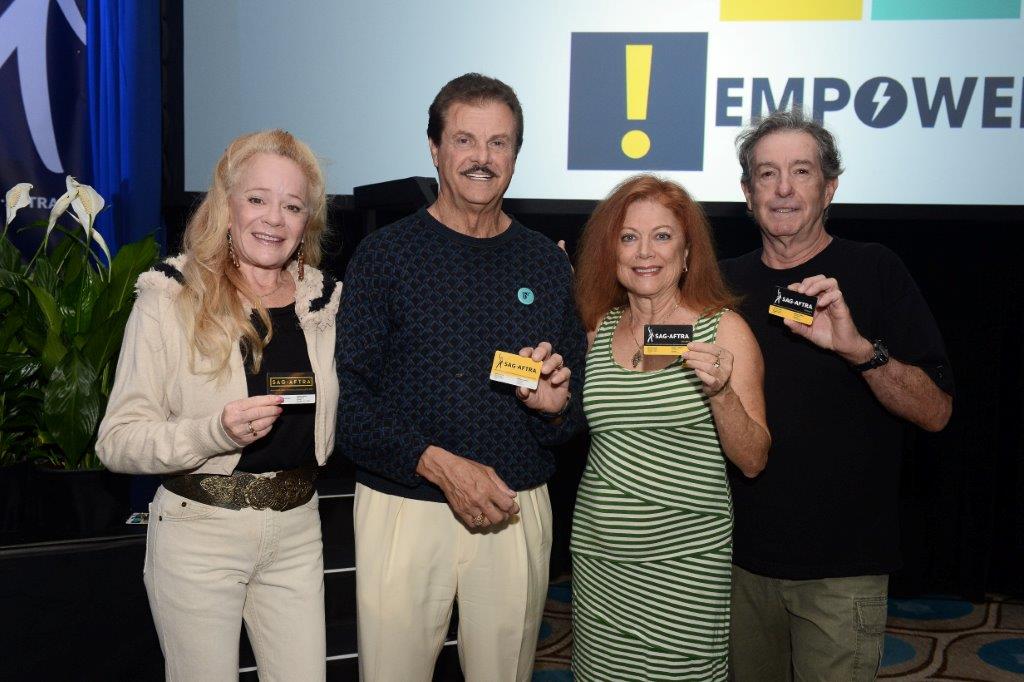 From left, Kyle Marsh, Rodd Wolff, Margie Ghigo and Joe Corcoran at the convention. Photo: Matt Petit
From Kyle Marsh: I had the honor of being elected convention delegate to the SAG-AFTRA 2015 National Convention, which took place in October.  
This being my first convention was an experience in itself. I saw the inner workings of how the National Board conducts its meetings. The meetings were chock-full of information, and anyone that had a question was allowed to speak their mind, just like at the locals.
Gala night was exciting! We were at the Warner Bros. backlot, where we were able to visit two floors of motion picture paraphernalia. Batman props were on display on the first floor and Harry Potter items on the second. The food was wonderful. 
It was amazing and fun to meet so many different people in our profession that have the same issues as we do in our small local.  
Thank you for this privilege. I look forward to the next convention.
From Rodd Wolff: Attending the 2015 National Convention was truly an eye-opener. Having attended several AFTRA national conventions, I knew there would be referendums and amendments to vote on. This convention was much more: two unions working together as one. There were differences and yet there was mutual respect between members. As a stunt performer, I was glad to see a stunt performer as a national officer. Secretary-Treasurer Jane Austin is a wonderful speaker. I could elaborate more but space is limited. Hello to all Arizona-Utah Local members, you are well represented locally and nationally!
AFL-CIO 55th Biennial Convention 2015
By Linda Rae Jurgens
Secretary, SAG-AFTRA Arizona-Utah Local Board
I volunteered to attend the AFL-CIO 55th Biennial Convention held in Phoenix, Arizona, on Oct. 1, not really knowing what to expect, but I'm certainly not shy and meeting new people is my forte. I thought it may be a little boring, loud and argumentative, as can happen with a large crowd.  
Our continental breakfast from 8 to 9 a.m. was scrumptious, and most of us didn't say much at first because we had our mouths full, but the coffee kicked in and before long we were busy introducing ourselves and finding so much in common. We then heard from many people, including people from the Labor Council for Latin American Advancement. 
Lunch break and the food were great! We visited and got to know each other at the tables. After lunch, we heard from Arizona state Rep. Rich Andrade of District 29. The meeting concluded with the election of officers and the executive council for the AFL-CIO. 
As I sum this up, there are people in this state that have to go elsewhere to work — which also includes you and me! With the pensions, retirement, health care and all the other benefits our union works for, we can't afford to jeopardize our status. We all agree something has to be done. And soon! And all this can make us angry and restless. However, this group of fine people sat down together, did not raise their voices, shook hands, hugged and kept all issues on an even level. After being a part of their day, I realize they can get all these things accomplished with just one word: work! And work together they do. I was very proud to represent the SAG-AFTRA Arizona-Utah Local.  
Thanks everyone. 
Casting Seminar at Arizona State University
By Micha Espinosa
SAG-AFTRA Member and Associate Professor at ASU School of Film, Dance and Theatre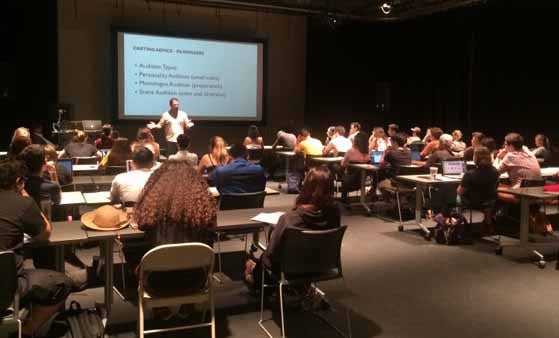 Arizona State University's School of Film, Dance and Theatre students got the opportunity to learn from SAG-AFTRA-franchised agents, local and professional casting directors, as well as SAG-AFTRA Director of Locals Administration Marcia Fishman.
It is extraordinarily rare for students to have the opportunity to learn directly from those who are in the best position to help them work locally: Phoenix agents and casting directors. Casting practices and procedures from both sides of the table were the focus of the two-day course.  
The goal was for students to be confident that they are following industry standards when they cast their films and run their auditions. Also, having a deep understanding of the significant rite of passage to becoming a working professional by joining SAG-AFTRA is imperative to students' growth in the media and entertainment industry.
The first day of the seminar was led by Chris LaMont, ASU faculty member, producer and founder of the Phoenix Film Festival; Gene Ganssle, Equity actor, filmmaker and producer; and me, an actor and member of our union for more than 25 years. It focused specifically on ASU guidelines for casting and on-set protocol. The discussion included casting notices, breakdowns, posting, sides, documentation, how actors should prepare and what to expect from actors. The second day began with a roundtable that I moderated. It included Matt Englehart of the Ford Talent Agency, Dani Green of Dani's Agency, Faith Hibbs-Clark and Bella Hibbs from Good Faith Casting, and Garth Williams from Garth Williams Casting. Skyping in from Michigan, Marcia Fishman offered her considerable expertise regarding the use of SAG-AFTRA contracts. The day concluded with actors being put on camera and offered feedback and insight into casting process from the panel. 
This is the second time the casting seminar has been offered. ASU's School of Film, Dance and Theatre plans to offer the casting seminar as a biennial event. For more information about the programs and opportunities available throughout the year at ASU's School for Film, Dance and Theatre, feel free to contact me through the local at azut@sagaftra.org. 
Proper Manors in Utah
Proper Manors is an online original SAG-AFTRA signatory series wrapping up its fourth season in Utah. The show has been nominated for 37 Filmed in Utah Awards and won four, as well as being named one of the Best Original Online Series of 2015 by Tom's Guide, and also an Indie Series Award nominee. It is beginning its fifth production year in 2016. 
The show, which has been responsible for more than 100 actors becoming eligible to join the union in the Arizona-Utah market, is from creator Pietro D'Alessio (also a SAG-AFTRA member) and head writer Brandyn Cross. Proper Manors is the story of the Italian-American Sorrento family and their survival in a small conservative town controlled by the good ole boys, where all the youth are pawns in the games the adults are playing. The show stars, or has featured, SAG-AFTRA members, including Mia Tate, Hunter Gomez, Guy Nardulli, Melinda Chilton, Anne Sward, Heather Hegeman and Rebecca Peterson as some of the most recognizable names. 
Meet Your 2015-2017 Local Board Members
National Board member (and Local Board member – Northern Arizona) Margie Ghigo
Serving as your National Board member, as well as my previous service as national vice president, National Board member and local president for AFTRA, has been an honor and responsibility that I have enjoyed for many years. With the merging of the union and closing of some local offices, it is necessary for members to increase their involvement and acknowledge responsibility for our own future. I appreciate your confidence and look forward to our union family in the Arizona-Utah Local thriving. It has been great getting to know more of you. If you would like to get more involved or have any questions, please let me know.
President - Joe Corcoran
I have been a proud member of AFTRA and SAG since 1979 and am the current president of our Arizona-Utah Local Board. In the past, I have served as a member at large and as local president for AFTRA. Despite no longer having local staff or an office, we are, out of necessity, moving forward and gaining momentum due to the dedication, energy and hard work of my fellow board members. 
I encourage our entire Arizona-Utah membership to not only reach out and engage with the board, but also with your fellow members. Communication and your participation can't help but to make us vital, viable and valued.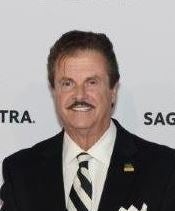 Vice President – Northern Arizona Rodd Wolff
I have served on the union's board since 1975. I am the chair for Stunt & Safety for the local, and am also a member on the National Stunt & Safety Committee. In 2002, I was inducted into the Stuntman's Hall of Fame.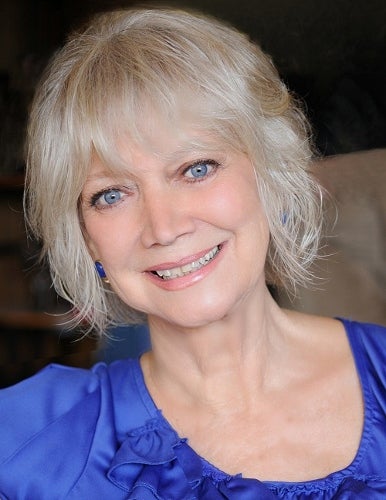 Secretary - Linda Rae Jurgens
A childhood wish come true, I have carried my SAG-AFTRA card/membership since 1978, and I am so thankful all this came to pass. I have been blessed with a good resume and wonderful friends in the industry. I have served on the SAG and SAG-AFTRA Boards on and off for many years and truly enjoy my current role as secretary for Arizona-Utah Local. God bless.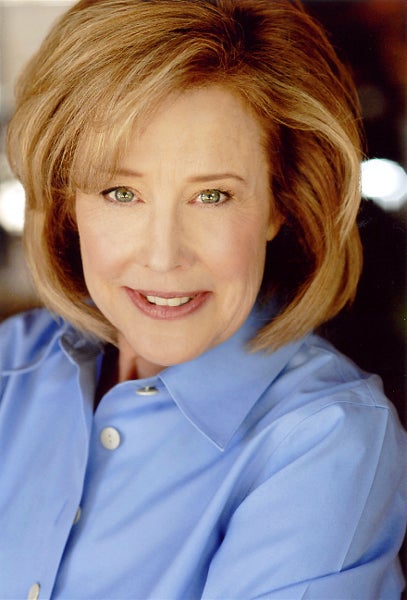 Member at Large – Joey Evans
I earned my SAG card in Dallas in 1974. Being a union member has been very special to me ever since. I am thrilled to have the opportunity to be a board member of the Arizona-Utah Local. I have been very involved in the planning of the SAG Awards party in Phoenix. I will work hard to get new members and more union work here in Arizona. We have a great union and a great state to work in.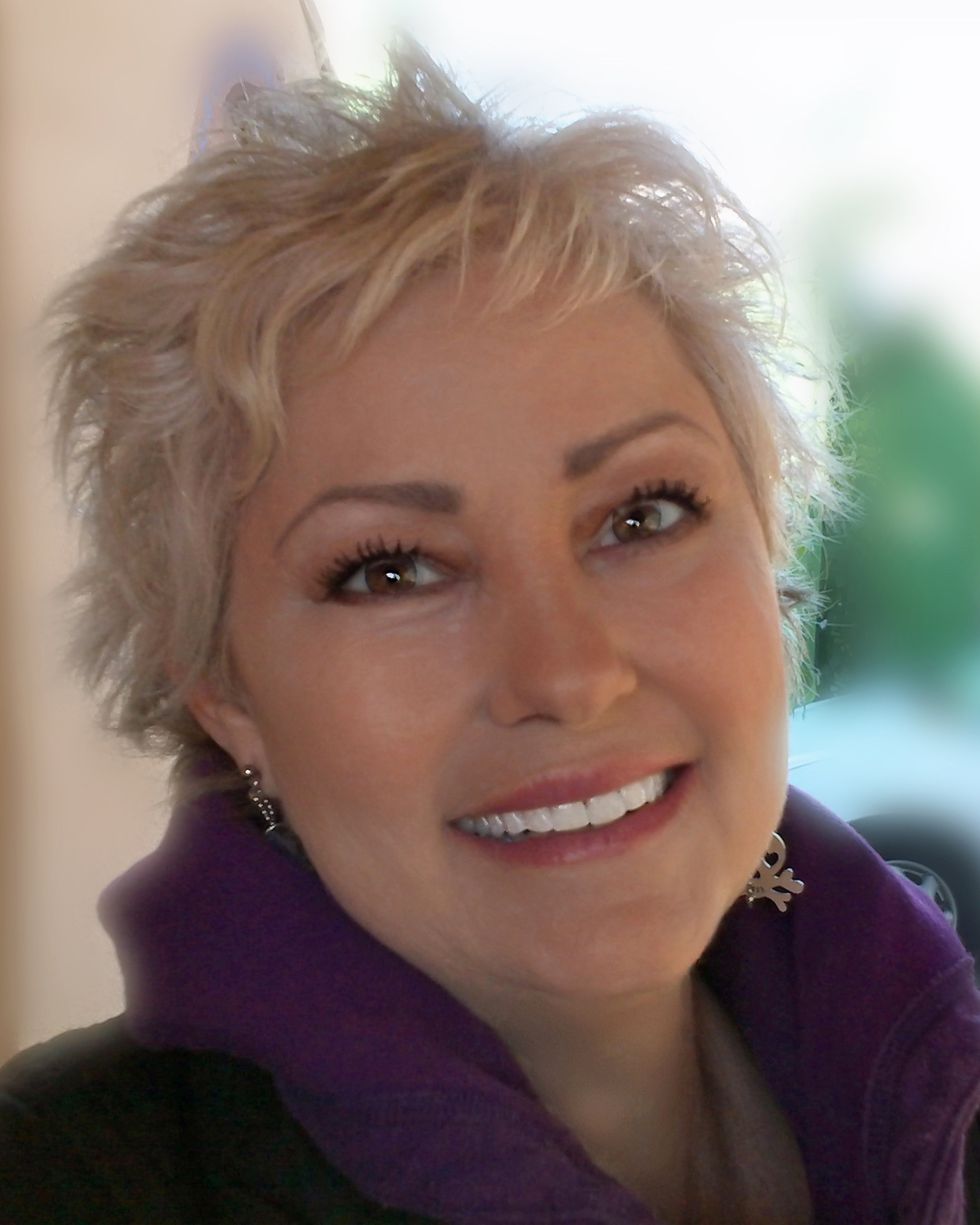 Member at Large – Nancy Hall
In 1987 I became a member of Screen Actors Guild, an incredibly important milestone in my life. I currently serve as member at large and am honored to serve alongside other dedicated members. Thank you for this opportunity.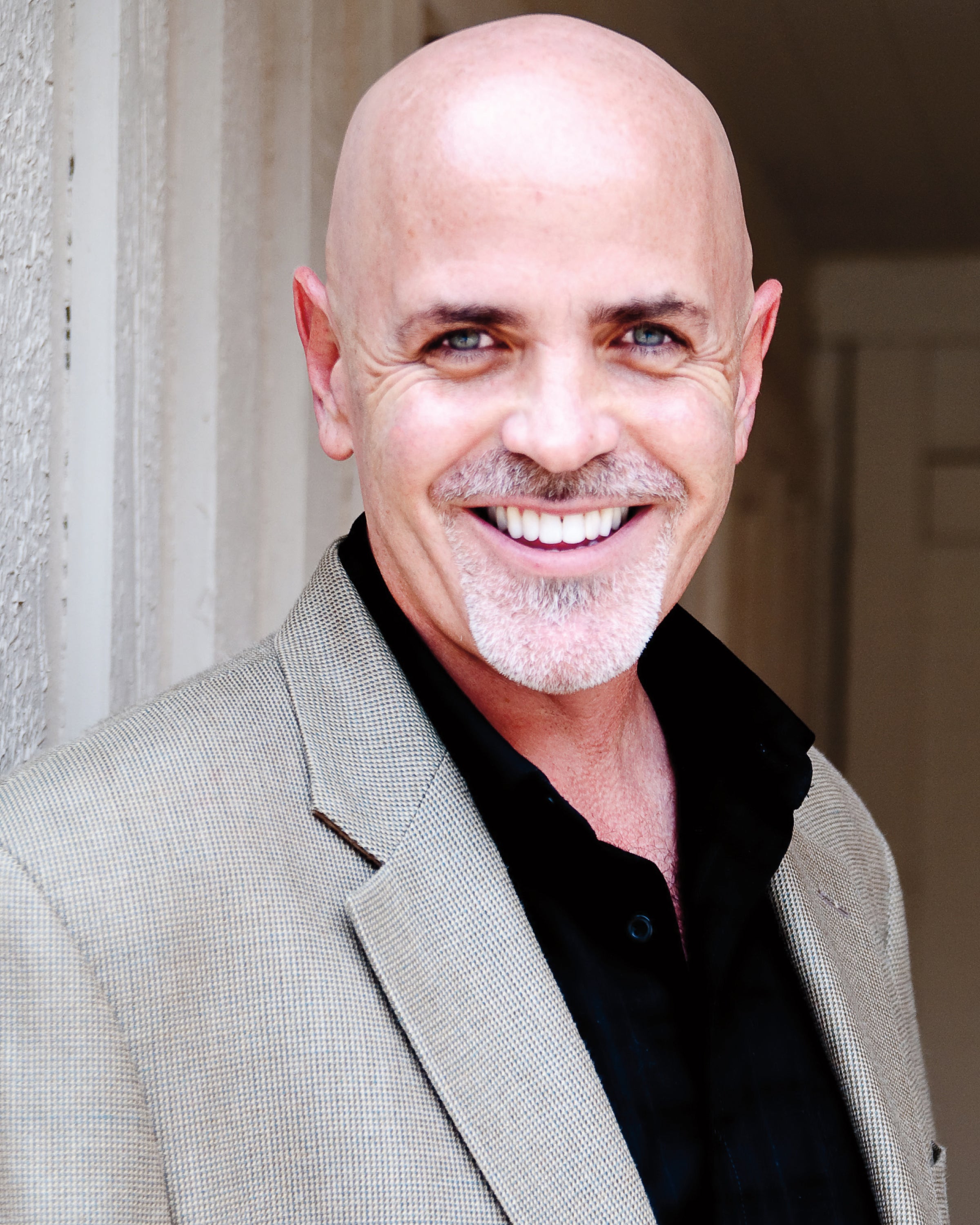 Member at Large – Stan Kansas 
I have been a member of SAG since 1998 and I am delighted to be serving SAG-AFTRA.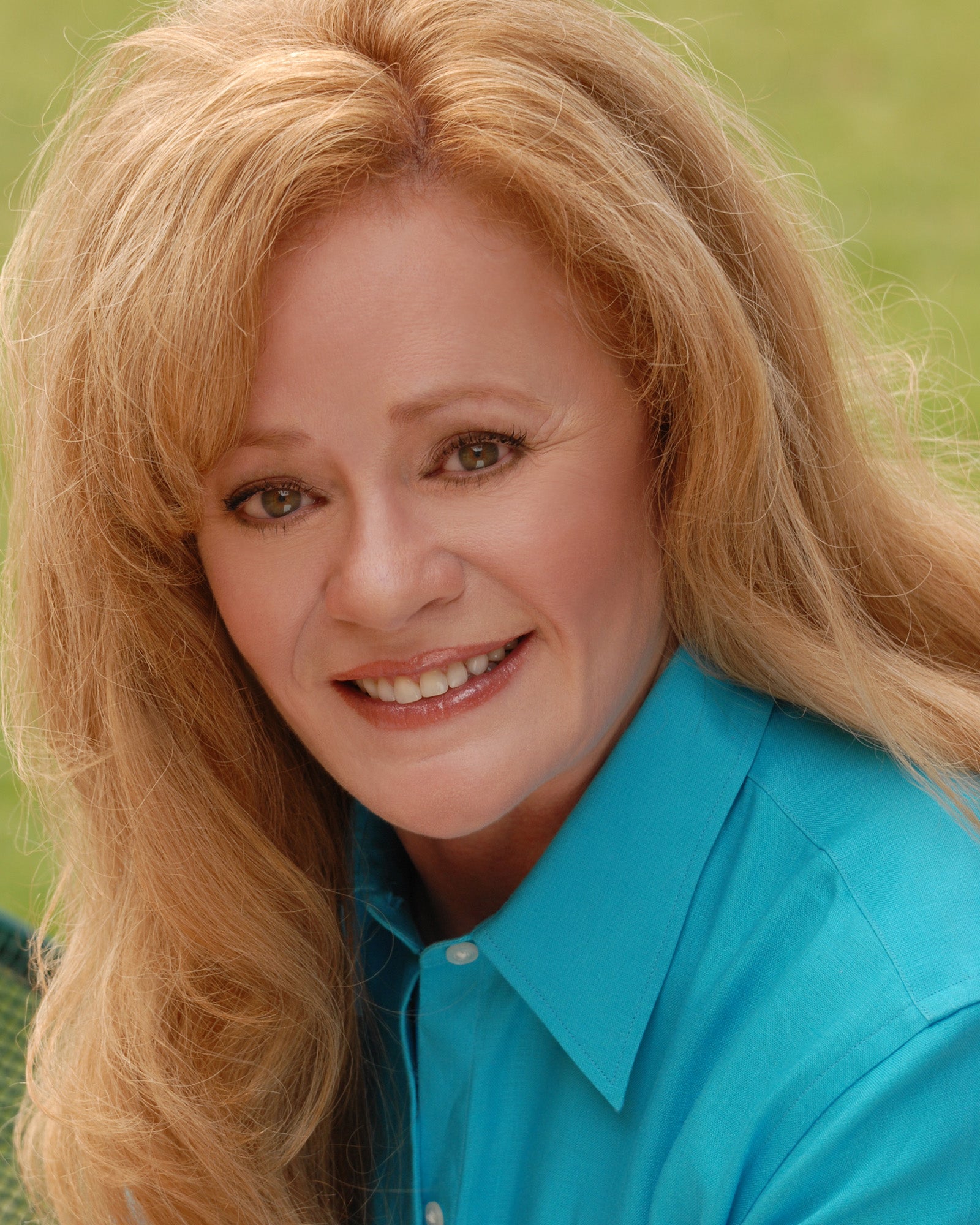 Member at Large – Kyle Marsh
I have been a SAG and SAG-AFTRA member since 1990. I have served on the SAG and SAG-AFTRA Board for most of the time I have been a member. I am also a convention delegate for SAG-AFTRA. Since the merger, there have been a lot of changes in our union. All of us on the Local Board would like to see more of our members get involved. We look forward to hearing from you. 
Local Board Member – Southern Arizona – Grant Wheeler
I joined SAG in 1980 and got my first speaking role in a film when I performed in the movie Flashpoint. Following that, I was an actor, stunt performer or stunt coordinator in many movies (a number of them were Westerns) and national commercials. I received my AFTRA card when I went to New York and landed a short role in One Life to Live. I am honored to serve as a board member.
A Cowboy Who Is Missed
By Rodd Wolff
Troy Nabors passed away unexpectedly on an evening in November 2014 in Mesa, Arizona, at the age of 83. Troy was an actor and, in my opinion, a stunt performer when he did his trick riding. I will remember him as a rodeo entertainer, bullfighter, trick roper, comedian, a family man and one of the last true cowboys.
Troy was always ready to share a joke or two and help me with my trick roping, and we did a couple of conventions together. For 38 of his 50 years of show business, his housebroken and "educated" mule Slim was his constant companion and cohort.
His cowboy antics and roping brought him before presidents and royalty. Troy performed at the rodeos of Parada Del Sol, Gilbert Days and Legend City. We also performed together many years at the Stardust Hotel and Convention Center in Las Vegas and won Best Contract Act of International Professional Rodeo Association for three consecutive years. If anyone catches a rerun of Junior Bonner with Steve McQueen, Troy is the rodeo announcer. Above all, he was a good-hearted cowboy and a friend to all who met him.
Become a BookPAL
Give back to kids in your community. BookPALS (Performing Artists for Literacy in Schools), is a nationwide volunteer literacy program of the SAG-AFTRA Foundation. Enthusiastic actors, theater students, educators and community members volunteer their time to visit classrooms on a weekly basis to read aloud to kids for an hour (a half hour per classroom). Arizona BookPALS serves students in the Phoenix metro area, Tucson and Flagstaff. The children are in high-risk, disadvantaged schools and may have no one at home to read to them. You will make a big difference in their lives and be treated to the most enthusiastic audience ever. Who better to bring a story to life than you?
For more information contact Arizona Coordinator Ellen Dean at (602) 750-2923 or by email at ellendean.dean@gmail.com
Visit the BookPALS website to see what other locals are doing across the country and to volunteer. Check storylineonline.net to see and hear actors reading aloud.