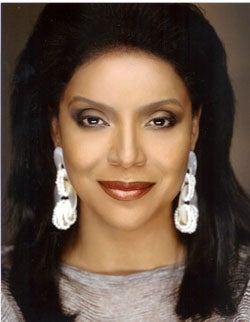 She is known around the world as Clair Huxtable from The Cosby Show, but on Monday night Phylicia Rashad demonstrated that she is much more than a favorite TV mom.
The event, Phylicia Rashad – A Woman of Distinction: Her Story, was organized by the SAG National Women's Committee and the SAG Foundation and took place at SAG Headquarters in Los Angeles. Carrying herself with a rare grace, humility and a serene charisma, Rashad charmed the capacity audience with tales of a remarkable life and a deep love of acting and the arts.
In one particularly poignant moment, she recounted meeting former South Africa President Nelson Mandela, who spent 27 years as a prisoner of the state, and who was a fan of The Cosby Show.
"He thanked me; he said, 'When I was on Robben Island, I watched that show with my guard and it softened him.' That is art," Rashad said.
Speaking almost poetically, Rashad exalted the spiritual side of self-expression.
"All forms of art began as worship. Art does connect us to the divinity within our own selves," she said. "Through art we connect, not only with the highest principle within ourselves, but with the hearts of others."
Rashad has an impressive list of accomplishments. In 2004, she became the first African-American woman to win a Tony Award for Best Performance by a Leading Actress in a Play for her role as Lena Younger in A Raisin in the Sun. In addition to her eight seasons on The Cosby Show, she has been seen on the big screen in For Colored Girls and Frankie & Alice, among others, and is currently directing A Raisin in the Sun at the Nate Holden Performing Arts Center in Los Angeles, which runs until April 17.
The star of A Raisin in the Sun, L. Scott Caldwell (Lost), is the national co-chair of the SAG National Women's Committee and helped organize the event in honor of Women's History Month. Hattie Winston, a member of the committee and a long-time friend of Rashad, moderated the event. Winston said that although most people identify Rashad with Clair Huxtable, she tends to be a private person, so the public doesn't really get to know her.
"We thought that this would be an opportunity for people to see what is beneath that Mona Lisa smile," Winston said.
What was revealed was a complex person with a fascinating history. When Rashad was 13, her mother moved her and her sister, actor, dancer and choreographer Debbie Allen, to Mexico City. It was a time when segregation continued to be practiced in Rashad's home state of Texas, despite the 1954 Brown v. Board of Education ruling. Moving south of the border opened up Rashad's world, made her bilingual and gave her a new perspective that life in Texas never could. Her life, both on the stage and off, was and is a never-ending learning experience. At age 62, she still feels she has much to learn about her craft.
"If I ever meet the day that I'm not learning anymore, I need to stop," she said.  
The SAG Foundation LiveStreamed Monday's event online and those who turned out to see Rashad in person clearly admire her accomplishments and cheer her on. SAG member Kerry Lee Riley lauded her versatility.
"It's great to see a black woman, not just in acting, but in writing and directing as well. I came here to support her, not just as an African-American man, but also as an artist," he said.
Photos courtesy Steja Robinson and Tom Leupold.