The Official E-Newsletter of the SAG-AFTRA Twin Cities Local
TWIN CITIES LOCAL BOARD
Officers:
President – Bob Davis
1st VP – Peter Moore
2nd VP – Barry Zevan
3rd VP – Elena Giannetti
Secretary – Shirley Venard
Local Board Members:
Randal Berger (National Board member)
Mark Bradley
Shelli Place
Sandra Thomas
Edward Villaume
MIXERS
Join us at the monthly mixers! Every 2nd Monday of the month from 5–7 p.m. at Coup d'Etat in Uptown Minneapolis. Everyone welcome — bring a friend!
Upcoming summer 2nd Monday Mixer dates:
- June 13
- July 11
- Aug. 8
WHERE TO GET SUPPORT WHEN YOU NEED IT
Help is always available and easy to access, by email or by phone. Click here for a complete staff support contact list.
A Message from the Twin Cities Local President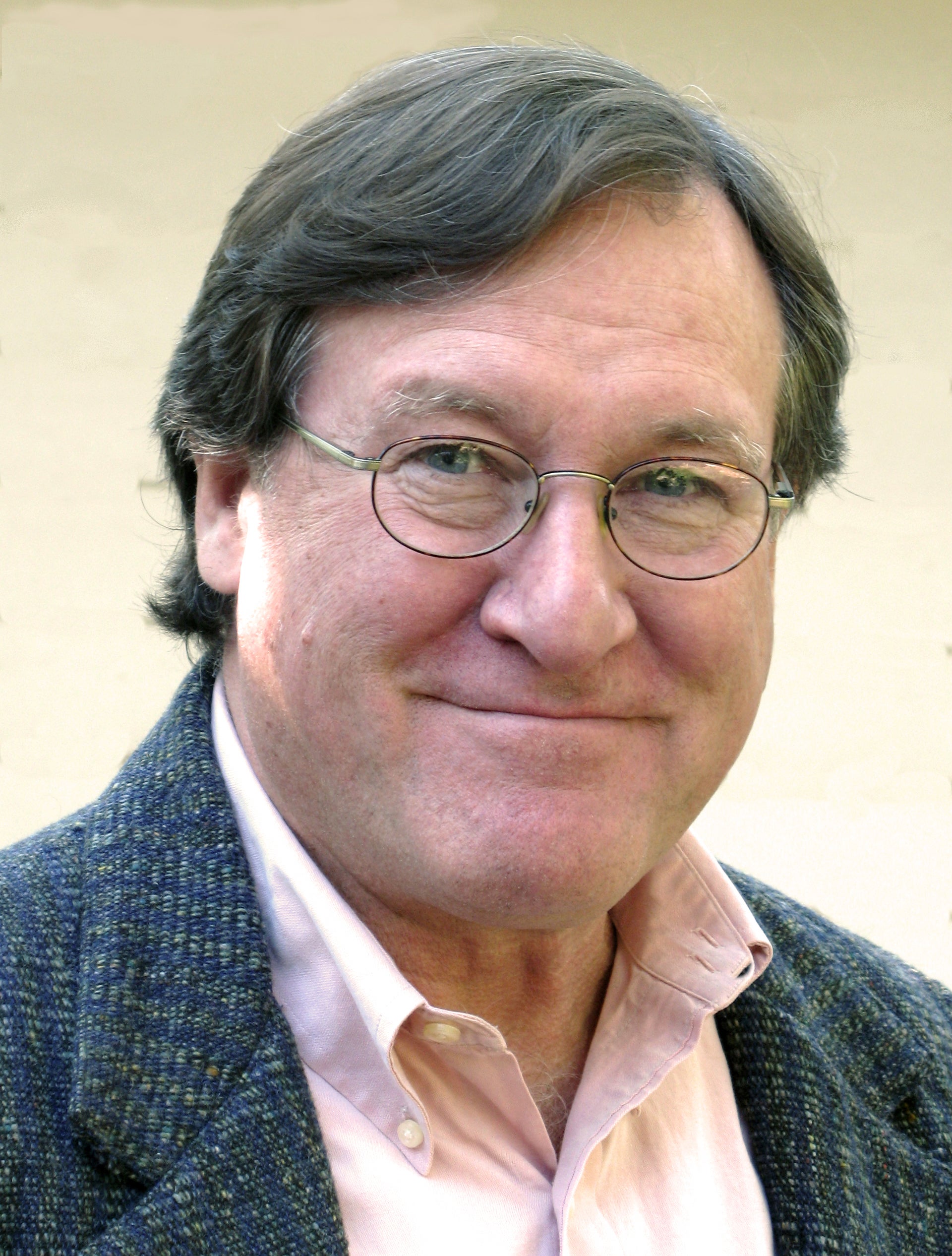 Greetings from the bridge deck of the good ship SAG-AFTRA Twin Cities!
I have been AWOL for the past quarter, doing a play in Cambridge and New York, leaving command of the board in the able hands of 1st Vice President Peter Moore. 
The good fight continues to turn more work union. Our Co/Ed waiver, which allows producers to more easily hire union actors, is having a good effect. The Commercials Contracts were just negotiated, and the board hopes to create a local waiver to that contract as well. That will be a steeper hill to climb, but our experience on the first waiver should hold us in good stead.
We are having good participation at our monthly 2nd Monday Mixers. For the uninitiated, on the second Monday of every month, we gather at Coup d'Etat in Uptown Minneapolis for cocktails and conversation. Everyone is welcome: union members, union-curious non-members, married to the union, whatever … no reservation necessary, so have no reservation about dropping in between 5 and 7 p.m.! Look for the monthly email blast invitations and show up to the next one — there will be swag!
In solidarity,
Bob Davis
President, SAG-AFTRA Twin Cities Local
Missives from Minnesota
By Randal Berger
National Board Member
Since our last "gathering around the fire," I attended our National Board meeting in L.A. in April.
President/Executive Vice President Election
This meeting was quite different than usual. It was but a few short weeks after the death of our national president, Ken Howard, so one of the major tasks of the weekend was to elect President Howard's replacement — and, consequently, immediately thereafter an executive vice president — to serve their remaining terms. 
Click here to read more.
Health Plans to Merge
The trustees of the Screen Actors Guild (SAG) – Producers Health Plan and the American Federation of Television and Radio Artists (AFTRA) Health Fund have approved the merger of the two plans. The new SAG-AFTRA Health Plan will provide comprehensive medical, hospital, mental health, prescription drug, dental, vision and other benefits to eligible members worldwide. Read all about it here.
Gabrielle Carteris Elected President
Filling the late SAG-AFTRA President Ken Howard's vacant office was at the top of the agenda when the National Board gathered at SAG-AFTRA Plaza on April 9. The board elected Gabrielle Carteris by acclamation to fill out the remaining 15 months of Howard's term and elected Rebecca Damon to serve as executive vice president — meaning for the first time the top three SAG-AFTRA officers are women. Click here for more.
Meet the Local Board
We continue to introduce you to more of the Twin Cities Local elected leadership. In this issue, meet Local Board members Shelli Place, Sandra Thomas and Edward Villaume. Read past isses here.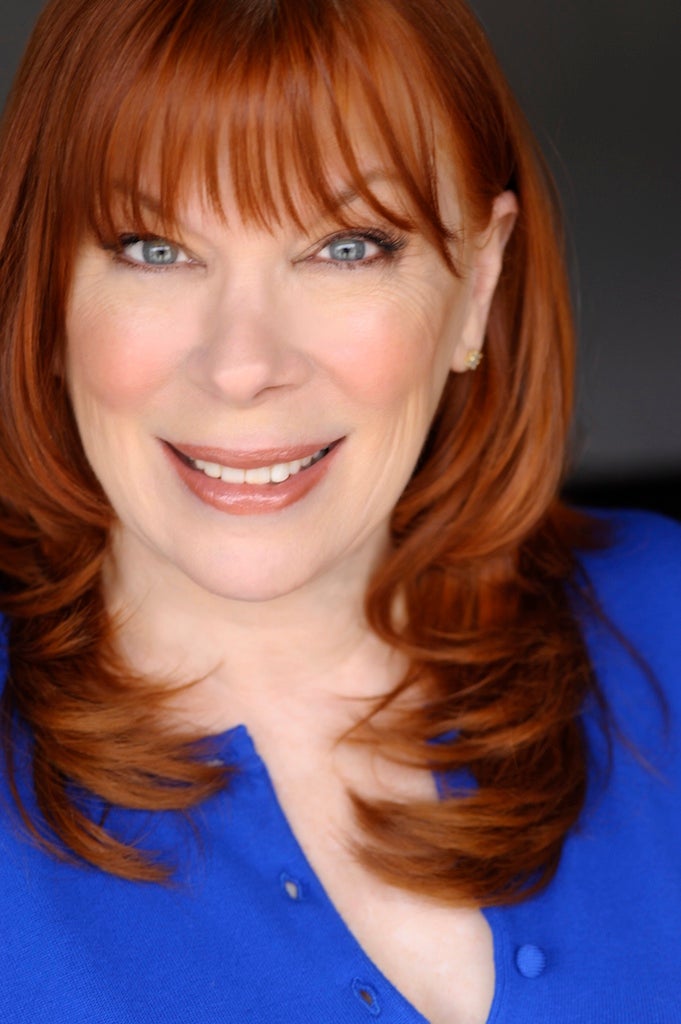 SHELLI PLACE: I joined SAG, AFTRA and AEA in 1973 in Dallas, where I was involved in theater and corporate training films. After touring the U.S. in plays and industrials, my work took me to San Francisco, where I worked as a stage and on-camera performer for the Shaklee Corporation, traveling the world to represent them. Eventually, I ended up in Los Angeles doing TV and film. A great opportunity offered by the Walt Disney Corporation took our family to Tokyo and, while there, I was able to land a recurring role on Ponkiki (a Japanese-type Sesame Street) and became the English voice of the Shinkansen (bullet train). That led to becoming the voice of other entities and securing — my favorite — a lead role in the Japan Airlines' animated Myazaki film The Crimson Pig. Upon returning to the U.S., I switched gears and moved to the other side of the camera, directing and producing corporate videos, and staging corporate shows, fashion shows and award ceremonies. After moving to Minneapolis five years ago, I fell in love with the theater scene and jump-started my acting and directing career, but was stunned by the lack of SAG-AFTRA opportunities that were once so prominent. I was asked to bring my energy to the board and have been happy to be involved in outreach work, including being active on the Co/Ed Waiver Committee; coproducing the rollout of the Local's commercials and Co/Ed online rate calculator to local producers and ad agency representatives; and helping to launch the 2nd Monday Mixers for local members. I encourage more members to get involved with the union, as it helps you feel you are actively doing all you can to help your career.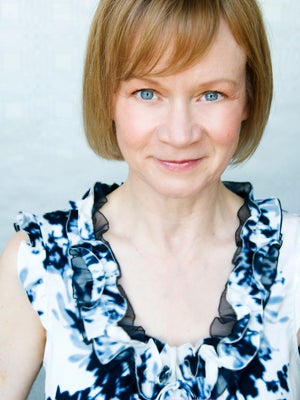 SANDRA THOMAS: I have been a proud member of SAG-AFTRA since 1996. I have appeared in feature films, commercials (regional and national) and industrial films. Upcoming roles include the soon-to-be-released, Minnesota-made feature film Wilson, the independent drama Sundogs, and the IFC series Documentary Now! In 2015, I brought Macaroni on a Hotdog, a one-woman play that I wrote and performed, to the Edinburgh, Scotland, Fringe Festival for the month of August. I also blog under the byline Sandy Thomas for The Huffington Post.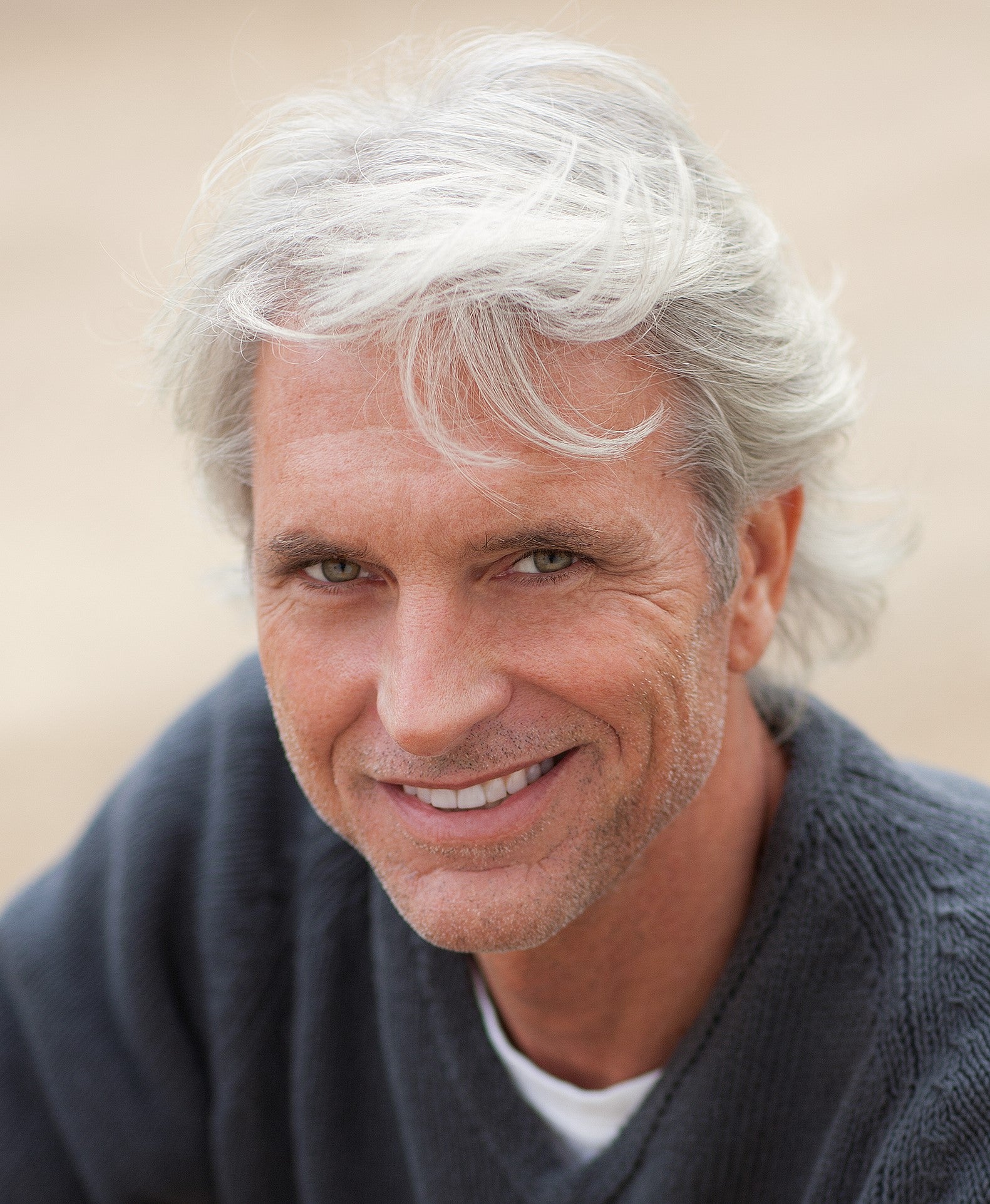 EDWARD VILLAUME: Having grown up in Minnesota with a passion for creativity, I began writing stories on my grandmother's typewriter at an age when I didn't know words had a "correct" spelling. I would type story after story and then "read" them to my family. Soon, I discovered a love for theater and, eventually, for motion pictures. However, finance and business was all around me as I grew up and so was the natural path I took for decades, using my creative skills only sporadically while working in business, until I finally decided to move to Los Angeles to try my hand at writing and acting. After making that move, I felt fully alive as the flood of creative energy that had been blocked began to freely flow again! My natural curiosity had me signing on to work as an extra in feature films and television so I could observe how those projects were made. I joined SAG as a natural progression in my creative life in L.A. and to open more doors. Then, in 2007, I returned to my home state, and I hope to continue working on stage and/or on camera as opportunities present themselves. As one last comment to share with my fellow members, I can emphatically state I've found that joining the SAG-AFTRA Local Board is giving me an exciting chance to help provide the support, tools and avenues of opportunity to Minnesotans who want follow their inner passion and make a living in the creative arts of stage and screen.
Filmmakers and Members Mix It Up!
Twin Cities Local members and local indie filmmakers enjoyed an evening of networking on April 4 at an event jointly hosted by Independent Filmmaker Project/Minnesota (IFP/MN) and the Twin Cities Local. It brought together filmmakers, future filmmakers and SAG-AFTRA members. Click here to read more.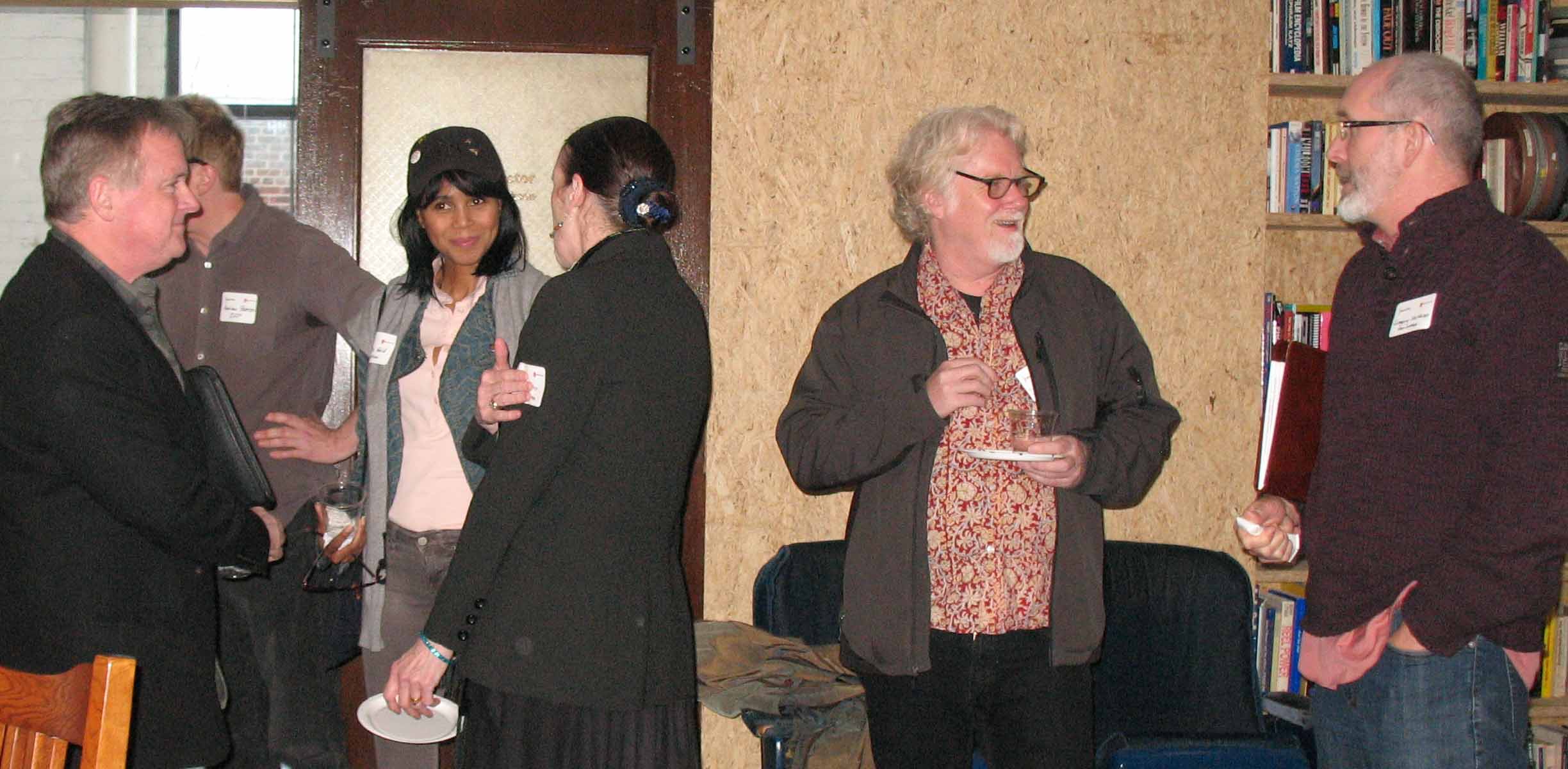 Members and filmmakers at the April 4 mixer.
Twin Cities Local Film/TV Production News
Director of TV/Theatrical in Chicago, Kathy Byrne, reports that, since Jan. 1, 2016, the following projects have been cast and shot in the Twin Cities Local (Minnesota, North Dakota, South Dakota) under a SAG-AFTRA contract:
Recalibrate – Short film
The Last Love Letter – Modified low budget
Kitchen Scene – Short film
To Myself – Short film
Bonjour Teenage Vampire – Short film
The Last Job – Short film
Cured – Short film
The Midnight Man – Theatrical
Rideshare – Short film
New Neighbors – Short film
Mayo Clinic Film – TV program
We hope members will continue working to "flip" non-union film projects they encounter and help create more work for our local actors! If you have questions about that, feel free to contact Kathy directly.
In Memoriam: Charles Brin – Living a Life Out Loud
By Mary Em Burns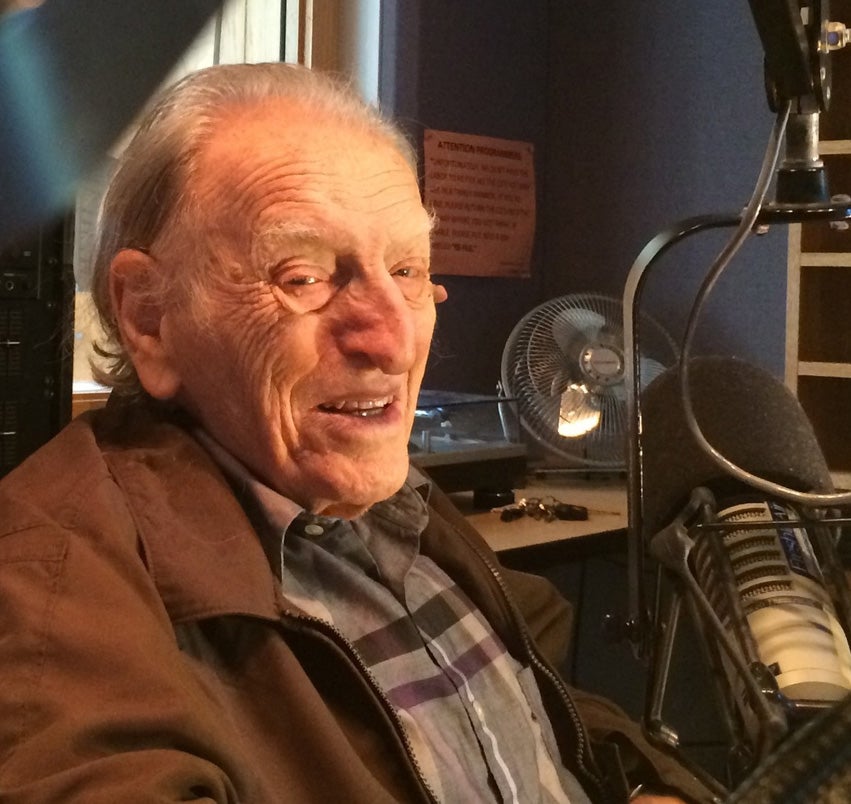 Charles Brin at the mic at KFAI.
Twin Cities actor, versatile voiceover artist and longtime SAG-AFTRA Twin Cities Local Board member Charles Brin died Jan. 29, just days short of his 93rd birthday. Click here to read more.
Newly Franchised Agency Joins the Ranks
Talent Poole LLC, under the ownership/direction of Geanette Poole, is the newest SAG-AFTRA franchised agent in the Twin Cities market. Talent Poole represents its talent on an exclusive basis. They join our other local SAG-AFTRA franchised agents representing a variety of talent: Allensworth Entertainment Inc., Meredith Model & Talent Agency, Moore Creative Talent, Wehmann Models/Talent Inc., and Caryn Model & Talent Agency. To find local franchised agencies, check the Local Resources page.
A Day in the Life … Twin Cities Actors Expo 
By Mary Em Burns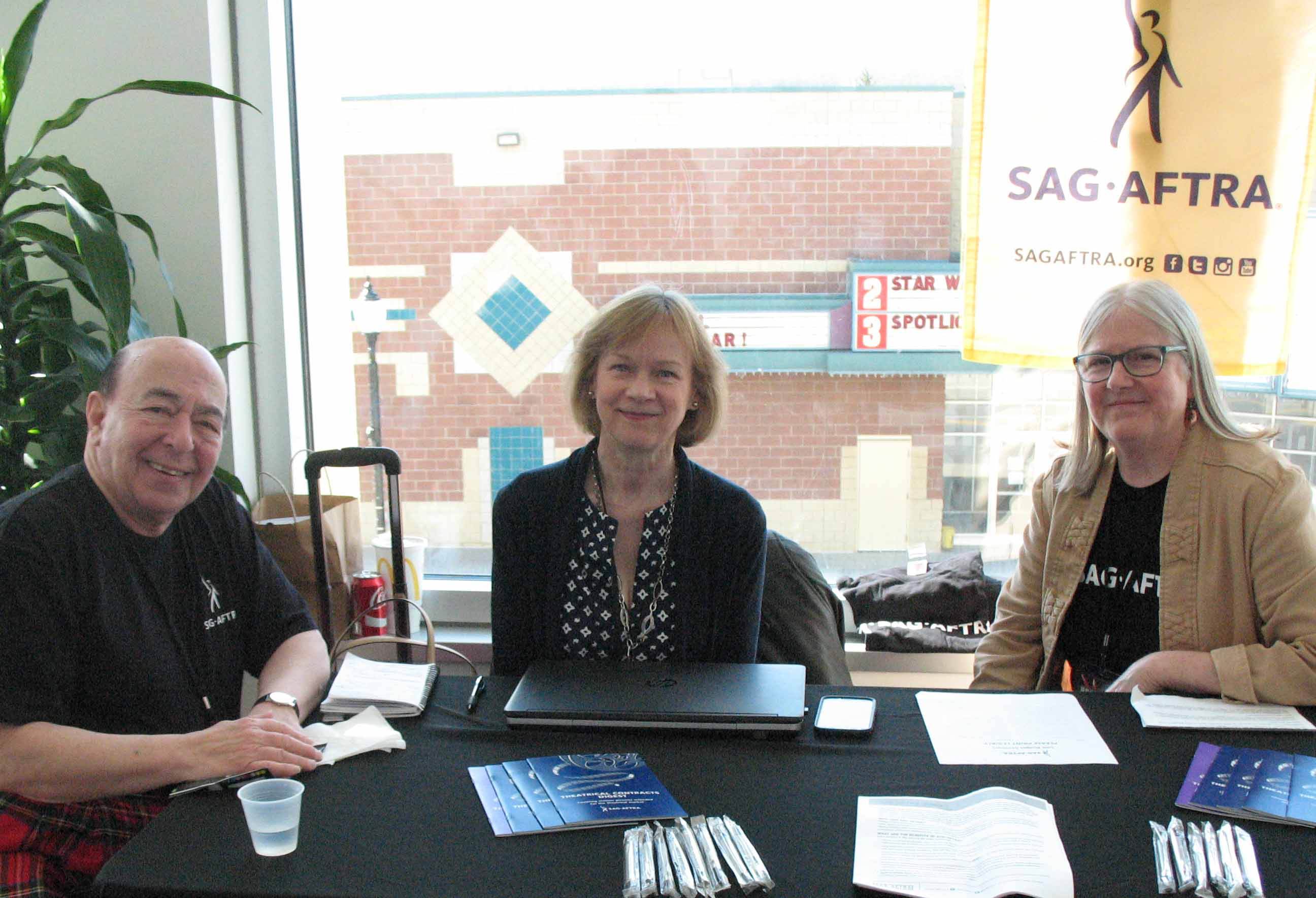 From left, Barry ZeVan, Sandra Thomas and Mary Em Burns at the Twin Cities Actors Expo.
The Twin Cities Local was an active presence once again this year at the annual Twin Cities Actors Expo on Saturday, April 2. I joined several other SAG-AFTRA members — including Barry ZeVan, Sandy Thomas, Bob Davis, Adara Bryan, Tony Saffold and staffer Kathy Byrne from the Chicago office — at the local's SAG-AFTRA exhibitor's table, where we shared information and tips with expo attendees.
As usual, the expo included many seminars of interest to both professional and union actors, as well as young performers and non-union performers. In addition to my hosting duties, I attended three of the seminars. The first session, titled Planning Your Acting Career, was facilitated by Jane Drake Brody, a former actor, Chicago casting director, teacher and author. During the seminar, Brody offered some great tips for planning and managing an acting career, and encouraged actors just starting out to plan on joining the ranks of union performers if they intend to make this a career. I also caught part of a "novice track" industry panel presentation that included SAG-AFTRA and AEA actors Elena Giannetti and Shirley Venard, actor/teacher Cynthia Uhrich, talent agent Aiyana Ruggiero and casting director Barbara "Babs" Shelton. The panel discussed and answered questions about training and provided tips for securing work in the Twin Cities. During that discussion, Giannetti, Venard and Shelton all praised the benefits of joining both AEA and SAG-AFTRA, and working as a professional. Last but not least, Kathy Byrne led an energetic session focused on educating actors and filmmakers called Working on SAG-AFTRA Low Budget Productions. She explained how easy and painless it is to work with the union and film under various SAG-AFTRA low budget contracts.
As in previous years, once again it appeared to me that the expo is a very good way to connect with other industry people and to continue to learn about and from the Twin Cities theater community!
A Day in the Life ... We Want to Hear From You!
We are seeking short articles submitted by you, the members, about your work and experiences as industry professionals. Tell us about jobs you have been on recently, about auditions or job interviews, or in general about your union-related work and experiences in and out of the Twin Cities — a day in your life! Please submit your brief story (300 words or less) by email to twincities@sagaftra.org, and reference "Day in the Life" in the subject line. Please include your full name and contact information with your submission. [NOTE: The editors reserve the right to make the final decision on whether or not to include your submission and also reserve the right to edit the piece if necessary.]  
Important Websites:
SAG-AFTRA
SAG-AFTRA Contracts Info 
SAG-AFTRA Production Center
SAG-AFTRA Federal Credit Union