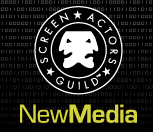 SAG New Media hosted the premiere of Duo Luna Productions' Elfquest: A Fan Imaginging to a full house April 6. The red carpet event was held at SAG National Headquarters' James Cagney Board Room. Personality Kristyn Burtt hosted the red carpet and post-screening Q&A with ElfQuest producers Paula Rhodes (A Good Knight's Quest, Hollywood Wasteland) and Stephanie Thorpe (After Judgement, Night of the Zombie King). Both the red carpet and Q&A were livestreamed to viewers by Stickam, garnering an astounding 27,792 views.
ElfQuest: A Fan Imagining is a made-for-new media project based on the comic book series ElfQuest, created by Wendy and Richard Pini in 1978. It is the tale of a tribe of elves who find themselves driven from their forest by humans and must find a new home. The comic is also known for its magical artistry and for being a vanguard of the indie/fantasy scene.
In addition to Thorpe, Rhodes and the Pinis, the premiere was attended by Mark Gant (Bannen Way), Jessica Rose (Lonelygirl15), Cathy Baron (iCarly, A Good Knights Quest), Taryn Southern (Battle LA, Attack of the Show), Shanrah Wakefield (Oz Girl, Elevator), David Nett (Gold: The Series), Adam Chapnick (chief of distribution, IndieGoGo), Brandon Martinez (head of digital media, Abrams Artists Agency) and George Ruiz (head of new media, senior vice president of business affairs, ICM).
Elfquest: A Fan Imaginging is part of an explosion in the number of productions signing with the SAG New Media Agreement. March was the best month yet, with 172 productions, overtaking the previous record for the most productions signed in a month by 33 percent. This translates to a 137 percent increase in SAG New Media business over the same month last year. SAG New Media is proud of it's advancements in growing union density and of its role in increasing professionalism in new media, creating work opportunities for SAG members and expanding the artistic integrity in this burgeoning industry.