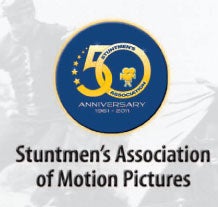 On September 24, 2011 at 6 p.m., the Stuntmen's Association will celebrate its 50th Anniversary at the Universal Hilton Hotel in Universal City, CA. The event will benefit the Screen Actors Guild Foundation, and will honor renowned actor Harrison Ford for his advocacy of the stuntmen's expertise and craft. For more information about the event, or to purchase tickets, contact The Proper Image Events at (818) 994-4661.

The Stuntmen's Association was founded by three forward-thinking, top stuntmen in 1961. Its membership then – and now – is comprised of many of the top stunt professionals in the entertainment industry. From Stunt Coordinators, Second Unit Directors, and Stunt Riggers to bag carrying stunt professionals, members of the Stuntmen's Association have been performing many of the largest action sequences in motion pictures and television for over fifty years.

During his lengthy career – from the original Star Wars trilogy, the Indiana Jones film series, Blade Runner, Witness, Patriot Games, Clear and Present Danger, Presumed Innocent, The Fugitive, Air Force One, What Lies Beneath and his recent film Cowboys and Aliens (to name a few) – Harrison Ford has been an active proponent of the importance of stuntmen, and the impact that their work has on the industry as a whole. The Stuntmen's Association is proud to honor him with the "Richard Farnsworth Award," named after one of the association's most beloved members.

Funds raised will benefit the association along with the Screen Actors Guild Foundation. The mission of the SAG Foundation is to enhance the lives of actors (including stunt performers) by investing in programs which help them in their professional endeavors and the communities in which they live. Their programs reflect the concerns and interests of SAG members, as well as their desire to "give back" to their communities.
Click here to view invitation.