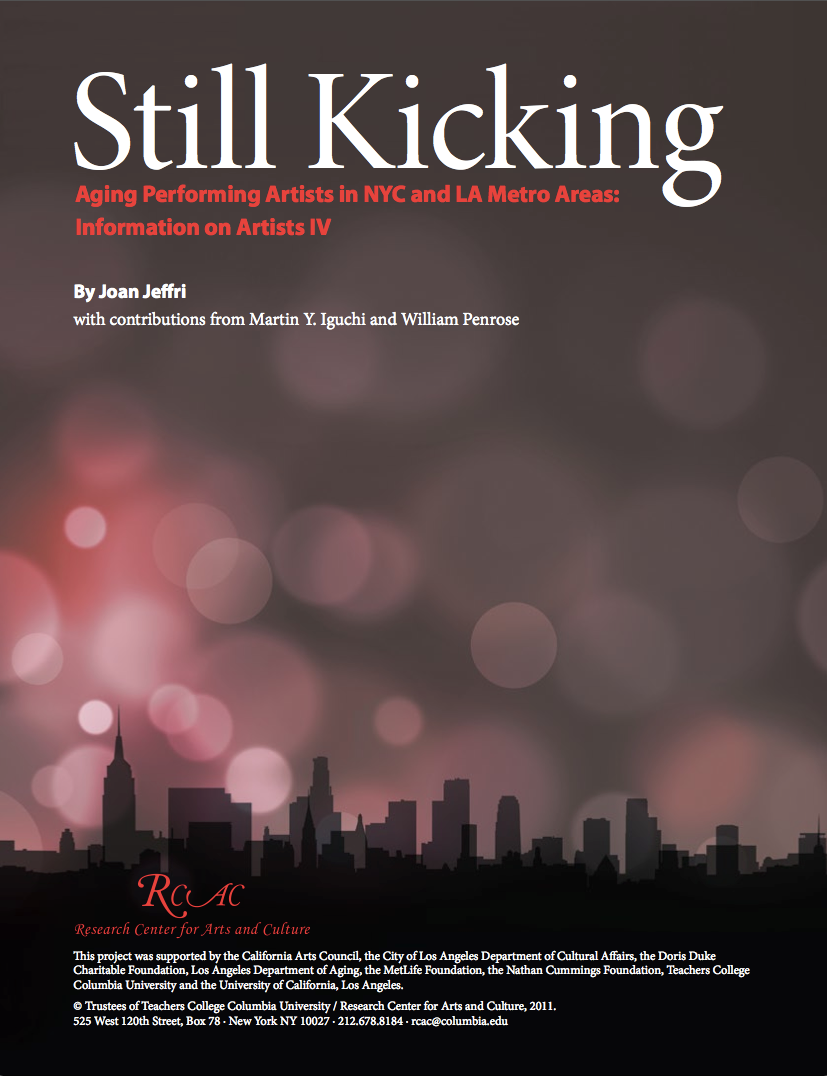 Older performers face significant challenges, including difficulty finding work and qualifying for health care, but a majority remain engaged in the creative community and are happy with the life they have chosen, according to a new study presented in New York on June 9.
 
The study, Still Kicking — Aging Performing Artists in NYC and LA Metro Areas: Information on Artists IV, was undertaken by the Research Center for Arts and Culture at Teachers College, Columbia University.
 
Presenting the study were its author, Joan Jeffri, director of Research Center for Arts and Culture, Martin Iguchi and William Penrose, who contributed to the report. SAG member and Oscar-winner Olympia Dukakis alsoaddressed the attendees with remarks about her own personal journey. Jeffri, a SAG member herself, was a performer early in her career before turning her talents to academia. For the arts to thrive, senior performer issues need to be given proper attention, she said.
 
"If we wish to prosper as an arts field into the future, it is imperative that we pay heed to the largest and 'oldest' aging generation in history," Jeffri wrote in the report. "A greater understanding of aging artists' survival mechanisms, their relationship to their work, to each other, and to the social systems which make their work possible can provide a beacon for a lifetime of meaning, often self-motivated and self-generated."

SAG President Ken Howard reflected on the personal challenges he has faced as a senior performer.

"I know very well what it is like to pursue work in this business as a senior — through my own career on both coasts, as well as through the many conversations I have had with colleagues all over the country," said Howard, a former National Chair of the SAG Senior Performers Committee. "I can tell you that we at the Guild take very seriously the concerns voiced in this study and intend to use the findings to more effectively advocate on behalf of these performers. Whatever best serves seniors — and we will all be seniors someday — is a move toward better serving artists."

Screen Actors Guild made significant contributions to the study, providing anonymous demographic information and arranging interviewswith senior artists.
 
Adam Moore, SAG Interim National Director of Affirmative Action and Diversity, said the study's results were hopeful, showing senior performers have been able to achieve personal satisfaction through their art.
 
"Despite not making as much money as other people in their age bracket, there's still optimism and a passion for the work that they do," said Moore. "They are more satisfied than most of the other folks in the population. That says something about how they manage their lives."
 
Moore said the Guild will continue to support its senior actors through the Senior Performers Committee and examine their needs through continued and more detailed analysis of the demographics of SAG's senior membership. A valuable resource, older performers bring a wealth of experience to their craft and enrich the arts community, Moore said.
 
"If experience is the best teacher, why not hire people with the most experience?" said Bill Smitrovich National Chair of the SAG Senior Performers Committee. "We must appreciate, respect and learn from our pasts — and our elders hold the past in their hearts and minds."
 
"Back in the 1970s, I might've been at the top of my earning game [as an actor], but I'm really at the top of my game now, said Tom Ligon, chair, New York Division of the SAG Senior Performers Committee. "I've never been more ready to deliver on an acting level than I am now, at the age of 70, after hundreds of plays and dozens of film and television programs."
 
"I've had dreams about how profoundly fortunate I am to have supported myself for so many years as an actor. I am in awe of that," he said. "It's been extraordinary for 50 years to not do anything except this –storytelling from who and what I am. I feel so fortunate, and I don't complain."

Click here to download complete report.