SAG-AFTRA California Urges You to Vote No on Prop. 32
Proposition 32 is on the November ballot in California. It is being touted by proponents as campaign finance reform for the state. But Prop. 32 is not what it seems.
Prop. 32 is anything but a campaign finance reform law. It is a direct assault on unions and their ability to raise funds to participate in political campaigns and an attempt to silence the voices of workers across the state.
In September, the Los Angeles, San Diego and San Francisco Local Boards of SAG-AFTRA overwhelmingly voted in favor of joining with union members across the state in the No on Prop. 32 campaign. While SAG-AFTRA does not engage in campaign contributions to candidates or ballot initiatives contemplated by Prop. 32, SAG-AFTRA vigorously defends the right of unions to make such decisions within their own democratic process, as our Boards have, rather than by government mandate. Prop. 32, if passed, will effectively leave workers in the entertainment and media industry at the political mercy of anti-union corporate interests that will inevitably attempt to curtail important workplace protections.
Prop. 32's real intent is to weaken unions — and union members' voices — and give even more power to corporate special interests. The anti-union backers of Prop. 32 claim it will ban both unions and corporations from giving money to candidates or political parties. In reality, a loophole would allow the creators of Prop. 32 a special exemption for themselves and other corporate special interests.
Prop. 32 would ban union members' right to pool money in support of candidates who stand with workers, oppose those who want to continue to erode the voice of working people or to fight anti-worker ballot initiatives, such as those limiting collective bargaining rights. It would take away union members' rights to choose how their money is spent for political campaigns and ballot initiatives.
Prop. 32 would ban unions from using any funds collected through payroll deductions for politics. Although Prop. 32 claims corporations would also be banned from this practice, the reality is corporations rarely use payroll deduction for politics — they use their profits. With the special exemptions allowed in in Prop. 32, corporate special interests would have unlimited spending power for political campaigns through powerful Super PACs, while unions would have NONE. 
Stop Prop. 32 Zombie Lurch
What Can SAG-AFTRA Members Do?
Like our FB page, Follow us on Twitter and Youtube and share our information with interested friends.
Join your fellow union members across California in educating friends, family members and colleagues on what really lies behind Prop. 32.
Bookmark this page and check back often for dates for upcoming meetings and events.
Join our email list to get up-to-date information and resources on the No on Prop. 32 campaign. Email StopProp32@sagaftra.org to opt in.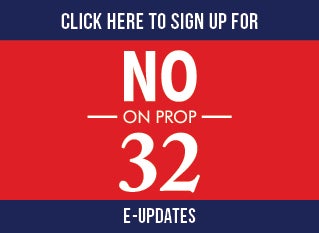 More information can be found at: