The Official E-Newsletter of the SF-Northern California Local
CINEQUEST FILM FEST SPONSORSHIP
Our local once again joined sponsors across the Bay Area in supporting the Cinequest Film Festival in San Jose. The two-week festival offered plenty of opportunities for our local Executive Board members, as well as our staff, to put a face to the SAG-AFTRA name for filmmakers and performers who were in town for the festival.
Beyond the film screenings, events included film industry meetups. It was also a chance to connect with members from other locals, including a performer from Texas who won a screenwriting award at the festival — congratulations Sean Corrigan!
We also had great contact with some schools who are interested in having us speak with their film students. Cinequest is one of many film festivals that our local attends every year.
2015-2017 LOCAL BOARD
Kathryn Howell – President
Brian Hackney – Vice President (Broadcast)
Ed Vasgersian – Vice President (Performer)
Marie Shell – Recording Secretary
Robert Curé
Ann E. Fields
Talaria Haast
Mark Jones
Scott Lettieri
Joe Paulino
Michael Pechner
Phillip Ramirez
George Rask
Lucrecia Sarita Russo
Don Sanchez
Micci Toliver
President's Report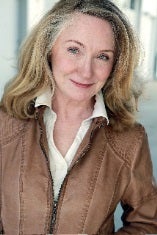 By Kathryn Howell
It is with great appreciation that we thank elected Local and National Board members who have served us so well for many years (or decades!), and have chosen to step aside: Belva Davis (35-plus years), Denny Delk (30-plus years), Charlie Holiday (15-plus years), Jerry Gough (nine-plus years) and Matt Cates (six-plus years). These dedicated members have provided outstanding leadership, advice and advocacy for the membership. Also, of course, a most warm welcome to the newly elected officers and board members. I look forward to working with all of them!
Your elected leaders, staff and volunteers have been very busy with outreach. Our local either sponsored or was involved in the following events: membership meetings in San Francisco and Sacramento, the SAG Awards party (thanks so much to the more than 100 members who attended, you all looked fabulous!); a holiday open house for industry partners; a Martin Luther King Jr. Day breakfast honoring our own Belva Davis; and a fabulous speech by Carl Lumbly for the Shakespeare Theatre Association Convention.
 
We're also stepping up our profile at film festivals. In May, we were a sponsor of the Sacramento International Film Festival. During a spirited panel discussion aboard the riverboat Delta King, TV/Theatrical Business Rep Frank Simeone and I fielded questions from the large audience about SAG-AFTRA and its contracts. It was a powerful and productive conversation and a wonderful way to connect with filmmakers and actors alike.
 
Other festival sponsorships have included the Mill Valley Film Festival, Cinequest in San Jose and the SF International Film Festival. These festivals offer excellent opportunities to have a strong presence in the production community and to share information about our membership and our contracts.
 
Thanks to the many people who have been active in promotion and outreach activity for the San Francisco-Northern California Local. I'd especially like to thank the wonderful members of the Communications Committee for their help with all of these events. It's members who volunteer that help make our local vital!
National Board Report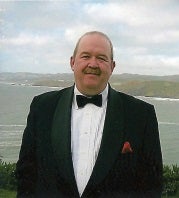 By Denny Delk
Well, summer is drawing to a close and it's almost back-to-school time, the time when kids start to pout and moms can't wait for their few hours of empty nest. Meanwhile, there are new and exciting projects going on at SAG-AFTRA that are aimed at making the members' lives a little better.
Your Health and Retirement/Pension and Health trustees continue to meet to cobble together a real solution to divided earnings credits under the SAG and AFTRA plans. Working with our consultants who can help us make sense of all the moving parts, we are focused on making more performers eligible and continuing to cover our retirees, while not doing harm to any of our current participants. Someone compared it to trying to thread a needle in an open convertible driving down 280 at 70 miles an hour, but we are getting closer. Keep watching for announcements in the coming year. And not to blow my own horn, but as co-chairman of the AFTRA pension fund's investment committee, we've realized the second-best investment performance of all the entertainment unions for the past couple of years. Lots of people set their minds to that goal, but it is something the AFTRA pension fund can be justly proud of.
Meanwhile, we are trying to reorganize the Corporate/Educational Contract. This used to be a major source of income and P&H/H&R credits in years gone by, but the nature of the business has changed. Both SAG and AFTRA were slow in understanding the changes and tried to get the industry to stick with our way of doing things, but that's kinda like trying to tell the lava flow to turn left so it doesn't get to the shave ice stand (people who visit Hawaii a lot will get that). It isn't going to happen. So we have made our contracts more compatible with current industry practices, while still providing performer protection. The next year will indicate how successful that effort has been, and we'll try a little fine tuning to make sure that San Francisco producers get answers to their particular problems.
And as some of you already know, I did not stand for election in this last ballot season. I am stepping away from the National Board. I've tried to be a voice for San Francisco performers, both actors and broadcasters, for more than a few years. But it is time for someone else to take up the burden. I will continue with the AFTRA trustees for as long as you'll have me. 
I do want to take a moment to say thanks to so many of you for your help and support. People at the national union continue to look up to San Francisco. And I look forward to the next time we're in the studio together.
Bay Area Delegates Attend National BSC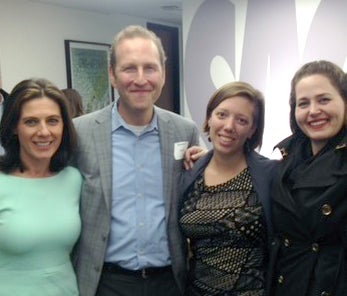 From left, KDTV anchor Maria Leticia Gomez, Local Executive Director Len Egert, SAG-AFTRA organizer Lauren Renaud and SAG-AFTRA Broadcast Business Rep Jessica Bowker at the BSC meeting in March.
Broadcasters from our local braved the cold in New York City to join fellow radio and television members from across the country for the winter session of the national Broadcast Steering Committee March 5-8. The meeting participants span a variety of job and station types, from recently joined photographers at an Oklahoma TV station to DJs at commercial radio stations, to public radio reporters and longtime TV anchors. Throughout this range, though, are common issues across the broadcast industry that bring these members together.
The morning began with reports from the national BSC chair, SAG-AFTRA's president and our chief broadcast officer. The reports included recent organizing victories and first contracts at stations in San Francisco, Philadelphia, Chicago and San Diego.
The afternoon included small group breakout sessions exploring how to best communicate with coworkers about the union in our shops. The group sessions included role-playing common scenarios in stations, such as talking to brand-new members, how to explain the importance of the union to well-compensated members on personal contracts and how to prepare coworkers for contract negotiations. Some members brought up timely issues occurring at their stations and brainstormed with the group how to address the problems.
Throughout the meeting, our local's delegates made important connections with our counterparts in other locals. We look forward to continuing to build these bridges and sharing information with members across the country.
Sacramento Membership Meeting & Mixer
A great time was had by all at the Sacramento membership meeting and mixer on May 2. Thirty-six members attended the meeting, which was held in a self-described "dive bar" in Old Town Sac. There was a lovely patio for our members to engage with each other, staff and elected leaders. The conversation was lively and everyone agreed to more frequent informal gatherings. Following the meeting, SAG-AFTRA co-sponsored a mixer with the Sacramento Film Festival. Both floors of the bar were filled with guests from the film community. It was festive and fun, with appetizers, music and merriment.
SAG-AFTRA on a Roll at Cumulus Radio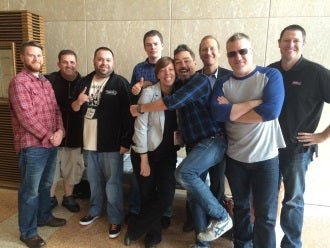 Newly organized KNBR staff with SAG-AFTRA organizer Lauren Renaud, center
 
Recently, off-air production staff at KGO-AM and KSFO-AM in San Francisco voted unanimously to choose SAG-AFTRA as their union and join our local. The new bargaining unit will cover producers, board operators, Web producers and more, for news and talk stations KGO 810 and KSFO 650. They join the anchors, reporters and hosts who have long been part of our local.
Board Operator Karen Reid said, "We're pleased to join our on-air colleagues and unite with them for a fair contract."
Current SAG-AFTRA on-air members supported their off-air coworkers, who joined them at the bargaining table. After years of contract negotiations, both groups hope that Cumulus hears their message — that their efforts to put profits before local radio won't stand. You can expect to hear more from this unified group and their contract campaign in the coming months.
This is our local's second election at a Cumulus Media radio station in the past year. On Nov. 6 of last year, staff at KNBR 680/1050 in San Francisco voted to join our union. That new bargaining unit covers more than 35 media professionals who host, report, produce, edit and coordinate content for sports stations KNBR 680 and KTCT 1050. They won their election, interestingly enough, while the San Francisco Giants were winning the World Series, which made for a thrilling few weeks.
The members at these Cumulus stations — newly joined as well as longtime members — are working together in their fight for fair terms and conditions. We escalated our fight by launching a public petition at savelocalradio.org. We followed up by leafleting outside of a Giants game, alerting listeners and fans to Cumulus' treatment of its employees and asking them to join in support on our petition. This campaign will continue to escalate as needed, so keep an eye out for more news on this front.
Belva Davis Honored
The San Francisco Labor Council and the NorCal MLK Foundation honored Belva Davis, renowned broadcast journalist and longtime SAG-AFTRA Board member, with the inaugural 2015 Willie B. Kennedy Service Award. The award was presented on Jan. 19 at the annual Martin Luther King Day Labor and Community Breakfast hosted by both organizations.
The event marked the 50th anniversary of the seminal civil rights marches from Selma to Montgomery, Alabama, that launched the passage of the Voting Rights Act. The program featured a news piece produced by Davis for the KRON series, About Race. Civil Rights Anniversary 2000 documented Davis' personal and moving pilgrimage to Selma and Montgomery.
The Willie B. Kennedy Service Award recognizes Davis for her civic service via her work in Bay Area media for over half a century. 
The first African-American woman television reporter on the West Coast, Davis is best known for her groundbreaking stories on race, gender and politics, including the Berkeley student riots, the assassinations of San Francisco Mayor George Moscone and Supervisor Harvey Milk, and the mass suicide-murders at Jonestown. She was a longtime news anchor at both KPIX and KRON, and hosted the KQED program This Week In Northern California for more than 19 years. She is lauded for the balanced, calm and unique perspective she has brought to stories and interviews with historical luminaries such as Martin Luther King, Bobby Kennedy, Fidel Castro, George H. W. Bush, Malcolm X, Huey Newton, Muhammad Ali and Maya Angelou. Davis is the recipient of the prestigious AFTRA George Heller Memorial Gold Card for her significant and long-term service to the union. In addition, an award presented at SAG-AFTRA's national convention, the Belva Davis Broadcaster Award, was named in her honor.
Throughout her career, she has advocated for women and minorities, and she served as the AFTRA National Equal Employment Opportunities Chair for more than 12 years.
"I am proud to have been named as the award's first honoree," said Davis. "Important to being nominated was my work with AFTRA on its [equal employment opportunities] efforts over a few decades. It has been an honor and a privilege to have served my union for so many years."
Love and Madness at the Shakespeare Convention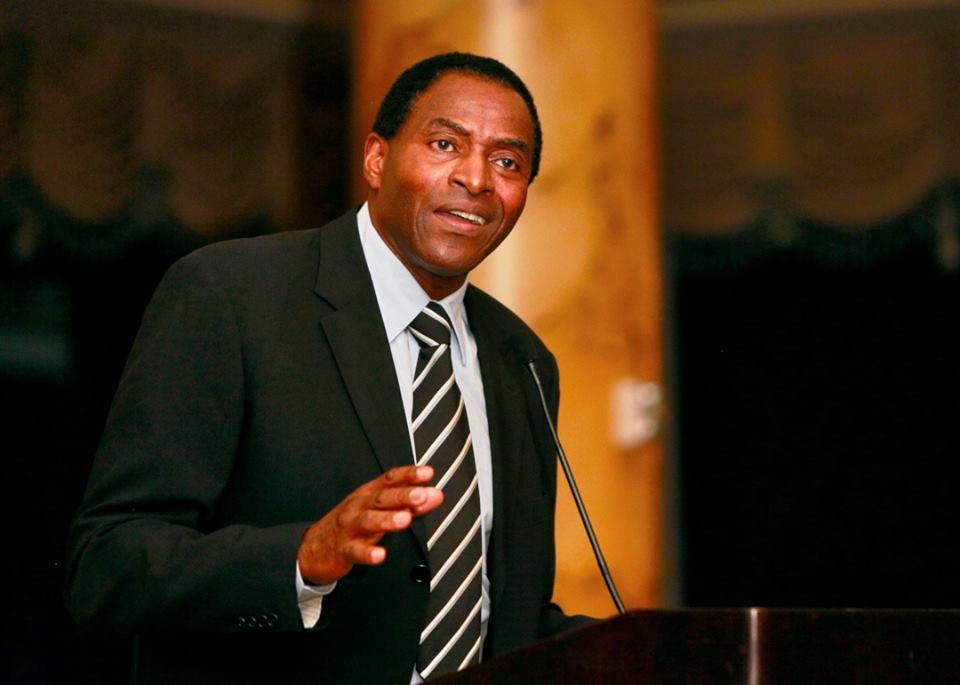 Carl Lumbly
The Shakespeare Theatre Association, which includes Shakespeare Companies from around the nation and around the globe, held its annual convention in San Francisco this year, hosted by the San Francisco Shakespeare Festival. Organizers reached out to SAG-AFTRA for a keynote speaker, and Carl Lumbly, a consummate actor of both stage and screen and a member of our community, fit the bill perfectly. 
Lumbly gave an engaging, warm, amusing and inspirational speech to the assembled theater producers at the January event. He spoke of love and madness, and effortlessly interwove those themes into stories about life and art. Love and madness are qualities that make our craft possible: Madness to dare to create the impossible. Love of the art, of the work, of the audience. Sharing our hearts and touching others.
We want to thank Lumbly for graciously sharing his time and providing a beautiful keynote speech.
Staff Update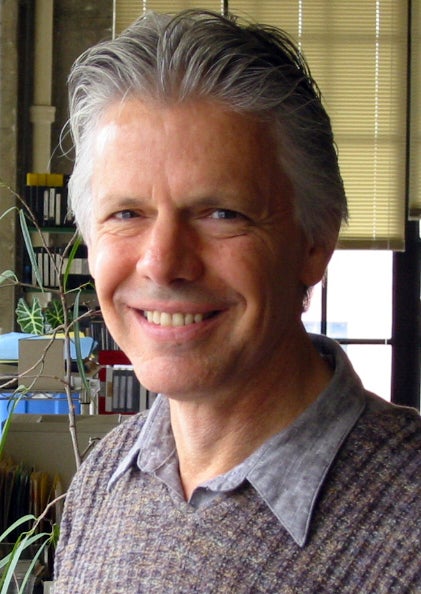 Frank Simeone
Frank Simeone has been hired by the SAG-AFTRA San Francisco-Northern California Local to helm the theatrical division. In his capacity as theatrical business representative, he will provide signatory services for producers across all ultra low budget feature film, short film and student film contracts initiated through the San Francisco office.
In addition, Simeone will conduct set visits and contract enforcement for members on TV/Theatrical productions in Northern California and serve as the SAG-AFTRA liaison to the San Francisco Film Commission and other industry partners.
Lauren Renaud, organizer, is leaving our local to attend graduate school at Carnegie Mellon University. Lauren has been a critical part of our team, organizing both KNBR and off-air members at KGO and KSFO. She has also been invaluable in re-energizing the local broadcast department. We wish her all the best in her future endeavors.
Seuss on the Loose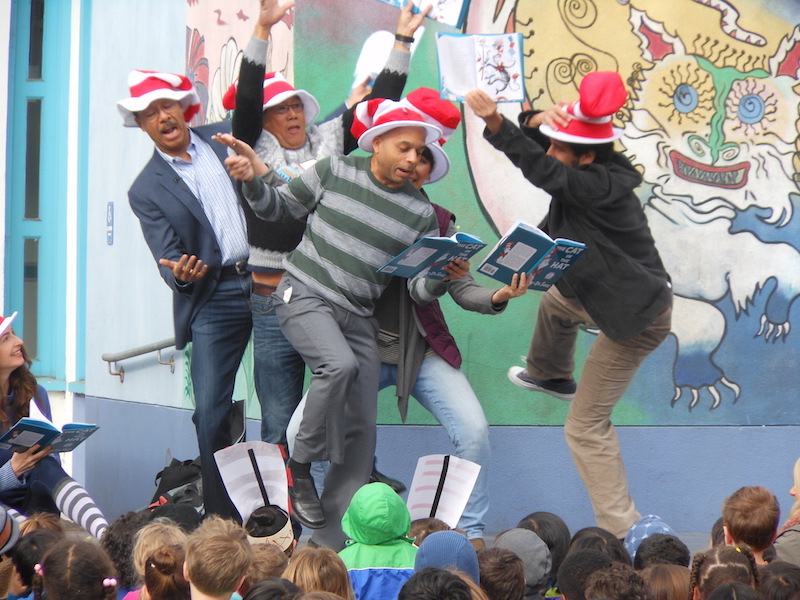 SAG-AFTRA volunteers perform for the Seuss celebration.
BookPALS (Performing Artists for Literacy in Schools), a program of the SAG Foundation, celebrated Dr. Seuss' birthday week across the Bay Area. SAG-AFTRA volunteers shared a love of books, Seuss and stage by reading in classrooms and at special events. Over 1,000 children at San Francisco's Rooftop School, John Muir Elementary and Oakland's Grass Valley Elementary giggled at the animated Seuss readings. 
Spencer Christian, ABC7-KGO broadcaster, lent his star power to Rooftop Elementary, where he shared a new favorite Oh Say Can You Say, What's the Weather Today and The Cat and the Hat. His station covered the importance of children's literacy with a story on the March 2 broadcast at 4 and 6 pm. Watch the video here. Christian loved the experience of reading to kids so much that he now volunteers at a San Francisco public school every two weeks.
The 2015 Seuss events for Read Across America marked the kickoff of the SAG Foundation's and Rise Up Foundation's national literacy initiative #ReadtoMe. The campaign encourages everyone to pick up a book and read to a child in his/her life. Research shows that reading aloud to children dramatically improves language, literacy and academic outcomes.
Join BookPALS in opening up the world that the written word and books can offer. Become a volunteer. Contact BookPALS Coordinator Stephanie Tang by email or at 510-717-3688 for more information.