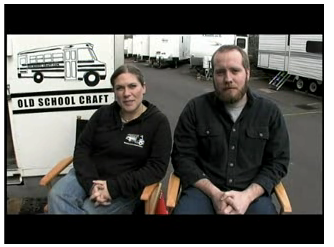 Two Oregonians concerned with digital theft are hoping to get some "leverage" with the senator who has blocked a bill that would authorize the government to shut down websites that traffic stolen digital or physical goods.
Aaron Ward and his wife Rachel Lipsey, who provide craft services for the TNT TV series Leverage, recorded a video appealing directly to Sen. Ron Wyden (D-Ore.). Wyden last year stopped the controversial Combating Online Infringement and Counterfeits Act from going to vote in the Senate, effectively killing it.
In the video, which was posted on IATSE's website, Ward and Lipsey link digital theft to the loss of jobs.
"If the producers of Leverage can't recoup their investments, they will stop producing the show and 100 Oregonians will be out of work," Ward said. The video appeal got noticed. Politico put a short write-up on its website and Wyden's office called IATSE to arrange a meeting, said Scott Harbinson, IATSE's international representative. Harbinson doesn't think the video will change Wyden's mind, but he's glad it has opened lines of dialogue about the problem of digital theft, and he's hopeful that will lead to results.
"We're very happy with the attention our approach has drawn," he said. "We're hoping this will open him up a little bit in hearing our concerns and the concern of his constituency."
See the video at http://iatse-intl.org/DMPTheft/theftpress4.html.