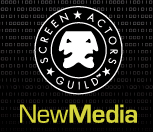 Screen Actors Guild will be hosting a roundtable discussion on Emerging Media: New Models for the New Frontier Wednesday, June 22. The panel is being presented by the Los Angeles County Bar Association, Entertainment Law & Intellectual Property Section's SubSCREEN committee.
 
The panel consists of SAG Director of New Media Contracts Bob Jensen; producer and co-founder of Epic Level Entertainment Cindi Rice; and Drew Baldwin, founder of the online video news and review site Tubefilter. The panel will be moderated by Danielle Van Lier, SAG Senior Counsel, Intellectual Property and Contracts.
 
Program Description: New media is evolving rapidly, no longer relegated to side projects, but instead quickly becoming a more viable industry in its own right. With brand managers, distributors, independent producers and studios increasing their activities in the new media space and producing more professional content, several dominant financing and business models are emerging. The panel of experts will discuss these models, working with Screen Actors Guild and other entertainment industry unions, and sharing important tips and trends in the new media space.

Please visit the Los Angeles County Bar Association's website for more information.