January 30, 2009
BRANCH PRESIDENT'S MESSAGE
By Don Ahles
Happy New Year to all!

This past year has included some things we would rather forget, but it also marked an important milestone for the Guild. Not too many things endure 75 years. We all shared in this proud celebration. This past year also included our own "star" on the Hollywood Walk of Fame, dedicated by honorary mayor Johnny Grant, so that every actor has a star of his or her own. I must remind you that 75 years ago our founding members took many risks to ensure the rights we all continue to benefit from today. Those members did so at a time when conditions were much worse than today—unemployment was 25 percent. They took a chance with their profession, and even their lives, to give all of us protections and benefits from this union.

Please go to SAG.org and read the latest news from the Guild. If we are asked to weigh in on any of our contracts or other critical matters, let me thank you all in advance, for participating in important decisions that impact all members. Continue to stay involved and educated, as it's your union.

It was great to see those of you that braved the "big storm" that hit the night of our December membership meeting. It rains so infrequently in San Diego, but when it does we seem to curl up and stay indoors with something hot...so I will look forward to seeing you at our next meeting.

Finally, I wish everyone a happy and healthy 2009, with an emphasis on the positive rather than the "glass half empty" we hear much too often.

NEW BRANCH EXEC TO BE ANNOUNCED IN FEBRUARY
By Linda Dowell
Regional Branch Division Executive Director

I wrote you in the fall about our search for a new executive director for the San Diego Branch. I am happy to report at this time that after an extensive search, a new executive director has been hired to serve in the capacity of San Diego and Nevada Branch executive director. Our newest member of the SAG team will be onboard soon, will reside in Las Vegas and plans frequent travel to San Diego. Watch for an official announcement with more details and updated contact information to reach your new exec. In the interim, feel free to contact me with any questions or concerns at ldowell@sag.org, (972) 361-8185 or (800) 724-0767 ext. 7.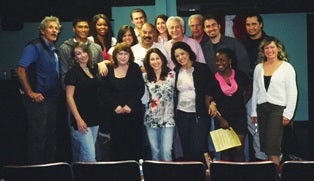 As part of the successful San Diego Branch
Conservatory program, members participate in a
cold reading class with director, writer, and
acting coach Kimberly Jentzen (center).

COMING UP FROM YOUR CONSERVATORY
By Lorenzo Rodriguez
San Diego SAG Conservatory Chairman

Thanks to all the teachers, members and San Diego Branch councilors for making the SAG Conservatory a great place to study. This spring we will have an on-camera workshop for SAG members only. Also, improv classes and special guests to be announced. Call the SAG hotline at (619) 744-8900 to keep apprised.

SEARCH ENGINE BENEFITS SAG FOUNDATION
GoodSearch.com is a new search engine that donates half its revenue, about a penny per search, to the charities its users designate. You use it just as you would any search engine, and it's powered by Yahoo!, so you get great results.

Just go to GoodSearch.com and be sure to enter the Screen Actors Guild Foundation as the charity you want to support. Just 500 people searching four times a day will raise about $7,300 in a year without anyone spending a dime.
SAG FOUNDATION OFFERS SCHOLARSHIPS
Apply today to find out whether the Screen Actors Guild Foundation can help you or a family member with your education or career transition. The 2009 John L. Dales Scholarship application for eligible SAG members and children of members is available now at SAGFoundation.org. Click on Scholarships to view eligibility requirements. There are two types of scholarships, standard and transitional, and the application deadline is March 16, 2009. For more information, contact Davidson Lloyd at (323) 549-6649 or dlloyd@SAG.org.

The Screen Actors Guild Foundation is a humanitarian, educational and philanthropic organization that offers substantive assistance to Guild members and the greater community through its programs. For more information, or to make a charitable donation, please visit SAGFoundation.org.


A MESSAGE FROM THE SAG FOUNDATION
Since 1985, the Screen Actors Guild Foundation has embraced its mission to assist, educate and inspire actors to their fullest career potential and to give back to the communities in which they live. While we are not a part of Screen Actors Guild, we are dedicated to serving its members.

From the Board of Directors to staff to volunteers, the foundation's diverse makeup is a large component of this non-profit 501(c)(3) organization's success. Governed independently of the Guild, the non-political, non-partisan foundation is a collective body bringing different personalities, attitudes and opinions together in service of actors who, like us, come from all walks of life.

Chances are that we've already helped you, or someone you know, with financial assistance in a time of crisis, scholarship monies, efforts we make toward children's literacy, time spent in the Actors Center (the only resource center of its kind in Los Angeles), or seminars, workshops and other career-informing events. In any case, please visit our website at SAGFoundation.org to find out more about us.

Our work is rewarding, but not easy. Our programs and benefits are supported not by your Guild membership dues or fees but by grants, donations and our own fund-raising efforts. Resources are limited and times have been exceptionally hard. Our Emergency Assistance program, overtaxed by such economic blows as the Writers Guild strike, which put countless actors out of work, has far exceeded its budget and the livelihood of the foundation as a whole is in delicate balance.

It takes an actor to understand an actor's struggle. Most of us at the foundation are actors, and by learning more about the Screen Actors Guild Foundation, we hope you will gain a greater understanding of our work and what it takes to keep us going. Your tax-deductible donation can make a huge difference in the life of a fellow actor. You can donate online whenever you wish, make automatic monthly donations or send us a check made payable to Screen Actors Guild Foundation. You also can think about residual checks, no matter what their size, which might benefit your peers if you sign them over to the foundation as a charitable contribution.

Meanwhile, we also encourage you as a SAG member to think about the services we make available in support of your own career. Knowing, understanding and giving to the SAG Foundation is an investment not just in the foundation's livelihood, but in yours.

Screen Actors Guild Foundation
5757 Wilshire Blvd., Suite 124
Los Angeles, CA 90036
phone: (323) 549-6708
fax: (323) 549-6710

CHECK YOUR BACKSIDE - ACT AS ONE
Check the back side of your Screen Actors Guild membership card, and you'll see the most important rule by which SAG members must abide. Rule 1 states that no member shall work for or agree to work for a producer who is not signatory to the appropriate SAG agreement. Since January 1, 2009, Rule 1 is being vigorously enforced in new media.

New media means the Internet, cell phones, PDAs and any other technology that may be invented in the future. That means every time you work on a project intended for new media, you need to be covered by a union contract. Being covered by a SAG contract right from the start is a good thing, because in new media, you never know where you'll find an audience or how successful a project may become.

We can provide more information and answer your specific questions at organizingnewmedia@sag.org or (323) 549-6777.

The 2002 worldwide expansion of Rule 1, now known as Global Rule 1, produced nearly $500 million in SAG member earnings and $23 million in contributions to SAG pension and health funds. When actors stick together, we all win. Setting standards in new media will be challenging and only can be accomplished with member solidarity.

DUES REMINDER
If you haven't done so already, please pay your dues today. If you are not an active, paid-up member in good standing, you may not be able to vote in Guild elections or contract referenda or be eligible to serve on the council or committees. You also must be paid to date to register on iActor, the Guild's online casting program, which is now being used by casting directors nationwide. If you have any questions regarding your dues, please contact the Cashiers Department at (800) SAG-0767, option 2.

SAG IS TALKING
Have you checked out SAG Talk yet? It's the new blog that takes on some of the timely issues facing Screen Actors Guild and its members. Its goal is simple: to set the record straight. SAG Talk is just one of the new beneficial features of the constantly improving SAG.org.

QUESTIONS? CONTACT US
If you have questions or suggestions about this publication, e-mail ldowell@sag.org.

---

For address changes, removals, and misdeliveries, please follow the procedures at:
http://www.sag.org/Content/Public/Email_OptOut.htm