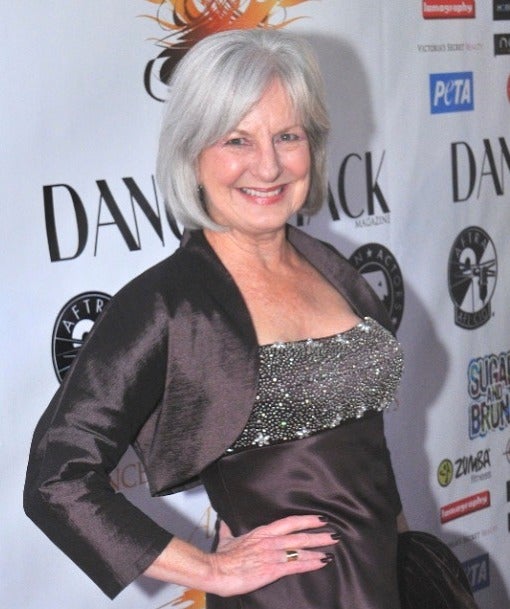 SAG/AFTRA Dancers Committee chair Bobbie Bates was honored with the Dancers in Solidarity Award on March 27 at the 2011 Dance Track Magazine Artist Awards for her efforts to improve working conditions and the professional lives of dancers and choreographers.
 
This was the first year Dance Track magazine, a publication devoted to professional dancers and choreographers, has honored exceptional members of the dance community. The award was presented to Bates at the event in Hollywood jointly by Screen Actors Guild Senior Advisor John McGuire and American Federation of Television and Radio Artists National Board member Susan Boyd Joyce. Screen Actors Guild which was one of the Premiere Sponsors of the awards show, also presented Bates a commendation after the event.

Caption from left to right: John McGuire, Bobbie Bates and Glenn Hiraoka
Photo Credit: Levi Walker
 
Sandra Colton, Dance Track's editor-in-chief, said the decision to give Bates the award was an easy one. Bates helped create Dancers Alliance, an organization that provides opportunities for networking and education, and helps dancers with their careers. Bates is an AFTRA Board member and is known for her work in Funny Girl, Mame and The Back-Up Plan. Colton said Bates is tirelessly devoted to helping dancers.
 
"We selected her because she represents all of what dancers and professional dancers should be about. She's a great person, she's a very talented person and she has dedicated a lot of her life to bettering conditions for dancers," Colton said.
 
Bates' work also reflects a deep desire to broaden appreciation for dance – a mission Colton shares. Through Dance Track and other avenues, Colton wants the public to understand that dance doesn't just happen, it requires the devotion, practice and talent of any other skilled profession.
 
"People need to put dance on the same pedestal as acting and singing and things of that nature," Colton said.

Caption from left to right: Sandra Colton, Susan Boyd Joyce, John McGuire,
Bobbie Bates and Glenn Hiraoka
Photo Credit: Levi Walker 

And, to some degree, that may already be happening.
 
The airwaves are full of dance programs: Dancing with the Stars on ABC, So You Think You Can Dance on FOX, America's Best Dance Crew on MTV, plus upcoming shows such as The Dance Scene on E!, featuring Laurie Ann Gibson, Lady Gaga's choreographer, and Mobbed on FOX. That doesn't include shows that feature plenty of choreography but aren't primarily about dancing, such as Glee and music video programs. It all adds up to a wide selection of entertainment for viewers who may not even realize they are fans of dance.
 
The award was one of four special honors awarded by the magazine's staff for exceptional contributions to the art and culture of dance. Besides Bates, other special honorees included the dance group Jabbawockeez, which received the Artist of the Year Award; Robin Antin, creator of the PussycatDolls, honored with The Mogul Award; and Charlize Glass and Jalen Testerman, who took the Young Artists Award. The show also featured awards in dozens of other categories, as well as readers' choice picks.
Visit Dance Track magazine's website at dancetrackmagazine.com.
Photo credit: Levi Walker