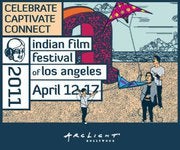 Now in its ninth year, the Indian Film Festival of Los Angeles (IFFLA), taking place April 12-17, is devoted to a greater appreciation of Indian cinema and culture through promoting films, supporting emerging filmmakers, recognizing the leadership of entertainment industry professionals, and celebrating diverse perspectives of the Indian diapora.
SAG is sponsoring Seminar Day on Saturday, April 16 from 10 A.M. - 3 P.M. at the Arclight Cinema Hollywood. SAG National Director of Affirmative Action & Diversity Rebecca Yee will serve as a panelist on "Breaking Into the Industry: Opportunities and Challenges for South Asian American Filmmakers and Talent." Moderated by Reena Singh, Vice President of Development and Current Programming at Universal Cable Productions (UCP), additional panelists include actor Rupak Ginn (Royal Pains, Private Practice), writer Luvh Rakhe (Outsourced, It's Always Sunny in Philadelphia) and the executive director of Nickelodeon's Writing and Artist Fellowship, Karen Kirkland.
SAG Affirmative Action & Diversity will host a Dare to be Diverse screening of the film Troublemaker and a post-screening Q&A moderated by Rupak Ginn (Royal Pains, Private Practice) on Saturday, April 16 at 6:45 pm at the Arclight Cinema in Hollywood.
In Troublemaker, Rekha's life is a mess. Between her over-due rent, a dead-end job and an unreliable car, the road to adulthood has been a long and bumpy one. While her friends move on towards promising careers and prospects, she boils with uncertainty and anger. Propelled by little more than rumor and a list of D. Kumars in the phone directory, Rekha decides to seek out her estranged father to help alleviate her financial woes.
Click here for ticket information, visit the film's official website here and view the Facebook event invite here.