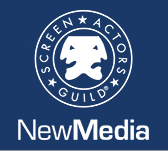 SAG New Media is proud to support the inaugural IAWTV Awards on January 12 during the International CES in Las Vegas. The awards honor the best of new media and showcase the amazing talent of not only SAG performers, but of the new media community at large. (Click here for a list of SAG-signatory nominated productions.)
The International Academy of Web Television (IAWTV) Awards is an official web television industry awards show established for content creators, by content creators. The event serves as a platform for members of the IAWTV to honor the best of their profession, while networking among industry luminaries and supporting the IAWTV. Proceeds raised from the show are used for the betterment of the community by providing more member resources as well as professional development and education for professionals working in web television.
Be sure to catch the live stream of the IAWTV Awards on January 12 at www.youtube.com/IAWTV.org. For more information on IAWTV and the IAWTV Awards visit www.IAWTV.org.
For a SAG New Media roadmap to Entertainment Matters at CES, click here. If you are a SAG member attending CES and need onsite assistance regarding CES, please email newmedia@sag.org.
To stay up-to-date on all of SAG New Media related news and events follow us @sagnewmedia.