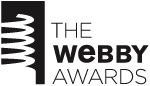 The winners of the 15th Annual Webby Awards were announced May 3. SAG New Media congratulates all of the nominees and winners including SAG-covered productions Web Therapy, The Office: The 3rd Floor Webseries, The Office Fanisode, Anyone But Me and Diary of a Single Mom.

Winners were selected from over 100 categories in Websites, Interactive Advertising, Online Film & Video, and Mobile & Apps. Two honors are given in each category, The Webby Award and The Peoples Voice Award.

Established in 1996, the Webbys are presented by The International Academy of Digital Arts and Sciences, which includes an Executive 750-member body of leading Web experts, business figures, luminaries, visionaries and creative celebrities, and Associate Members who are former Webby Award Winners and Nominees and other Internet professionals.
    
The Webby Awards ceremony will be broadcast live from New York City's Hammerstein Ballroom on June 13, 2011.
 
Stay up-to-date on all SAG New Media news and events by following us @sagnewmedia.