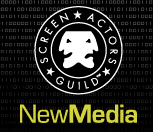 Ready to take your Web series to the next level?
Interested in building a website or an app to market your project or career?
Want to learn the basics of working with a development team?
 
Then come to Jigsaw Global's Introduction to Digital Media Production presented by Hollywood MOVE and the SAG New Media Department. This seminar will help you gain serious marketing power by giving you the tools to understand the process involved in building interactive new media sites and apps.  Whether you are a new producer looking to market your projects to a wider audience, a performer wanting to market your career or a seasoned veteran hoping to harness the power of new media, this seminar is for you.
Who should attend?
SAG signatory new media and independent producers looking to become more familiar with website and app production
Members who have produced or are producing low budget or new media projects
Members looking to market their already produced projects
 
When: 7–9 p.m., Wednesday, October 26, 2011
 
Where: Screen Actors Guild Headquarters
Founders Room, 8th Floor
5757 Wilshire Boulevard
Los Angeles, CA 90036
Parking will be validated
RSVP to: sagnewmediaevents@sag.org