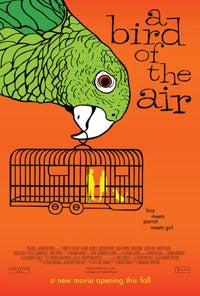 A BIRD OF THE AIR
Event Type:
Conversations
Title:
A BIRD OF THE AIR
Screening followed by a Q&A with Jackson Hurst and Rachel Nichols
Date:
Tuesday, September 27, 2011
Time:
7pm
Location:
SAG Foundation Actors Center
5757 Wilshire Blvd, Mezzanine Level
Los Angeles
(free validated parking)
 RSVP:
 

Lyman (Jackson Hurst) is a loner, working the graveyard shift for the Courtesy Patrol. When a green parrot flies in to his trailer he becomes obsessed with finding its owner, which leads him to Fiona (Rachel Nichols). She has been eyeing Lyman from a distance and decides to help with his parrot search, whether he wants her to or not. Along with her basset hound, they set out on a quest to find the bird's previous owners and Fiona begins to unravel the mysteries of Lyman's past. But when Fiona joins Lyman on his nightly rounds, she witnesses a reality more intense than the romantic version she had envisioned.

Also featured are Linda Emond (Julie & Julia), Buck Henry (Grumpy Old Men), two-time Tony-winner Judith Ivey (Hurlyburly, CBS's Designing Women), Erik Jensen, Matte Osian (ABC's Ugly Betty, NBC's Law & Order), Rocco Sisto (Donnie Brasco, HBO's The Sopranos) Phyllis Somerville (The Curious Case of Benjamin Button), and Louis Zorich (NBC's Mad About You). Producers are Steven Tabakin, Margaret Whitton, and Warren Spector of Tashtego Films.

Filmed in and around Santa Fe, New Mexico, A Bird of the Air was shot by Academy Award-winning cinematographer Philippe Rousselot (A River Runs Through It) with costumes by Joseph G. Aulisi (The Pink Panther, Shaft) and production design by Mark Alan Duran (To Live and Die). Sabine Hoffman (The Private Lives of Pippa Lee) is editor. Music is composed by David Majzlin. Susan Jacobs is Music Supervisor.

Director Margaret Whitton (who starred in "Major League" "The Secret of My Success)

Screenplay by Roger Towne ("The Natural")

Based on the novel THE LOOP by Joe Coomer

Starring Rachel Nichols (Star Trek, Alias) and Jackson Hurst (Drop Dead Diva, The Tree of Life)

Release Date: September 23, 2011 in NY and September 30, 2011 in LA

 

Event moderated by Jessica Gardner, Back Stage.