LOS ANGELES (Dec. 31, 2013) - Joseph Ruskin, stage, screen and film actor and longtime union officer, died of natural causes on Saturday, December 28 at UCLA Santa Monica Hospital.  He was 89.
Joe was thrice-honored by two major American actors' unions for distinguished service to union members: Actors Equity with the Lucy Jordan Award in 2003 and the Patrick Quinn Award in 2013, and Screen Actors Guild with the Ralph Morgan Award in 2011.
SAG-AFTRA National President Ken Howard said, "Joe Ruskin was the epitome of the actor who takes care of all the other actors while keeping one foot firmly planted on the stage or the set.  He gave so much for so long it's hard to believe he's gone. But he lived to see the merger to which he devoted so much of his time in the 1980s, and we can be glad for that."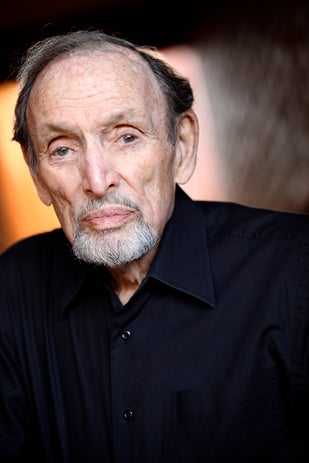 He studied drama at what was then called Carnegie Tech (now Carnegie-Mellon University).  His fellow students included Sada Thompson and Nancy Marchand.  He began acting at the Pittsburgh Playhouse and the Rochester Arena Stage before relocating to New York City, where early success in television prompted him to move to Los Angeles.  He amassed 124 television credits, with multiple appearances on classic shows including "The Untouchables," "Gunsmoke," and "Mission: Impossible."   His was the voice of the Kanamit in the "Twilight Zone" episode "To Serve Man," one of three appearances he made on the famous anthology.  He worked in "Hill Street Blues," "St Elsewhere," and "ER." His final television appearance was in "Bones."  One of only a handful of actors brought back for successive entries in the "Star Trek" franchise, he appeared in the original series, three of the four successor series, the feature film "Star Trek: Insurrection," and two Star Trek video games.  His 25 films include "The Magnificent Seven," "The Owl and the Pussycat," and "Prizzi's Honor" for director John Huston.  His final film was Joe Carnahan's 2006 release "Smokin' Aces."  Once the Artistic Director of Theatre 40, he often appeared on the stages of the Center Theatre Group, and was in the Mark Taper Forum's American Premiere of "In the Matter of J. Robert Oppenheimer." In 2009 he acted in UCLA Live's radical new staging of Euripedes' "Medea" starring Annette Bening.  A member of the Anteus Theatre Company, he appeared in last year's Anteus production of "You Can't Take It With You" and this year's "The Crucible," his final curtain bow.
During his early Hollywood days, Mr. Ruskin appeared in stage productions at the Equity Library Theatre, which led to his awareness of shortcomings in Equity's involvement in West Coast theatre.  He co-authored a national representation plan for AEA that is still in use today, and in 1979 became the first Western Regional Vice President of Actors Equity Association, a position he held for 12 years.  He continued to serve as an Equity Councillor until his death.
His union work expanded in 1976 when he joined the board of Screen Actors Guild.  He served until 1999, spending eight of those 23 years as SAG's second-highest ranking officer, its 1st National Vice President, and four more occupying its third-highest position.  He chaired multiple negotiating committees for the Guild's Theatrical & Television, Commercials, Animation, and Industrial/Educational contracts. He was a producer of the third and fourth SAG Awards telecasts, and chairman of the SAG Foundation's John Dales Scholarship Committee.   He served as a trustee of the SAG-Producers Pension & Health Plans for 31 years. He served a decade on AFTRA's National Board and was also a member of the board of the Actors Fund. 
Born in Haverhill, Massachusetts, Mr. Ruskin attended high school in Cleveland and enlisted in the United States Navy in 1942.  He served as a radarman on the 7th Fleet destroyer escort USS Raymond, and was in the Battle off Samar Island in the Philippines on October 25, 1944. A thousand Americans lost their lives in that two-hour battle where a small group of American destroyers and destroyer escorts, left unprotected after a Japanese decoy maneuver, turned back a larger group of Japanese battleships and cruisers.  It marked the final defeat of the Japanese Navy in WWII. 
Survivors include his wife, Barbara Greene Ruskin; daughter Alicia Ruskin, a partner at KMR Talent Agency; son-in-law Larry Bucklan; stepdaughters Rachel Greene and her husband Jim Lawrence of Manhattan, Martha Greene and her son Jake Saunders of London, UK, and Bridghampton, NY and Liza Page, her husband Joe Page, and their children Zoe and Eli Page of Westin, Connecticut; and brother and sister-in-law David and Helene Schlafman of San Diego.
A memorial service is being planned. In lieu of flowers, the family requests that donations be made to The Actor's Fund, the SAG Foundation, or the Motion Picture & Television Fund.
Download Joseph Ruskin's photo here.
Photo Credit: David Zaugh