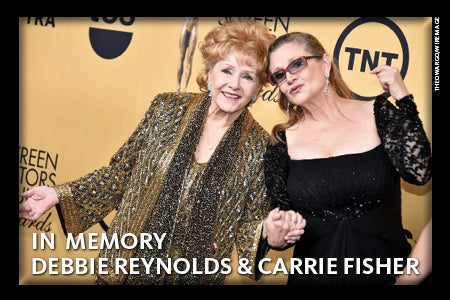 "SAG-AFTRA mourns the passing of Debbie Reynolds, whose six-decade career made her a star of both the big and small screens. Reynolds, a recipient of SAG-AFTRA's SAG Life Achievement Award, died today at the age of 84.
"I was deeply saddened to learn of Debbie Reynold's passing. We have lost a unique talent and a national treasure. Coming so close to the death of her daughter, Carrie Fisher, this is truly a double tragedy. Their imprint on our culture is profound and they both will live on. On behalf of the SAG-AFTRA membership, our hearts go out to their family and loved ones.
"She received the union's Life Achievement Award in 2015 for exemplifying the highest ideals of the acting profession, both in front of the camera and in her many philanthropic endeavors. In addition to starring in classic films such as Singin' in the Rain, How the West Was Won and The Singing Nun, Reynolds was nominated for an Academy Award for her portrayal of the title role in The Unsinkable Molly Brown. Over the span of her career, she was also nominated for a Tony for the 1973 revival of the musical Irene and a Primetime Emmy for her work on Will & Grace.
"She was also a philanthropist, devoting decades to The Thalians, a nonprofit that raises money for mental health programs. She was also an entertainment industry historian and preservationist — at one time Reynolds had the largest privately owned collection of Hollywood memorabilia in the world. 
"In accepting her Life Achievement Award, Debbie Reynolds acknowledged those who helped guide and shape her career. 'I've been in the business now 66 years, so I'm very excited to be here," she said. "I had great teachers…in L.B. Mayer – not to mention Gene Kelly. I mean, really, the best in the whole world.' 
"She also was among the best."