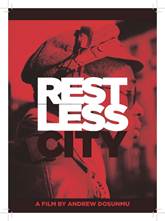 SAG Affirmative Action and Diversity Dare to be Diverse screening series is pleased to host two screenings of the American Film Institute's (AFI) New Auteurs selection, Restless City.
The AFI New Auteurs Program highlights first and second-time feature film directors from around the world. A Q&A with Restless City director, Andrew Dosunmu, will follow each screening.
Restless City tells the story of an African immigrant surviving on the fringes of New York City where music is his passion, life is a hustle, and falling in love is his greatest risk.
Both screenings are sold out and will take place in Hollywood on November 4 and 5.

For more information about the American Film Institute visit AFIFEST.com.