Since the beginning of 2014, the International News Safety Institute reports 234 journalists have been killed in the line of duty and more than a 1,000 have lost their lives in the last decade reporting the news. Threats, intimidation, injuries, and even the potential risk of injury are standard operating procedure for many journalists in the pursuit to investigate and tell the stories and preserve the public's right to know. While many news agencies go to great lengths to protect their journalists abroad, particularly in war zones, more can and must be done to ensure the safety of our U.S.-based journalists.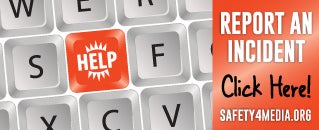 To stay vigilant in their endeavor and keep focus on this issue, Safety4Media serves as a clearinghouse of reports of safety and security concerns from U.S.-based journalists in the field. We also collect stories from those on the frontlines – the journalists who know of security risks or have been exposed to threats to their safety while reporting. Submissions are confidential through info@safety4media.org. As first-person reports come in, SAG-AFTRA will work to ensure that all news agencies are providing adequate security and training their staff on the most effective safety practices.
Are you in an unsafe environment? Know of a Safety Trouble Spot? Report it here confidentially.
FOLLOW US ON TWITTER @Safety4Media