The Official E-Newsletter of the Philadelphia Branch
ORGANIZING WITH
POTENTIAL SUCCESSES

By Marcia Fishman
Philadelphia Branch
Executive Director
Organizing efforts for our Philadelphia Branch can include two basic goals: finding new work opportunities or acquiring new members. Both require time, tenacity and patience. North Region Executive Rick McKiddy can attest to this. In his first 10 months with SAG, he has asked corporate leaders to consider the production of union commercials, he has investigated theatrical projects that were not signed to SAG agreements, and he has effected a membership drive. But none of this is easy, and there is no wand that can be waived for quick and simple changes.
Although we will always continue with the abovementioned challenges, I would like to move forward with some ideas with a confidence of potential successes. First, I plan to conduct a new media workshop in the near future – a workshop that will show how the New Media Agreement is very much doable. This is an agreement that you, as members, can "help make happen." Second, I would like members to spend more time with students of viable film schools and programs. We need production students to be convinced that they will not want to produce future projects without SAG members, and we need acting students to have "SAG on the mind" as they leave the classroom and plan their careers.
If any members have new thought-provoking ideas for our Branch organizing efforts, please inform Rick McKiddy or myself.  We are open and willing to be creative in our works.

LABOR DAY
AND UNIONISM

Labor Day is the day we celebrate union members across America.

As a proud Screen Actors Guild member, this Labor Day please take a few minutes out of your holiday to urge U.S. Sens. Robert P. Casey Jr. and
Arlen Specter to support the Employee Free Choice Act.

Screen Actors Guild believes that all Americans are entitled to join a union and to have fair wages and safe working conditions. The Employee Free Choice Act will allow workers to unionize without fear of retribution.

Have a safe and happy Labor Day 2009.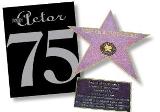 ILCA HONORS SAG
COMMUNICATIONS

Screen Actors Guild has been recognized for communications excellence by the International Labor Communicators Association. The Guild won First Place in the International/ National Publications—Magazine category for issues of Screen Actor published last year, as well as Third Place in the Multimedia Campaigns category for the 75th anniversary multimedia campaign.

The awards will be presented in Pittsburgh in September.

"This is a singular honor that places us at the very top of union communications and we are all quite proud of the achievement," said SAG Communications Executive Director Pamela Greenwalt.

Credit for the 75th anniversary win in particular is due to the President's Task Force on the 75th Anniversary; task force liaison and staff lead Kathy Connell, who oversaw many aspects of the effort; and all of the division executives and members who developed local and regional programs for the anniversary year.





THE KINDNESS OF ACTORS

By Marcia R. Smith
Executive Director
SAG Foundation 

Generosity: nobility of behavior. 

A year ago the Screen Actors Guild Foundation in cooperation with the Screen Actors Guild Residuals Department began a campaign requesting that SAG members donate their small residuals to the SAG Foundation to support the many programs offered to members and their families.
In these difficult economic times, the response to this campaign has been inspiring. The SAG Foundation has received checks from one cent to $150. The checks come with notations  like: "It's not much, but here it is," "Why didn't you do this years ago," "I still feel connected to the business," and "I wish it were a million."
The checks come from members who have been acting for 50 years and those just starting their journey. There are names who are legends in the industry and those striving to become legends. The SAG Foundation receives residual donations from every state in the Union. All giving with the same purpose in mind.
Actors have a long history of giving: talent, performances, time, sweat, tears and even blood. Actors are always on the front lines of support, caring and giving. And once again, actors have answered the call to help other actors in need of financial support, health care benefits, children's literacy, community outreach and the simple gift of passing on their knowledge and experience to members beginning to establish their own careers in a highly competitive profession.
The Screen Actors Guild Foundation is profoundly grateful to all the SAG members who have expressed their nobility of behavior by donating their residual checks. We would also like to acknowledge the Residuals Department and the Finance Department for their cooperation in making this program possible.
You would be amazed at how the small (and not so small) amounts add up to the SAG Foundation being able to continue to provide assistance to SAG members and their families. With help from our friends, we continue to "pay it forward." 

Editor's Note: The SAG Foundation operates independently of Screen Actors Guild and relies solely on grants, donations and fund-raising efforts. 

DUES REMINDER

If you haven't done so already, please pay your dues today. If you are not an active, paid-up member in good standing, you may not be able to vote in Guild elections or contract referenda or be eligible to serve on the council or committees. You also must be paid to date to register on iActor, the Guild's online casting program, which is now being used by casting directors nationwide. If you have any questions regarding your dues, please contact the Cashiers Department at (800) SAG-0767, prompt 2, (212) 944-6243 or (323) 549-6752.
There is Something
Happening Here!
By Tom McCarthy
Philadelphia Branch President
There is something happening within the Branch that is bringing SAG actors together. It's called work. 
Since the first of the year, Philadelphia Branch members have been employed on a dozen films and numerous commercials in East and West Pennsylvania, South Jersey and Delaware.
Films include Law Abiding Citizen, The Bounty, Warrior, Blue Valentine, The Fields, The Last Airbender, String Bean, Café, The Best and The Brightest, How Do You Know?, Mayor Cupcake, King of Prussia (pending) and Unstoppable. Commercials include Carnival Cruise, Comcast, Pennsylvania Lottery, Jefferson Hospital, Wal-Mart, Lipitor, Pennsylvania Tourism and Dr. Miracle.
Now I ask that all of us again take note of the work and the abovementioned locations. Let's remember that the Philadelphia Branch expands over Pennsylvania, south New Jersey and Delaware. And this is a good thing. We are not a Branch of individual cities or communities. We are a large, unified Branch that only grows stronger if our work spans throughout our territory.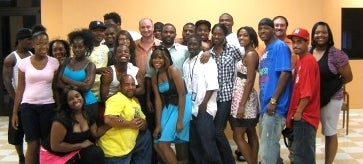 "Follow Me & Lead" youths with SAG members and staff.
Outreach to 'At-Risk' Teens
By Rick McKiddy
North Region Executive

On July 29 I had a special opportunity of joining SAG actor Michelle Nagy and producer Jason Pinardo of Primary Pictures as we met with a group of teens who live in Cumberland County, New Jersey. The group is part of a program called "Follow Me & Lead," a program aimed at providing high school students a chance to learn how to produce a film and explore their talent. What is unique and special about this program are the actual participating teens. They are considered at-risk, partly because they reside in the New Jersey county that leads in teenage pregnancy, poverty, violence and drugs.  
Follow Me & Lead is an afterschool program that runs for six months. It was started by Ma'Quan Dawkins who was a former at-risk teen himself. Ma'Quan had climbed his way out of the downward spiral that he had been subjected to as a teen. He received a football scholarship that provided him the opportunity to gain access to a higher education. After graduating from college, he returned to his former community with the goal of creating a program for teenagers – one that would teach them a craft that might allow them a chance at a better life.
The group is currently producing a film called Wooden Spoon, a story about an ex-convict who is required to coordinate at-risk youth programs in an effort to help save a group of teens from their inner city environment. 
In an effort to have some Philadelphia Branch members do a community outreach effort, SAG actor Michelle Nagy provided an overview of what it takes to become a professional actor. She talked about the long working days and the sometimes long days between working, as both are the nature of the business. She remarked that, in between acting jobs, it is very important that one takes classes and continually finds ways to sharpen skills. The group asked questions about the business-end of the business, and Mechelle emphasized the importance of a good agent who will help market skills and abilities. She advised the future performers that the art of acting is to keep it real! When auditioning for the casting directors, the performer must convince them that they are not acting; they must be believable. Michelle recently completed principal roles in the films Blue Valentine and Saddle Up.
Producer Jason Pinardo joined the discussion by providing oversight for the shooting of films. I then explained the steps needed to join SAG and offered suggestions on making movies under the available SAG agreements.
This was clearly a fascinating night for each of us. Michelle, Jason and I traveled there to try to create interest and involvement in our industry. We left energized by what we heard, humbled by what we saw.

For more information on this program, click here.
Members Approve Basic Cable
Live Action Contract
Screen Actors Guild announced August 26 that members approved a two-year successor contract to its Basic Cable Live Action agreement by a vote of 93.71 percent to 6.29 percent. The agreement is effective retroactive to June 10, 2009, and will expire concurrently with the Guild's Theatrical Motion Picture and Television agreements on June 30, 2011.
With this vote, representing a 25.83 percent return, the Guild has now ratified its sixth contract this year. Integrity Voting Systems of Everett, Wash., provided election services and certified the final vote tally upon completion of the tabulation.
The terms of the agreement include a 3 percent wage increase retroactive to June 10, 2009, a .5 percent increase in pension contributions also retroactive to June 10, 2009, and a 3.5 percent wage increase on June 10, 2010.
"The members have spoken, and I am pleased that they had an opportunity to have their voices heard," said Screen Actors Guild National President Alan Rosenberg.
"We are pleased to have this negotiation concluded so that our members can enjoy the enhanced benefits guaranteed under the new agreement," said Screen Actors Guild Interim National Executive Director David White. "Cable is a burgeoning marketplace for our members and will continue to be an area of focused attention for SAG."
SAG Chief Negotiator and Senior Advisor John McGuire said the new agreement "delivers growth in wages while providing the additional peace of mind of improved pension and health contributions, which is important to the wellbeing of both our individual members and the Guild as a whole."
At its July 25 meeting, the Screen Actors Guild National Board of Directors voted 95 percent to 5 percent to recommend that the membership approve the proposed successor to the Basic Cable Live Action agreement. Ballots were mailed August 5 with a return date of August 26.
TV and Basic Cable Animation Ratified
Screen Actors Guild and the Alliance of Motion Picture and Television Producers reached an agreement August 18 for the terms of new, two-year contracts covering Screen Actors Guild members working in Television Animation and Basic Cable Animation.
The agreements are effective retroactive to June 10, 2009, and will expire concurrently with the TV/Theatrical Agreement on June 30, 2011, and include:
 
• Effective annual wage increases of 3 percent retroactive to June 10, 2009 and 3.5 percent one year later.

• A .5 percent increase in pension contributions, also retroactive to June 10, 2009.

• New media terms reflect those negotiated under the TV/Theatrical Agreement ratified in June 2009.
  
Other terms match those in the recently ratified TV/Theatrical Agreement. The agreement was ratified without the need for a referendum.
Highlights of Other New Contracts
The Commercials Contract
• 5.5 percent overall wage increase.

• Increase of employer contribution of Pension & Health to 15.5 percent.

• 4.43 percent increase for Class A, wild spot and cable.

• Protection of existing Class A residual payment structure.

• First-ever payment structure in commercials to the Internet and new media beginning April 1, 2011.
The TV/Theatrical Contract
• 6.5 percent wage increase over the course of the contract: 3 percent increase effective June 10, 2009, and 3.5 percent increase on June 10, 2010.

• 0.5 percent increase in Pension & Health contributions for productions beginning on or after June 10, 2009.

• A new media structure that tracks those achieved by other industry unions, resulting in gains for actors.

• For the first time, stunt coordinators employed on TV motion pictures participate in revenue-based residuals.

• Increased residuals when TV shows re-run in network primetime.
Speaking Out
By Catherine Glynn
Member
The following article about the experience of taking financial core status comes by way of Chicago member Catherine Glynn from their newsletter, Playback:

Just yesterday afternoon my agent called me with an audition, and as always, I was very happy to be called in for a casting. I love knowing when I go out for auditions that if I get it, not only does it mean a nice paycheck for my day of work, it also means I'll be getting residuals when it airs.
Not 10 minutes later did I get a call back saying the producers didn't have the money for SAG actors, hence my audition was canceled. I couldn't help but think of all the actors who would go on that audition and simply take what they could get. Believe me, with the economy as it is these days, I empathize with the urge to simply take what I can get.

But if we, as individual actors, continually take what we can get without taking a stand for what we are worth, casting agents and producers will come to expect that of us as a whole.
I struggled with the issue of financial core vs. full membership—and after doing a Sears Christmas commercial, I decided it was time to figure it out. And I have to tell you that all of my agents, hands down, said go fi-core. With that resounding advice, I figured why not? Well, I can tell you why not....

I did three non-union commercials and one industrial during my stint as fi-core. It's been close to two years now, and one of those commercials still is playing both on television and on the website—with no hint of residual pay. And the industrial experience I had was a nightmare. I spent more than 10 hours on the set with only two breaks. And if that wasn't bad enough, several of the other actors were talking about how much they were making for coming in for only an hour. It was the same amount I was being paid for all 10 of my hours.
 
I continued to justify it with the fact that at least I was working. But the fact I was fi-core was like an itch that just wouldn't go away. It was something I never truly was comfortable with. Finally, when I made the decision to simplify my life and go exclusively with one agency, I got it straight. My agency made it clear that being a full member of SAG was the only way to go. Since signing with them, I haven't been on any non-union auditions. Do I miss it? No. I did a lot of running around for a long time, with small paychecks and endless runs without residuals. I also booked a national commercial that made a significant difference in my income for close to two years. In fact, it was triple the amount of money I made on all three commercials and the industrial I did during my tenure as fi-core.
As a full member of SAG, I am incredibly grateful to be part of a community that takes a stand for actors as a whole. We are worth so much more than we give ourselves credit for. Think about it—all the years of auditions, running around back and forth across town, the classes we have taken to hone our craft, those who have spent time earning a BFA and MFA—all that time and hard work should be accounted for, and that is definitely the case when you are a full member of SAG.
CONTACT INFORMATION

Rick McKiddy, North Region Executive
Screen Actors Guild
1800 JFK Boulevard, Suite 300
Philadelphia, PA 19103
(215) 760-8535 or (800) SAG-0767
Fax: (866) 226-6983
rmckiddy@sag.org 
Marcia Fishman, Philadelphia Branch Executive Director
(248) 351-2678
Fax: (248) 351-2679
mfishman@sag.org 
Philadelphia Hotline
(212) 827-1420