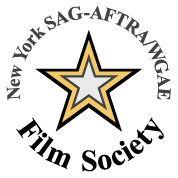 New York Film Society 2017-2018 Season

The 2017-2018 season of the New York Film Society begins on Sept. 1, 2017 and runs through Aug. 31, 2018.
The New York Film Society at a glance:
Membership is by application only and accepted on a yearly basis. 
Your membership card will admit you and a guest to 24+ film screenings during the season.
Renew your tan card for $140; a new card or new membership is $150. (If your card is lost or stolen, it can be replaced for $25.)
Unless otherwise specified, screenings will take place on Mondays and Tuesdays at 1 p.m., 3:30 p.m., 6 p.m. and 8:30 p.m.
Screenings are held at the Directors Guild of America Theater at 110 West 57th Street (between 6th and 7th Avenues). 
Online registration by accessing the left-side bar is strongly encouraged. You can also download a paper application, fill it out, and mail it to the SAG-AFTRA office with a check or money order. Click here for the paper application and mailing instructions.
To view the 2017-2018 screening schedule complete with film titles, click here, call the HOTLINE at (212) 827-1592 or sign up to receive email blasts by sending an email with your name and SAG-AFTRA member number to nyfilmsociety@sagaftra.org. Note, this will be updated when the new season begins.
Please note that smoking, food or drink (including water) are NOT allowed inside the theater. Click here for detailed rules.
New York Film Society Contact Information
Screening Schedule Hotline: (212) 827-1592
Email: nyfilmsociety@sagaftra.org
Phone: (212) 827-1451
Mailing Address: 1900 Broadway, 5th Floor, New York, NY 10023
NY SAGAFTRA/WGAE Film Society Online Application form closed.
Nov. Dates at the DGA Theater at 110 West 57th Street (between 6th and 7th Avenues)


Monday, Nov. 6
LAST FLAG FLYING
Regular Times 1, 3:30, 6 & 8:30 p.m.
Starring: Bryan Cranston, Steve Carell, Laurence Fishburne and J. Quinton Johnson
Directed by: Richard Linklater
Written by: Richard Linklater and Darryl Ponicsan based on Last Flag Flying by Darryl Ponicsan
Courtesy of Lionsgate Pictures
Running time: 124 Minutes
Rated: R
Nationwide Release: Nov. 3, 2017


Tuesday, Nov. 7
SUBURBICON
Regular Times 1, 3:30, 6 & 8:30 p.m.
Starring: Matt Damon, Julianne Moore and Oscar Isaac
Directed by: George Clooney
Written by: Joel Coen, Ethan Coen, George Clooney and Grant Heslov
Courtesy of Paramount Pictures
Running time: 105 Minutes
Rated: R
Nationwide Release: Oct. 27, 2017


Monday, Nov. 20
WONDER WHEEL
Regular Times 1, 3:30, 6 & 8:30 p.m.
Starring: Kate Winslet, Justin Timberlake, Juno Temple, Jim Belushi, Tony Sirico, Steve Schirripa and Max Casella
Directed by: Woody Allen
Written By: Woody Allen
Courtesy of Amazon Studios
Running time: 101 Minutes
Rated: PG-13
Nationwide Release: Dec. 1, 2017


Tuesday, Nov. 21
CALL ME BY YOUR NAME
Extended Times Noon, 3, 6 & 9 p.m.
Starring: Armie Hammer, Timothée Chalamet, Michael Stuhlbarg, Amira Casar, Esther Garrel and Victoire Du Bois
Directed by: Luca Guadagnino
Written by: James Ivory, Luca Guadagnino and Walter Fasano
Courtesy of Sony Pictures Classics
Running time: 130 Minutes
Rated: R
Nationwide Release: Nov. 24, 2017
Screening times are subject to change due to the running time of the films changing.