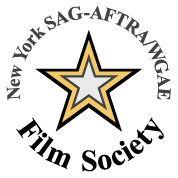 New York Film Society 2017-2018 Season
Online Registration is Now Available!
The 2017-2018 season of the New York Film Society begins on Sept. 1, 2017 and runs through Aug. 31, 2018. To register online, click on the application in the left-hand sidebar.
The New York Film Society at a glance:
Membership is by application only and accepted on a yearly basis. 
Your membership card will admit you and a guest to 24+ film screenings during the season.
Renew your tan card for $140; a new card or new membership is $150. (If your card is lost or stolen, it can be replaced for $25.)
Unless otherwise specified, screenings will take place on Mondays and Tuesdays at 1 p.m., 3:30 p.m., 6 p.m. and 8:30 p.m.
Screenings are held at the Directors Guild of America Theater at 110 West 57th Street (between 6th and 7th Avenues). 
While online registration is strongly encouraged, you can also download a paper application, fill it out, and mail it to the SAG-AFTRA office with a check or money order. Click here for the paper application and mailing instructions.
To view the 2016-2017 screening schedule complete with film titles, click here, call the HOTLINE at (212) 827-1592 or sign up to receive email blasts by sending an email with your name and SAG-AFTRA member number to nyfilmsociety@sagaftra.org. Note, this will be updated when the new season begins.
Please note that smoking, food or drink (including water) are NOT allowed inside the theater. Click here for detailed rules.
New York Film Society Contact Information
Screening Schedule Hotline: (212) 827-1592
Email: nyfilmsociety@sagaftra.org
Phone: (212) 827-1451
Mailing Address: 1900 Broadway, 5th Floor, New York, NY 10023
Aug. Dates at the DGA Theater at 110 West 57th Street (between 6th and 7th Avenues)




Monday, Aug. 7
ATOMIC BLONDE
Regular Times 1, 3:30, 6 & 8:30 p.m.
Starring: Charlize Theron, James McAvoy, John Goodman, Til Schweiger, Eddie Marsan, Sofia Boutella and Toby Jones
Directed by: David Leitch
Written by: Kurt Johnstad based on the book The Coldest City by Antony Johnston and Sam Hart.
Courtesy of Focus Features and Stacey Zarro
Running time: 115 Minutes
Rated: R
Nationwide Release: July 28, 2017


Tuesday, Aug. 8
THE ONLY LIVING BOY IN NEW YORK
Regular Times 1, 3:30, 6 & 8:30 p.m.
Starring: Callum Turner, Kate Beckinsale, Pierce Brosnan, Cynthia Nixon and Jeff Bridges
Directed by: Marc Webb
Written by: Allen Loeb
Courtesy of Roadside Attractions and Amazon Studios
Running time: 88 Minutes
Rated: R
Nationwide Release: Aug. 11, 2017


Monday, Aug. 21
THE DARK TOWER
Times TBA
Starring: Idris Elba and Matthew McConaughey
Directed by: Nikolaj Arcel
Written By: Akiva Goldsman, Jeff Pinkner, Anders Thomas Jensen and Nikolaj Arcel
Courtesy of Columbia Pictures
Running time: 95 minutes
Rated: PG-13
Nationwide Release: Aug. 4, 2017


Tuesday, Aug. 22
CROWN HEIGHTS
Regular Times 1, 3:30, 6 & 8:30 p.m.
Starring: Keith Stanfield, Nnamdi Asomugha, Nestor Carbonell, Gbenga Akinnagbe, Sarah Goldberg, Josh Pais, Ron Canada and Zach Grenier
Directed by: Matt Ruskin
Written by: Matt Ruskin
Courtesy of Amazon Studios and IFC Films
Running time: 94 Minutes
Rated: R
Nationwide Release: Aug. 25, 2017

Screening times are subject to change due to the running time of the films changing.