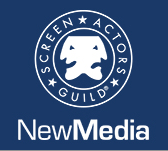 The International Academy of Web Television announced Tuesday the nominees for the inaugural IAWTV Awards. The winners of the organization's first ever awards show will be announced Thursday, January 12, 2012 at a ceremony held as part of the annual International Consumer Electronics Show(CES) in Las Vegas, Nevada.
"We're proud to support the IAWTV as they honor the best of new media," said SAG's National Director of New Media Mark Friedlander. "The nominees are representative of the amazing performances and high quality of content in the space that can hold their own with even the biggest budgeted of studio productions."
Screen Actors Guild would like to congratulate all of the nominees including SAG signatory productions:
Gigi: Almost American
Pretty
Anyone But Me
The Web.Files
Sketch 22
The Best Friend
Awkward Embraces
Night of the Zombie King
Legend of Neil
SOLO: The Series
 
Leap Year
 
Bandwagon The Series
 
Then We Got HELP!
 
Asylum
 
Fallout: Nuka Break
 
A Good Knights Quest
 
Riese: Kingdom Falling
 
To stay up-to-date on all SAG new media related news and events, follow us @sagnewmedia.