Let's Talk About It: Inside The Industry
Start:
06/15/2017 - 6:30pm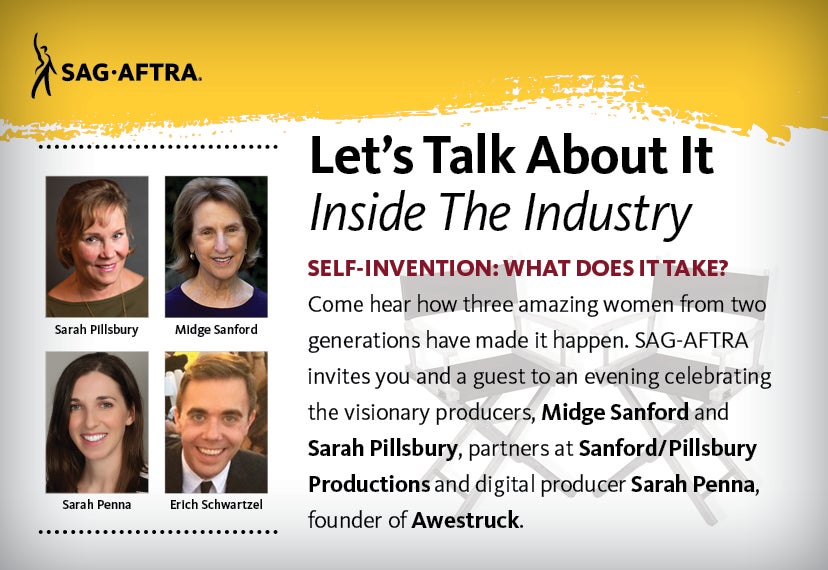 When: 6:30 p.m., Thursday, June 15
Where: SAG-AFTRA Plaza
James Cagney Boardroom – Lobby Level
5757 Wilshire Blvd.
Los Angeles, CA 90036
Parking will be validated.
RSVP: Click here to RSVP.
SELF-INVENTION: WHAT DOES IT TAKE? Come hear how three amazing women from two generations have made it happen. SAG-AFTRA invites you and a guest to an evening celebrating the visionary TV and film producers Midge Sanford and Sarah Pillsbury, partners at Sanford/Pillsbury Productions,and digital producer Sarah Penna, founder of Awestruck, a millennial mom's network and lifestyle brand at AwesomenessTV
Under the aegis of Sanford/Pillsbury Productions, Sanford and Pillsbury have produced nine feature films including, Desperately Seeking Susan, Rivers Edge, Eight Men Out, Love Field and How to Make an American Quilt and four television films including the Emmy Award-winning HBO film And the Band Played On.
In 2010, digital producer/manager/entrepreneur Sarah Penna co-founded Big Frame, the first digital only talent management firm. In 2015 she founded Awestruck, a millennial moms focused network and lifestyle brand.
Erich Schwartzel is a film industry reporter for The Wall Street Journal where he covers entertainment and Hollywood.
You must RSVP to attend. Spaces are limited.