The Official E-Newsletter of the Twin Cities Local
TWIN CITIES LOCAL ELECTION RESULTS
Congratulations to the newly elected Local Board officers and members, and convention delegates, who are serving two-year terms, effective Aug. 20, 2015.
Twin Cities Local Board 2015-2017
Officers:
President: Bob Davis, email
First Vice President: Peter Moore
Second Vice President: Barry ZeVan
Third Vice President: Elena Giannetti
Secretary: Open seat
Local Board Members:
Randal Berger (incumbent National Board member)
Mark Bradley
Shelli Place
Sandra Thomas
Shirley Venard
Five open Local Board seats
Convention Delegates:
Mark Bradley
Elena Giannetti
Shelli Place
Barry ZeVan
You may contact Local Board members by email. If you are interested in serving on the Local Board, please contact Local President Bob Davis.
A Message from Twin Cities Local President Bob Davis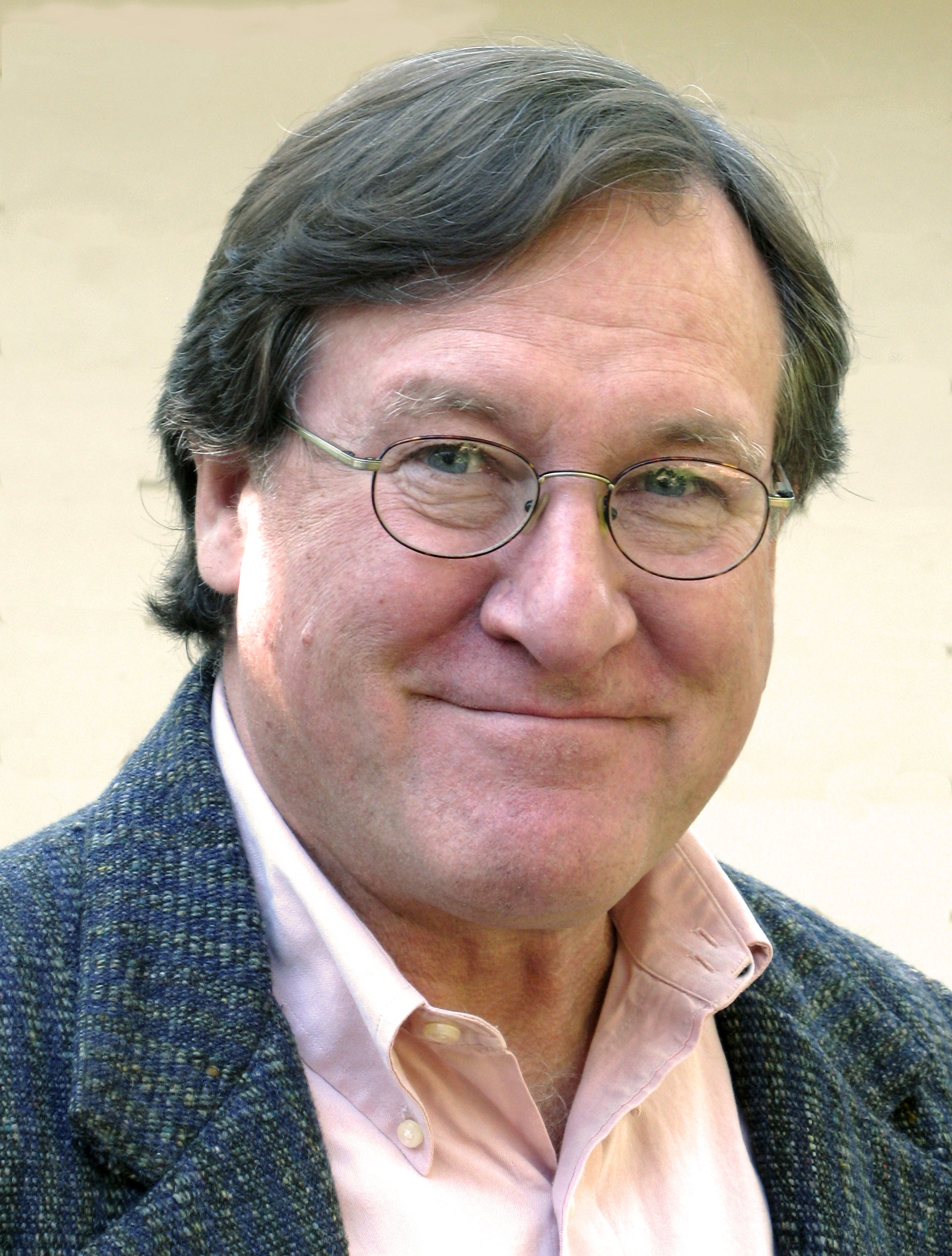 Greetings and salutations from the Executive Suite here at the Presidential Compound and Smoking Lounge.
As our National Board member, Randal Berger, remarks in his brief note below, the feature event of the year so far in our plan to revitalize the working environment here was the March rollout and outreach event for both the rates calculator and our new Co/Ed waiver. The turnout and interest generated exceeded our expectations and revitalized those of us involved to double down on our work so far and continue with the much-needed follow-up effort.
Sue Scott, Peter Moore, Cathy Fuller, Jim Miller, Elena Giannetti, Laurie Hegge and Tammara Melloy have set the stage for the rest of us, and now we have to follow their lead. Specifically, we need to reach out to local commercials and Co/Ed producers and directors and educate them about these new tools that make it easier to hire us.
We launched a local campaign to reach out to those who attended the rollout event and continue to connect, through them, to as many others as possible. We will move forward — meeting by meeting, one-on-one — to redefine how producers think of us as professionals. We need to put a human face on the union; hopefully yours.
Sue Scott has already organized several meetings and now we need your knowledge and input. Who do you know that we should contact? Will you volunteer to join another actor and deliver donuts and goodwill to someone that might start hiring union actors? As I have said before, it's a new world out there and we can't get work the way we used to. But if we do this together, we can #getbacktowork!
Contact me by email with comments, concerns or praise.
Peace
Bob Davis
President, SAG-AFTRA Twin Cities Local
A Message from the National Board Member
State of the Union and National Meetings
Since my last communique, I have attended three National Board meetings in L.A. and New York: in January, April and July. There have been two main areas of focus nationally: member education and outreach and the Commercials Organizing and Recapture Initiative.
President Ken Howard is leading the President's Task Force on Education, Outreach and Engagement. One of its first actions was to join with the American Film Institute in answering President Barack Obama's call to service through a national arts mentoring program, A Call to Arts. This is an innovative way for any member to be involved and it will help fulfill President Obama's goal of 1 million mentor hours. Check it out and get involved. Click here.
We have also begun an effort to recapture work in the area of commercials. The successful launch of the Commercials Organizing and Recapture Initiative occurred on April 29, and you can find an online toolkit with details and education materials by clicking here.
In the spring, I attended the Co/Ed Wages and Working Conditions (W&W) meetings via teleconference in Chicago, and was glad to be asked to represent small locals at the national Co/Ed W&W plenary in L.A. The new Co/Ed contract was extremely successful.
This July, much of the National Board meeting dealt with convention preparation, in addition to regular board business.
Twin Cities Local Calculator & Local Co/Ed Contract Waiver
As mentioned in this newsletter, the rollout event was greeted with much interest by the Twin Cities local production community. As I've said before, this local is truly coming up with some creative ways to revitalize work. The rollout committee is in the process of meeting with various producers and conducting informal outreach meetings (with donuts!) to help explain the process and advantages of hiring union talent.
My sincere hope is that our local Co/Ed contract waiver (which has been renewed in conjunction with the newly approved national Co/Ed contract), will stimulate local Co/Ed work and provide more work opportunities locally and nationally; in fact our local results have shown positive growth already.
My next report will be about the fall convention. Until next time ... cheers.
Randal Berger
Minnesota AFL-CIO Supports Twin Cities Local Organizing Plans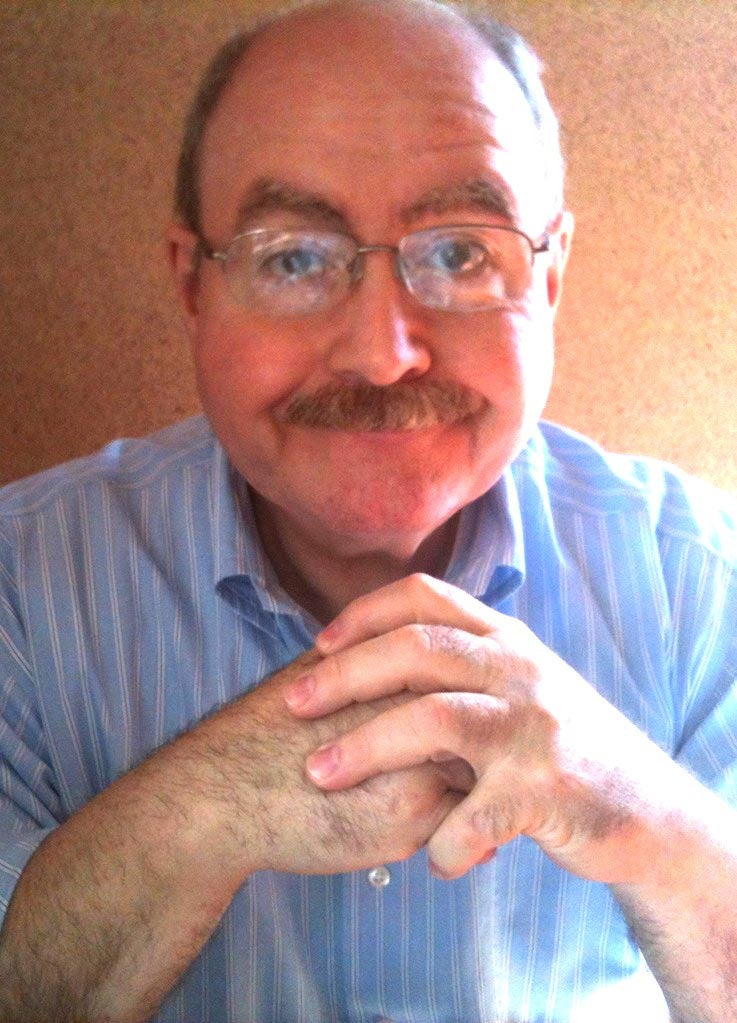 By Mark Bradley
Local Organizing Committee Chair and National Organizing Committee Alternate Member
I've been attending the Minnesota AFL-CIO's monthly organizing roundtable meetings and have met with the new statewide AFL-CIO organizing director, Todd Dahlstrom, and Strategic Researcher Melissa Hysing. From those meetings, we have outlined the beginnings of a multi-phase local organizing plan.
The first step was to reaffirm longstanding local labor support for Twin Cities union talent via two Minnesota AFL-CIO Convention resolutions (passed in 2010, and again in 2012) supporting Twin Cities Local members and calling on affiliated unions and their partner organizations to do all of their media projects union. Partner organizations are those that benefit from substantial labor support, either through direct funding from labor or via labor leadership on their boards.
On March 10, the Minnesota AFL-CIO Executive Committee unanimously approved a letter from President Shar Knutson and Secretary-Treasurer Steve Hunter, which was sent in early spring to all Minnesota AFL-CIO affiliate unions statewide, reminding unions to do all of their media projects under union contract and to hire union talent. In June, local President Bob Davis spoke to the Minnesota AFL-CIO full Executive Board and emphasized the importance to local members of statewide labor support for the union's commercials organizing initiative.
We continue meeting with Todd and Melissa to strategize about setting up meetings with union communication directors to put this statement of principle into concrete action. A longer range goal will be to leverage prevailing wage rules to organize government agencies to do their media projects with union talent. All of these local activities will, of course, also be coordinated with national organizing campaigns and priorities.
Local Members Lead the Way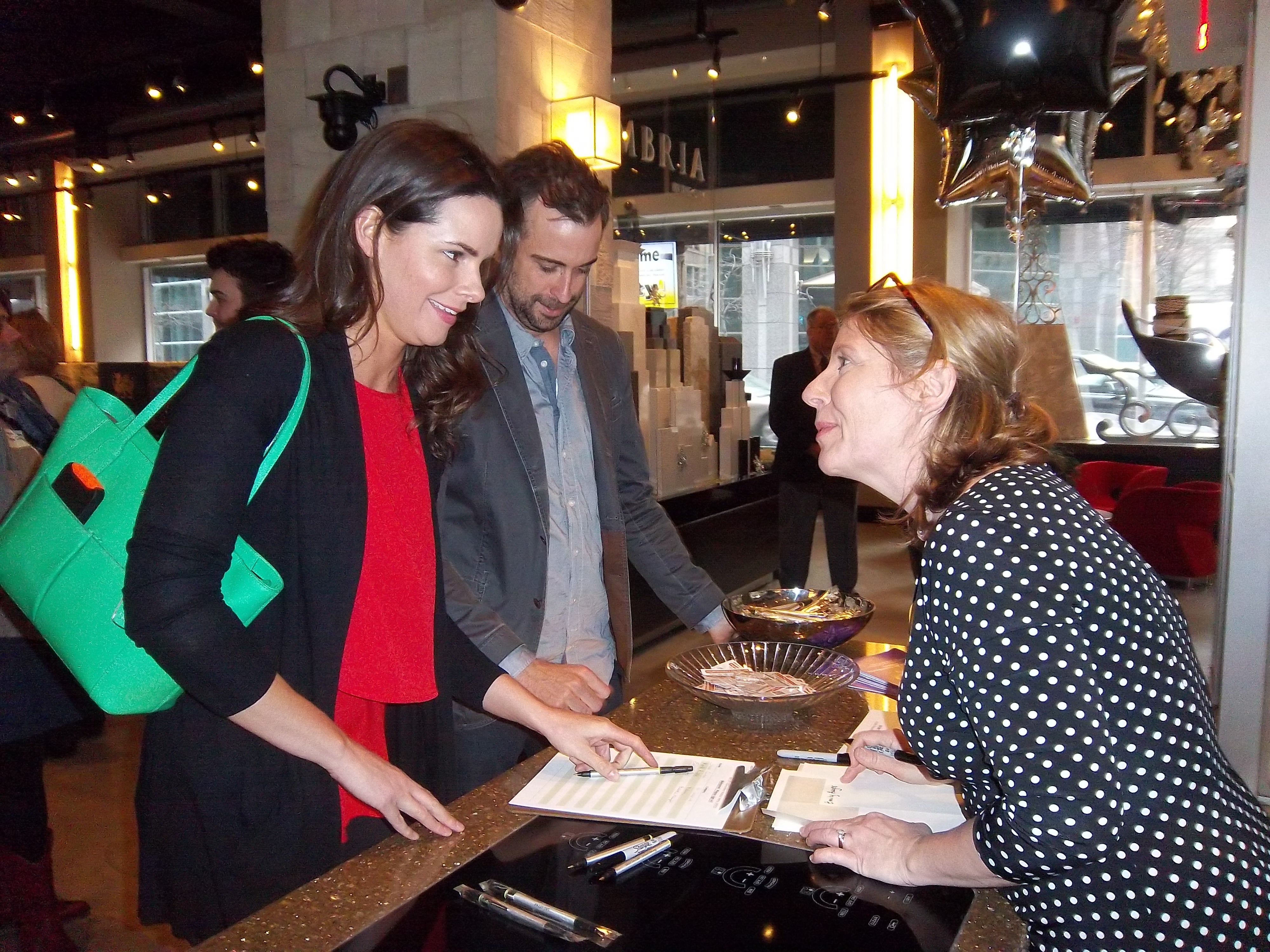 Member Laurie Hegge checks in guests at the March rollout and outreach event.
Twin Cities Local members hosted a packed rollout event for producers, ad agency creatives and other industry decision-makers on March 9 in downtown Minneapolis, where they introduced the local's new commercials and Corporate/Educational and Non-Broadcast (Co/Ed) online rates calculator and informed attendees of the new Twin Cities Co/Ed contract waiver.
The calculator website is a "game-changer," according to Calculator Committee Chair Sue Scott, because it allows anyone from members to producers to casting directors to easily calculate quick "ballpark" union talent costs for themselves and links them directly to union staff for follow up. Twin Cities Co/Ed Waiver Committee Chair Peter Moore explained the Co/Ed Contract local waiver to the crowd, emphasizing that the waiver was developed to be specifically responsive to Twin Cities corporate/educational and non-broadcast producers' needs.
In addition to some tasty snacks and beverages, attendees at the event enjoyed one-on-one calculator demos by members at laptop stations in the room, using real project examples and including live email queries to SAG-AFTRA staff. 
Since the March event, members have been spreading the word about this cool new tool for calculating rates — and having fun doing it — via informal "donut demos" and small casual meetups to strengthen ties with the industry locally. Local members are seeing success with the new Co/Ed waiver, as more than two dozen projects and queries have followed the rollout, resulting in a number of Co/Ed on-camera and voiceover jobs that have been booked (and more are pending), including corporate projects for local corporate employers such as Deluxe, Cargill, 3M and General Mills, and educational projects for the Mayo Clinic, University of Minnesota, and Minnesota Historical Society. 
Kudos to the Calculator Committee and Co/Ed Waiver activists and organizers, including Sue Scott, Jim Miller, Cathy Fuller, Laurie Hegge, Tammara Melloy, Shelli Place, Shirley Venard, Peter Moore and Elena Giannetti. Want to get involved and learn more about flipping jobs using the calculator and the local Co/Ed waiver? Contact Sue and her committee by sending an email to twincities@sagaftra.org.
Inaugural 2nd Monday Mixer a Success!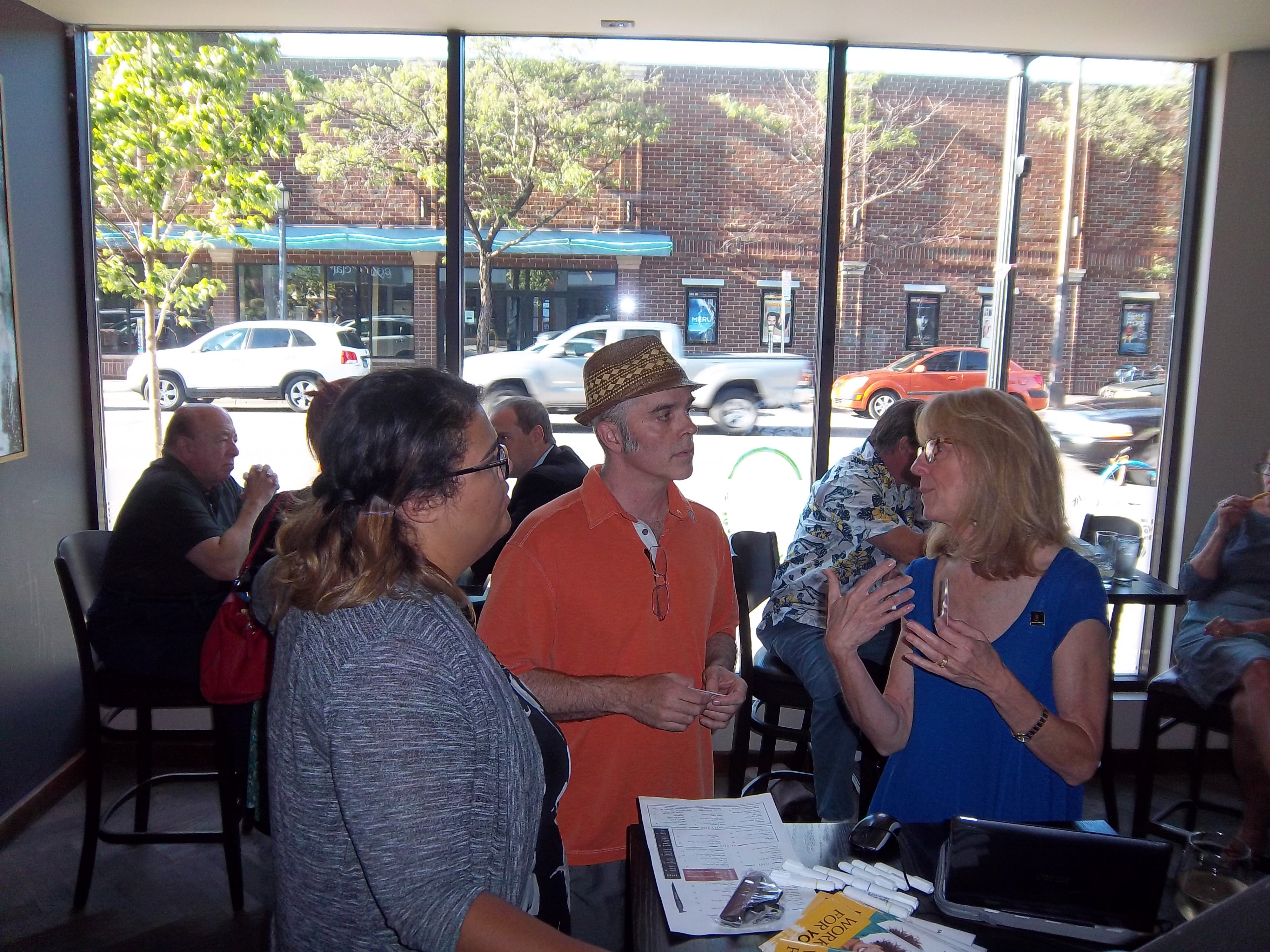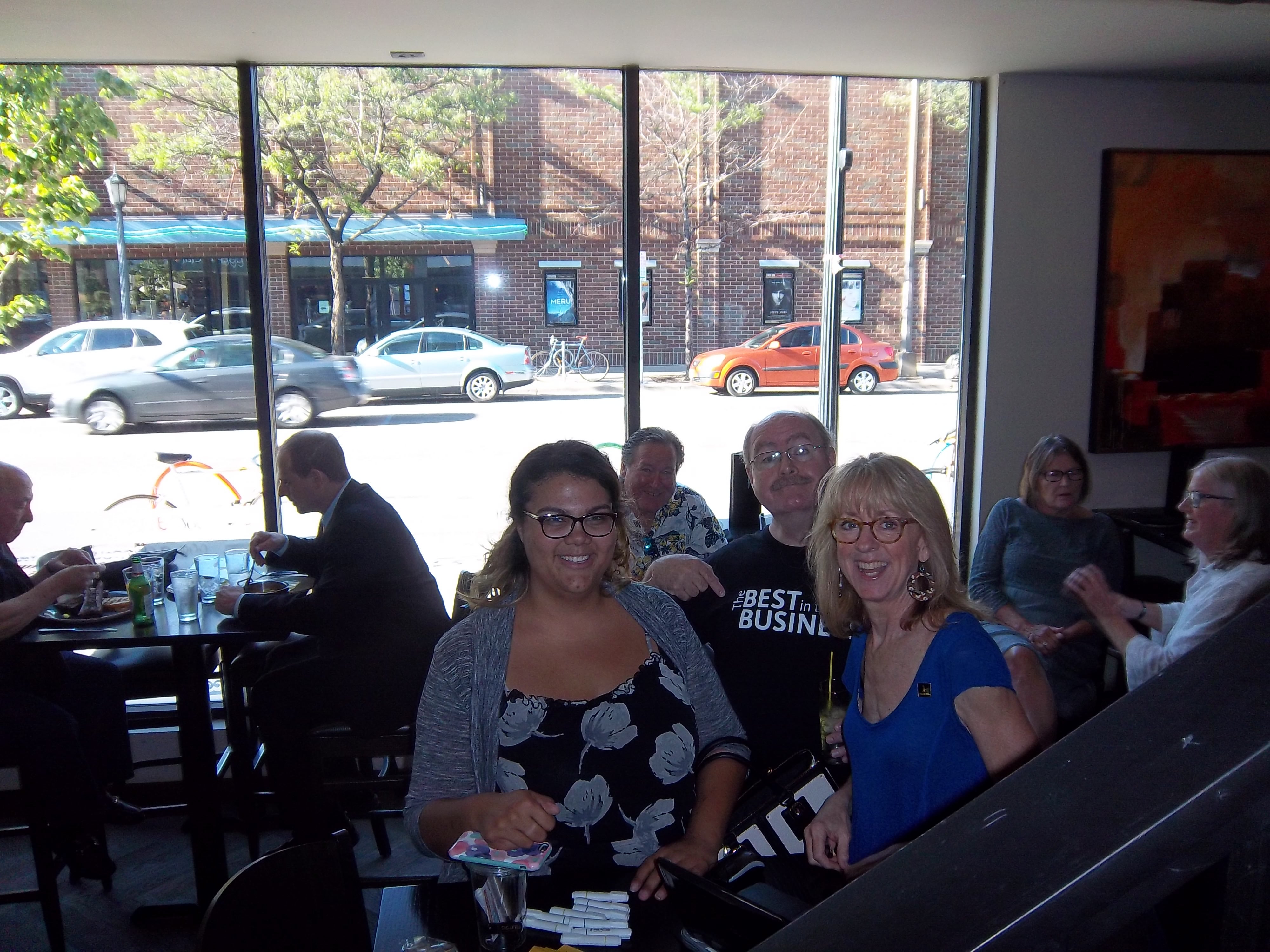 Members at the Aug. 10 mixer event.
About 20 local members enjoyed a beautiful summer evening at the local's inaugural happy hour monthly mixer in uptown Minneapolis on Monday, Aug. 10. New faces joined familiar friends over summer beverages and snacks, and shared news about work they are doing, as well as discussing the organizing and outreach efforts being done locally. Mixer organizers Shelli Place and Sue Scott have launched these "second Monday mixers" — open to all members — on a monthly basis, so watch your email inbox for monthly reminders and just show up ready to mix and mingle, no RSVP is needed! The next Twin Cities Second Monday Mixer will be on Monday, Sept. 14, from 5-7 p.m. at coup d'etat in Minneapolis. Mark your calendar!
Panel at NABJ Convention Features Local Member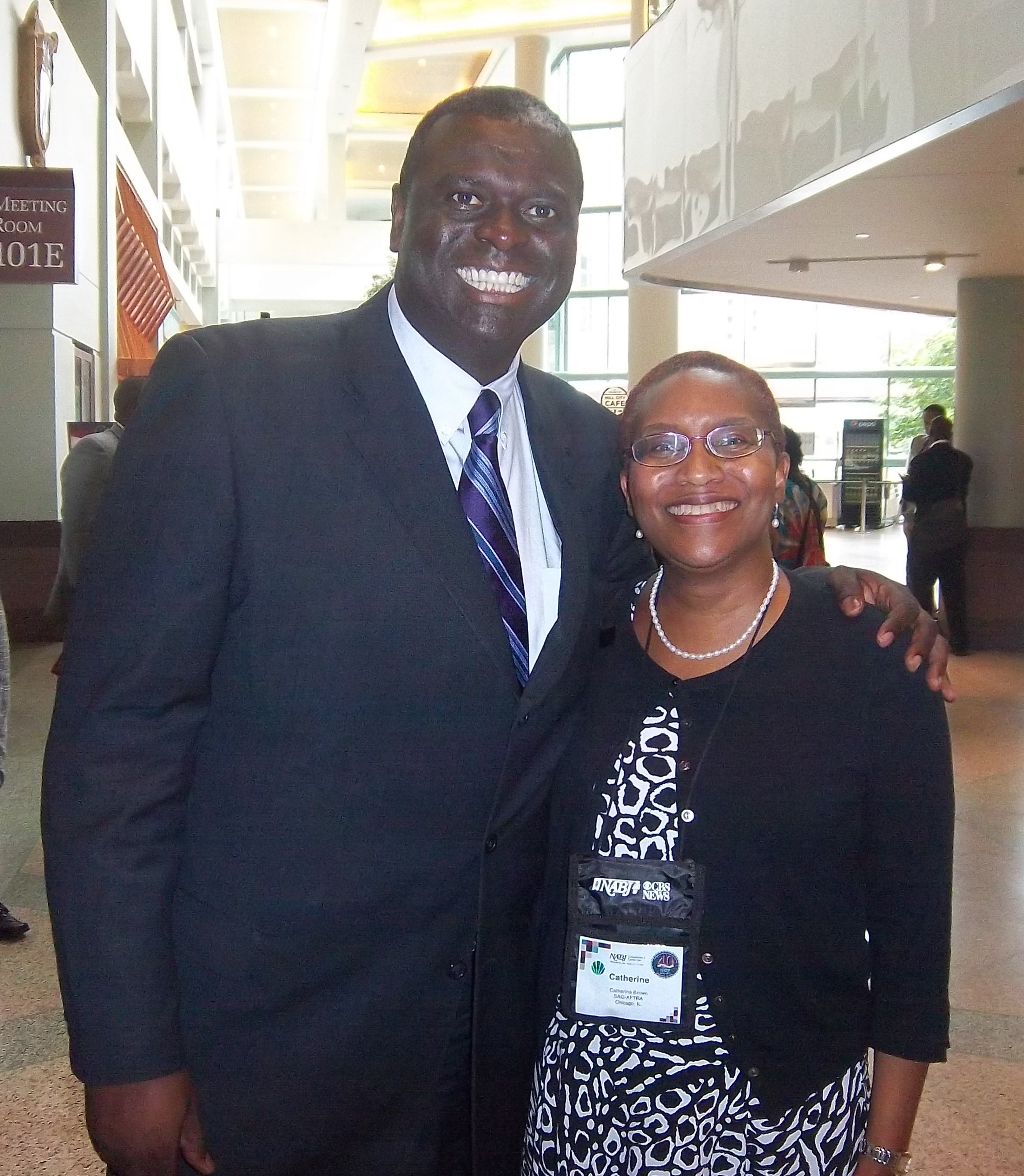 Reg Chapman with Catherine Brown
Twin Cities member and WCCO-TV reporter Reg Chapman was part of the SAG-AFTRA panel Changing Times, Changing Terms: Navigating Your Career Path, presented at the 2015 National Association of Black Journalists Convention in Minneapolis on Thursday, Aug. 6.  Panelists also included SAG-AFTRA Vice President of Broadcasters Catherine Brown; WWJ/CBS radio reporter and SAG-AFTRA member Vickie Thomas; SAG-AFTRA Associate Executive Director, News & Broadcast Rich Larkin; and talent manager Rob Jordan. The panel was moderated by SAG-AFTRA National Director of EEO & Diversity Adam Moore, and was well-attended, with many in attendance staying around afterward to ask questions and chat directly with the panelists. Panelists spoke about their own career paths and gave advice. Reg spoke about his career experiences and commented that he has succeeded in reaching one of his own career goals to work in television news in the Twin Cities.
A Day in the Life … Twin Cities Annual Actors Expo!
By Mary Em Burns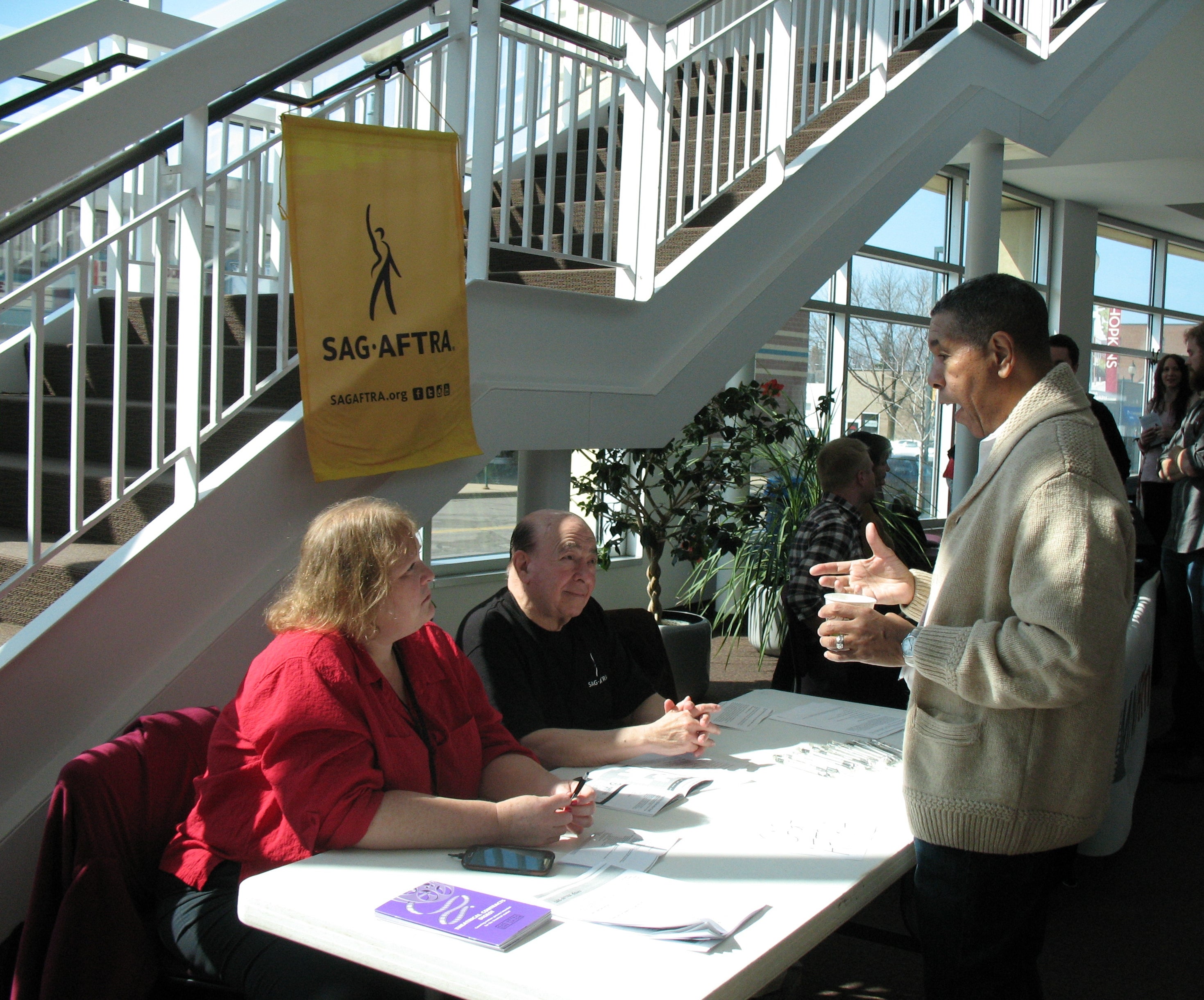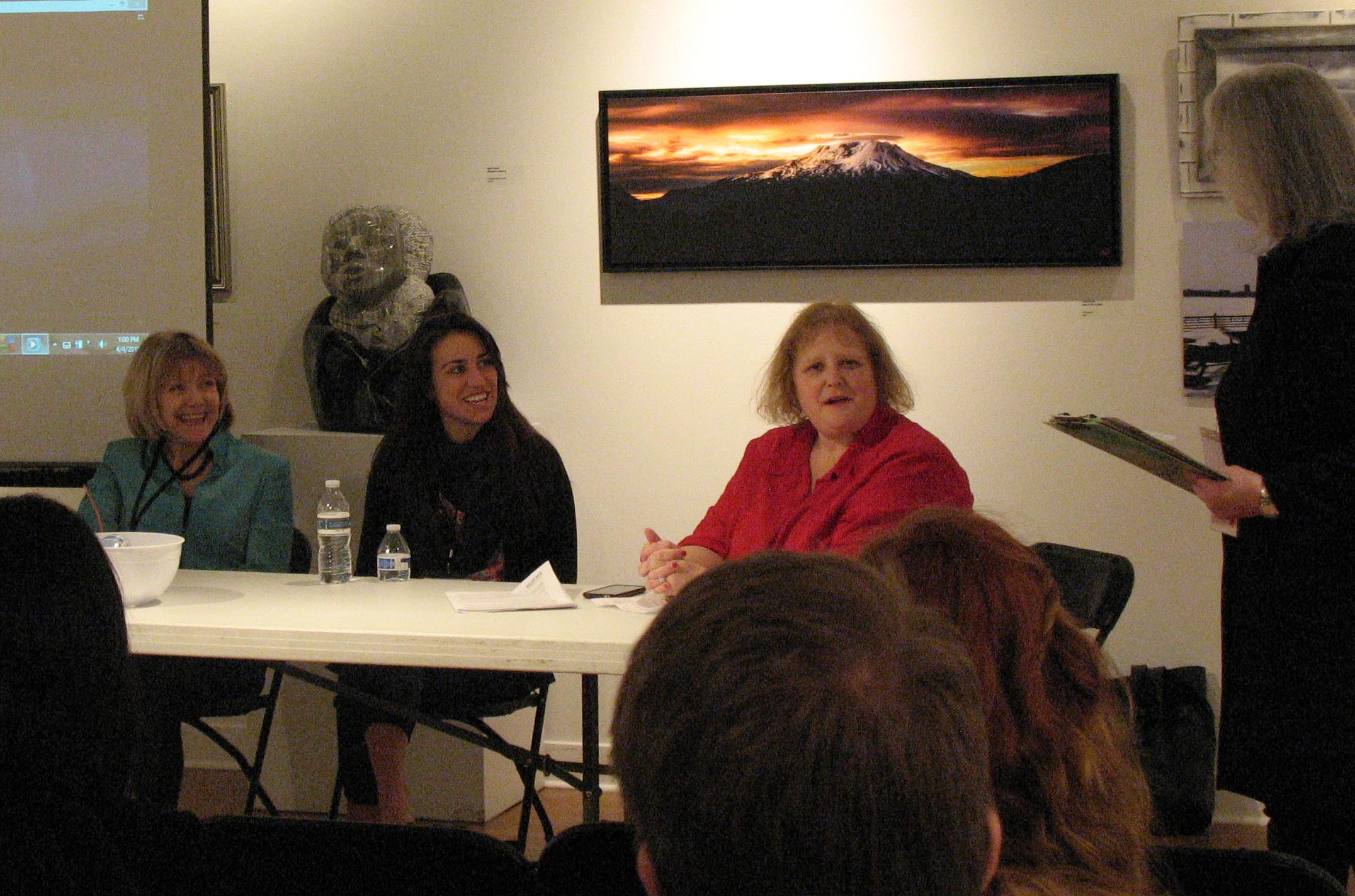 At left, attendees check in for the Twin Cities Actors Expo. At right, the Becoming a Professional Actor panel.
On Saturday, April 2, although it was one of our first spring-like days in the Twin Cities in quite some time, I found myself — along with a good-sized crowd of other actors and actors-in-training — at the 2015 Twin Cities Actors Expo at the Hopkins Center for the Arts. To begin my experience, I worked as a volunteer at the SAG-AFTRA information table, sharing space with our volunteer organizer, member Peggy O'Connell, and Kathy Byrne, a SAG-AFTRA staff member who had traveled from the Chicago office for meetings and to participate on a SAG-AFTRA panel at the expo later in the day. Other SAG-AFTRA member volunteers hosting our table during the expo included Tony Saffold, Barry ZeVan, Regina Marie Williams, Mark Bradley, Shelli Place and Cat Brindisi.
While sitting at the table, we answered a variety of questions posed by inquisitive pre-union actors (and/or their parents) on topics ranging from the amount of the initiation fee to contract issues to the benefits of working under a union contract. I know I learned a few things that I didn't know and certainly met a lot of interesting people!
In the early afternoon, Kathy, Peggy and Cat facilitated a panel discussion called Becoming a Professional Actor, relating to working as a SAG-AFTRA member. All three of these professionals provided unique and insightful perspectives. Veteran union actor Peggy shared stories of joining both AEA and SAG-AFTRA, and then working as a union actor, stressing her commitment to both unions. Cat, as a newer member, admitted that she noticed a distinct difference in how she was treated on SAG-AFTRA union jobs and felt that even though the work is not currently plentiful, it is well worth waiting for union jobs. Last but not least, Kathy — our walking, talking SAG-AFTRA information powerhouse — provided many useful bits of information about joining and working as a union actor, including sharing a warning that non-union commercial contracts often include a permission to use the commercial "in perpetuity," which seemed (to me) to visibly frighten a few of the pre-union actors in the audience. All in all, it proved to be another interesting and educational day spent at the Actors Expo.
A Day in the Life … Request for Submissions
Since our merged union includes many types of members and so many of us don't know much about the work of some of our fellow SAG-AFTRA members, we hope to include in every issue of this newsletter going forward short stories submitted by you the members about jobs you currently have or contract jobs you have been on recently, about auditions or job interviews, or in general about your union-related work and experiences in and out of the Twin Cities. We call it A Day in the Life. Please submit your brief story (300 words or less) by email to: twincities@sagaftra.org and reference "Day in the Life Story" in the subject line. Please include your full name and contact information with your submission. NOTE: The editors reserve the right to make the final decision on whether or not to include your submission and also reserve the right to edit the piece if necessary.
Member Profiles – Request for Suggestions
By Mary Em Burns
As editor of the Twin Cities News & Views newsletter, I hope that you are enjoying the mix of news and information we have included in our quarterly newsletters. I have personally enjoyed getting the chance to interview several of our local members over the last couple of years and writing profile articles to include in the newsletters. The members that were selected represent a variety of SAG-AFTRA experiences and jobs. I hope to continue to include these types of profile articles in the newsletter going forward, but would like your feedback about these types of pieces and/or your suggestions on which members you would like to see profiled in upcoming newsletters. Please send your comments and suggestions to me in care of our local email — twincities@sagaftra.org — and reference "Member Profiles" in the subject.  
Twin Cities Local Film Production News
The following SAG-AFTRA productions shot in the Twin Cities Local (Minnesota, North and South Dakota) since January 2015:
Forgotten – Modified Low Budget Film
I Am Not a Serial Killer – Low Budget Film
Danger and Eggs – New Media
3 Bullets – Ultra Low Budget
Wilson – Theatrical Regular
The 4th – Ultra Low Budget
Squirrel – Short Film
Alan Berks – Short Film
Boardroom – Student Film
Project Eden – Theatrical Regular
With the renewed Snowbate incentive in Minnesota, we are all hoping that production continues to grow, so keep working to "flip" those non-union films! If you have questions about that, feel free to contact Kathy Byrne directly at kathy.byrne@sagaftra.org or at 312-867-5508.
Where & How to Get Support
Help is always available and easy to access by phone (312-573-8081 or 800-724-0767) or by email to specific staff members as listed below:
Agency:
Contact Kathy Byrne
kathy.byrne@sagaftra.org
Commercials or Corporate/Educational:
Contact Sean Hennessy
sean.hennessy@sagaftra.org
Dancers:
Contact Jolene Jones
jolene.jones@sagaftra.org
Interactive or New Media:
Contact Sean Hennessy
sean.hennessy@sagaftra.org
Infomercials:
Contact Sean Hennessy
sean.hennessy@sagaftra.org
or contact Kathy Byrne
kathy.byrne@sagaftra.org
Membership:
Contact Kathy Nelsen
kathy.nelsen@sagaftra.org
Music Videos, Singers,
or Sound Recordings:
Contact Jolene Jones
jolene.jones@sagaftra.org
News and Broadcast:
Contact Paula Weinbaum
paula.weinbaum@sagaftra.org
or contact Eric Chaudron
eric.chaudron@sagaftra.org
Residuals, Film/TV:
Contact Residuals Department
residuals@sagaftra.org
Short and Student Films:
Contact Kathy Byrne
kathy.byrne@sagaftra.org
Stunt and Safety:
Contact Kathy Byrne
kathy.byrne@sagaftra.org
Television, Dramatic and Non-Dramatic:
Contact Kathy Byrne
kathy.byrne@sagaftra.org
Theatrical:
Contact Kathy Byrne
kathy.byrne@sagaftra.org
For other inquires, contact Colleen Aho, 651.789.8990 or colleen.aho@sagaftra.org.
Important Websites:
SAG-AFTRA
SAG-AFTRA Contracts Info
SAG-AFTRA Production Center  
SAG-AFTRA Federal Credit Union
Save the Date!
The annual membership meeting will take place on Monday, Nov. 16.
Details to follow.