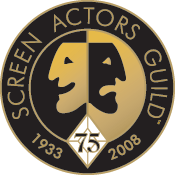 In 2008, Screen Actors Guild celebrated 75 years of pioneering for artists' rights. Established in 1933, the Guild has a rich history in the American labor movement, from standing up to studios to break long-term engagement contracts in the 1940s to fighting for performer protections amid the digital revolution sweeping the industry in the 21st century. Over the years, these revolutionary contributions have made Screen Actors Guild the respected union in entertainment.
15 of the Guild's original 21 board of directors and officers at the Masquers Club
Seated left to right: Alan Mowbray, Lucile Webster Gleason, Boris Karloff, Ralph Morgan & Noel Madison.
Standing, 2nd row, left to right: Kenneth Thomson, James Gleason, Richard W. Tucker, Clay Clement, Alden Gay Thomson, Bradley Page, Morgan Wallace & Arthur Vinton.
Back row: Ivan Simpson, Claude King. Undated photo, circa mid-1930's.
Overview
Both idealism and outrage motivated the Founding Fathers and Mothers who created the Screen Actors Guild. Idealism, in that they believed they could succeed in doing, as Guild President Ralph Morgan once said, "the greatest good for the greatest number" by building a respected organization to protect actors. And outrage primarily over long, grueling hours and workweeks that they found intolerable in Hollywood.
No other actors' organization had as yet proved able to see justice done, and the founders took matters into their own hands. They were a motley bunch in 1933—as young as 30 (Charles Starrett) and as mature as 70 (C. Aubrey Smith). British (Alan Mowbray, Reginald Mason, Claude King, Boris Karloff, Ivan Simpson, C. Aubrey Smith), and American. Contract players (Ralph Morgan, Lyle Talbot), former contract players, (Kenneth Thomson, Charles Starrett, Boris Karloff, James and Lucile Gleason), and career free-lancers. Young leading men still in their early film careers (Starrett, Leon Waycoff Ames, Lyle Talbot); and seasoned supporting players. Some had acted in silent films for years, while others came to Hollywood with the wave of interest in stage players for the new "talking pictures."
All were members of the Actors' Equity Association, with extensive professional experience in the theatre and nearly all had appeared on Broadway.
Most socialized together and were active members of one or more of three clubs in Hollywood: Masquers Club (all-male), The Dominos (Masquers Club' all-female counterpart) and the Hollywood Cricket Club (founded by C. Aubrey Smith). They were an action-oriented, motivated, gutsy group.
Research in this section was compiled and authored by Guild Historian Valerie Yaros