The Official E-Newsletter of the SAG-AFTRA New York Local
2015-2017 NEW YORK LOCAL BOARD
Mike Hodge – President
Maureen Donnelly – First Vice President
Holter Graham – Second Vice President
Jim Kerr – Third Vice President
Rebecca Damon – Fourth Vice President 
Polly Adams
Marc Baron
Nitasha Bhambree
Anne Gartlan
Janette Gautier
Charles Gemmill
Traci Godfrey
Phoebe Jonas
Sandra Karas
Gerald M. Kline
Elaine LeGaro
Adrian Martinez
Samantha Mathis
Joseph Melendez
Sue-Anne Morrow
Jack Mulcahy
Christine Nagy
Janice Pendarvis
Linda Powell
John Rothman
Kevin Scullin
leslie Shreve 
Alex Silverman
Debra Sperling
Jeff Spurgeon
Jamal Story
Monica Trombetta
Rick Zahn
Liz Zazzi
BOOKPALS
The SAG-AFTRA Foundation's BookPALS is seeking N.Y. members to volunteer to read to classrooms of children. Click here for details.
CONTACT INFO
Office Location:
1900 Broadway, 5th Floor
New York, NY 10023
(Between 63rd and 64th streets)
newyork@sagaftra.org
(212) 944-1030
Spring Membership Meeting Recap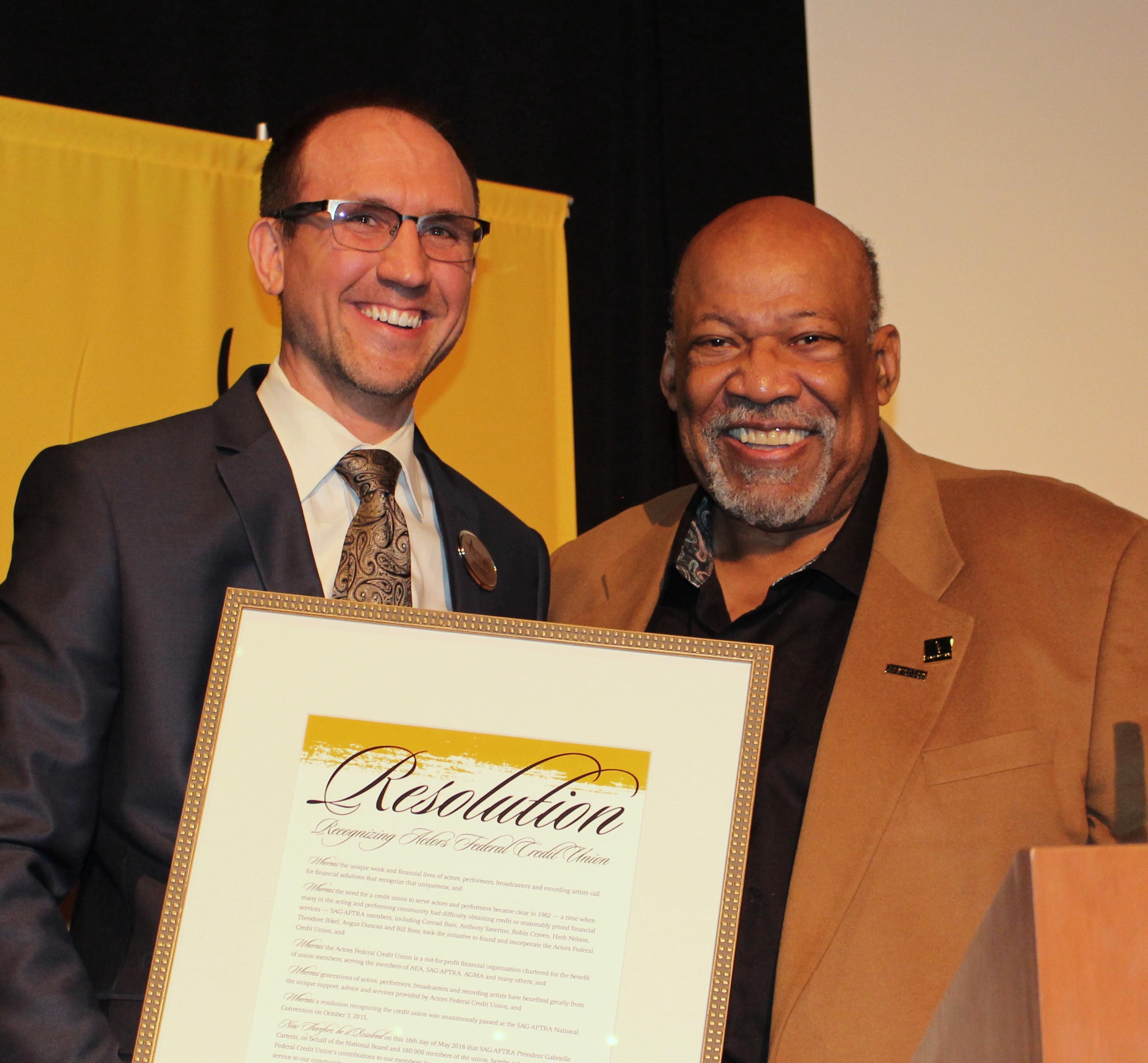 The SAG-AFTRA New York Local held its spring membership meeting on May 16 at the DGA Theater. The meeting began with a moment of silence and a video tribute to the union's late President Ken Howard. New York Local President Mike Hodge spoke about his affection and respect for Howard, and also noted the deaths of former SAG Presidents Anna Patty Duke Pearce and William Schallert, and legacy AFTRA National Vice President J.R. Horne. Hodge related a personal story of how kind Duke had been to him on one of his early acting jobs.
Chief Deputy General Counsel Jeffrey Bennett, appearing at his first membership meeting since taking on his expanded role as New York Local Executive Director, spoke about his excitement for the new job and his commitment to working for the membership in all areas of their work.
Members were advised to get involved with the N.Y. Film Society and the Open Door program, two local resources that provide basic entertainment and career-enhancing benefits. Barbara Davis, chief operating officer of The Actors Fund, and Steve Sobotta, marketing director of the Actors Federal Credit Union, gave presentations on their respective organizations. Sobotta accepted a framed resolution from SAG-AFTRA honoring the credit union for its years of service in providing financial assistance to performers.
Additional presentations reminded members of two invaluable organizations providing assistance and programming to members: the SAG-AFTRA Motion Picture Players Welfare Fund and the SAG-AFTRA Foundation. The new Foundation Theater is expected to open later this year on 54th Street, thanks in part to funding from the MPPWF.
Newly elected Executive Vice President Rebecca Damon gave a detailed report on the President's Task Force for Education, Outreach and Engagement, highlighting several exciting initiatives, including the new contact center and upcoming apps, which will allow members to access residuals information and keep up with union news from their mobile devices.
Members Show Their Pride on 5th Ave.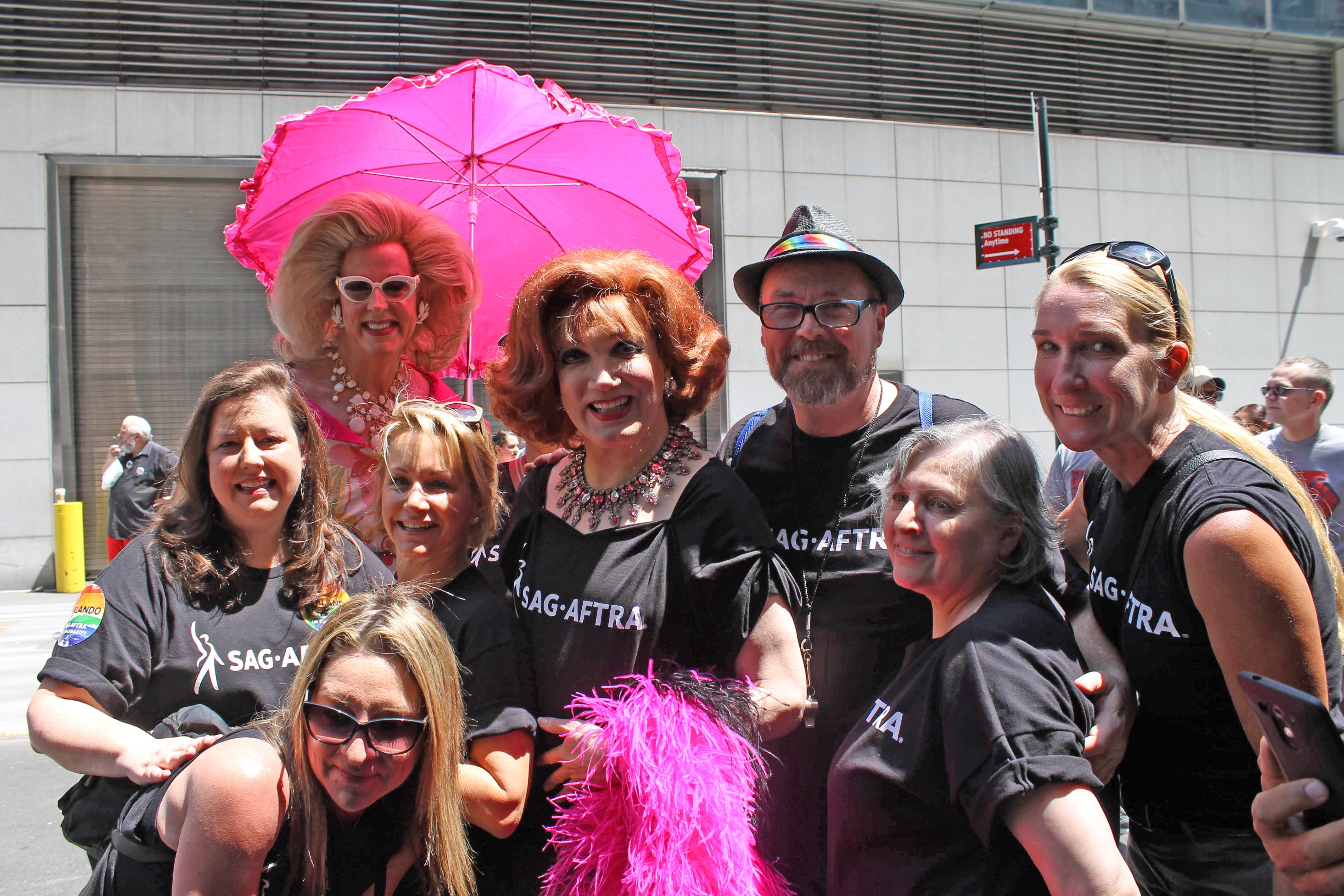 From left, Executive Vice President Rebecca Damon, National LGBT Committee member Ray DeForest as Doris Dear (back), National LGBT Committee Co-Chair and National and N.Y. Local Board member Traci Godfrey (bottom); President Gabrielle Carteris; Broadway legend Charles Busch; National LGBT Committee member, local LGBT Committee Vice Chair and N.Y. Local Board member Kevin Scullin; Busch's colleague Kathie Carr; and Secretary-Treasurer Jane Austin at the NYC Pride Parade on June 26. 
For the second consecutive year, SAG-AFTRA participated in the LGBT Pride March down 5th Avenue to Greenwich Village. The June 26 parade was especially poignant given the recent tragic events in Orlando.
Approximately 120 SAG-AFTRA members, friends and supporters marched behind actor, author and Broadway legend Charles Busch; National LGBT Committee Co-Chair and National and N.Y. Board member Traci Godfrey; and National LGBT Committee member, local LGBT Committee Vice Chair, and N.Y. Local Board member Kevin Scullin, as well as the union's three top officers: President Gabrielle Carteris, Executive Vice President Rebecca Damon and Secretary-Treasurer Jane Austin.
Perfect weather contributed to a spirited and celebratory mood, as our contingent made its way through constant cheers from the crowds all the way down 5th Avenue for this historic event.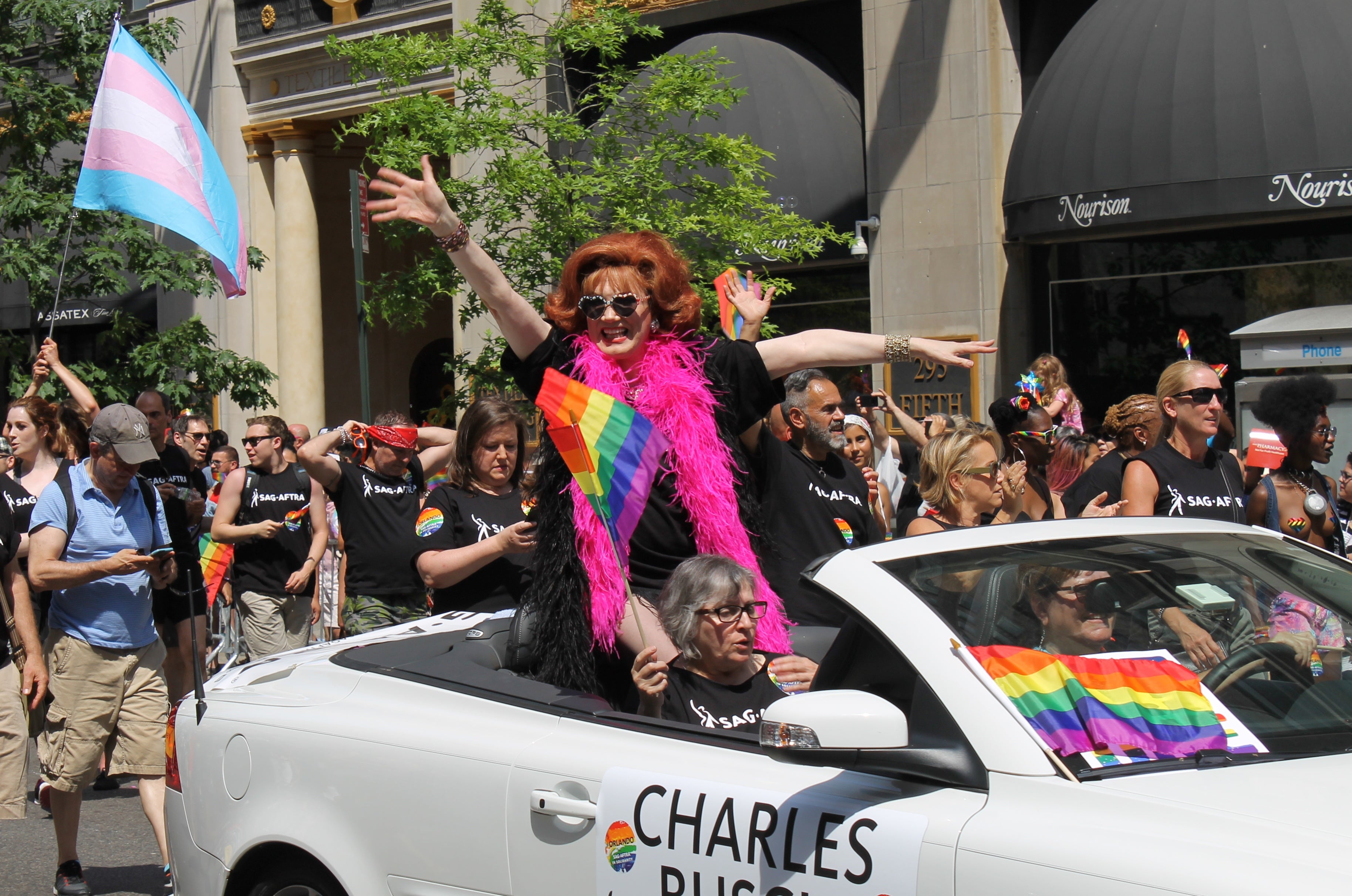 Charles Busch
Focus on Stunt Performers 
New York Local President Mike Hodge hosted a contracts educational seminar for local stunt performers on July 19 to focus on issues and concerns important to the local stunt community. A standing-room-only crowd of more than 70 performers attended the four-and-a-half hour meeting. 
Staff gave an extensive presentation on the stunt provisions of various contracts, covering topics such as parking, trailers, daily vs. weekly contracts, and much more. Questions ranged from residuals to minimums on the stunt-heavy Marvel/Netflix superhero shows.
Following the meeting, President Hodge remarked, "I am extremely happy that we were able to meet with so many New York stunt performers and discuss their concerns. I have tremendous respect and admiration for this constituency of our membership, both for the specialized work they do and for the passion they bring to their union involvement."
A second contracts seminar is scheduled for Aug. 24 for those stunt performers who couldn't attend. New York stunt performers who have questions about contracts are encouraged to contact local staff: Jim Damis, national director field services; Steven Meicke, director television contracts; Stephanie Perry, director theatrical contracts; and Tracy Hyman, senior manager, commercials contracts.
Disability Pride Parade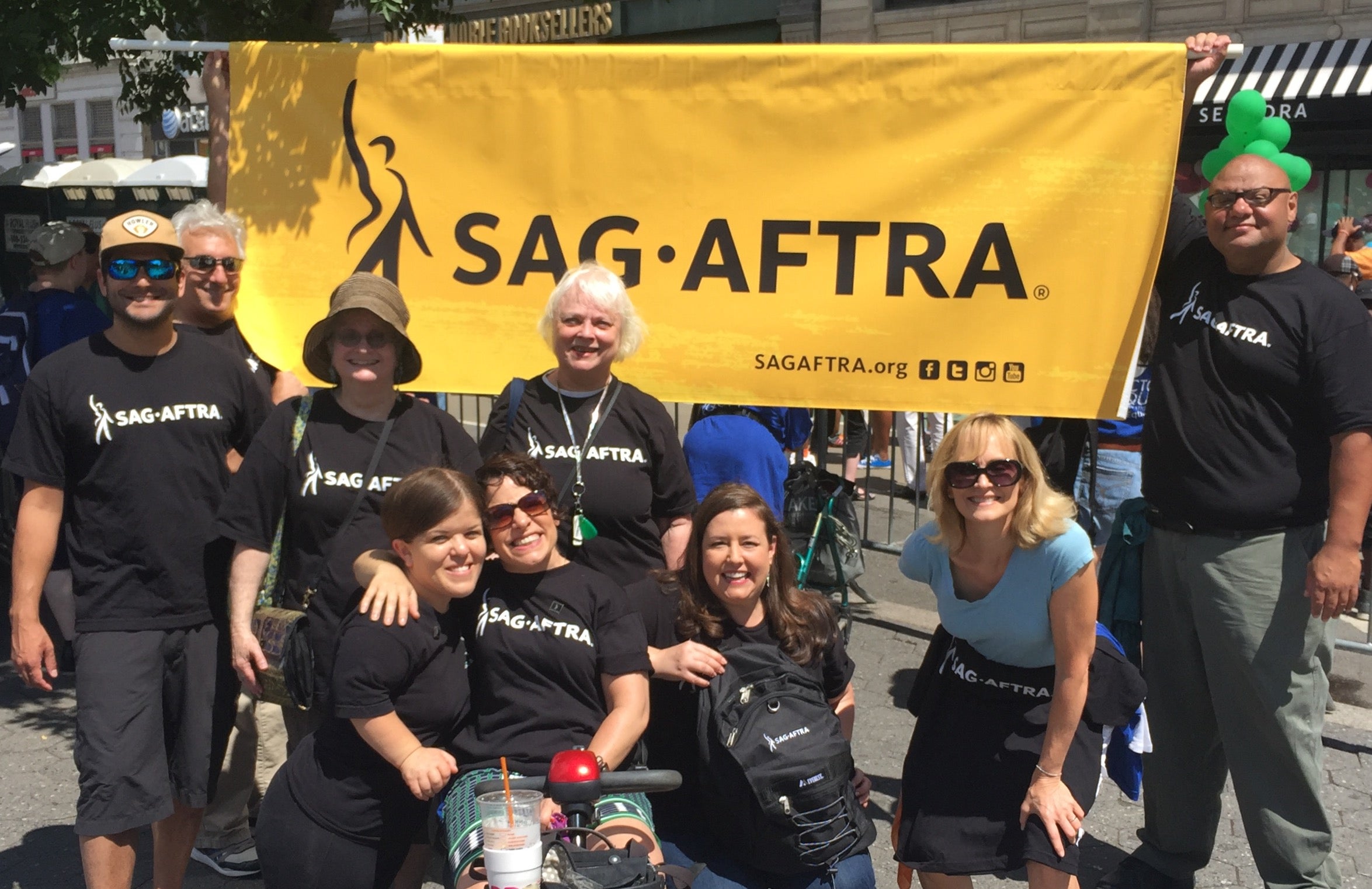 From left, Adam Moore (staff), Marc Baron (N.Y. Local Board), Tobi Kanter (N.Y. Local PWD Committee), Becky Curran (staff), Christine Bruno (N.Y. Local PWD Committee Chair), Nancy Ellen Sutherland (N.Y. Local and National Women's Committee), EVP Rebecca Damon, Becky Baxter Foard and Joseph Jerez (SAG-AFTRA members). Photo by Pearl Brady.
SAG-AFTRA and Actors' Equity Association participated in the 2nd Annual New York City Disability Pride Parade on Sunday, July 10. During this joyous occasion, 5,000 New Yorkers celebrated 26 years of the Americans with Disabilities Act, rallying together and moving forward toward equality for the community of people with disabilities. 
A Commercial Education
The New York Local hosted back-to-back events on May 24 and 25 to help educate our industry partners on the new provisions of the 2016 Commercials Contracts. With commercials being distributed across an increasingly broad array of platforms, it is critical that those who employ and procure employment for SAG-AFTRA members understand the newly negotiated terms.
The first day saw approximately 50 representatives from advertising agencies, signatory companies, casting agencies and production companies gather for a presentation on the new memorandum of agreement, particularly on the ways the new contract distinguishes between internet, new media and social media distribution. Staff from our fellow unions the Directors Guild of America and the American Guild of Variety Artists also attended to better understand how their own members might benefit.
The presentation was repeated on the second day for an invited group of franchised talent agents and representatives from the National Association of Talent Representatives. Those who attended thanked SAG-AFTRA staff for providing a helpful and much-needed guide to the new contract, noting that outreach such as this helps to minimize difficulty before, during and after the production process, and to ensure that performers get paid promptly and accurately.
Foundation On-Camera Lab Reopens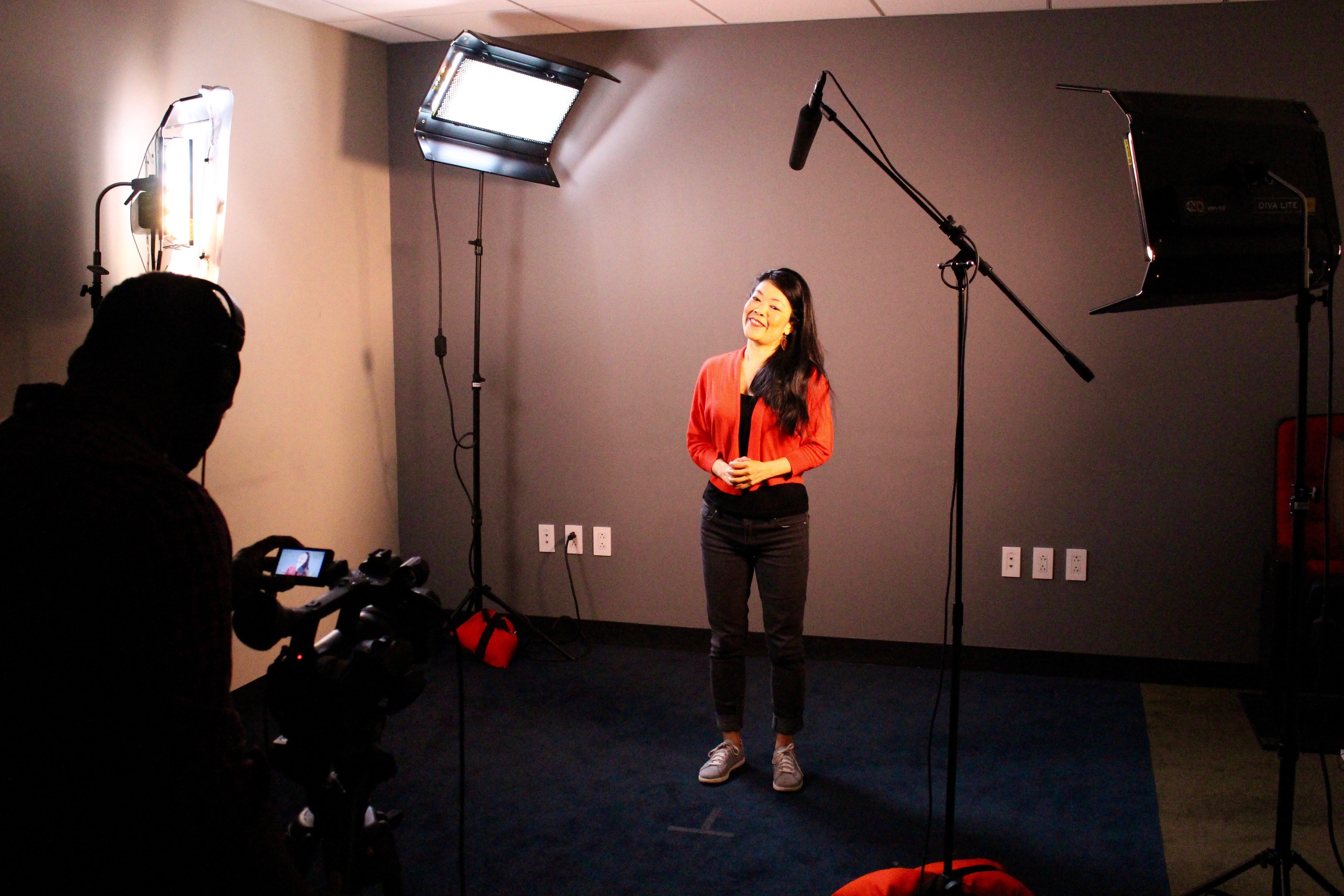 Member Allison Hiroto tapes her audition at the On-Camera Lab. Photo by Jae Choe. 
The On-Camera Lab, located in the SAG-AFTRA Foundation's office on the fifth floor at 1900 Broadway, is a space for union performers to record high-quality auditions as well as gain valuable experience in front of a camera.
The On-Camera Lab is a free facility for SAG-AFTRA members and is made possible through gifts, grants and sponsorships. The Foundation never draws on SAG-AFTRA dues or initiation fees.  
To use the On-Camera Lab: 
1. Create an account at the website and complete the online application.
2. Once your application has been approved, log in and select a time slot in the calendar. Available time slots are 15 minutes.
3. Come prepared with sides, rehearsed and ready to perform. 
4. Bring a flash drive to take your audition footage (ideally 8GB or more. Video files take up a lot of space). Sessions are shot on a Sony NX-CAM digital camera. 
5. Members are encouraged to bring their own readers. If unable to do so, the On-Camera Lab Audition Tech will read sides with you. 
6. Review and abide by the full rules and guidelines included in the application process. The Foundation reserves the right to refuse service to any member who does not abide by the lab's rules and guidelines. 
To learn more and apply, click the New York On-Camera Lab Profile icon on your dashboard after logging into the Foundation website.