The Official E-Newsletter of the SAG-AFTRA New York Local
NEW WAY TO REACH US
The New York Local Professional Representatives Department has new contact information.
To better facilitate handling your questions, we've created an email address or you can call 212-863-4230 for phone inquiries. Contact us to find out if an agent is franchised with SAG-AFTRA, if you need help interpreting a contract or resolving a dispute, or if you have any questions or concerns about your relationship with your agent or manager. You can also learn more about what our department offers on the web page here.
A Message from N.Y. Local Exec Director Jeffrey Bennett
Hello New York! I am honored and excited to have been selected as your new executive director of the SAG-AFTRA New York Local. I appreciate the confidence that Local President Mike Hodge and the New York Board have shown in me, and I look forward to working with your elected leaders in serving our talented and diverse membership.
I have been with the Screen Actors Guild and SAG-AFTRA for 15 years. I worked many jobs prior to working at SAG, but my career truly began when SAG hired me a business representative in 2001. I knew I had found a home, and I have felt that way ever since. Prior to assuming the role of executive director, I served as the chief deputy general counsel, legal and government affairs, and I will continue to serve in that role. My work in legal and government affairs focuses on collective bargaining enforcement and advocating for policy initiatives that benefit our membership. I was heavily involved in fighting for the New York production tax incentives, which have proven tremendously successful, and I am committed to seeing those incentives continue.
I am fortunate to oversee an incredibly dedicated and hard-working staff. Like National Executive Director David White, I consider member service a top priority. I want to make sure the New York Local is responsive to the needs and concerns of all our members, in every category, under every collective bargaining agreement. It is a challenging and exciting time in our industry. I am confident the New York Local will set the standard for meeting those challenges and continuing the great legacies of AFTRA and SAG. There is much that we can accomplish in New York!
Remembering a Union Leader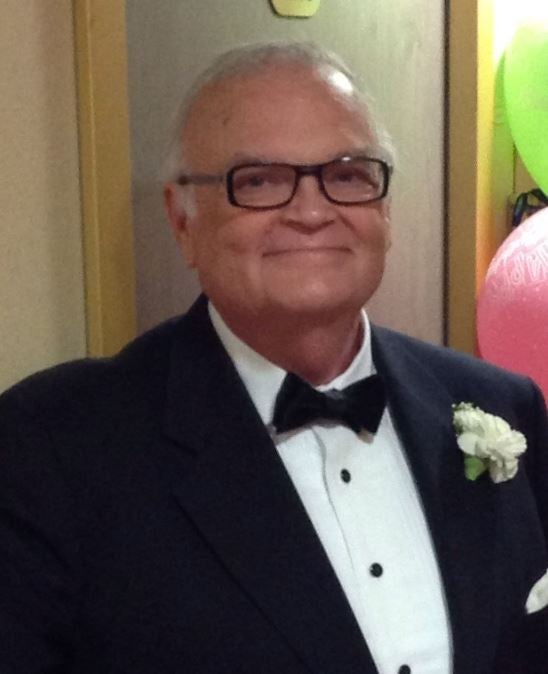 Photo courtesy of Judy Horne
SAG-AFTRA mourns the death of J.R. Horne, a beloved character actor and an active union member who died Jan. 14 at the age of 72. Last September, Horne celebrated his 58th anniversary of his life in what he called "the show business."
Horne was deeply committed to his unions and believed that the labor movement was a critical piece of a fair and just America. He served as a national vice president of AFTRA, president of the AFTRA New York Local and was a member of the AFTRA National and New York Local boards. Additional highlights of his extensive service included the AFTRA Network Code Negotiating Committee, Constitution Review Committee, 2012 Merger Committee, Health Care Reform Committee and the New Members Committee. He also chaired the Screen Actors Guild 1997 TV/Theatrical New York W&W Committee and was a member of the Commercial Performers Committee. 
Horne began his career at age 14 in Paris, Texas, on the air at KFTV. After working at radio stations across the country, he landed at KDKA Radio in Pittsburgh in 1967 for a five-year stint at one of the then-powerhouse AM stations. In 1972, he moved to WPIX-FM in New York City doing the afternoon drive for two years. One of his proudest mixed-emotion career moments came in a ratings period where he snagged the No. 1 position, beating out his childhood and lifelong idols Bob and Ray.
Horne left radio in 1974 for a long career on stage, in film and television. Active in voiceovers, he also worked with The Late Show with David Letterman for 18 years. His stage work over 40 years took him everywhere from Broadway to a bus, track and ferry tour of Alaska. His last film with the Coen brothers, two of his favorite collaborators, was Hail, Caesar which opened in February.
"J.R. was a colleague and a committed unionist. Despite an active career that included radio, stage, TV, film and interactive, he still managed to find time to serve his fellow members," said SAG-AFTRA President Ken Howard. "Our growing union would not be where it is today without the work he put in to gain fair wages and working conditions for performers."
"Everybody who knew J.R. knew the kindest, warmest, funniest person around. He and I had any number of incredibly wonderful, funny encounters as we made the rounds of the business," said SAG-AFTRA New York Local President Mike Hodge. "He is indelibly loved by the New York acting community and embodied the spirit of an everyman actor. He will be greatly missed."
Horne's business card read: Actor/Trade Unionist. He is survived by his wife of 45 years Judy; their son Devin, also a member of all the actor unions; and their daughter Emma.  
Memorial contributions can be made to The Actors Fund.
To read remembrances of J.R. Horne from his friends and colleagues, click here.
Members March to Wall St. Ad Agency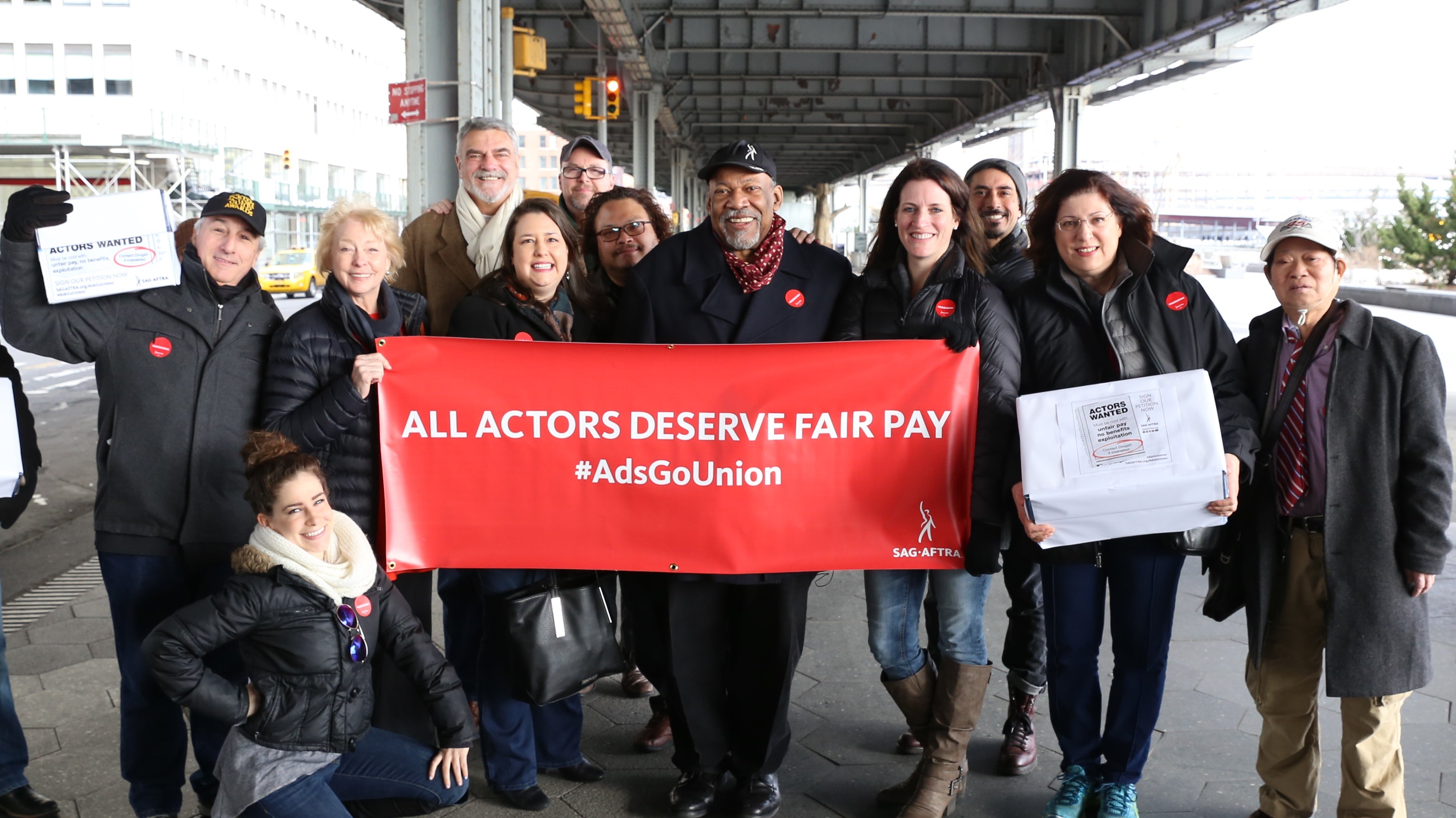 Members assemble to deliver petitions to Droga5. 
Taking the struggle for fair wages to the streets, a group of SAG-AFTRA New York Local members boarded a bus on the morning of Jan. 12 and headed to the Wall Street headquarters of Droga5, a leading digital ads producer. While Droga5's slogan is "humanity obsessed," their humanity seems to be absent when it comes to paying actors fair wages. The union had collected over 8,000 petition signatures asking Droga5 and other ad agencies to ensure fair wages and benefits for all, and members traveled to the Droga5 office with the intent of simply delivering the petitions and speaking to a representative. Instead, after peacefully waiting in the lobby for several minutes, our members were confronted by police officers, who had been called to remove them from the premises. "What are they afraid of?" asked New York Local President Mike Hodge, who led the event. Despite refusing to accept the petitions, Droga5 received our message loud and clear: SAG-AFTRA members are united, committed, and will not tolerate employers who undermine middle-class wages and exploit vulnerable performers. Video of the Droga5 event has been viewed almost 800,000 times on Facebook — more than any other SAG-AFTRA video! Watch it here. 
The petition delivery was just the latest piece in an ongoing initiative directed at organizing the digital advertising industry. SAG-AFTRA is also running a social media campaign on the issue, using the hashtag #AdsGoUnion on Twitter, Instagram and Facebook, adding to our #BestintheBiz hashtag from the overall Commercials Organizing and Recapture Initiative.  
Affordable Housing Lottery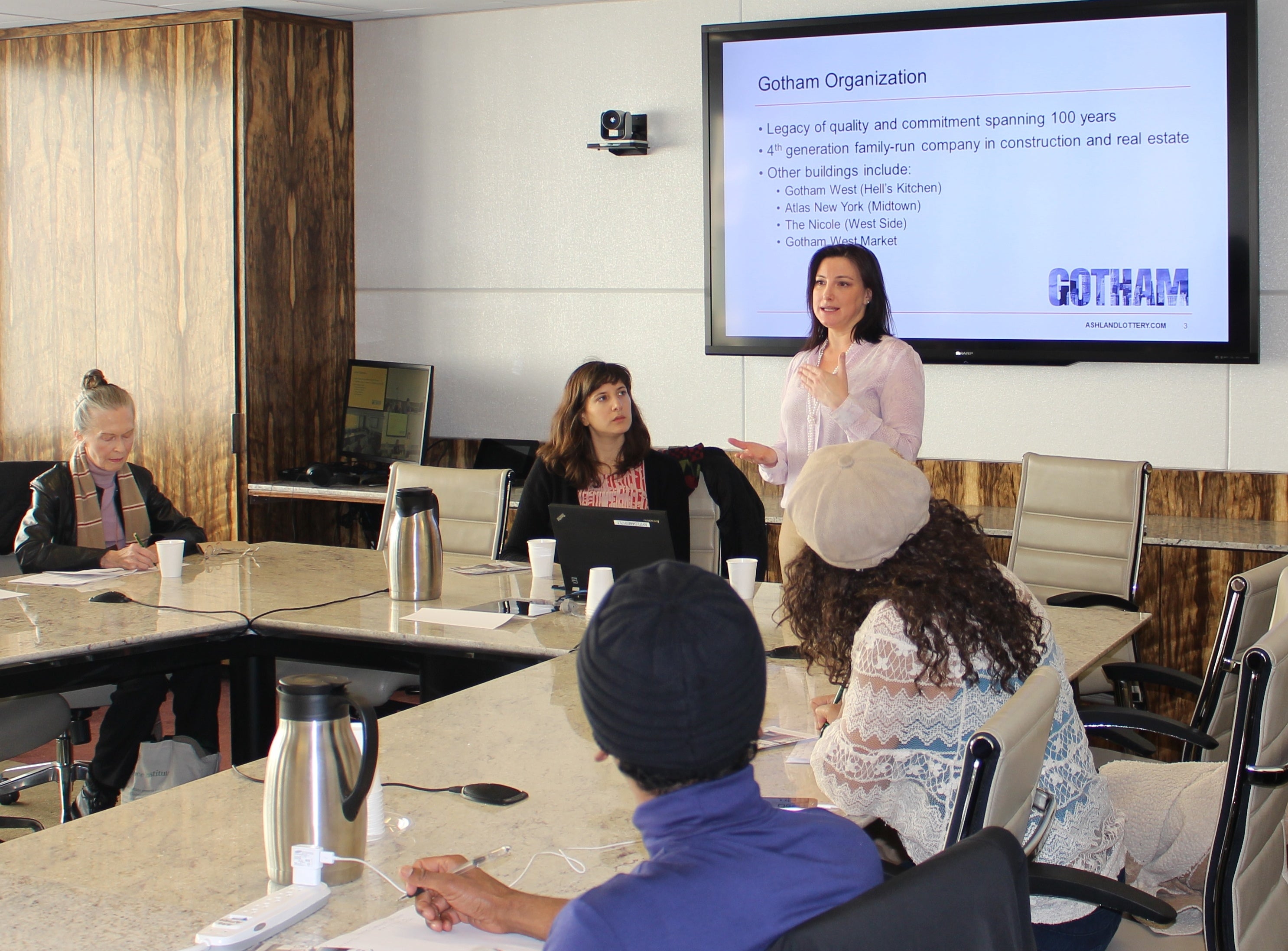 Emily Cohen of The Gotham Organization tells members how to participate in the affordable housing lottery. 
About three dozen SAG-AFTRA members attended a special seminar at 1900 Broadway offered by The Actors Fund to learn about a new affordable housing development being built in the Fort Greene section of Brooklyn. The building at 250 Ashland Place will offer brand new, rent-stabilized apartments to qualified applicants in the heart of Brooklyn's booming cultural district. Emily Cohen of The Gotham Organization (the developer) gave a presentation about the building and the application process, and Sarah Meier-Zimbler of The Actors Fund spoke about the income eligibility requirements. Both noted the challenges faced by SAG-AFTRA members in documenting their incomes, which often fluctuate, and are spread across multiple employers. Qualified applicants will be entered into a lottery for apartments, which range from studios to three bedrooms, with the first tenants expected to move in this summer.
Members who would like to apply or get more information can go to the Ashland Lottery website here. The Actors Fund can offer assistance with the application process. IMPORTANT: The deadline for applications is April 11.
Brand Loyalty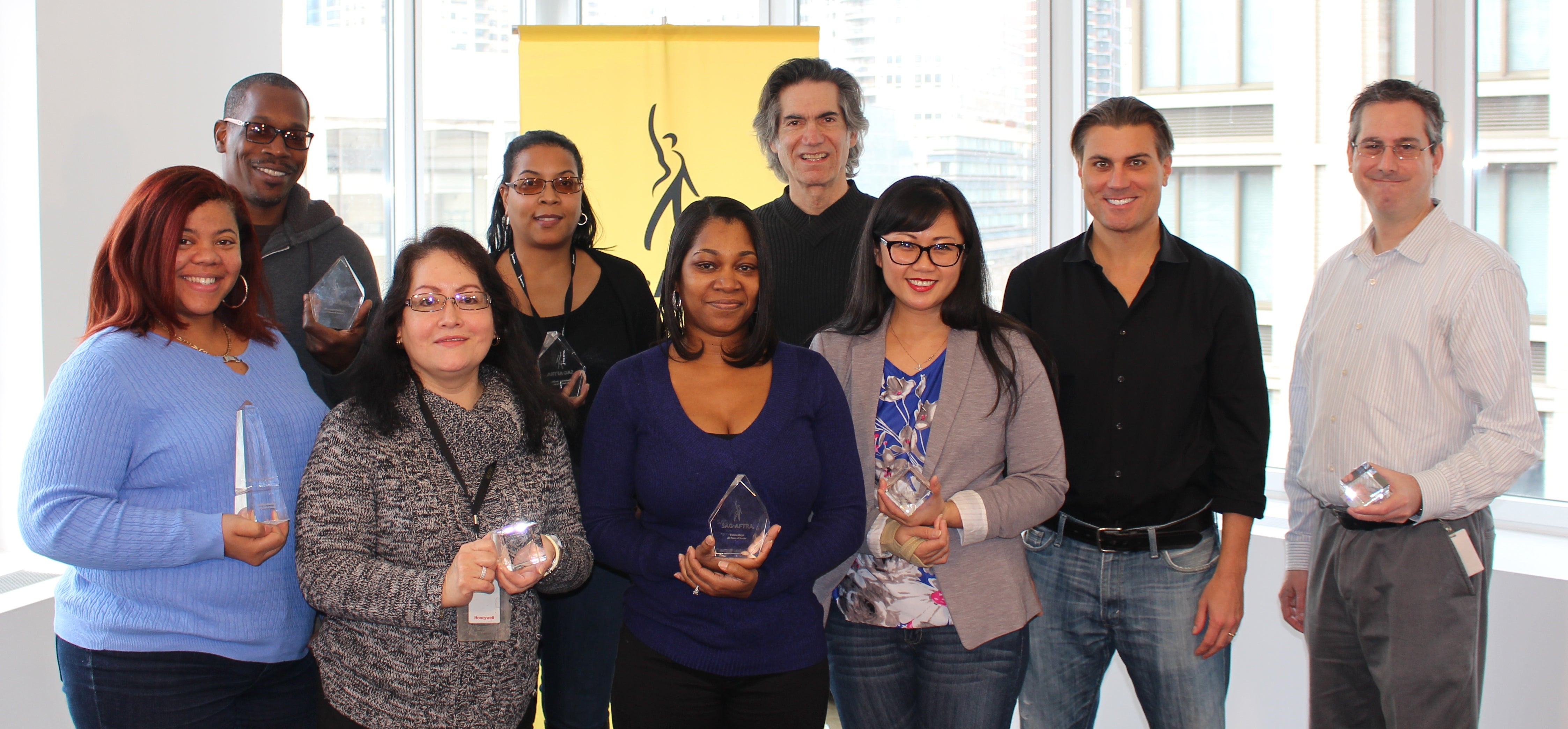 SAG-AFTRA recognized longtime staff members who reached milestones in 2015. Honorees received elegant glass awards engraved with their length of service. Pictured front row, from left: Indhira Marine (20 years); Noreen Fabre-Stahl (10 years); Tonia Mays (25 years); Angelica Criscuolo (10 years); N.Y. Local Executive Director Jeff Bennett, who presented the awards; David Viviano (10 years). Back row: Thorsam Dathan (25 years); Kimberlee Archie (25 years) and Jim Damis (30 years). Not pictured: Adam Moore (10 years). Thanks to all for your service and dedication!
Application for Union Plus Scholarship Available
The Union Plus Scholarship program, now in its 24th year, has awarded more than $3.7 million in educational funding to more than 2,500 union family members. 
The 2016 Union Plus Scholarship application is now available online.