The Official E-Newsletter of the New York Local
NAMING CONTEST WINNER ANNOUNCED
Congratulations to New York Local member Nick Fondulis, who submitted the winning suggestion for the title of the New York Local's e-newsletter, Local Vocal. Nick will receive some SAG-AFTRA gear and bragging rights for his creativity. Thank you, Nick!
VISIT THE LILLIAN BOOTH ACTORS HOME
For more than 130 years, The Actors Fund, with funding from the SAG Motion Picture Players Welfare Fund and the AFTRA Foundation, has provided a wide variety of social, health, employment and housing services, including assisted living, nursing home care and even short-stay rehabilitation for performing arts and entertainment professionals and their eligible family members at The Fund's Lillian Booth Actors Home. Nestled on a quiet residential street in Englewood, N.J., the Lillian Booth Home sits on six beautifully landscaped acres.
 
At the Home, residents enjoy monthly visits from entertainers and celebrities like Jerry Stiller, Anne Meara and Tommy Tune, who performed his act for residents at the end of October. The Home also provides residents with many fulfilling activities by offering music, art and pet therapies, daily exercise classes, local community outings to shows, restaurants, cultural events and more. Recently, residents enjoyed working with the award-winning creators of the documentary Shakespeare Behind Bars (directed by Hank Rogerson and produced by Jilann Spitzmiller) on their new film about our residents mounting a production of A Midsummer Night's Dream. In 2009, the Home completed a $12 million renovation and expansion, adding more beds, a new rehabilitation wing and updated public spaces like the MusiCares Salon and the Mary Fisher Secret Garden.
 
Residents enjoy visits from families and friends, but there are many residents that can benefit from the interaction that only a fellow performer can provide. Consider volunteering to spend an afternoon with a resident. Listen to their wonderful tales and share your own. Conveniently accessible by public transportation, this volunteer opportunity will mean so much to the residents, and will enrich your life immeasurably.
 
For more information on volunteering at the Home, please contact Nancy Gronwoldt, Human Resources Manager, The Lillian Booth Actors Home by phone at (201) 871-8882 ext. 506 or by email. For information about The Actors Fund and all of its free programs and services for SAG-AFTRA members, visit actorsfund.org.
New York Local Vocal: Featuring an interview by Q104.3's Jim Kerr with Z100's Elvis Duran and much more!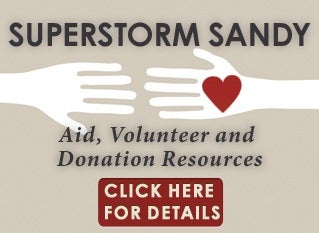 A Message from the New York Local Co-Presidents
Greetings, New York Local Members,
All of us at SAG-AFTRA New York want to acknowledge the extraordinary event our region endured at the end of October. Our thoughts go out to all those affected by Hurricane Sandy, both to our union brethren and to our friends, neighbors and fellow citizens. It has been a time of loss, but also of generosity and unity. Information about recovery assistance is included above and is also available on the New York SAG-AFTRA Web page. We both feel extremely proud and grateful to be part of a community that looks after its own.
"Local Vocal" represents our first official New York electronic newsletter. This newsletter will be a conduit for information between issues of our printed newsletter, the first of which was published in October. Our goal is to use all available media — printed, electronic, social — to communicate with you in the most effective and efficient ways possible. We welcome your feedback and suggestions.
On Monday, Nov. 5, we held our New York Fall Membership Meeting at the Crowne Plaza Hotel in Times Square. Despite the turmoil of the recent storm, more than 230 members attended to hear reports and updates about union business. The highlight of the meeting was a presentation of the recently approved New York Local Constitution. We want to acknowledge the hard work of staff and the members of the New York Governance Review Committee in creating a document which will serve and empower the members of SAG-AFTRA New York. A copy of the constitution can be found here along with helpful information about choosing your member work category. Additional highlights from the membership meeting can be found below.
As we continue to move forward and strengthen SAG-AFTRA New York's position in the city and in our industries, our aspirations always seem to come back to the necessity of collaboration. Like neighbors and strangers supporting each other through these recent storms, we succeed by standing together, in unity.
Holter Graham
Mike Hodge
New York Local Co-Presidents
______________________________________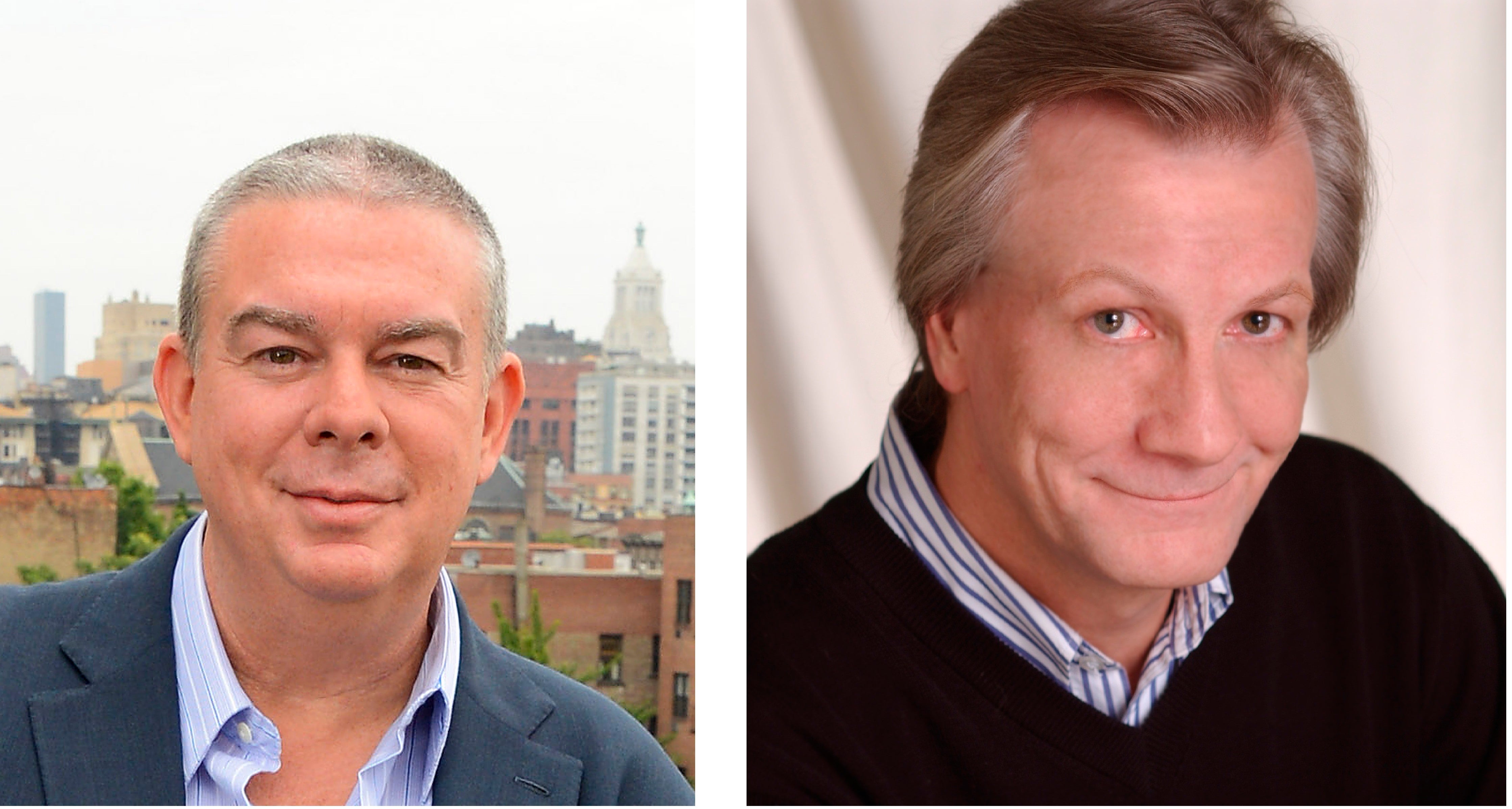 Elvis Duran and Jim Kerr
Jim Kerr/Elvis Duran Interview
Click here to listen to a great audio interview with New York radio personalities Jim Kerr and Elvis Duran! 
We are delighted to bring you the first in a series of audio interviews with SAG-AFTRA New York Local broadcasters. Listen to the interview at your computer, or download to your mobile device and listen on the go. Jim and Elvis discuss their careers, the importance of union membership, and the various performance skills required in the radio business. Actors, broadcasters and all SAG-AFTRA members will enjoy this interview!
Jim Kerr and Elvis Duran are both longtime New York radio personalities and members of SAG-AFTRA. Jim Kerr can be heard weekday mornings on Q104.3 and Elvis Duran can be heard weekday mornings on Z100.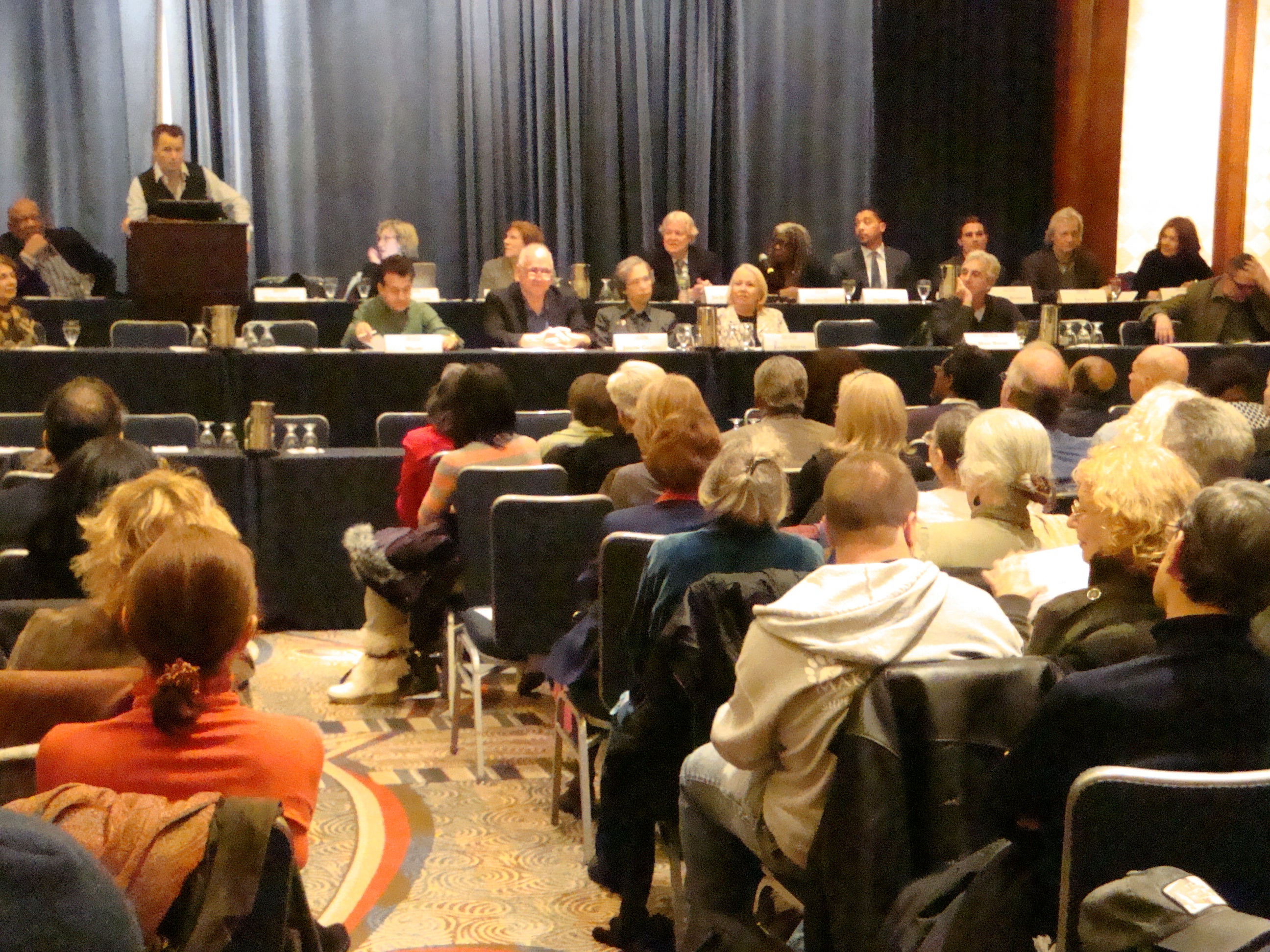 N.Y. Co-President Holter Graham speaks to the members.
Membership Meeting Highlights
• New York Local Co-Presidents Holter Graham and Mike Hodge opened the meeting with thoughts about all those affected by Hurricane Sandy: friends, neighbors and fellow union members.
• David White, national executive director and a trustee of the SAG-Producers Pension & Health Plan, was in town for the meeting and gave an update about the proposed merger between SAG Pension & Health and the AFTRA Health & Retirement Plan. Mr. White gave an encouraging report that trustees from both the producers' side and the union's side agree that merger is a positive and inevitable step forward.
• Senior Advisor Stephen Burrow expressed his admiration for the extraordinary work of SAG-AFTRA's broadcasters in covering Hurricane Sandy. Mr. Burrow then presented an overview of the New York Local Constitution, which was approved on Oct. 27, 2012.
• New York Executive Director Jae Je Simmons reported on improvements to infrastructure since the merger, and urged members to honor the legacies of AFTRA and SAG by creating a new legacy of unionism for SAG-AFTRA.
• National Co-President Roberta Reardon reported on the completion of the W&W process for the commercials contracts and advised that negotiations would begin in February.
• Associate Executive Director for Broadcasting Richard Larkin reported that after three years of attempting to organize, SAG-AFTRA was happy to announce that an audiobook contract had been made with Out Loud Audio. Mr. Larkin commented that this was an "excellent contract and we expect a substantial amount of work to come from it." He added that the contract provides market rates and health and retirement contributions for SAG-AFTRA performers recording audiobooks for the company.
• SAG Foundation Board member Rebecca Damon announced matching donations of $100,000 by both the Foundation and the SAG Motion Picture Players Welfare Fund to The Actors Fund for victims of Hurricane Sandy. Ms. Damon also reported on other Foundation programs and initiatives, including BookPALS and Conversations.
• AFTRA Foundation Board member Roberta Reardon announced that the Foundation had made a donation of $50,000 to The Actors Fund for those affected by Hurricane Sandy.
• Co-Chair Janette Gautier reported that the initial appointments of this year's Open Door Program had to be rescheduled because of the storm, and advised that members could contact NYOpenDoor@sagaftra.org for information.
• NY Co-President Holter Graham and NY Co-1st Vice President Rebecca Damon announced that beginning in January, classes and programs which had been divided between the Stanley Green Media Training Center and the Alice Mary Riley Conservatory Studio will be consolidated to a single location at the Alice Mary Riley Studio at 360 Madison Avenue.
• Steve Sobotta, director of marketing at the Actors Federal Credit Union, encouraged members to take advantage of the credit union's many benefits.
• After adjournment, New York Board member Joyce Korbin oversaw the distribution of door prizes to 14 lucky New York members.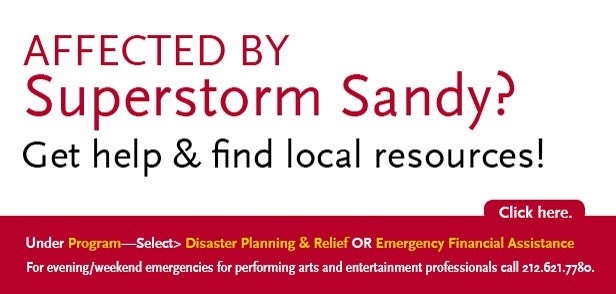 Have you chosen your member category?
If you have not yet chosen a SAG-AFTRA MEMBER CATEGORY, we ask that you log in now to your online member account and select a category today. If it's your first time visiting SAGAFTRA.org, you can easily set up a member account by using your SAG-AFTRA member ID.
 
A member category is one that you believe most closely identifies your SAG-AFTRA membership and is used to determine eligibility to serve and vote as a category representative. Each member chooses ONE category from a list of seven. When you select a member category it does not affect your dues and has no impact on your ability to work under any SAG-AFTRA agreement. Your member category will only be used internally for union elections and governance purposes.
Please note, if you do not choose a category by Dec. 31, 2012, one will be assigned to you. For more information about member categories, click here.
Click here to log in and select a member category today!
_______________________________________________
SAG-AFTRA@Work/Business of the Biz: Breaking Into Voiceovers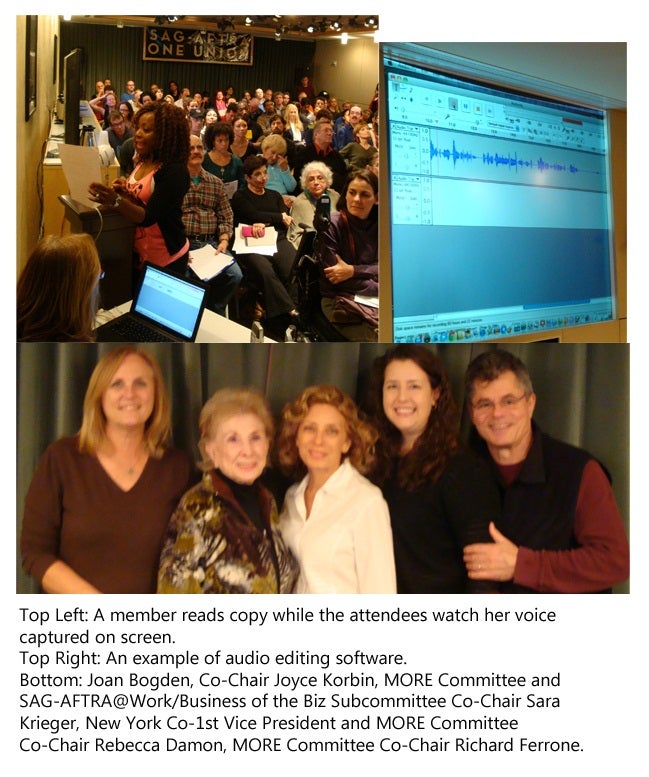 _______________________________________________
EMPLOYMENT OPPORTUNITIES FOR SAG-AFTRA MEMBERS THROUGH THE ACTORS FUND WORK PROGRAM
The Actors Fund Work Program has informed SAG-AFTRA that an organization is seeking actors from specific ethnic groups and/or those who have the skills to work as housing testers. Click here for more information.
_______________________________________________
NEW YORK CONSERVATORY UPDATE
Beginning Wednesday, Jan. 2, 2013, all classes and programs that had been divided between the Stanley Green Media Training Center and the Alice Mary Riley Conservatory Studio will be consolidated to a single location at the Alice Mary Riley Studio at 360 Madison Ave.
Still haven't joined the Conservatory? Click here to download an application.
_______________________________________________
KEEP YOUR CONTACT INFORMATION CURRENT
Log in to SAGAFTRA.org to update your contact information or do it by email.
_______________________________________________
CONRAD CANTZEN SHOE FUND
Click here for information about this shoe reimbursement program from The Actors Fund.
_______________________________________________
LOCAL MEMBER BENEFITS
Click here for a list of deals and discounts in the New York City area.