The Official E-Newsletter of the SAG-AFTRA New Orleans Local
THE AFL-CIO AND SAG-AFTRA NEW ORLEANS
SAG-AFTRA is a member of the American Federation of Labor and Congress of Industrial Organizations (AFL-CIO) of Greater New Orleans.
Board members Robert Bennett and George Sanchez serve as delegates and attend events to introduce us to their membership and find out more about the work they do for unions in our area. Thank you, Robert and George, for keeping us engaged in the local labor community.
2017 Annual Membership Meeting and Social
Join the SAG-AFTRA New Orleans Local Board and our special guests for the New Orleans Local annual membership meeting. Meet Lisha Brock, the new director of locals administration. Learn the latest on what is happening in the marketplace, hear a presentation on the new Regional Commercials Contract and come enjoy holiday camaraderie with your fellow members while enjoying some food and drink.
We are pleased to welcome Susan Bernecker, mother of John Bernecker, who will join us for a special tribute to John. John lost his life on July 13 doing what he loved — performing stunts — on a set in Atlanta. John was a member of the New Orleans Local.
When: 7–9 p.m., Monday, Dec. 4
Mix and mingle begins at 6:30 p.m.
Where: Landmark Hotel & Suites (aka The Copeland Tower)
Pontchartrain Room, 16th Floor
2601 Severn Avenue
Metairie, LA 70002
Free parking available off North Hullen Street; enter through the main hotel entrance.
RSVP: Please send an email to neworleans@sagaftra.org or call (214) 363-8300 ext. 1 and leave your name by Friday, Dec. 1.
This meeting is only open to paid-up SAG-AFTRA members in good standing. Unfortunately, no guests allowed. Parents/guardians of younger performers under 18 years old are welcome. RSVP as noted above. SAG-AFTRA members, please bring your membership card or digital card on the app (paid through Oct. 31, 2017 or April 30, 2018) for admittance.
A Note from Our National Board Member
 
As most of you know, the third SAG-AFTRA Convention recently concluded. David White, our national executive director, gave a lengthy, informative speech regarding the current direction of our industry. He noted that the entertainment business is presenting a changing picture:
● Facebook is entering the entertainment industry and wants to change the way things are done.
● Apple has invested $1 billion dollars into scripted entertainment.
● Amazon is investing $1 billion dollars into original film production.
● Netflix is investing $6 billion, half of which is going into producing original content.
● YouTube, which is owned by Google, is now the No. 1 ranked media in the world.
● Other competitors are Pandora, Spotify and Sirius XM.
● Spotify is expecting to earn nearly $5 billion in revenue in 2017, a 40-percent increase over 2016.
In other news, the National Labor Relations Board (NLRB) issued a complaint against Spanish Broadcasting System relating to a series of unfair labor practice charges filed by SAG-AFTRA that included the unlawful terminations of eight employees, bad-faith bargaining, among others. SBS owns two popular Los Angeles Spanish-language radio stations, La Raza (KLAX 97.9 FM) and MEGA (KXOL 96.3 FM), whose talent providing on-air services voted by an overwhelming majority to unionize and join SAG-AFTRA in August 2016.
[Ed.: To learn more about the union's SBS campaign or to sign up for action alerts, please visit sagaftra.org/sbsla.]
After the convention, SAG-AFTRA settled three unfair labor practice charges against the Spanish-language television network Telemundo, which were filed on behalf of the network's telenovela performers. The settlement, finalized in late October, was reached after a year of litigation and just days before a trial was to begin at the NLRB.
Till next time, see ya!
Charles Ferrera
National Board Member and New Orleans Local Vice President 
The John Bernecker Memorial Foundation for Stunt Safety
The John Bernecker Memorial Foundation for Stunt Safety was established by members of the stunt community as a tribute to John after his untimely death. The Foundation is still in the early stages of development, so please look over the videos and photos and keep checking back for updates. The website can be found at livelikejohnbernecker.com.
The John Bernecker Memorial Foundation is not affiliated with SAG-AFTRA or the SAG-AFTRA Foundation.
Scene to Screen: Call for Submissions and Save the Date
The Conservatory Committee of the SAG-AFTRA New Orleans local will offer the second annual Scene to Screen event in the dining room at the Milton Latter Library (5120 St. Charles Ave., New Orleans, LA) on Tuesday, Jan. 2, 2018, from 5:30–7:45 p.m. SAG-AFTRA members interested in participating in the live reading of a new screenplay may RSVP at neworleans@sagaftra.org. Members who are also writers may send their original screenplays to be considered for the upcoming reading to neworleans@sagaftra.org by Dec. 8. 
Zero Tolerance of Discrimination and Harassment
The SAG-AFTRA website clearly states the union's policy on sexual and other types of harassment and discrimination. More information may be found here.
Here are the three things you should always keep in mind when you are auditioning or meeting with your agent or anyone else connected to a production. This applies before or after you are hired, no matter what capacity you're working in:
If you see something wrong, tell your union.
Use your discretion and if you can say something on the spot, do so, or report it ASAP to the union. You can always report things anonymously.
It's not what you are, it's what you can play.
Whether on a breakdown, in an audition, or on the job, the criteria should always be what your professional qualifications are and not what your gender or personal identification might be.
Always keep records.
Keep detailed records of contract problems, including discrimination, harassment or anything that seems to be a problem. Record names, dates, locations, your earnings (paystubs and vouchers) — everything.
The professional staff at SAG-AFTRA's EEO & Diversity Department are the best qualified people to help you find the information and resources you need and to guide you through the process of reporting a complaint, stopping the discrimination or harassment, and finding further help.
You can contact the EEO & Diversity Department by email at diversity@sagaftra.org or by telephone at (323) 549-6644 or (212) 827-1542.
The 24/7 Emergency Hotline number is (844) SAFER-SET, (844) 723-3773.
NVT/BAG Recognitions
Diana Boylston, president of the New Orleans Local, and Local Board member Robert Bennett received awards at the NOLA Voice Talent (NVT)/Background Actors Guild (BAG) 2017 Hollywood South Awards presentation held on Nov. 4. Boylston  received the NVT Louisiana Movie Actor Award 2017 "in recognition of individual talent and commitment to the movie, theater, broadcasting and voiceover industries in Louisiana and region." Bob Bennett was awarded BAG's Clark Bradshaw Lifetime Achievement Award.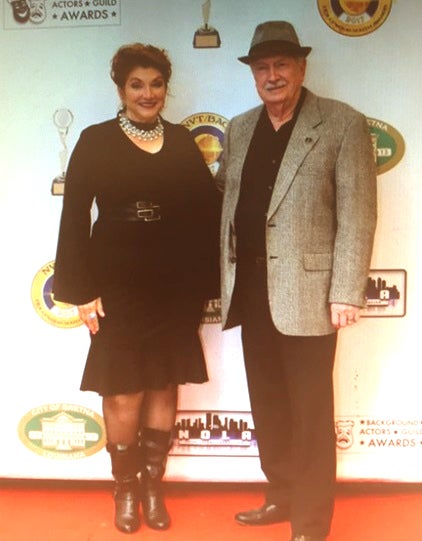 Diana Boylston and Robert Bennett shine at the 2017 Hollywood South Awards. Photo by Steve Hammond.