The Official E-Newsletter of the Nevada Local
NEVADA INCENTIVES
By Heart Shapré
SAG-AFTRA Nevada Local Board Member
As of Jan. 1, the road to filming in Nevada is now open with new incentives available to filmmakers.
It is good news to all film actors in Nevada, as the opportunity to work will increase as productions film in our state.
Nevada is well-suited for filming, offering red rock terrain, mountainous scenes, desert, settlements in various desert areas and the interstate flowing through the desert. We have wedding chapels, lakes and casinos (inside and out), the "Welcome to Fabulous Las Vegas Nevada" sign, the streets of downtown Las Vegas and the Strip, Lake Tahoe, the Carson City State Capitol, Boulder City and the settlement of Las Vegas, to name but a few of our diverse scenery and sites.
Talk it up, for you may be in a position to influence someone who is involved in some way in film, or that person may know an individual who has some say on where a film will be made.
We are delighted and excited to now offer the incentives placing Nevada in the running with other states offering incentives. 
For more information, click here.
CASTING INFO:
Paul Blart: Mall Cop 2 begins production in Las Vegas in late April. Goldman & Associates is casting principal and background artists.
Owner Julie Goldman would like all SAG-AFTRA Nevada members to know that to be considered for work on the film (and other projects), you are welcome to register on her website.
It is always free to register with Goldman & Associates casting company, which has operated here since 1979. If you currently have a profile online, now is a good time to update your account with any new headshots, credits and contact information.
WHERE TO GET HELP WHEN YOU NEED IT
Even though we no longer have an office in Nevada, help is always available and easy to find. When you have a question or an issue arises, just follow this link and get the assistance you need.
WELCOME TO RECENT NEW MEMBERS AND TRANSFERS
New Members: Landa Morland, Peter Pavone, Morgan E. Bastin, Scott Casey, Roy Nelson, Simply D, Naim Lynn
Transfers In: Sjon Scarborough, Terie Ashley, Scott C. MacKenzie, Jed Curtis, Brenda Gayle
A Message from the Nevada Local President
By Barbara Grant
Since the loss of our executive director, Steve Clinton, we have all taken on more to promote SAG-AFTRA in Nevada. To give you an idea, local board member Bobbie Wolff and I went to Reno to see the huge, 550,000-square foot Reno Tahoe Film Studios at the Sparks Convention Center and met with the studio's president and CEO, Chris Baum. I was then asked to participate in a panel that addressed 200 people about the SB165 Film Incentive program. They were all very supportive. With more filming headed to the Reno area, it's now more important than ever we encourage SAG-AFTRA-eligible performers living in Northern Nevada to join the union.
I have since attended the film incentive panel that was held here in Las Vegas and met many more people who want to see it working for all of us. When I was in Reno, I met Jeff Spilman, film liaison to Film Reno Tahoe, and he was at the Las Vegas event too, as he is a big promoter of the plan.
Why the legislators decided an open public meeting was needed for each movie coming in, I do not know. The first of these meetings was held at 10 a.m. on Feb. 24. Along with me, there were at least a dozen actors, all grateful for the incentive program and the work it will bring us. I took the moment to publicly ask if there are some protections in place so we do not have the same problem as in the past, with a lot of actors from other areas coming in claiming to be local hires. I was told there would be strict rules that actors would have to follow to work as local hires. Line producer Marty Ewing told us that it is his job to make sure people comply, to which I said, "Great, I'll hold your feet to the fire!"
SAG-AFTRA Nevada Conservatory News
Wow! All of you who didn't go to February's SAG-AFTRA Conservatory sure missed out. To try something that hasn't been done in years (because of lack of facilities open on Sunday), it was a Saturday and Sunday workshop. Both were well attended. We were fortunate enough to have Adam Hill teach the workshop. He is an acclaimed acting coach who has relocated to Las Vegas and is now holding classes here.
The question I have for you all is this: Should we occasionally have conservatory sessions on Sundays? When bringing in facilitators, it is a much cheaper flight and hotel to bring them in on Sunday. As prices go up, our budget doesn't stretch as far as it did in the past. We really don't want to raise the yearly dues. Come to the conservatory and give us your thoughts! For more info, you may email me at nevada@sagaftra.org. 

Nevada SAG-AFTRA Conservatory with Barbara Grant, fall 2013. Photo by Anna Wendt.

Nevada SAG-AFTRA Conservatory with Adam Hill, February 2014. Photo by Micki Flansburg.
Letter from the Editor
By Anna Wendt
Spring is in the air and so is optimism and potential, as we head into our first year with a film incentive program in Nevada. As many of you know, the first production to apply for and be approved under the plan is Paul Blart: Mall Cop 2, which will begin shooting here in late April.
"Who is your agent? "If you don't have an answer to this question, now is the time to have one!
Listed below are the four SAG-AFTRA-franchised agencies in the state of Nevada. Now is a good time to update your professional headshot and resume and get yourself registered. Some Nevada agencies request exclusivity and some don't, so please clarify with each of them when you register.
Baskow & Associates, (702) 733-7818. Baskow & Associates is the only agency on this list that allows you to come in person and register without an appointment. Actors may register in person at 2948 E. Russell Road or click on "contact," then fill out the online form. Baskow & Associates represents actors, spokespeople, models, voiceover talent, event talent and more, and has for over 35 years.
Best Agency, (702) 889-2900. To submit, go to their website and click on "submissions." They do not accept walk-ins. Best Agency is a full-service agency specializing in talent, models, productions and events for over 10 years.
Lens Agency/Las Vegas Models, (702) 733-6888. To submit for representation, go to its website and click on "apply." They do not accept walk-ins. Lens Agency is the theatrical division of LVM, a boutique agency that represents top-quality actors for film and TV. Now under different management than in the past, Lens Agency (formerly named Lenz Agency), has been in business for over 50 years.
Envy Models & Talent Agency, (702) 878-7368. To submit for representation, click here. They do not accept walk-ins. The Envy agency was founded in 2000 in Las Vegas and represents actors and models.
Also, just a reminder that the SAG-AFTRA Nevada Local Conservatory is a great way to keep your auditioning skills and industry knowledge up to date. I can speak for myself when I say I am always pleased with the quality industry professionals who are brought in to teach. So much is learned in just one afternoon! For more information, email nevada@SAGAFTRA.org.
Membership and Reinstatement Q&A
We know that members are often asked questions about SAG-AFTRA from other performers working on a set. Here are some of the most frequently asked questions about membership. Members should pass this information along to anyone interested in joining:
Q: What work would help me gain my SAG-AFTRA eligibility?
A: In order to be eligible, a performer must meet one of the following requirements:
• One day of employment in a principal or speaking role or as a recording artist under a SAG-AFTRA contract. Ultra-low budget, student and short films do not qualify one for membership; OR
• Three days of employment as a SAG-AFTRA-covered background performer; OR
• Employment in any covered job on the staff of a radio or TV station or network covered by a SAG-AFTRA contract.
Q: What does it cost to join?
A: Although the national initiation fee is $3,000, we have a reduced fee of $1,025 in the Nevada Local. A performer can join and work here, but if they later work in an area with a higher initiation fee, they must pay the difference between the two initiation fees. There may be different initiation fees for broadcast station members, depending on the station contract. Joining fees include the initiation fee, plus the first semiannual dues. Dues are paid twice a year and calculated based on the prior year's earnings under SAG-AFTRA contracts.
Q: Can the joining fees be paid in installments?
A: Yes. There are options for payment plans. Check with the membership services department to see if a plan is available that may work for you.
Q: How does a terminated former member reinstate their membership?
A: A terminated former member may request reinstatement upon payment of the following fees:
• A reinstatement fee.
• A $100 application fee.
• Any dues and fees owed at the time of termination.
• The current dues.
In certain circumstances, a terminated former member's request to pay less than the full reinstatement amount may be granted. A terminated former member should contact SAG-AFTRA for assistance with reinstatement.
Q: Where should questions regarding membership be directed?
A: The Membership Services Department in Los Angeles:
Eligibility/Joining: 323.549.6769 or by email. 
Questions Regarding Membership: 323.549.6778 or by email

At the Annual Holiday Mixer, from left, SAG-AFTRA Nevada Local Board members Heart Shapré, Rick Rockne, Bobbie Wolff, Barbara Grant, Guy Chapman, Allan Ong and Mary Ann Hebinck. Photo by Tom Wolff.
National Board Member Report
by Art Lynch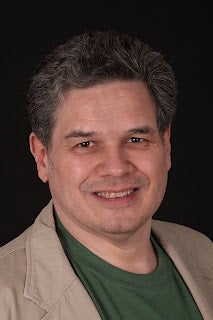 The road ahead is one of change and opportunity for all Nevada members.
As our union is entering into negotiations for the TV/Theatrical-Exhibit A Contracts, we do so as one union, unified as one force. We do so strong nationally, but without the local executive, budget and communication we enjoyed for almost four decades under our "legacy" union, the Screen Actors Guild. We, as members, need to step up to the plate, "bat 1,000" and promote unions here in Nevada.
We are the union of the future: SAG-AFTRA.
The new union requires member activism at all levels, from events to committees, the local board to representing SAG-AFTRA in a positive way every time you audition or work on a set.
I encourage you to audition for roles, including "non-union" work (if they want you, help them sign a union contract before you work and remember Global Rule One, and do not work non-union).
Through showing our talents at auditions, we impress and convert new and pre-union producers and directors to use union talent, encourage membership and grow the talent pool for Nevada.
A world of change.
Labor unions, born of the struggles of the 19th century, continue to face changes in management, economics, technology and public opinion. One group, actors, face the increasing impact of technology, decentralization and rapid growth.
Modern unions started in an age when hotels put out signs that read "no dogs or actors allowed." Actors were looked upon as traveling deadbeats, just as today unions are used as political scapegoats.
Unions are under attack from every level. Billionaires and corporate giants are funding the rapid expansion of laws that undermine the finances of unions at an increasing rate. They claim that unions spend huge amounts on politics and that those dues are to influence elections and laws. Not so.
At SAG-AFTRA, the amount spent on politics may be less than 1 percent, and none of it is used to directly support a particular candidate or party.
Unions help offset the huge financial forces who would have you work for free or under unsafe conditions.
Initiation fees and dues help pay for memberships services, including negotiating and policing wages and working conditions, something management would rather not see. Any service the union provides is provided by paid employees who work, as it turns out, for far less than their counterparts in the corporate world. 
Without union funds, there can be no unions.
SAG-AFTRA is a union. Many want to pretend otherwise, but look into history and you will see that both unions that merged recently were begun as just that: unions. We have over 80 years of history of being a part of and standing up for the rights of all workers.
Whenever non-union, pre-union or SAG-AFTRA-eligible talent works, they are taking money from the pockets of union performers. Since they can work both union and non-union, they can earn union pay and benefits under hard-fought union contracts while supporting potential employers who use the available "trained talent pool" as an excuse to not use SAG-AFTRA members.
As one columnist put it, "right-to-work" is theft.
Can I walk into your country club and use all the services without paying, while you as a member have to pay for that membership and those services?
Non-union talent can work without having to join the union, gaining all the benefits we have earned over the years.
Can I get a lawyer or doctor who does non-union commercials to give me their services for less than they claim they are worth? How long would that doctor, lawyer or country club stay in business if they gave it all away for free?
In a so-called "right-to–work" state, non-union talent does not have to pay initiation or dues to gain the full benefits of union work.
It's our union. Our union needs our help. Your voice is needed.