The Official Newsletter of the SAG-AFTRA Nevada Local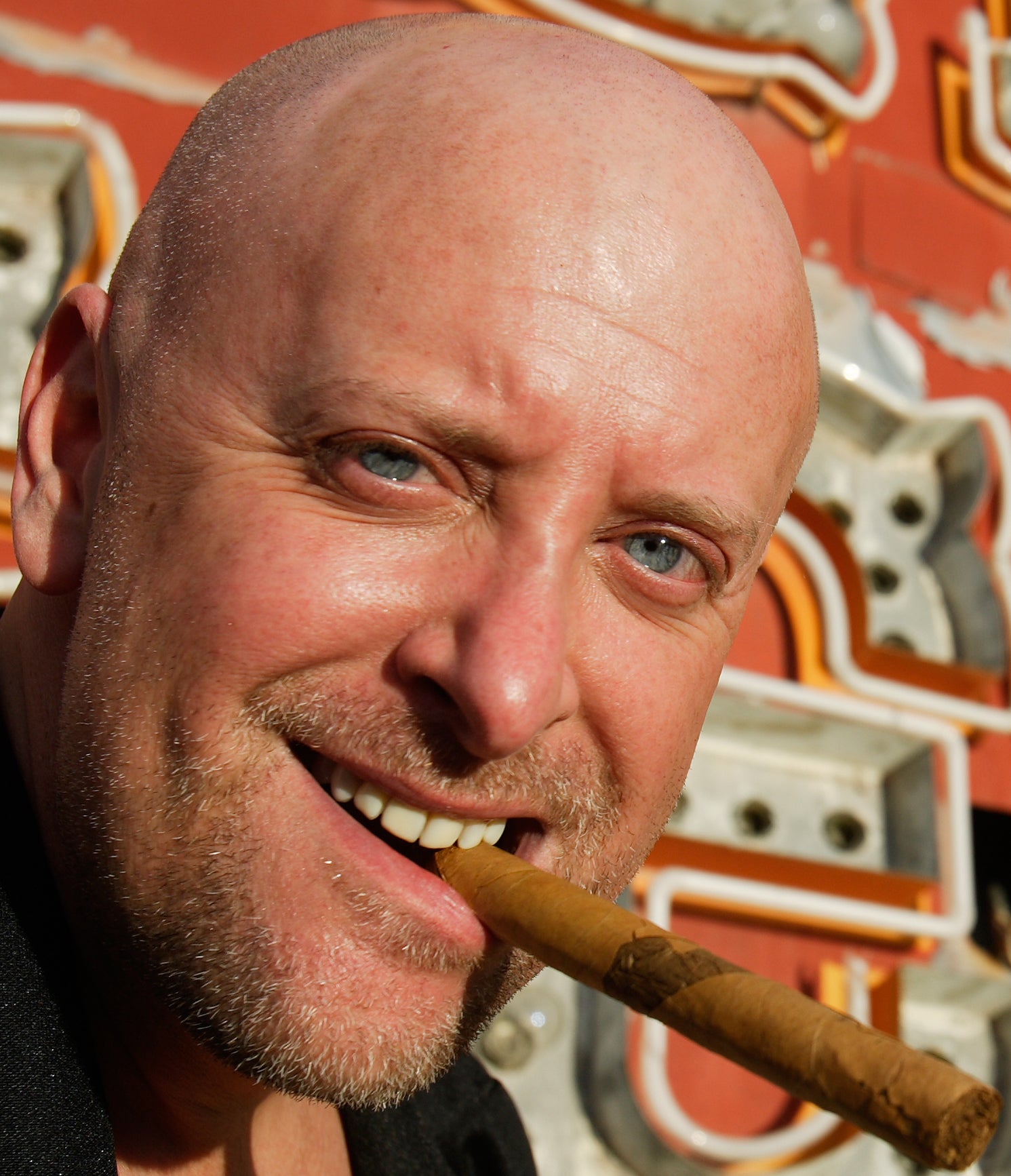 COMPUTER GEEK'S CORNER
by Chris Rogers
I'd like to talk about the importance of smartphones vs. regular cell phones for the actor.
Most modern cell phones are known as smartphones. You can think of them as the next generation or evolution of regular cell phones. These advanced phones basically have small minicomputers tucked inside. They are as powerful as the gigantic, room-sized computers that helped Apollo 11 land on the moon in 1963!
On your smartphone, you can have your: picture and resumé, reel, email, address book, text, browse the Web, pay bills, etc. No longer are you bound to your desktop computer to handle these tasks. If you are on set and your agent calls about an audition, the agent now has a more immediate way of getting all the vital info to you.
Most phones have Global Positioning Services (GPS) built in. I usually plug in the address location of the audition the night before. That way I don't have to fumble with it that morning and can get there early, relax and concentrate on giving my best.
There are many different types and manufacturers of smartphones available on the market. Also, keep in mind how you will use it and which monthly service plan you should choose. To keep my minute usage down, I often answer my cell phone and then call back from a land phone. There are also many free Web-based phone lines (e.g., Google Voice) where you log on to their website and then make your call over the Internet for free.
Many phones are free if you commit to a two-year contract. AT&T is a proud union supporter and SAG-AFTRA members are eligible for 15 percent off their cell phone usage bill through the Union Plus benefits program. Click here for details and reference the FAN number 3508840.
These are but a few of the many options for cell phones for the modern performer. I can't stress how important it is to have a smartphone. Go into a reputable store, play with all the different phones, discuss with the customer service rep all the different carriers and phone plans to see what suits your needs best. Your agent will love you for it!
In the next column, I will introduce you to some of the best apps and websites for the modern performer.
"The needs of the many outweigh the needs of the few, or the one."
 — Spock, Star Trek 2: The Wrath of Khan
President's Remarks
by Barbara Grant
I want to wish each and every one of you a happy New Year; I hope that 2013 is a blessed and wondrous year for all of us.
For our Nevada Local, we are coming off of one of our better years in a while. We had several large productions in town, our usual commercials load and even an industrial. New media and Short Film Agreement productions are still going strong, and our local membership has grown. Plus, we flew our banner high at the Las Vegas Halloween parade and had over 400 attendees at our annual All-Industry Holiday Mixer. While we are not Hollywood yet, we are certainly a vibrant local that will continue to go all-out for our members.
We can also be proud of the Nevada Conservatory. We have already had a dozen great presenters in this fiscal year, including the great Lee Garlington, Ken Lerner, Michael Pearlman, etc., and have the driving desire to keep up the fine lineup. Right now, we have a very important presenter at the end of February — Terri Becherer, the national director, specialty performers (background, stunts, dancers and singers). Our executive will talk more about this in his article, but we are proud that Terri will make the trip from Los Angeles, mostly to talk about background performers, but will also answer questions about the other aspects of the members she covers.
Last, but not least, I'd like to acknowledge your wonderful Local Board members and local committee members who make everything we do here in Las Vegas useful. No one person can claim responsibility for the accomplishments of the Nevada Local, rather it is the collaboration of many terrific and strong union volunteers that take on accomplishments such as our Halloween Parade and our holiday mixer, and make them special for those members who want to participate. One of our goals in 2013 is to increase that participation and keep the Nevada Local the special entity we know it to be.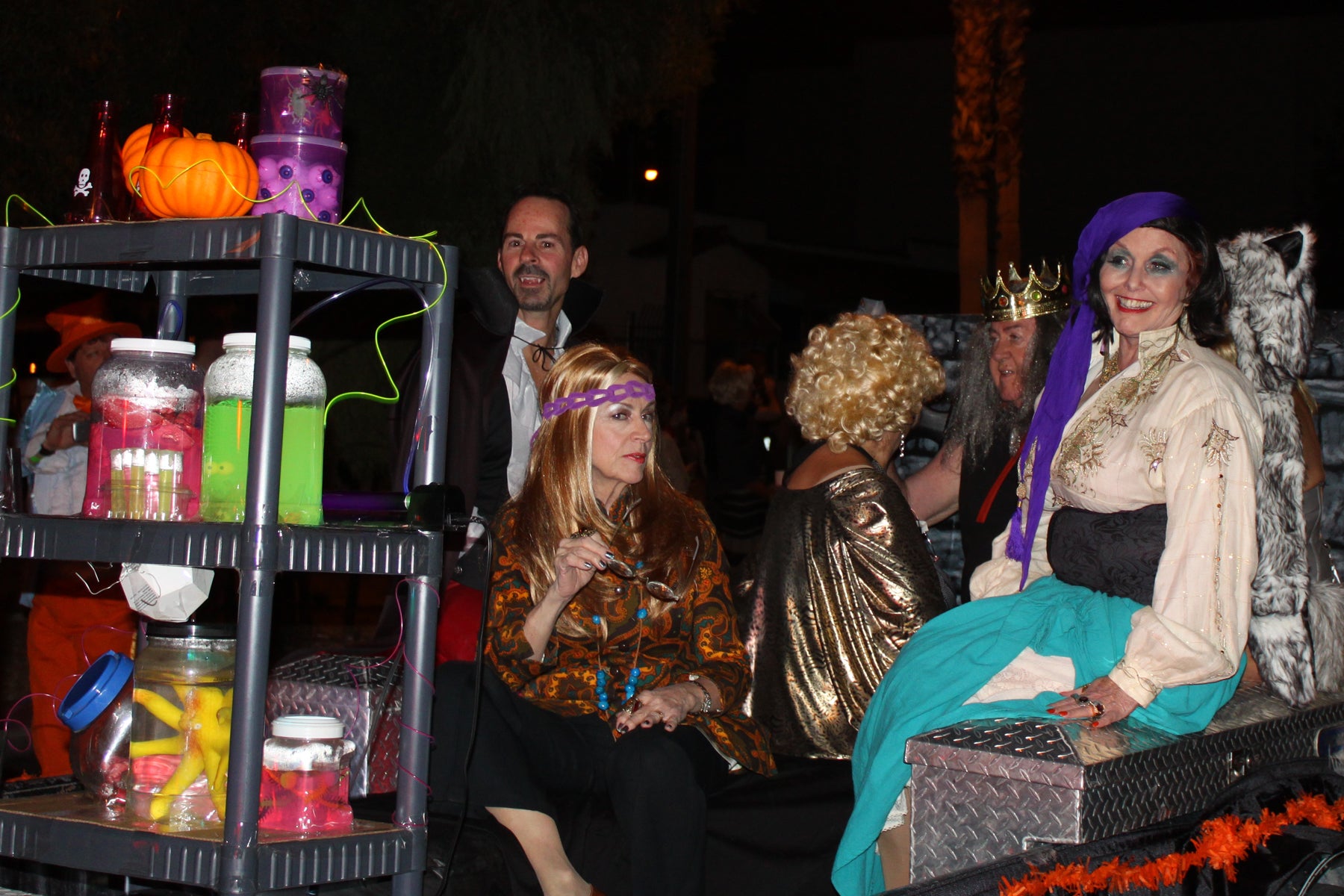 Members having fun during Halloween. Photos by Bobbie Wolf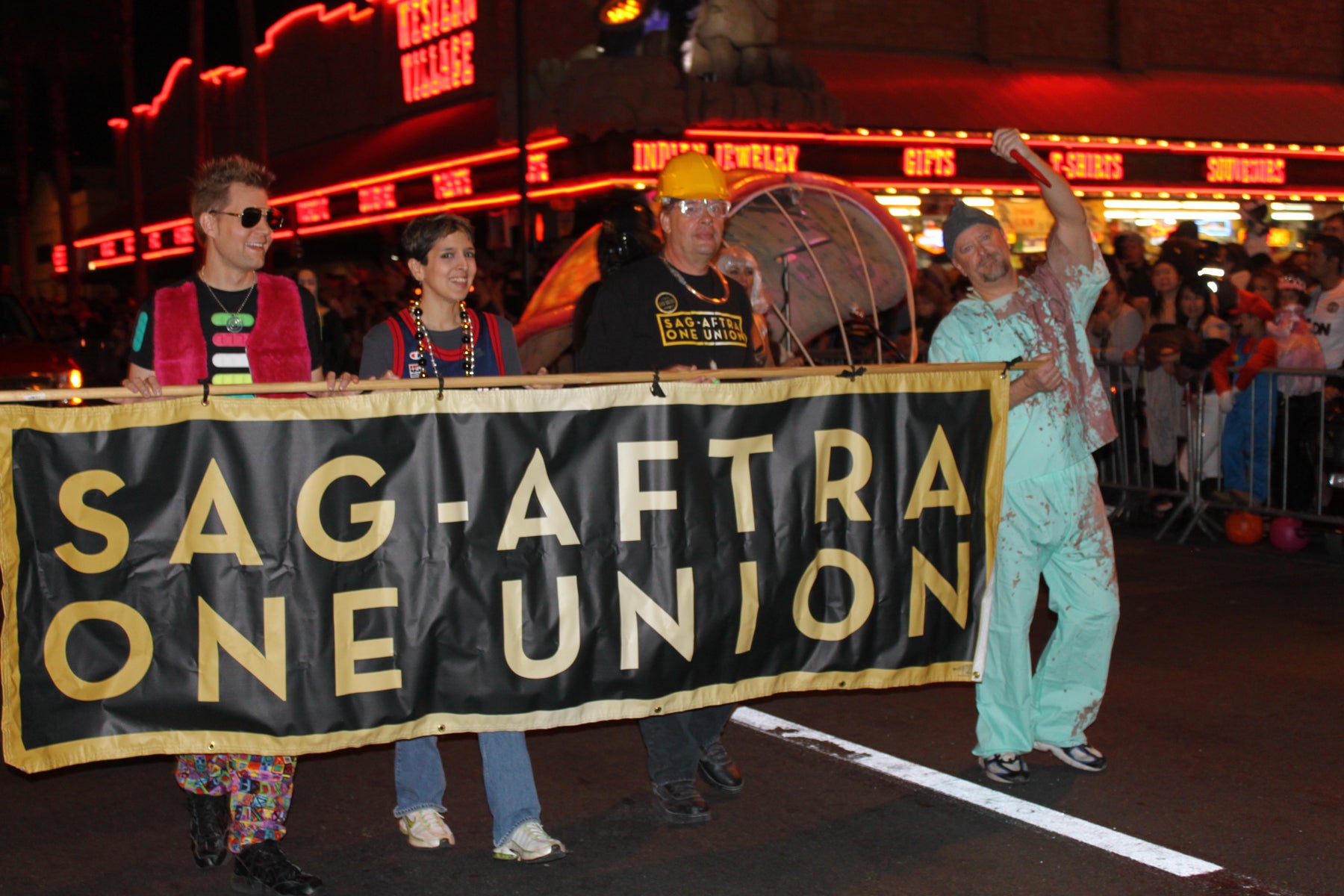 The SAG-AFTRA banner on display at the Halloween parade
SAG-AFTRA Nevada Local contact information
3960 Howard Hughes Parkway, Suite 500
Las Vegas, NV  89169
(702) 737-8818 (702) 933-9118 – fax
Local Executive Director steven.clinton@sagaftra.org
Local President nevadapresident@sagaftra.org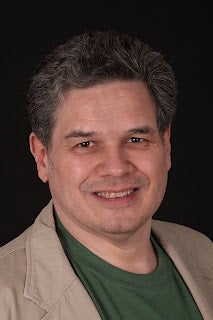 National Board Member's Message
My hopes for one and all that you had a happy and safe holiday season!
Allow me to begin with a personal indulgence.
For the past decade, I have been working on earning a Ph.D. in education. Last month, I became Dr. Art Lynch. My apologies to all who may have seen less of me on the set or had phone calls lost between the cracks. I have been and will continue to use my education and experience to represent all of us in the complexities and politics of the SAG-AFTRA National Board.
Film Incentives
In February, the Nevada State Legislature will begin its session. Join your local officers and board members, our executive and myself in lobbying for strong film incentives.
Incentives bring union production. Ask anyone living in New Mexico or other states where the industry has grown and prospered and union workers benefitted.
Coast to coast they have worked for states willing to invest in their citizens. We need incentives in Nevada to compete. The National Board and National Legislative Task Force are behind us. We have to be the ground soldiers if we want to see an increase in production jobs in Nevada.
Join me in talking with legislators and setting the groundwork to bring union work to Nevada.
Contact President Grant or Steve Clinton to see how you can help. The time for action is now.
Change and Growth
This is a new union, with a new structure that is still being refined, adjusted and altered to meet the needs of the membership, of all of us.
We are close to finishing our first year as a new union. The union is neither SAG nor AFTRA, but a collective group of performers tailored to meet the needs of the new world of merging media and technologies. We are entering our first commercial negotiations as a new union, and have already gained valuable ground in the areas of music video and organizing. The future will take work, by all of us, in ways that SAG alone did not demand.
As we are familiar with legacy organizations, much of the structure and policies are new to Nevada. The most important is the concept of a convention, held once every two years, of the membership.
The convention can override the National Board of Directors, set policy and take many other actions. Any eligible member may become a delegate, but you must run for election as a delegate to the convention, to be held this September in Los Angeles, to be involved. 
The Battle for Unions
Without public hearings and during a lame-duck session of the legislature, Michigan became the first state at the heart of the industrial union belt to go "right-to-work." Indiana preceded it earlier in the year and Wisconsin reaffirmed a governor who seriously undermined the core rights of workers to collectively bargain.
SAG-AFTRA is a union. Many want to pretend otherwise, but look into history and you will see that both unions, who merged earlier this year, were begun as just that, unions. We have over 80 years of history of being a part of and standing up for the rights of all workers.
Whenever non-union, pre-union or "SAG eligible" talent works, they are taking out of the pockets of union performers. Since they can work both union and non-union, they can earn union pay and benefits under hard-fought union contracts, while supporting potential employers who use the available "trained talent pool" as an excuse to not use SAG-AFTRA members.
As one columnist put it, so-called "right-to-work" is theft. Can I walk into your country club and use all the services without paying, while you as a member have to pay for that membership and those services? Non-union talent can work without having to join the union, gaining all the benefits we have earned over the years. Can I get a lawyer or doctor who does non-union commercials to give me their services for less than they claim they are worth? How long would that doctor, lawyer or country club stay in business if they gave it all away for free?
In a "right-to–work" state, non-union talent does not have to pay initiation or dues to gain the full benefits of union work.
As members of the largest entertainment union in the world, you are a part of this battle, whether you like it or not. Your future income and that of all talent is at stake.
Support politicians who will vote against "right-to-work." Get active in the AFL-CIO and other battles to undo this unfair legislation. Turn down non-union work. Report members who work "off the card." Let your voice be heard, it's our union. And unions need our help.
Elections
This summer, every office and board seat, nationally and locally, will be up for election. Consider the time required and expertise to serve, the need for greater participation by the membership at committee and task force levels, and how you can help our local executive to organize and grow our market and our local work. Then find the best place for you by running for the local board, volunteering for a committee or working with the president and executive to open doors and open eyes on the value of union talent in our right-to-work-for-less-and-be-fired-at-will state.
 
The Future
We face a bright future, going into each contract as one union instead of two.
We bring the strength of the largest performers' union in our industry, made up of a wide range of professionals in multiple areas of this increasingly monolithic industry. We join others in fighting the strong anti-union forces gaining strength and eroding the ability of all of us to organize to earn fair wages, safe working conditions and strong futures doing what we are skilled at and love doing. We are prepared for the growing power on the other side of the negotiating table, the merging of technologies, the change and growth of where and how we work and how we earn our income as actors and performers. We are SAG-AFTRA, the union for the future.
As we enter 2013, be proud and join me in being thankful that we finally have joined into one unified force for all members, and for all future performers. 
Solidarity,
 
Art Lynch
National Board Director, Nevada
Local Executive Director's Remarks
Happy New Year to Nevada SAG-AFTRA members!
Last year was the best production year since I arrived as your executive director in Nevada in 2009. From six days of work on Burt Wonderstone last January to the six days of work on House of Lies at the end of year, our Nevada Local received paychecks for thousands of work hours. Because of your dedication to your union, now called SAG-AFTRA due to your efforts last year, those paychecks were sizable and were reflective of your professionalism and your talent. If I could have one wish for the new year, it is that your entertainment work continues to come to all of Nevada.
That being said, throughout the year we saw numerous violations of the contracts you worked hard to put in place, as those welcomed productions erred or attempted to short-shrift members time after time. This is one of the reasons I have spoken with President and Conservatory Chair Barbara Grant and suggested the need for extra/background actors training, so all SAG-AFTRA members know how to protect their contractual work and participation. President Grant happily agreed and details are being worked out to put this lecture together. I strongly urge all Nevada Background performers attend this class as National Director of Specialty Performers Terri Becherer talks about everything from vouchers to conduct on the set, and all contractual matters in between.
We are all looking forward to February, when Nevada's short legislative session begins and we once again attempt to provide sustainable entertainment work by and for Nevada's working families. Language has been drafted and sponsors secured to help Nevada performers to compete on a more level playing field in the near future, and you will be informed immediately when it is time to urge your Nevada state representatives to stand up for additional entertainment jobs in Nevada.
Commercials contracts negotiations begin in the next couple of months. This is one of our most lucrative contracts and Nevada members contributed to the development of our SAG-AFTRA proposals by participating in the W&W process. Now we must prepare to support our negotiators, in whatever form we are asked, to ensure that these contracts remain in our arsenal.
Finally, we, along with all of the other locals nationwide, will have two benchmarks in 2013: SAG-AFTRA's first elections since the 2012 merger and the first SAG-AFTRA Convention later this year. The SAG-AFTRA Governance department is working day and night to prepare for these programs, and details will be provided as soon as possible as we continue our journey into the future.
Steve Clinton
Nevada Local Executive Director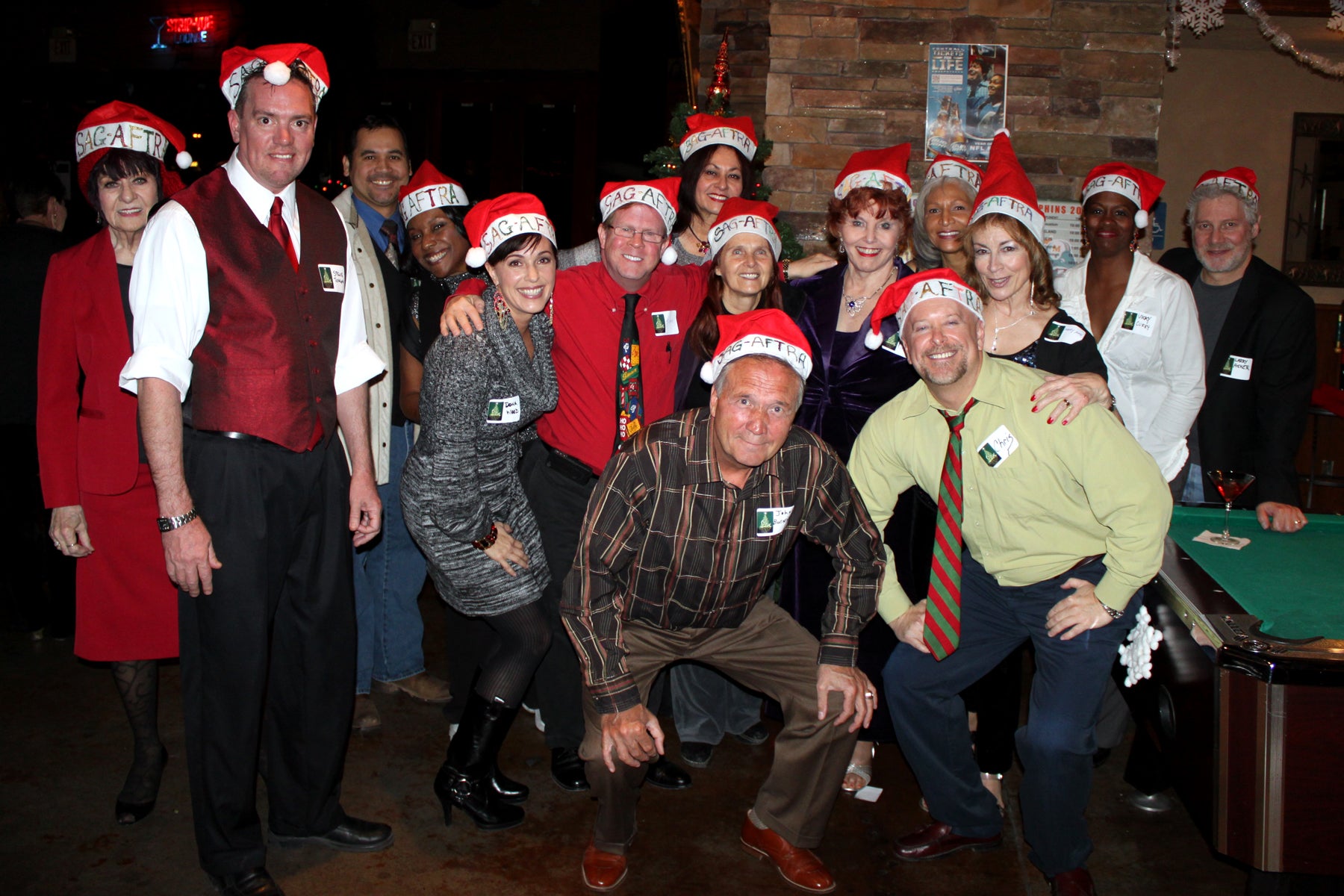 Getting festive at the holiday mixer. Photo by Bobbie Wolf
SAG-AFTRA Holiday Mixer 2012 Thank You
On Tuesday, Dec. 11, 2012, if you weren't at Tommy Rocker's for the WILDLY successful SAG-AFTRA Holiday Mixer 2012, you missed one heck of a party! In attendance were 400-plus casting directors, producers, directors, makeup artist, prop masters and SAG-AFTRA members from across the city's wide talent pool. Tommy Rocker's gave us happy hour food and drink prices for the whole night.
Thank you to all the volunteers who helped make the event run so smoothly: Adero Tuere, Alain Hodge, Ally Holmes, Audrei-Kairen Kotaska, Barbara Grant, Brian Grant, Conchita Congo, Dominique Kang, Dona Wood, Heart Shapré, J.R. Thompson, Joelle Jenson-Righetti, John Burnside, Kim Renee, Larry Asher, Mary Jo Scott, Michelle Fawn, Miller Daurey, Robert Kelsey, Steve Lizotte, Tom Dougherty, Trace Taylor and Vicky Curry.
Also, thanks go to President Grant and the Organizing Committee Co-Chairs Rick Rockne and Bobbie Wolff. Bobbie took all the pictures used in the video loop (except for headshots) that ran on the screen during the event. Pictures taken the night of the event will be posted online soon.
Last, but certainly not least, the Nevada Local thanks those terrific talent agents and casting directors who spread the word for us: Jaki Baskow, Julie Goldman, Jorina King, Marilee Lear and many others who honored us with their presence and assistance.
We will start planning next year's event much earlier. If you'd like to lend a hand, contact SAG-AFTRA Nevada Local President Barbara Grant at nevadapresident@sagaftra.org.
Thank you to all who came out — and to all, a good night.
Chris Rogers
Chair, SAG-AFTRA Nevada Local Holiday Mixer 2012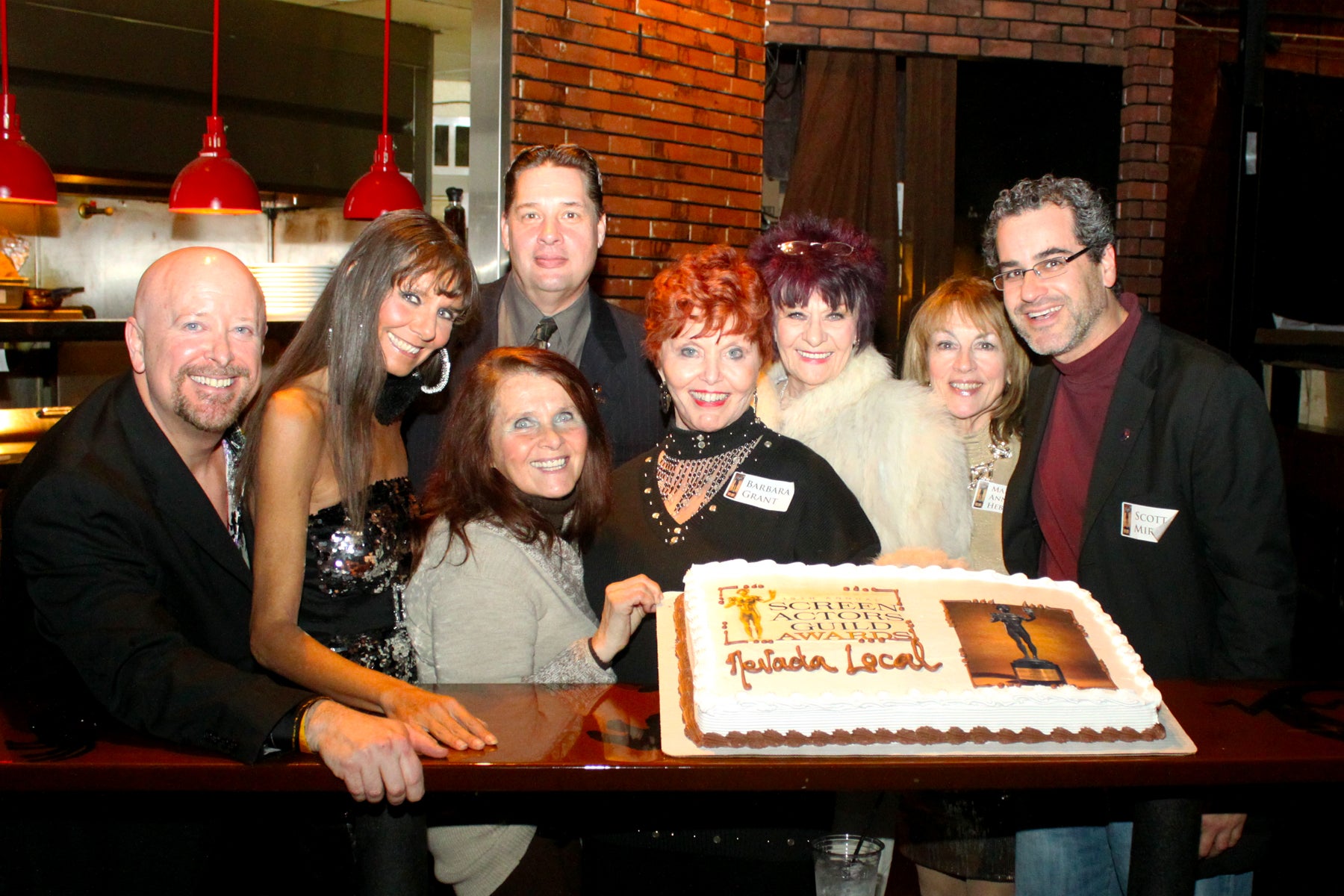 SAG-AFTRA Nevada Local Board members at the SAG Awards viewing party. Photos by Bobbie Wolf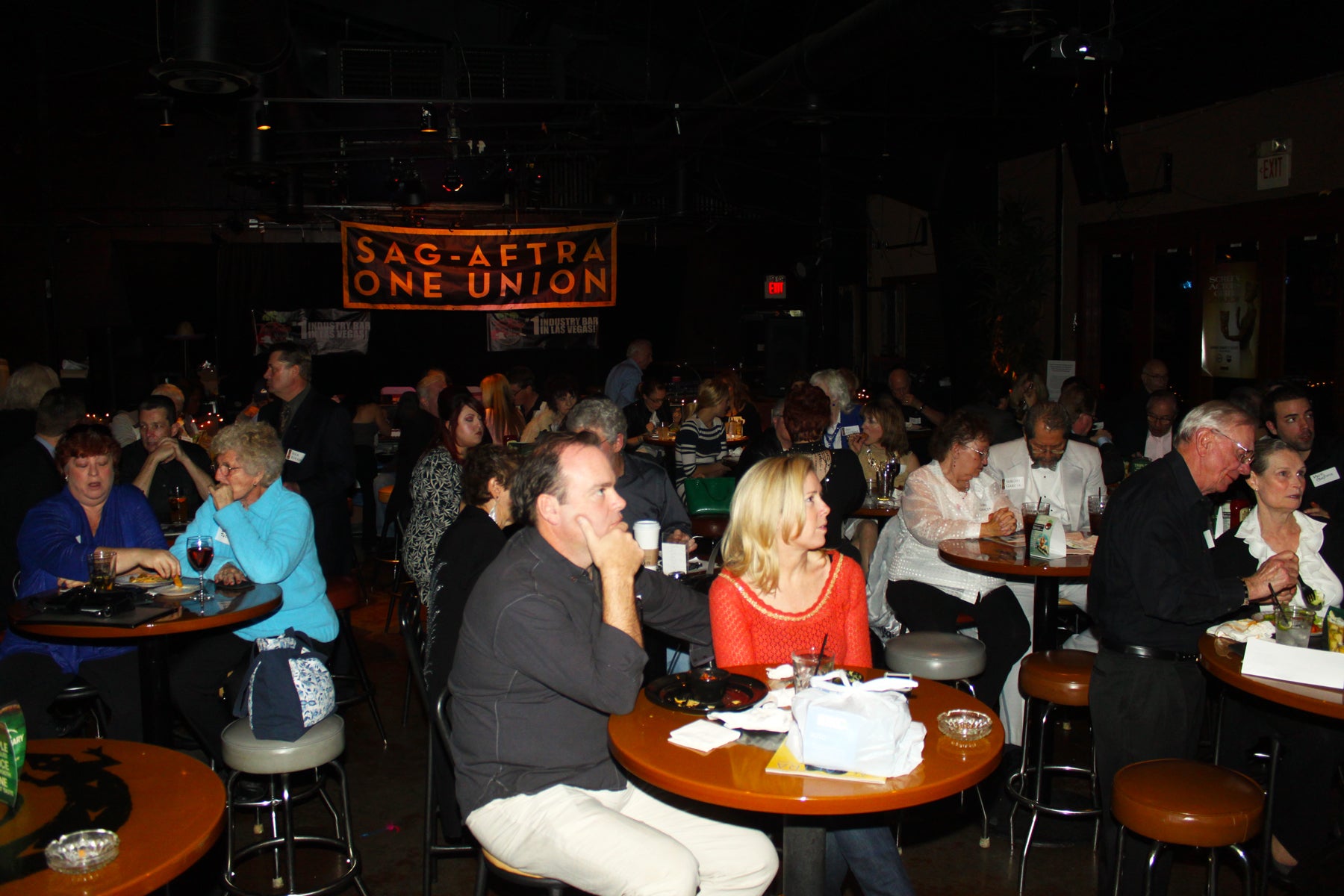 Members celebrate at the SAG Awards viewing party on Jan. 27.