February 17, 2009


NATIONAL BOARD REPORT
By Art Lynch
Nevada National Board Director

In this issue we welcome Nevada Branch Executive Director Steve Clinton, with a focus toward the future and building our union here in Nevada and throughout the country. We reflect on recent events and on our Branch. All of us are invited to take advantage of SAG programs and to spread the word of the value of being a member of the world's highest-profile union.

In this time of economic challenge, our unions need our support and our dedication if we expect the future jobs, income and benefits only unions can bring. Most of us are eager to find ways to get contracts in place and work flowing. Here in Nevada we are in a position to work toward our future and the future of our industry.

SAG has been in Los Angeles and national news almost daily for weeks, with events occurring rapidly. Feel free to check the SAG website, use your favorite search engine or contact our office for the latest events impacting negotiations and your union.

I survived the 30-hour marathon, nonstop national board meeting heavily reported in the press, blogs and countless e-mails. I am open to discussing it on a one-on-one basis with any member who wishes to do so. Since it was in executive session, very little can be revealed here and, I am afraid, not much more in private conversation. I can tell you it was not as painted in the media or by political factions within the Hollywood boardroom. The entire time I kept Nevada first, and in our own executive sessions here at home sought the input of your elected council, who threw their support behind subsequent actions of the board.

Changes and events less than accurately reported in the press, and spun for various reasons through blogs and e-mail, have led to changes at the national level. We must have faith in our interim National Executive Director David White and Chief Negotiator John McGuire in these tough economic times as we work to again bring theatrical motion picture and television producers to the table, and lay the groundwork with our sister union AFTRA for a successful Commercials contract.

I have known McGuire for more than 15 years. He is an honest, dedicated man who understands talent and this union from the grassroots up. He has visited with the Nevada membership on numerous occasions and knows the needs of Nevada, including our need for expansion of the background zone, a studio zone and both increased wages and increased jobs under contract.

Beware of bitterness, manipulation, anger and other negative forces that can destroy an organization from within. Instead, I ask you to look forward with your feet planted firmly in Nevada, and help all of us to build Screen Actors Guild here in the Silver State.

Focus on the Local

We must now dedicate ourselves to the local level. We have an experienced unionist in Steve Clinton, who is learning the ropes of our top-down structure and to work with the unpaid volunteers who are your elected representatives and committee members. We are unique in our structure, with experience in the craft not being a requirement to be hired by the Guild, and employees who work for us rather than rise through political ranks.

Our focus will be on organizing this market. Local jobs and a solid working environment for all SAG members takes the type of dedication and drive Steve offers us, and the full support through volunteer efforts, positive thoughts and forward-moving actions of as many of us as can find the time to volunteer, make calls or simply help Mr. Clinton do his job for us.

He is relocating to Nevada. He will work for both the Nevada and San Diego Branches from his home here, utilizing decades of experience, connections and knowledge.

We all know what a great job Hrair Messerlian did for us, and we wish him well in his work for another group of union brothers and sisters in California.

Now it is time to reach out and welcome Steve Clinton, to build on what Hrair and those before him have helped us build here in Nevada. You need to communicate and work with Steve, with your elected officers, council and committees. The time is now.

Demand Open and Rapid Communication

As a member of the National Communications Committee, I can report that the doors are opening for greater participation in the process of union communication and outreach for all of us as members of the Guild. The barriers set by previous national boards, federal labor law and the politics of Hollywood's never-ending election cycle remain, as we find ways to work around restrictions and be increasingly transparent in every way that we can. Please be patient and support the Regional Branch Division of your National Board as we work to open two-way channels of communications.

Plan on Supporting SAG Events

The best way to launch our move forward as a union is to show up in support of our new executive director, our return to a local Screen Actors Guild office and your highly energized Nevada Council at our membership meeting in March. Details of time and location will be provided in a future e-blast, through postcards and in other ways. It's a new start, so do not assume we will meet in the same location as in the past.

In addition, be looking for mixers, events, conservatories, conversations, committee meetings and membership events in the year ahead to build upon the community of union performers that always has made Nevada one of the most active and proud Branches in the union.

This is a new beginning for our Branch, after all!
NEVADA BRANCH OFFICERS AND COUNCIL
National Board Director: Art Lynch
President: Steve Dressler
Vice President: Barbara Grant
Secretary: Adrienne Garcia Mann
Treasurer: Kim Renee
Council Members: Charles Di Pinto, John Powers, Richard Rockne, Leonard Turner and Arttours Weeden

SAG policies dictate that contact with SAG elected officers and staff must be through the SAG office. Here is how to reach those who represent you:

Contact Us
Nevada Branch President Steve Dressler
E-mail:nevadapresident@sag.org

Nevada Executive Director Steve Clinton
E-mail: steven.clinton@sag.org
Phone: (702) 737-8818 or (800) 724-0767,
extension 7
SAG PRIDE AT thesagshop.com
So where did you get that jacket? Shirt? Pin? Keychain? License frame? Show your pride in your union by openly displaying the logo wherever you go. Visit thesagshop.com for the latest in union-made merchandise.

Think of how much mileage a union logo can give you as we renew our dedication to this market and to our union. A logo item can go a long way as a conversation starter, a statement of pride or a symbol of your professionalism.

Demonstrate your good taste and your union pride.
EXECUTIVE'S REPORT
By Steve Clinton
Nevada Executive Director

My name is Steve Clinton, and I have just begun to represent SAG Nevada as the new Nevada Branch executive director.

I come to this position as a 30-year-plus veteran of the labor movement serving as an elected representative or an appointed staff member in the UAW, Teamsters and Michigan State AFL-CIO. My various duties during these years included direct representation, negotiations, arbitration, training and educational development and delivery, political coordination and legislative lobbying.

I do not consider these tasks as a vocation; rather, I chose long ago that fighting for the rights of my brothers and sisters in the workplace is my avocation—my life's cause—and I love what I do.

In accepting this position in Nevada and San Diego, I have committed to SAG and the Nevada and San Diego Branches that I will be consistent and equitable in my application of our contracts, transparent in my dealings with both the membership and those who provide SAG employment, and available to the membership when they need me.

In my first two days on the job, I already have met with the Nevada Branch Council, and I am impressed with your leadership's commitment to SAG, knowledge of the craft and the workings of SAG, and especially, their dedication to the membership.

I will be working diligently to get up to speed as quickly as possible and look forward to meeting and talking with all of you as soon as possible.

Contact
Steve Clinton, Nevada and San Diego Branch Executive Director
E-mail:steven.clinton@sag.org
Phone: (702) 737-8818 or (800) 724-0767, option 7
TAKE ADVANTAGE NOW: SAG FOUNDATION SCHOLARSHIPS
Apply today to find out whether the Screen Actors Guild Foundation can help you or a family member with your education or career transition. The 2009 John L. Dales Scholarship application for eligible SAG members and children of members is available now at SAGFoundation.org. Click on "Scholarships" to view eligibility requirements. There are two types of scholarships, standard and transitional, and the application deadline is March 16, 2009.

For more information, contact Davidson Lloyd at (323) 549-6649 or dlloyd@SAG.org

The Screen Actors Guild Foundation is a humanitarian, educational and philanthropic organization that offers substantive assistance to Guild members and the greater community through its programs. For more information, or to make a charitable donation, please visit SAGFoundation.org.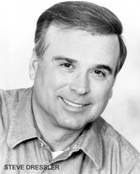 PRESIDENT'S REPORT
By Steve Dressler
Nevada Branch President

The Guild recently experienced a change with regard to the TV/Theatrical and Commercial negotiations. John McGuire was given the lead as chief negotiator to pursue a contract that would bring home a final resolution. This is not to say that it will happen immediately, but all we can do is hope for the best. I don't want to go into detail about this "change," a word that seems to be popular at this time, but I will say I think any time you have ideological differences, friction occurs. This friction seems to have started a fire that only a good contract can put out. There are those who felt we should strike if necessary and others said let's make a deal. Doug Allen tried his best, I'm sure, but the majority of the Board decided it was time to put in a new pitcher, thus removing Doug from the mound.

Only a few people can tell you what goes on in confidential negotiations, but certainly both sides play to win and it takes skill, knowledge, experience and, believe it or not, personalities that complement each other in order for both teams to be winners. John McGuire will continue to pitch a good game for the win. I wish Doug Allen the best and thank him for his services.

We live in a "right to work" state in which unions are at a disadvantage compared with non-"right to work" states. Producers, advertisers, corporations and employers know there are actors who will work for less. The sad part is, even some SAG actors also will work for less, thinking that the big break will come their way, or maybe they truly need the money. If this is the case, then go to Hollywood to pursue your dreams. There is more work and opportunities there.

We have SAG actors who want to work under a contract that gives them better working conditions and wages, and they sacrifice the money by not working non-union jobs. If every SAG actor would refuse a non-union job, then the producer would sign on if he wanted professional actors. At one time we had a big advertising company signed with us mainly because they needed talented professional actors. Then they recognized they could get some talented non-union and union actors to work without a SAG contract, so they dropped signatory. Brothers and sisters, think about the future. When you work for less, without a SAG contract, you are depriving yourselves of better wages, conditions, accumulating a pension and a possible health plan. You will realize this when it's time to retire and you wish you had become a union member.

We need to stay together as a unit to become strong, to help SAG-eligible actors and potential union actors see the benefits of a union contract and of being a member of a great organization. We need to reach out to these actors, producers and advertisers. Let us build a strong union here and work together.

We will be having a general membership meeting in March; date, time and place to be determined. We will be introducing our new Nevada Branch executive director, Steve Clinton. Please come to welcome Steve.

The next Conservatory event will be on Saturday, February 21, 2009, 12 noon until 6 p.m. with an 11:30 a.m. check-in. The guest instructor is Dan Decker. Dan will be speaking about Shakespeare. If you never considered being a Shakespearean actor, this event may change your thinking. The new Nevada Branch executive director, Steve Clinton, will present himself to the Conservatory members and guests prior to the Shakespeare session.

A reminder—the SAG hot line number is (702) 737-8818; options include conservatory and production updates as well as contacting Steve Clinton.

I need volunteers for our Organizing Committee. Please let me know if you can help. If you would like to serve on this committee, please contact me at nevadapresident@sag.org.
SAVE THE DATE FOR SHAKESPEARE
By Barbara Grant
Vice President and Conservatory Chair

Why all this fuss about Shakespeare?

Why is Shakespeare the most produced screenwriter of all time? Why does virtually every city in the world have a Shakespeare theater? Why is Shakespeare the most successful entertainment franchise of all time? Why do some scholars maintain that the way we think today has been shaped by, you guessed it, William Shakespeare?

Ruminate upon possible answers to these and many more questions about this phenomenon under the guidance of Dan Decker, the artistic director of Theatre Las Vegas and author of Shakespeare's Roses and Anatomy of a Screenplay. Learn about Will himself, his life and times, the good bad and ugly, why his contemporaries didn't like him much, why he stole most of what he wrote, why he was only the second most popular poet of his time and the possible reason for his death at age 52. Attempt to gain access to his mind through the sonnets, literature's most enduring mystery. Get up on your feet to do readings.

Whether you are an old pro or a beginner, Mr. Decker's unique and original insights into the man and his work will challenge and enlighten you. Even if you never aspire to act in a Shakespeare play, you will be entertained and learn much about the Bard, the theater and society in general.

This isn't your great-great grandparents' Shakespeare anymore.

The Shakespeare Conservatory with Dan Decker

When: Saturday, February 21, noon–6 p.m.
Where: East Las Vegas Senior Community Center
250 North Eastern Avenue
Las Vegas, NV 89101
Cost: $40 for union, $80 for non-union (for an entire year of workshops) or $20 per workshop

Sneak peek for March:

A well-known working actor, David Proval, will run a workshop.... Look him up on IMDB. We're working on getting a high-profile New York casting director for this spring also.
NEVADA SAG CONSERVATORY
Take Advantage of Nevada's Top Member Benefit

The Nevada Screen Actors Guild Conservatory hosts professionals in the motion picture, television, voice-over, theater and commercial industries on a monthly basis. These guests lead workshops, provide honest and open information on the industry and offer advice and techniques to build careers. For current information, call the Nevada Conservatory hot line at (702) 737-8818.

The Nevada SAG Conservatory is a public service of the Nevada Branch of Screen Actors Guild.

A donation of $20 is required per workshop. Members of the Nevada Branch of Screen Actors Guild may join for $40 for the annual season.

For additional information, to contribute your own talents or to suggest future guests, contact Conservatory Chair Barbara Grant through the new Nevada Screen Actors Guild Office (see Executive's Report, above).

Nevada Conservatory Mission Statement

The Screen Actors Guild Nevada Conservatory's mission is to prepare our new members for employment within the industry while assisting working professionals in continuing to develop their talents and skills.

To achieve this goal, the Conservatory will assist actors in building careers through:
the enhancement of their performance tools;
enrichment of their business and marketing knowledge;
providing networking and learning opportunities;
encouraging experienced performers to share their knowledge;
producing workshops, seminars and symposiums;
encouraging qualified union membership and participation; and
communicating the SAG constitution, regulations and bylaws.

The Screen Actors Guild Nevada Conservatory may include such activities as showcasing, student film participation and trips to regional and national casting centers or a referral service on productions, auditions and agencies. These are not the mission or goal of the conservatory, they are additional services and should remain secondary to the conservatory mission.

While the Screen Actors Guild Conservatory invites active participation by agencies, production companies, acting teachers, schools, organizations and members, their participation in any event is not to be taken as an endorsement.

The Screen Actors Guild Nevada Conservatory is open to all members of the community as a public service, but as a committee of Screen Actors Guild the right is reserved to limit participation in specific events or overall membership to dues-current members of the Guild. Membership in the conservatory does not represent or imply membership in Screen Actors Guild.

The Screen Actors Guild Nevada Conservatory is not an employment service, agency, casting center, union hall or any related business or activity. We are an opportunity to learn, share and network!
BUILD MEMBERSHIP THROUGH DUES
It is important we encourage membership from all qualified professional performers, regardless of current union status. Not only will that give Nevada SAG leverage in organizing the market, but it also will assist those who join through SAG benefits and the increased strength of the local Nevada Branch.

If you have not paid your dues, please do so. There is another dues deadline closer than you think, in April. Plan on keeping current on your dues from day one!

To a much greater extent than you may think, current dues status is vital to the future of Nevada and the union. Our voice in Hollywood and at the national level depends on our numbers and our revenue. Both of those cannot be counted without your dues. If you haven't done so already, please pay your dues today. If you are not an active, paid-up member in good standing, you may not be able to vote in Guild elections or contract referenda or be eligible to serve on the council or committees. You also must be paid to date to register on iActor, the Guild's online casting program, which now is being used by casting directors nationwide. If you have any questions regarding your dues, please contact the Cashiers Department at (800) SAG-0767, option 2.
CONTRIBUTE TO YOUR NEWSLETTER
You are invited to write letters to the editor, contribute other materials, send in photographs and remembrances and in other ways contribute to communications within our Branch.

As has been in the past, national guidelines remain and will be provided to you by staff in advance or if feedback is needed prior to publication. We are working on ways to open communication within labor law or the rules, policies and procedures of the Guild.

Most of the delays and problems that may have plagued communicating with and among membership over the past few years have been minimized, while your officers and staff are working diligently on methods to create new and more open communication lines between and with membership.

Four electronic newsletters, four print newsletters and more frequent e-blasts from the Branch president are scheduled for 2009.

Changes are under way to allow for more frequent updating of the SAG website's Nevada page, as well as provide other means of two-way communication.
CONTACT THOSE YOU ELECTED
You are encouraged to contact our local executive if you wish to speak with or provide material to any of our elected officers or council. Be a part of your Branch. Contribute to future publications. And please feel free to reach out by printing this newsletter and providing a copy to any members you know who may not have access to or use the Internet and e-mail on a regular basis. Be a part of SAG's future as a force for Nevada talent.
A MESSAGE FROM THE SAG FOUNDATION
Since 1985, the Screen Actors Guild Foundation has embraced its mission to assist, educate and inspire actors to their fullest career potential and to give back to the communities in which they live. While we are not a part of Screen Actors Guild, we are dedicated to serving its members.

From Board of Directors to staff to volunteers, the foundation's diverse makeup is a large component of this non-profit 501(c)(3) organization's success. Governed independently of the Guild, the non-political, non-partisan foundation is a collective body bringing different personalities, attitudes and opinions together in service of actors who, like us, come from all walks of life.

Chances are that we've already helped you, or someone you know, with financial assistance in a time of crisis, scholarship monies, efforts we make toward children's literacy, time spent in the Actors Center (the only resource center of its kind in Los Angeles), or seminars, workshops and other career-informing events. In any case, please visit our website at www.sagfoundation.org to find out more about us.

Our work is rewarding, but not easy. Our programs and benefits are supported not by your Guild membership dues or fees but by grants, donations and our own fundraising efforts. Resources are limited, and times have been exceptionally hard. Our Emergency Assistance program, overtaxed by economic blows such as the recent Writers Guild strike which put countless actors out of work, has far exceeded its budget and the livelihood of the foundation as a whole is in delicate balance.

It takes an actor to understand an actor's struggle. Most of us at the foundation are actors, and by learning more about the Screen Actors Guild Foundation, we hope that you will gain a greater understanding of our work and what it takes to keep us going. Your tax-deductible donation can make a huge difference in the life of a fellow actor. You can donate online whenever you wish, make automatic monthly donations, or send us a check made payable to Screen Actors Guild Foundation. You can also think about residual checks, no matter what their size, which might benefit your peers by signing them over to the foundation as a charitable contribution.

Meanwhile, we also encourage you, as a SAG member, to think about the services we make available in support of your own career. Knowing, understanding and giving to the SAG Foundation is an investment not just in the foundation's livelihood, but in yours.

Screen Actors Guild Foundation
5757 Wilshire Blvd., Suite 124
Los Angeles, CA 90036
phone: (323) 549-6708
SEARCH ENGINE BENEFITS SAG FOUNDATION
GoodSearch.com is a new search engine that donates half its revenue, about a penny per search, to the charities its users designate. You use it just as you would any search engine, and it's powered by Yahoo!, so you get great results.

Just go to GoodSearch.com and be sure to enter the Screen Actors Guild Foundation as the charity you want to support. Just 500 people searching four times a day will raise about $7,300 a year!
CHECK YOUR BACKSIDE: ACT AS ONE
Check the back side of your Screen Actors Guild membership card, and you'll see the most important rule by which SAG members must abide. Rule 1 states that no member shall work for or agree to work for a producer who is not signatory to the appropriate SAG agreement. Since January 1, 2009, Rule 1 is being vigorously enforced in new media.

New media means the Internet, cell phones, PDAs and any other technology that may be invented in the future. That means every time you work on a project intended for new media, you need to be covered by a union contract. Being covered by a SAG contract right from the start is a good thing, because in new media, you never know where you'll find an audience or how successful a project may become.

We can provide more information and answer your specific questions at organizingnewmedia@sag.org or (323) 549-6777.

The 2002 worldwide expansion of Rule 1, now known as Global Rule 1, produced nearly $500 million in SAG member earnings and $23 million in contributions to SAG pension and health funds. When actors stick together, we all win. Setting standards in new media will be challenging and only can be accomplished with member solidarity.
---

For address changes, removals, and misdeliveries, please follow the procedures at:
http://www.sag.org/Content/Public/Email_OptOut.htm