The Official E-Newsletter of the Nashville Local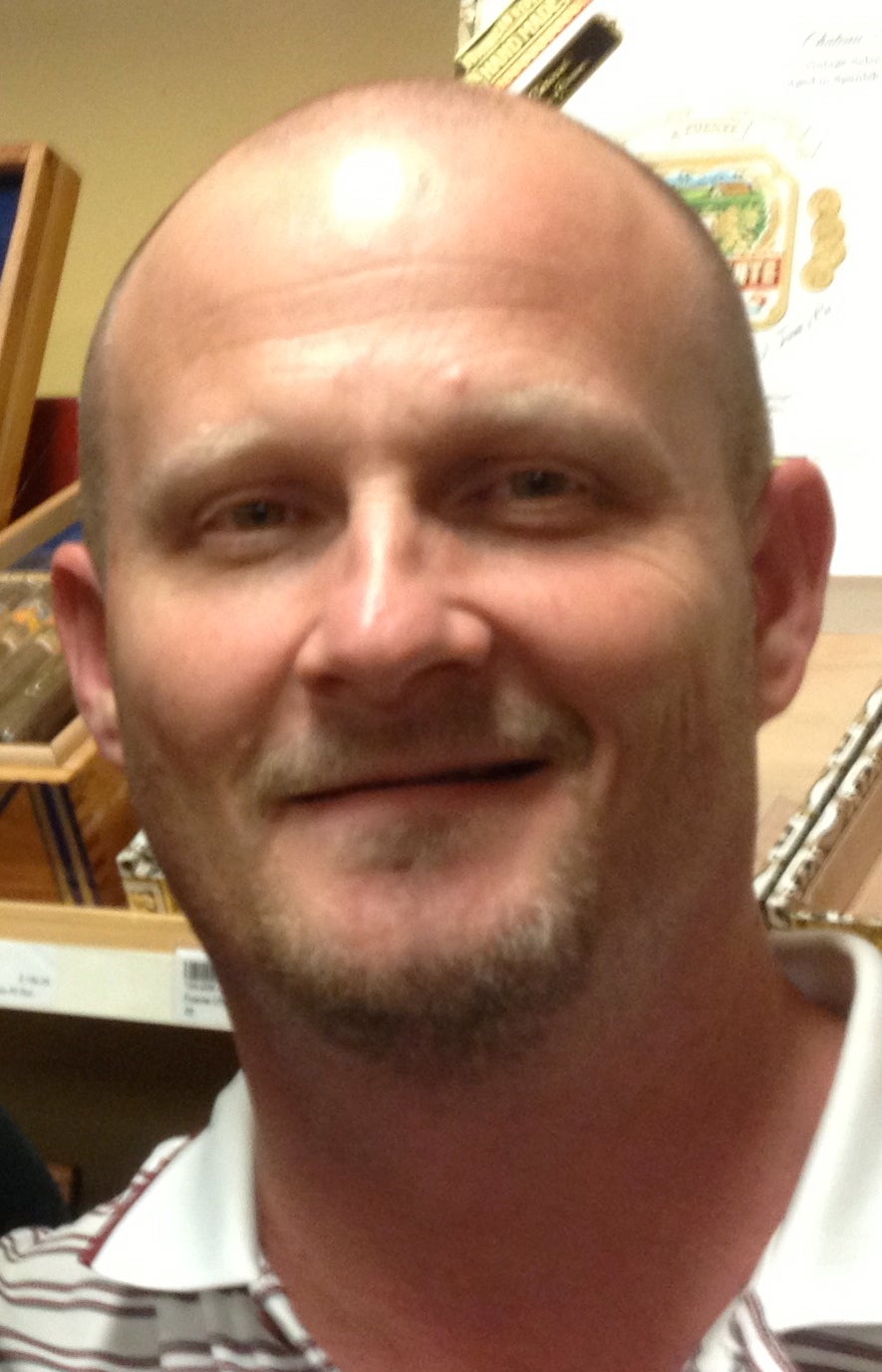 THE AFM & SAG-AFTRA IP FUND: IS THERE MONEY WAITING FOR YOU?
If you are a background vocalist on any recordings, this is an important message for you.
The AFM & SAG-AFTRA Intellectual Property Rights Distribution Fund is a fund that was formed for the purpose of distributing royalties from various foreign territories and royalties established by government statute under U.S. copyright law. Money collected by this fund comes from agreements with organizations including Geidankyo - Center for Performing Rights Administration in Japan and U.S. government agencies to secure royalties for non-featured performers (e.g. sidemusicians and background vocalists). The Fund distributes money to non-featured vocalists and non-featured musicians for the rental in Japan of U.S. and Japanese-produced sound recordings; Japanese private home copying; Dutch royalties received from SENA in the Netherlands for private home copying and certain broadcast royalties; Audio Home Recording Act monies; and statutory license royalties for the digital broadcast of sound recordings in the U.S. pursuant to the Digital Performance Rights in Sound Recordings Act of 1995 and Digital Millennium Copyright Act of 1998.
I can say with authority that the money collected and paid to us for our contributions to these recordings can be a blessing and in some cases lucrative — particularly if you are working or have worked on popular recordings that were hits on the charts.
All the Fund needs is your name and address. Now would be the perfect time to sign up, and make sure they know where to send the check. Visit raroyalties.org to register your name and info. Click the "online forms" tab, and you're one step closer to either getting money that's already owed to you, or being ready for money that's coming down the pipeline. Either way, it doesn't cost you a thing to do, and is a smart investment in your time if you have any professional credits out there for vocals.
There are resources on the website to search unclaimed royalties by name. You can check for yourself if you're entitled to a distribution, fill out an inquiry form and get your money!
Take it from the most recorded singer in America; this is worth your time.
Best regards to my union friends,
Wes Hightower
IN MEMORIAM
Our hearts go out to the children and family with the recent loss of Mindy McCready. This tragic news came as a great shock to many in our industry and community. Mindy was a member of the SAG-AFTRA Nashville Local.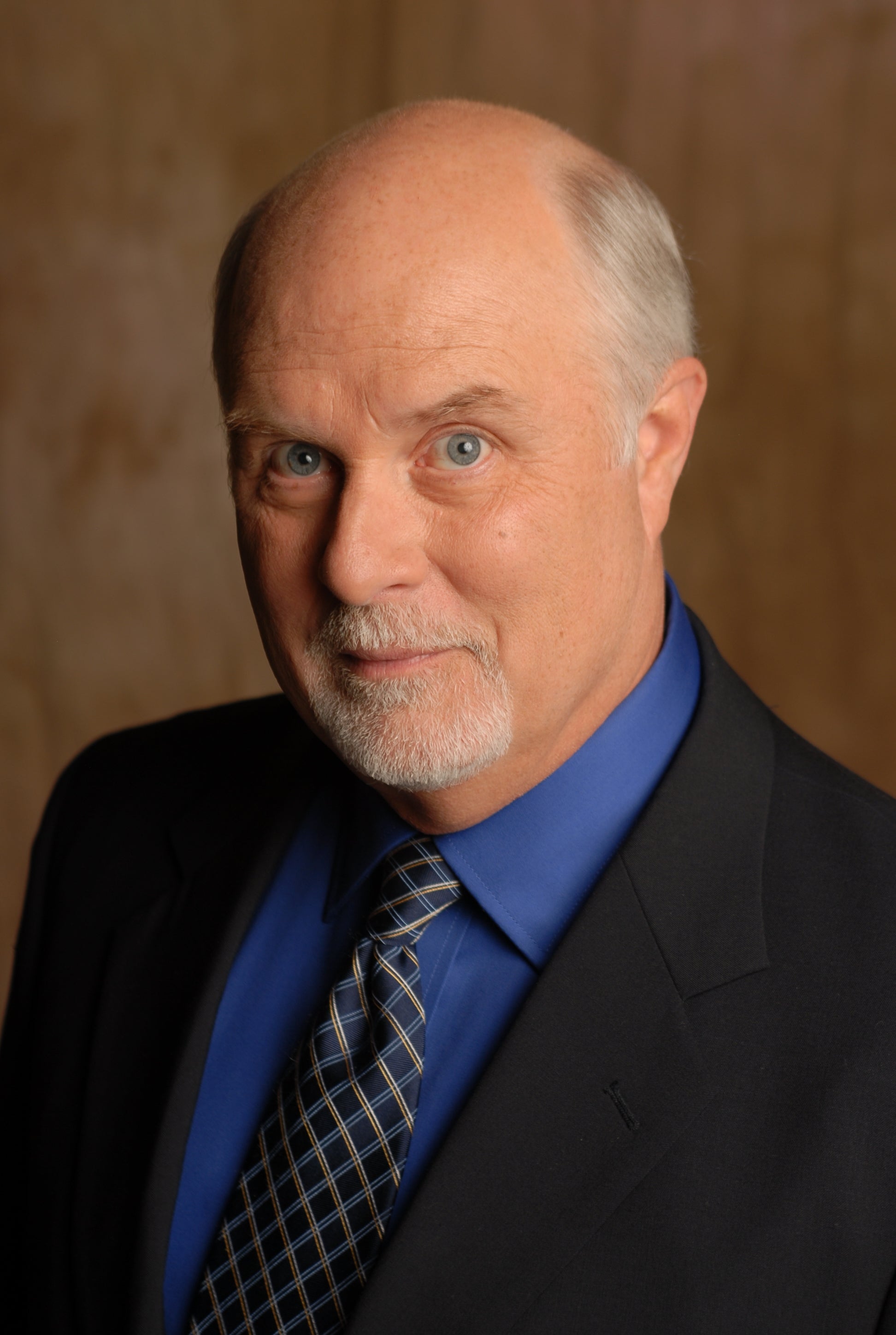 From Nashville's Co-President
By Mike Montgomery
I truly hope 2013 finds you happy, healthy and ready to work because in many respects Nashville finds itself poised to take the next step to becoming a business and arts mecca. Forbes magazine finds us one of the most attractive places to live and work. Travel and Leisure recently ranked us as a top tourist destination with one of the most exciting food scenes in the country and Kiplinger touts Nashville as a top-10 place to start a business. Our star is rising in the entertainment world as well.
The ABC series Nashville has injected new life into our film and television industry by providing steady work for our IATSE brothers and sisters, recurring roles for several local SAG-AFTRA members, day-player roles for many others and an opportunity for songwriters to pitch and land songs on the soundtrack. Nashville seems to be acting as a springboard for other productions considering our area as well. Currently there are 14 SAG-AFTRA projects, using several different contracts, either in production or pre-production in Tennessee and Kentucky. Let's all hope this upward trend gains traction as Nashville's star continues to rise.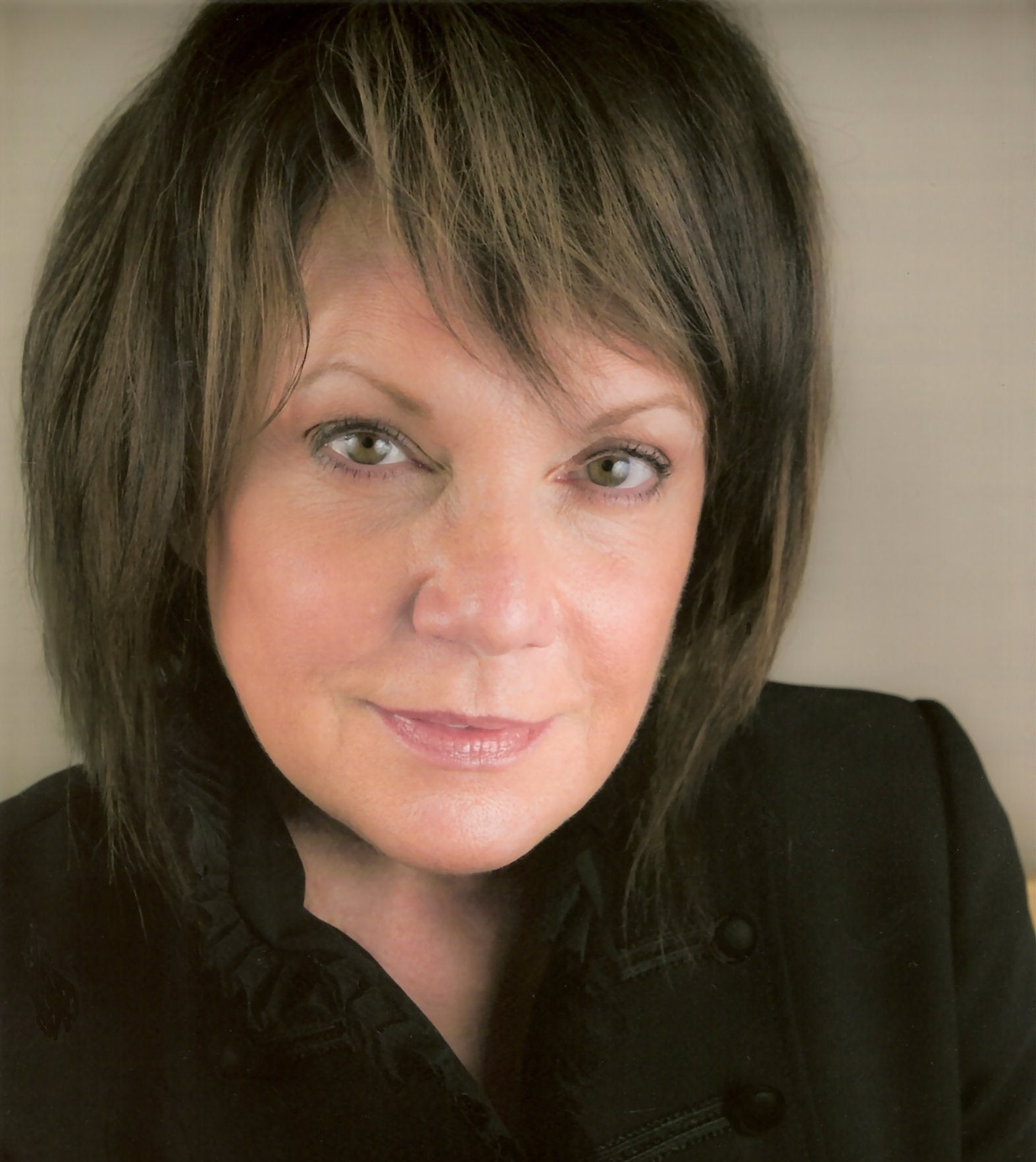 From Nashville's Co-President
By Cece DuBois
Hey everybody, Happy New Year to y'all! Think about this: Jan. 1, 2013, marked the day when, for the first time we, as union members, stepped into the year as one union! Yup, it's a monumental moment, one that we or our predecessors have striven for since the 1930s. It is now. We are here.
As I have said many times through the years, here in Nashville we are the same community of performers that we've always been. When I was first elected president of this local back in 1993, the Nashville office housed both AFTRA and SAG. Then in 2003, SAG took its boots off the ground in Nashville, and AFTRA was flying solo. But in 2012, members of SAG and of AFTRA across this nation made their voices heard … and SAG-AFTRA was born. 
So dream big, brothers and sisters. We are who we are, doing what we do creatively. Members of our union family are the ones honored at the SAG Awards, the CMT Awards, the CMAs, the Oscars, the Grammys, the ACMs, the Emmys — every award given to any performer in video, film, digital and sound recordings of any stripe comes to take its place on the family mantle of SAG-AFTRA's members. Welcome home.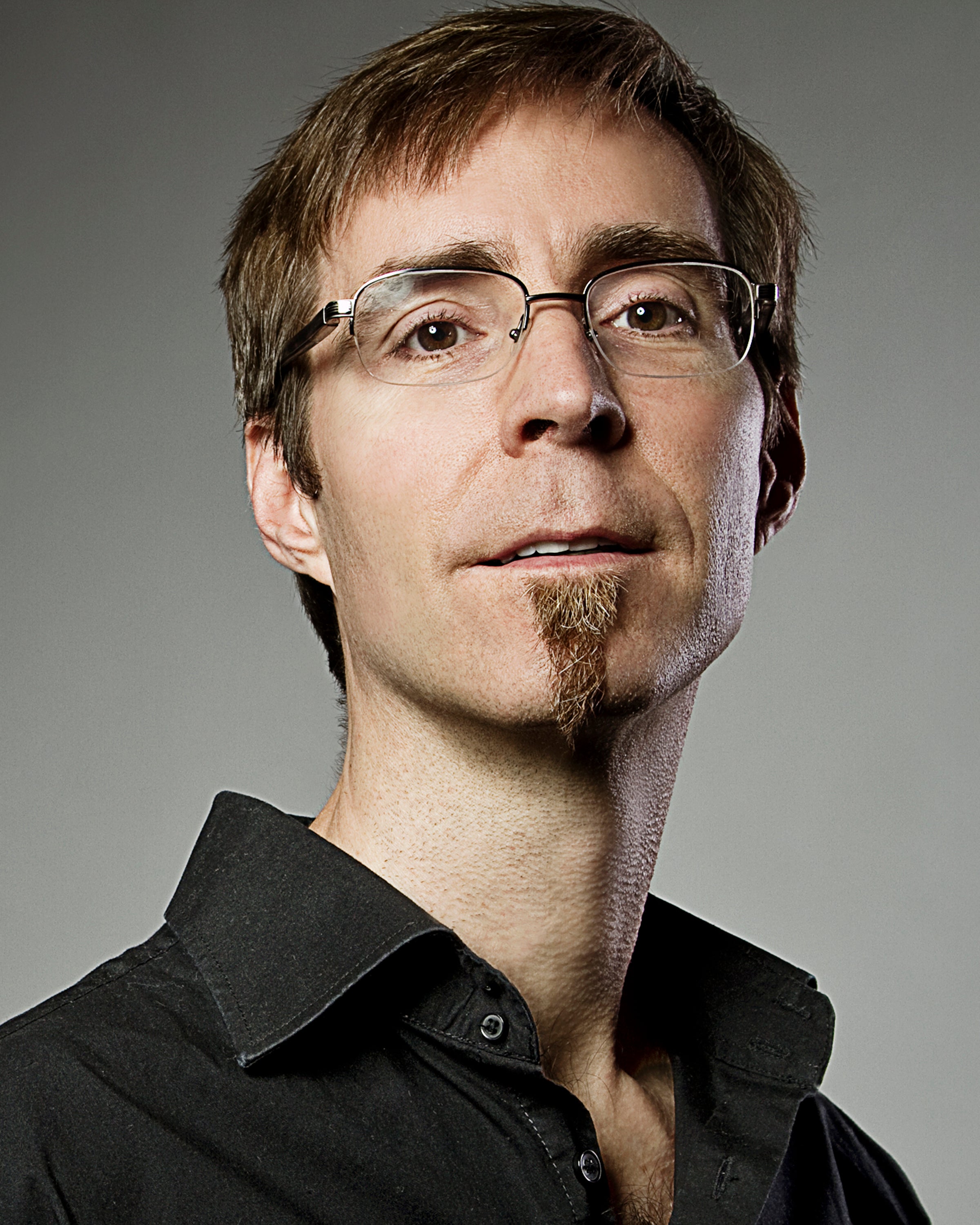 Russell Terrell
Board Member Russell Terrell Receives Curtain Award
Hats off to our longtime member Russell Terrell on the occasion of his being given Belmont University's Curtain Call Award. This award is a recognition of outstanding achievement in the arts by a Belmont graduate. The award was presented on Monday evening, Jan. 28, 2013 in Belmont's Massey Concert Hall by Dr. Cynthia Curtis, Dean of the College of Visual and Performing Arts.  
Following the award presentation, attendees were treated to a mini-documentary titled Russell Terrell: The Voice Behind the Voice. Several of Nashville's well-known music producers paid tribute to Russell's abilities, work ethic and dependability as a professional singer. Russell had a few guest artists help demonstrate his background singing live. Then he used Pro Tools to demonstrate how he thinks about crafting vocals behind a lead singer in order to enhance the song without distracting from the main artist. It was an informative presentation that affirmed the reason that Russell was chosen for this honor. Congratulations to Russell on this important milestone and recognition. I was proud to have attended and proud that Russell is very much a pro-SAG-AFTRA member.
Jim Ferguson
National Vice President, Recording Artists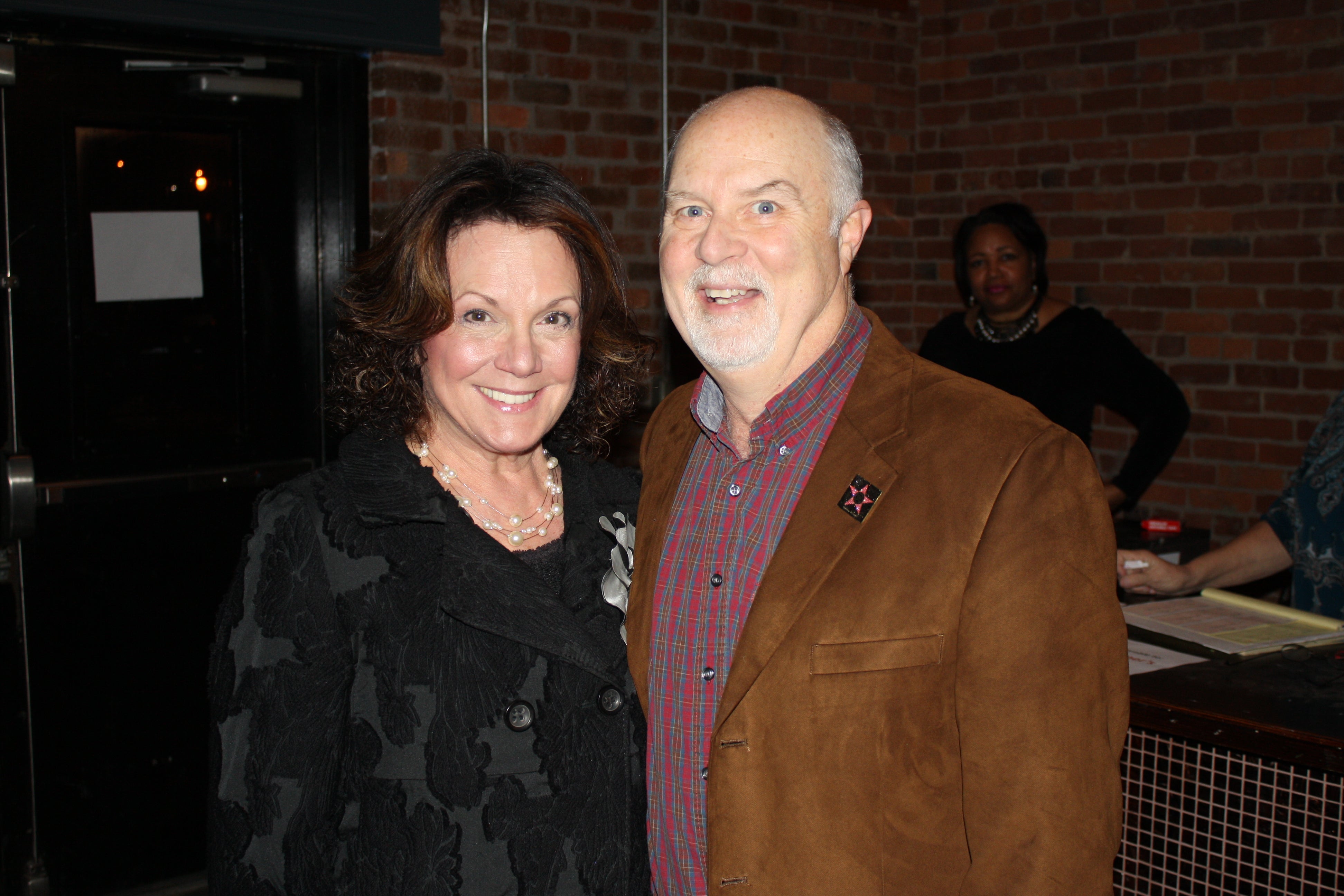 Cece DuBois and Mike Montgomery at the viewing party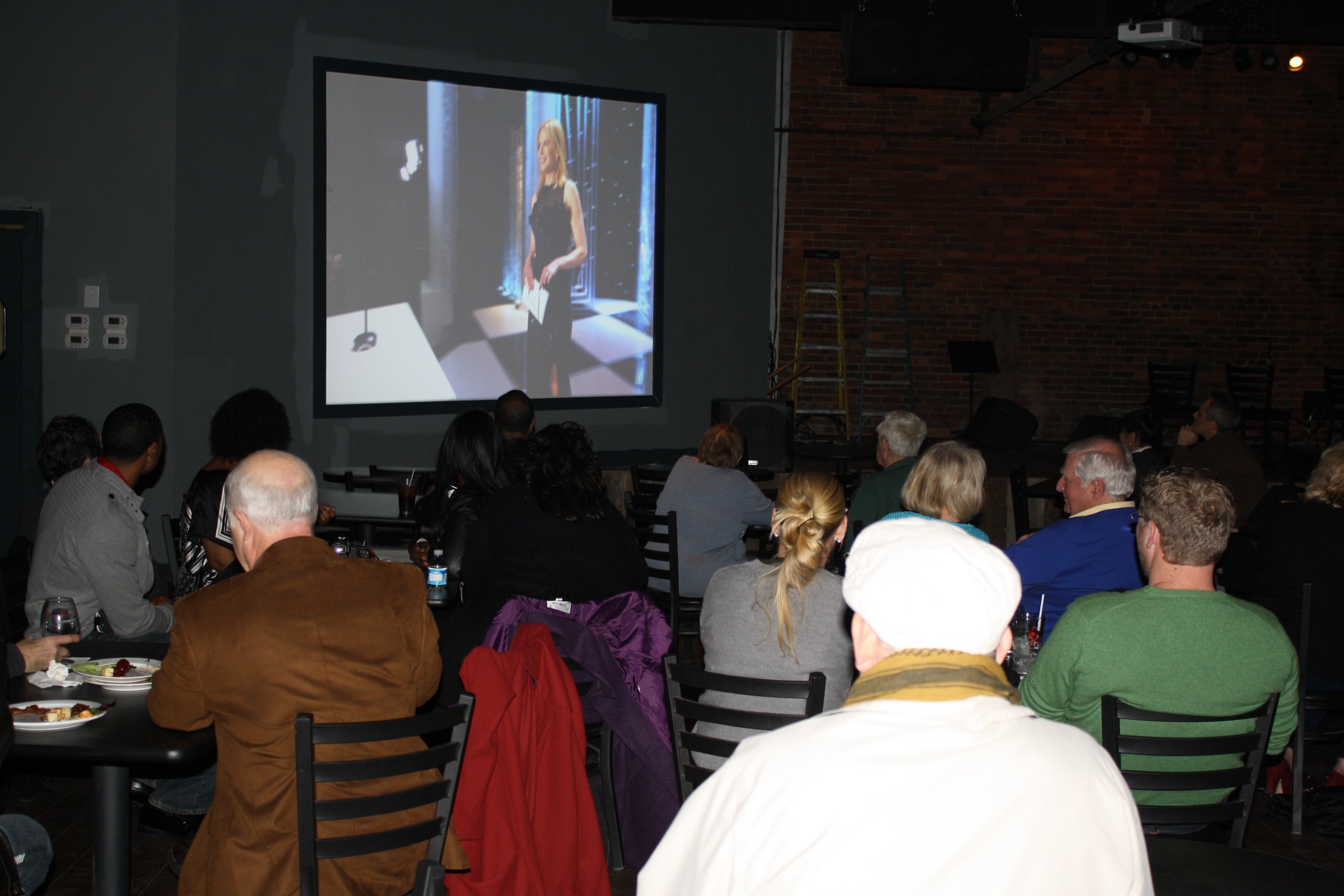 The viewing party was well-attended.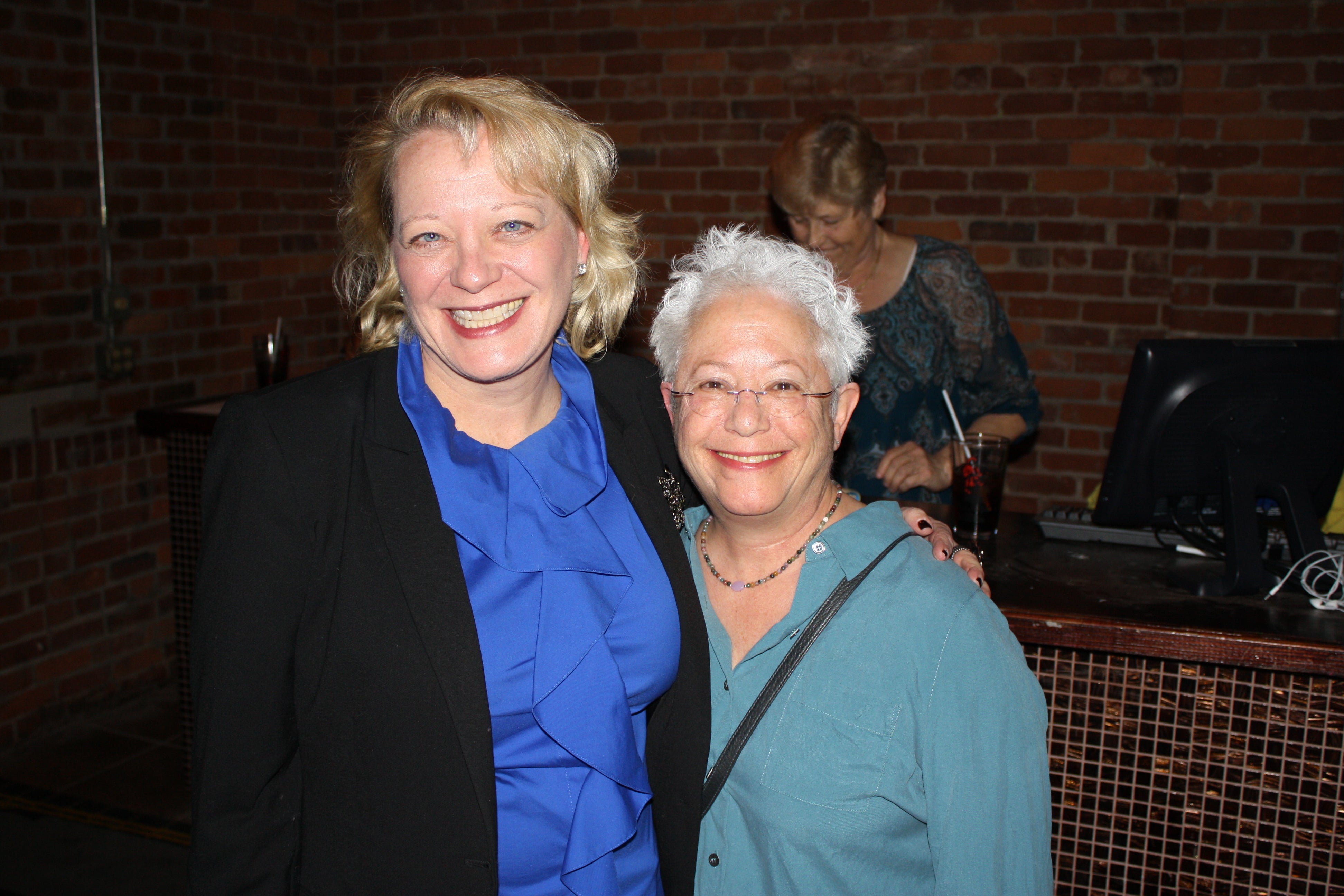 Anne Martin, Janis Ian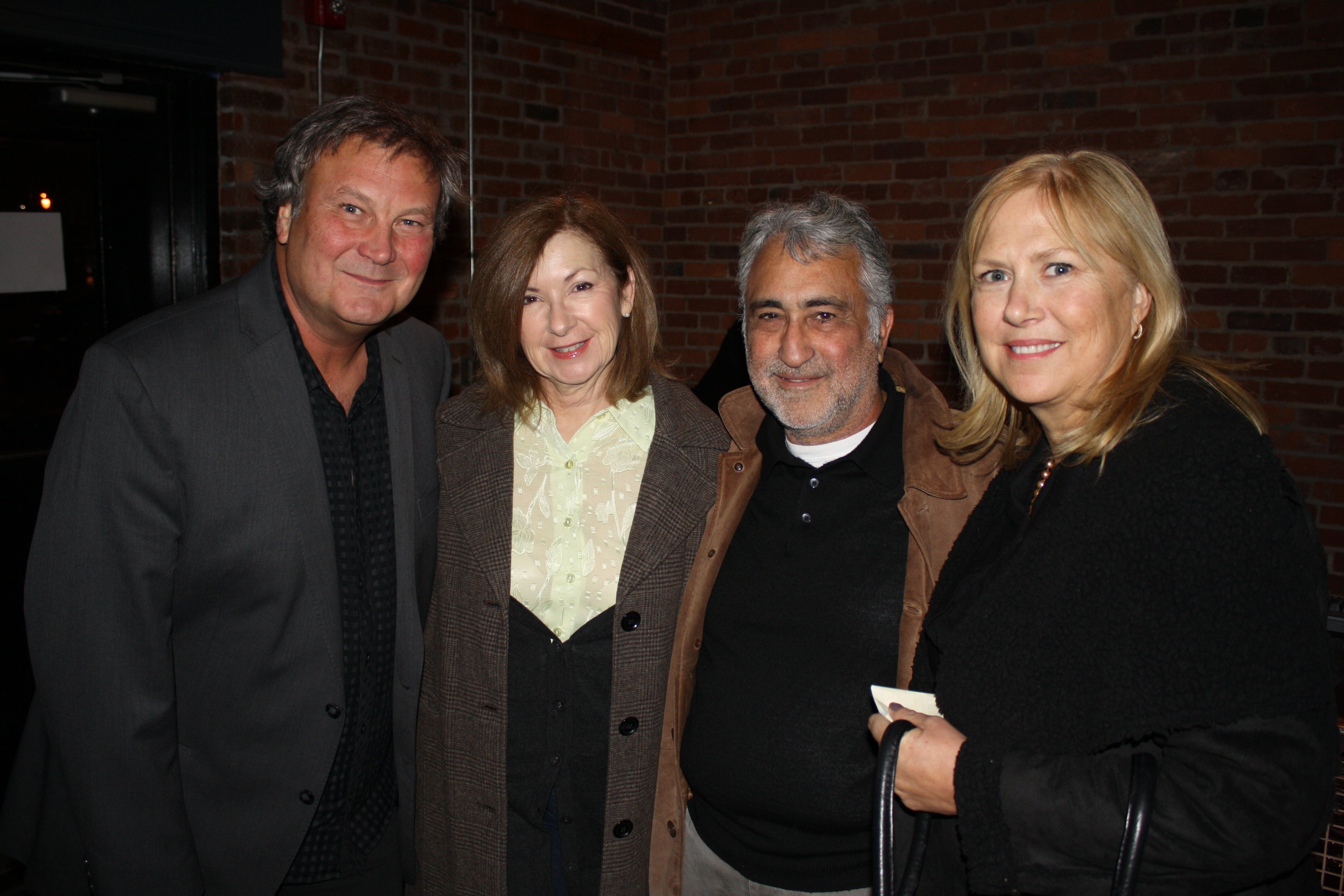 From left, Robert Ellis Orrall, Joanne Schwartz, Eddie Schwartz, Christine Orrall
A Great Party — A Great Venue — A Great Show!
Everybody loves a party, and I'm no exception. I thoroughly enjoyed the SAG Awards on TNT this year more than ever. Nashville's members started out the evening networking with fellow members, filmmakers, an agent or two, and the SAG-AFTRA staff.
Thirty-five local members of SAG-AFTRA Nashville and 19 of their industry guests enjoyed our Nashville Local's second annual SAG Awards Viewing Party on Sunday, Jan. 27 at the Listening Room in downtown Nashville. The event was free to members in good standing, and there was a $10 cover charge for nonmembers. The $190 raised from the cover charge was donated to the Nashville Local Relief Fund.
The Listening Room turned out to be a great venue once everyone figured out that it had relocated to 2nd Avenue (you gotta read the fine print y'all). I was pleasantly surprised to find free parking and easy access to the location — bravo! That was especially great since it was a bit of a chilly evening in middle Tennessee. Once inside, I could not believe the 144-inch screen for viewing — it was gorgeous! The sound was amazing; there was plenty of room to watch the show, socialize, consume the eatables and win a door prize if you were lucky.
We plan to make this an annual event, another way to bring our membership together in celebration. See you next year!
Carla Christina Contreras
Nashville Board Co-Secretary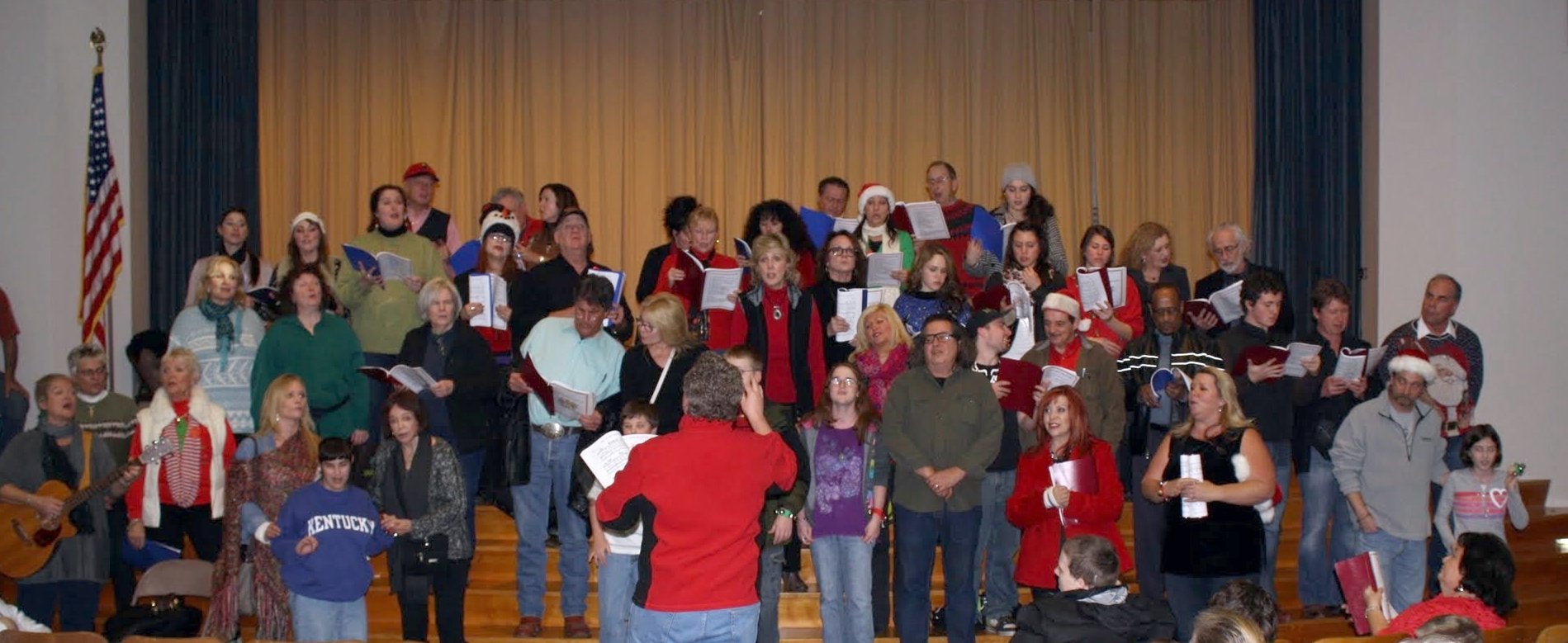 The SAG-AFTRA Nashville Choir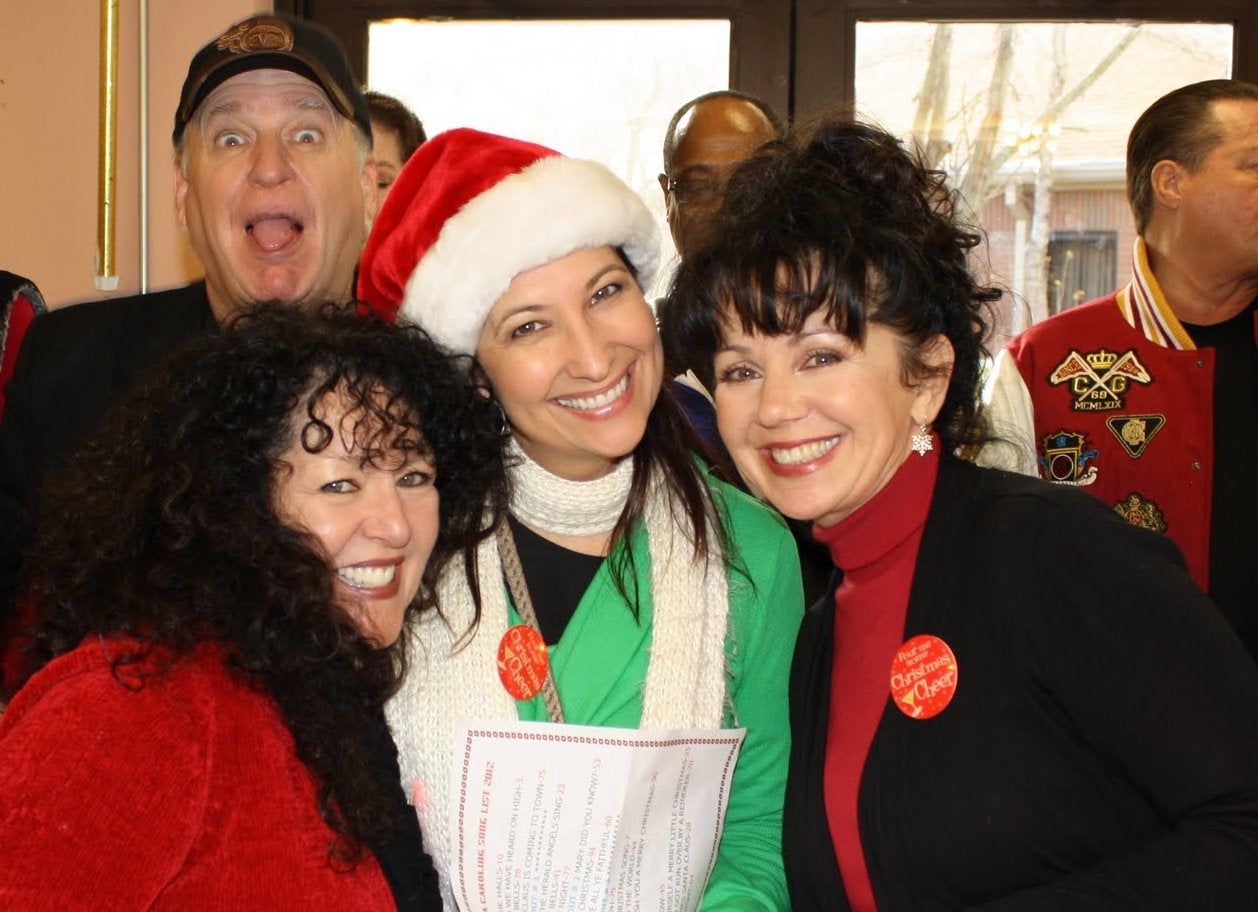 Steve Pippin, Vickie Carrico, Cindy Shelton, Dana McVicker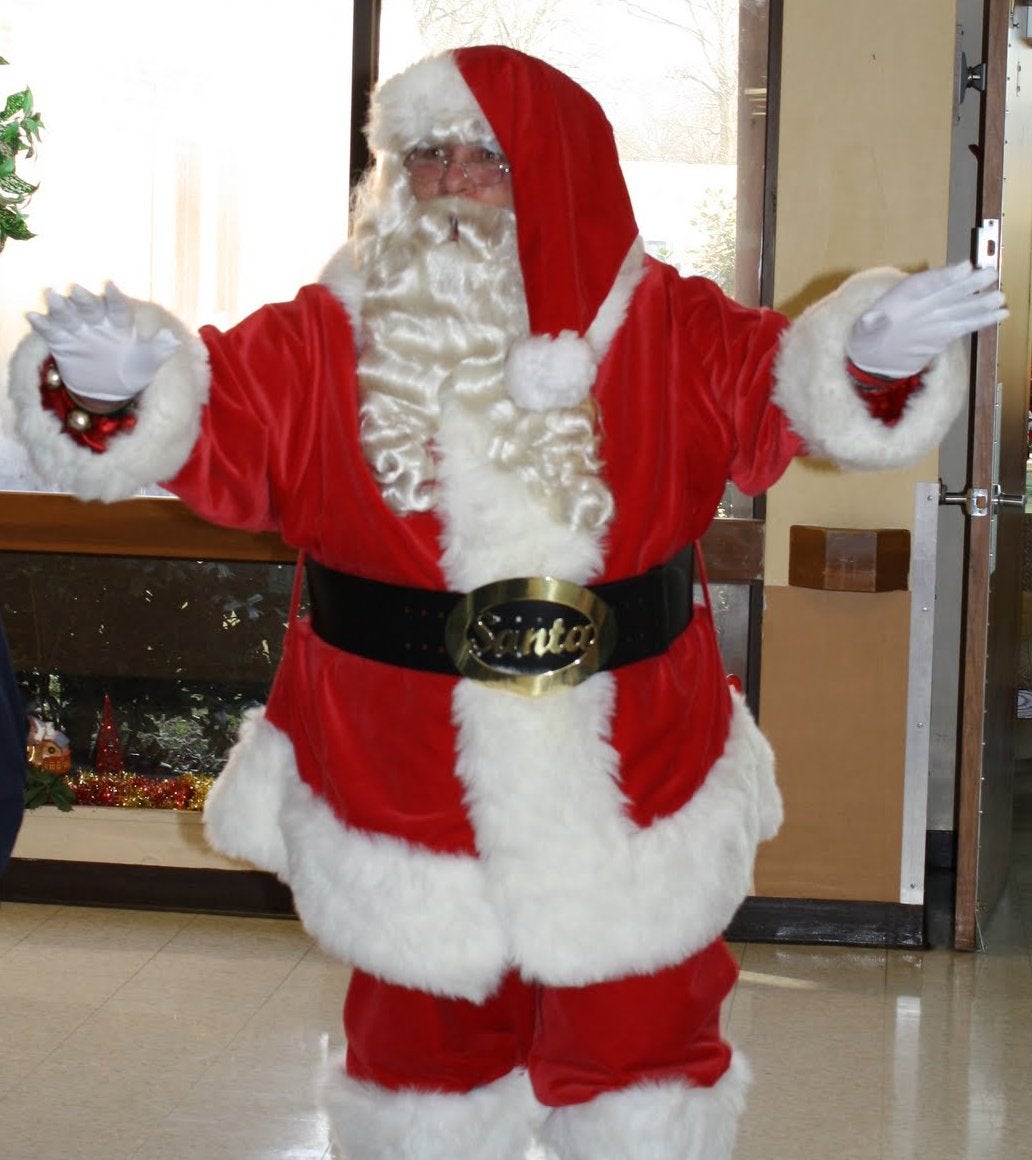 Santa on tour
Spreading Joy at the Holidays
Each year, as we have done for more than 25 years, members of AFTRA, now SAG-AFTRA, take time out to give to others by singing holiday carols to those less fortunate than us. On Dec. 11, 2012, 75 members and guests of the Nashville Local spent the day "touring" on a GrayLine Bus and caroling at the Knowles Retirement Center, the Women and Children's Mission, Men's Mission and the Tennessee School for the Blind. What a fun and rewarding time we had!
In today's busy world, we sometimes forget that people are hurting, lonely or feel left out at the holidays. This is our way of sharing our talents and giving back to others who need a little show of love. Smiles on faces at the nursing home, homeless adults and children, and little blind children are gifts back to us that make the holidays so much brighter for all who carol.
I have the privilege to be Santa for our caroling troupe. I have a hard time with emotions when a child comes to me and wants me to pick them up and hug them. Homeless children tell me what they want for Christmas … blind children run their hands over my face and feel my shoulders to confirm I am real. This is what makes my holiday complete!
This is our union family at its best.  If you want to share your gift of voice and experience the happiness and joy at the Holidays, make plans to come with us this December. You don't have to spend money to give such a great gift to others.
Chris Ladd,
Nashville Local Board Co-Treasurer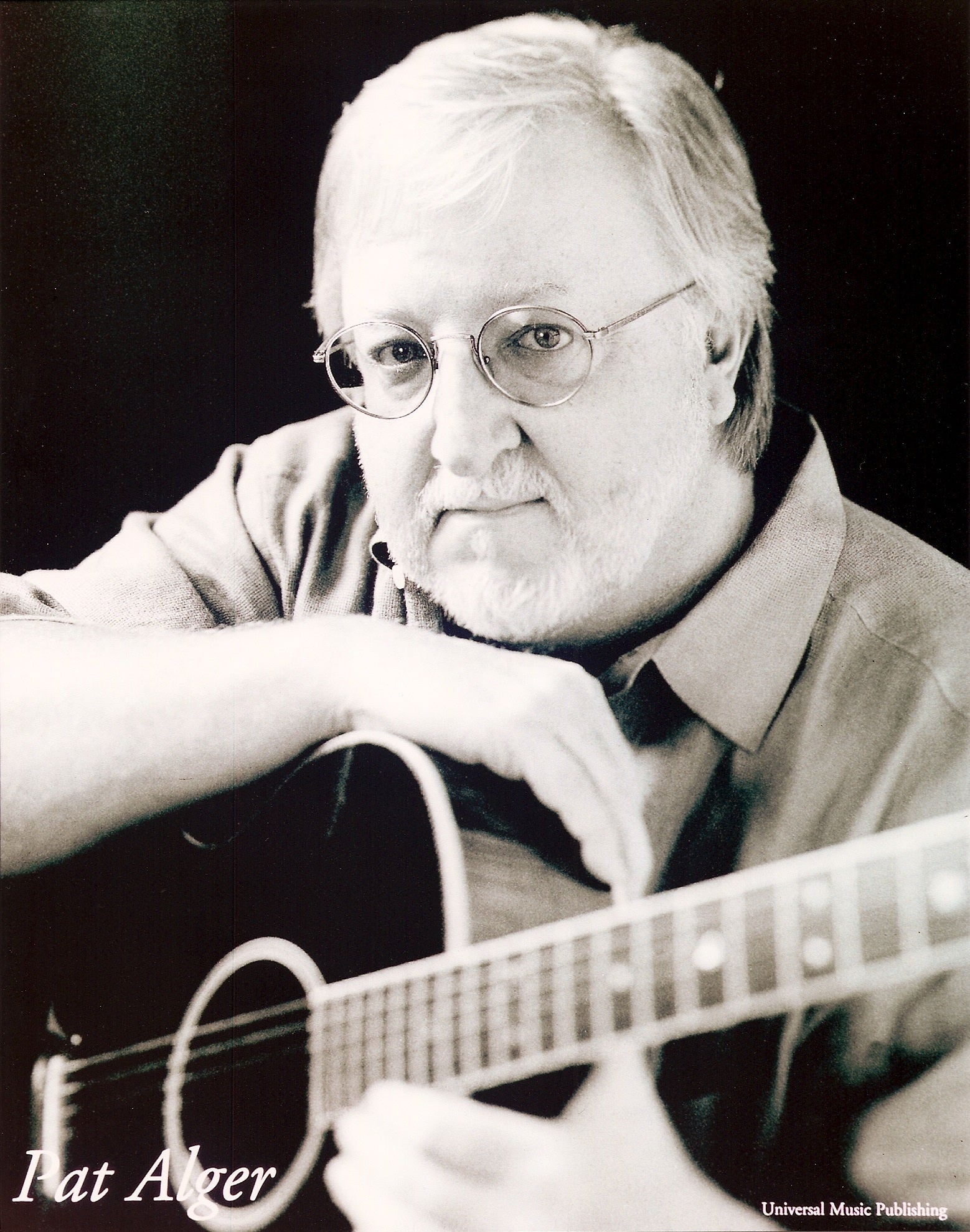 The Nashville Songwriters Hall of Fame to become a reality in May 2013
Pat Alger, vice president of the SAG-AFTRA Nashville Local and chairman of the Nashville Songwriters Hall of Fame Foundation announced at the February board meeting that the Nashville Songwriters Hall of Fame will be a part of the new Music City Center project in downtown Nashville.
For 42 years, the Nashville Songwriters Hall of Fame has been an idea, an honor and a virtual entity on the Internet, and now at last it will become a physical reality in the largest building in Tennessee. The NaSHOF will consist of two elements. Inside the main lobby of the Music City Center the main exhibit area will feature graphic displays and artifacts, as well as state-of-the-art interactive digital touch screens. In addition to photos and biographical information, each of the songwriter members will be represented by a digital jukebox sampling of their songs and videos. Outside the Music City Center's Hall of Fame lobby will be a Songwriters Square complex consisting of an exterior plaza and terraced walkway that will feature the names and well-known song titles of its members engraved in beautiful Italian stone.
The new Hall of Fame will be a source of pride for not only the songwriting community but for SAG-AFTRA as well. In addition to board members Pat Alger and Dickey Lee, a total of 75 of the 188 Hall of Fame members are now or have been SAG-AFTRA members. For more than 20 years, SAG-AFTRA Nashville has had a songwriter/vocalist contract and many of the top songwriters here have been active members. Over the years, many royalty artists such as Jimmy Buffett, who were also songwriters, have also been inducted into the Hall of Fame. The new facility is scheduled to open in May of this year.