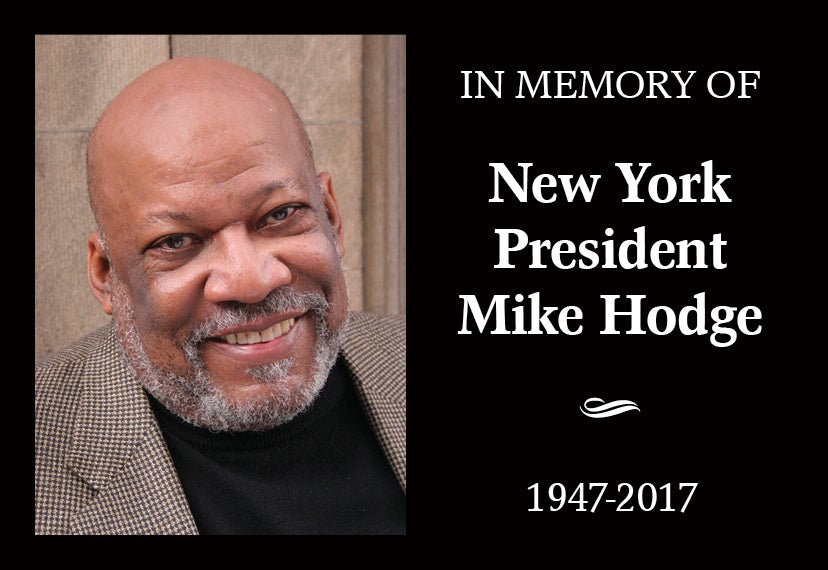 SAG-AFTRA New York President Mike Hodge passed away on Sept. 9, 2017 at the age of 70. SAG-AFTRA members are invited to share in President Hodge's Celebration of Life 2 p.m., Tuesday, Oct. 17 at the Directors Guild of America Theater, 110 West 57th Street. Click here for details.
Knowing how deeply Mike's loss has been felt, we invite members and Mike's friends and family to contribute to this memorial wall in his honor by emailing MikeHodgeTribute@sagaftra.org.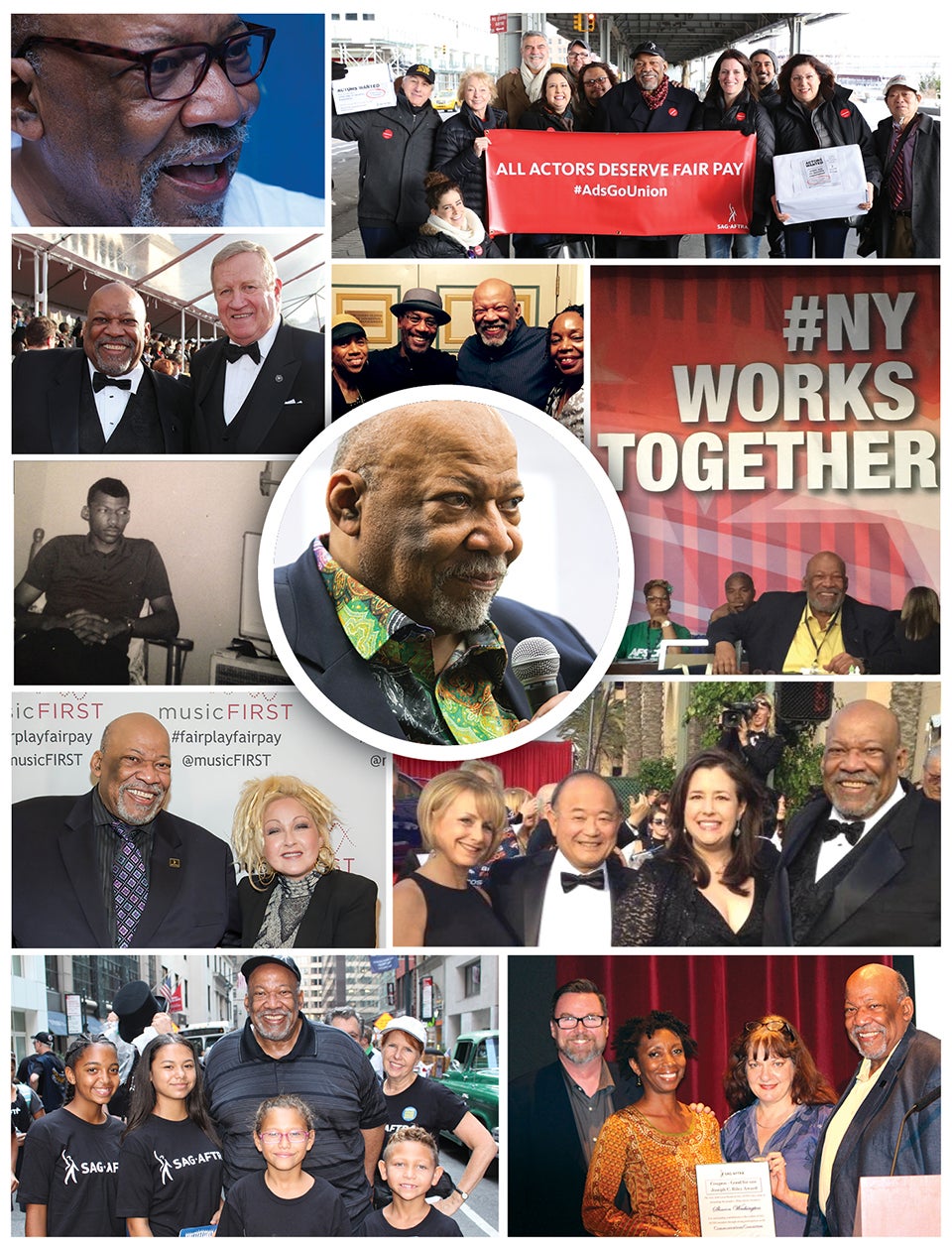 NEW YORK (Sept. 10, 2017) — SAG-AFTRA mourns the passing of Mike Hodge, an accomplished actor, stalwart unionist and New York president of SAG-AFTRA, who passed away on September 9. He was 70.
Hodge had a long career as a Broadway, TV, film and commercial actor.
A SAG-AFTRA National Board member since 2001, Hodge was first elected New York president in 2009 and continued in that role until his death. He was instrumental in jumpstarting the effort that ultimately led to the merging of Screen Actors Guild and the American Federation of Television and Radio Artists in 2012. In 2013 and again in 2015, he was elected at the SAG-AFTRA National Convention to two-year terms as the union's National Vice President representing New York.
"Mike's spirit shone brightly, and he was greatly admired by those he worked with, whether in the union's boardroom or on set. He will be remembered for his professionalism, conviction and remarkable strength of purpose," said SAG-AFTRA President Gabrielle Carteris. "His perseverance and ability to rally members helped make merger possible, and in that regard, SAG-AFTRA stands as a memorial to his accomplishments, leadership of the New York Local and everything he believed in."
Hodge attended West Virginia University where he was part of the integrating class at the School of Journalism. After earning a B.A. in journalism with a minor in theater, he went to work for The Washington Post. Later, he continued his theater studies at the DC Black Repertory Theater. After he earned his Equity, SAG and AFTRA cards while working in Washington, D.C., he decided to make a move to New York.
That opened the doors to commercial work, while also allowing him to pursue theater roles. With that foundation in place, Hodge began appearing on nighttime and daytime TV series. Soon his career expanded to include work in film. Among his credits, he appeared on Broadway in Fences and A Few Good Men; the film To Wong Foo, Thanks for Everything! Julie Newmar; and often appeared on television as a doctor, lawyer or judge on shows such as Law & Order. He was also an award-winning audiobook narrator, having narrated books by Steve Harvey, Mitch Albom and others.
Everything changed with the commercials strike in 2000. Friends encouraged Hodge to run for SAG's national board. Inspired by his union-member father, Hodge launched his campaign and in 2001 won a seat. Eight years later, Hodge was again asked to run – this time for the SAG New York Local presidency. In 2009, he was elected president, now moving to co-chair several negotiating committees on which he had previously been serving. He served on the union's G1 committee that created the framework for the 2012 merger of SAG and AFTRA, helping lead the campaign in New York. 
During his many years of union leadership, Hodge was also active in several union committees: National and New York Executive; Professional Representatives; TV/Theatrical Negotiating; Basic Cable Negotiating; Network Code Negotiating; Corporate/Educational and Non-Broadcast Negotiating; Organizing; Government Review; and Communications.
Hodge also served as a member of the New York State AFL-CIO Executive Council, the City Labor Council and as a trustee to the Industry Advancement Cooperative Fund. He was instrumental in establishing and extending the N.Y. film production tax incentive through 2022, and he worked to strengthen the N.Y. Right of Publicity law for all members. He also worked with New York's elected officials to create the city's entertainment industry internship program, which has helped improve diversity behind the camera.
Hodge was born February 24, 1947 in McComas, West Virginia. He graduated from Gary District High School as valedictorian of the class of 1965. 
Countless relatives, friends, professional colleagues and the N.Y. Local staff will miss his warm smile, hearty laughter, generosity and big personality. He loved life and spending time with his family. Together, they enjoyed Thanksgiving and Christmas, with rare exceptions. Memorable family vacations with mom, siblings, nieces and nephews included trips to Hawaii, New Zealand, New Orleans, the Caribbean Islands, and family reunions in Ohio and Virginia.
Hodge was predeceased by his father, Rev. Ulysses G. Hodge and is survived by his mother, Roberta Hodge Johnson of Mint Hill, N.C.; brother, Joseph Hodge (Jacqueline) of Dayton, Ohio; sisters, Karen Hodge Thomas (Chester) of Mint Hill, N.C. and Vicki Hodge Lynch of Waxhaw, N.C.; two nephews, Justin Thomas (Julie) of Mint Hill, N.C. and Jordan Lynch of Waxhaw, N.C.; two nieces, Courtney Thomas Evans (Gabriel) and Dayna Hodge Lynch of Waxhaw, N.C.; a great niece, Zoey Thomas and a great nephew, Gabriel Thomas Evans, Jr., whose arrival on Sept. 8 provided great joy to him.
Dear New York Local Member:
I am saddened to report that New York Local President Mike Hodge passed away suddenly on Saturday, September 9, 2017.
Beyond being the elected leader of our local and a board member with 16 years of service, Mike was a towering presence in our community. He was a powerful unionist, a remarkable leader, and more than anything a great friend, colleague and mentor.
Mike was instrumental in jumpstarting the effort that ultimately united Screen Actors Guild and the American Federation of Television and Radio Artists in 2012. And he built on the powerful foundation of merger to bring cohesion and stability to our local.
He also helped build the industry economy on which New York members' careers now thrive. His vision and leadership made us stronger and justifiably prouder. Alongside the pain of losing Mike, I urge us all to remember his extraordinary achievements on behalf of SAG-AFTRA and Screen Actors Guild before it.
For me, and I am sure for many of you who were his closest friends, this is particularly heartbreaking as we have lost not just a president, but a father figure and a big brother. Mike's passing will leave a huge void, which will be felt in a hundred ways, big and small over the coming weeks and months.
I have been in contact with his family and will share information on services as soon as that is appropriate.
For now, please join me in wishing our dear Mike a fond farewell and a good journey.
I was very sorry to hear of the passing of Mike. You have my deepest sorrow. I saw him at one of the film screenings.  He was a great person and got the job done!
Thanks Mike!
Shirley Hatcher
---
Mike Hodge had a unique generosity of spirit which makes everyone feel that he is their best friend! How beautiful ...and how much harder it makes his absence from us. As a Union brother his fairness, dedication, and intuition was unparalleled.  As a person, Mike Hodge was precious to all lucky enough to know him. 
Thank you, Mr. President. You are certainly loved.  We are grateful to you, appreciate you, and honor your life well lived. 
leslie Shreve
---
I was devastated to learn about Mike Hodge's passing. As a newbie to the National Board he was so open and an instant friend. He gave me direction in the capacity of Leadership.  We had dinner together in July with many other board members, and it was the most rewarding experience for me as I sat opposite Mike and he heard me.  It was as if he spoke to my soul and understood with his penetrating eyes.  After returning from Plenary, I reached out to him again and he graciously supported my continued leadership in Texas.  I was so looking forward to seeing him again at Convention in October and giving him a big hug of gratitude and tell him what you told me hit my soul and thank him.  Oh Mike ... too soon. I was just getting to know you. God must have an immediate need for you on the other side; in the interim, my tears flow. A major loss to our union and the many friends he made along the way. I'll miss you Mike
Pamela Weaver
---
Mike warmly welcomed me into the merged fold of SAG-AFTRA's NY Local Board. I so enjoyed our conversations about unionism and family, our dinners at Morton's and, especially, our many moments of laughter.  We also shared a love of literature and of our work as audiobook narrators. One of the most vivid moments forever etched in my memory is when he presented me with one of his favorite books, Song of Solomon, by Toni Morrison. He told me he felt it would inspire me as it had him. He was indeed speaking the truth. I'll be remembering him today and beyond through as passage in that book: 
In the nighttime.
Mercy.
In the darkness.
Mercy.
In the morning.
Mercy.
Thank you.
Carol Monda
---
Mike Hodge was a force.  His presence in any room was powerful but always compassionate.  Mike had a passion for service, always using his voice for the voiceless.  And his deep, resounding voice spoke loudly on behalf of all performers everywhere.  Without question, his service made a difference for actors and our industry.  I will miss his laugh, his friendship, and his partnership.  But his was a life well lived, and I'm better because I knew him.  We all are.  God bless you, brother.
Mike Pniewski.
---
Anything I say about Mike Hodge will be redundant and no revelation, but I need to share how profoundly he touched the lives of everyone around him.  Mike was the most dear, giving, and generous person I know.  His life was full, and he made the lives of those around him better.
Recently, I wanted Mike's support, so I approached him.  "Mike, I'd like to ask . . . ."  Before any more words were out of my mouth, he said, "Whatever you want, I'll do it."  And he did, sincerely and quickly.  That was Mike Hodge.  We can all learn how to be better by following the example Mike set.  I miss Mike Hodge and pray for peace and comfort for both him and his loved ones.
Mel MacKaron
---
Mike...
The news of your passing came just as I was getting to know you. The messages that we exchanged were always of a supportive and encouraging nature, and I truly appreciate your guidance. I respect your talent, achievements and commitment to our union. I thank you so much for taking time to reach out, for being a mentor and resource, and most of all, for being a friend. I consider myself fortunate to have had an opportunity to enjoy your attention and wisdom. Rest in Peace. 
Respect, 
Michael J. Asberry
---
Since the first day I walked into the Cagney room eighteen years ago, I have counted Mike among my dearest friends. I will miss his deep voice of reason, his passion for serving members and doing the right thing, his big distinctive laugh, our battles into the night playing words with friends and his hello and goodbye hugs at every meeting. I will miss you so much my friend.
Debra Nelson
---
Mike Hodge was an incredible human being with a big heart and soul who cared about everyone and lived his life unselfishly.
Elaine LeGaro
---
Mike,
It is hard to think that your larger than life presence these last years won't be helping to guide us with kindness and clarity. Your devotion to your fellow members and support of the staff will be sorely missed. I think of you with your marvelous smile and laugh looking down, encouraging us to continue our good work.  Thank you Mike.
Kathy Connell
---
How can one encapsulate years of inspiring friendship and service to the union together? Mere words will never be enough.
That laugh. That voice. That heart. All will be ever missed.
Marc Baron
---
Mike Hodge is the reason I am presently an officer at SAG-AFTRA.  Between his breathtaking intelligence, sharp wit, profound human decency, and melodious voice, Mike could have talked me into doing just about anything.  I'm so glad he never asked me for money! LOL I thought of every excuse under the sun to NOT do union service, and yet, we somehow both knew I was going to do it after hearing his smooth as jazz argument to do so.  I remain eternally grateful to Mike for giving me the courage to serve when I did not quite have it in myself.
Years ago, I lost my big brother to Leukemia. And since his death, I've wondered from time to time, what life would have been like, how it would have been enriched, had my brother stayed alive. I found that out, quite by surprise, through my friendship and brotherhood with Mike Hodge.  Some gifts can never be adequately repaid.
Rest in peace, big brother.
Adrian Martinez
---
Above all the admiring thoughts and memories I have of Mike, the joy that will remain foremost with me is that, when something struck him funny, he would come out with a wonderful, spontaneous and hearty laugh.  It filled the room and told us all we needed to know about him.
Gerald Kline
---
Several years of serving together on the National Board notwithstanding, my favorite memories of Mike are the long nights of talking and drinking at his favorite midtown joint--Matt's Grill on 8th Avenue. After absurdly long video conference meetings, a group of us would invariably descend on the place, having called to let John the bartender know we were en route so he'd stay open. We'd all tell stories and laugh and drink and maybe talk a little business and occasionally sing until we closed the bar.  I have every intention of continuing that in January, and hoisting a cocktail to him.
Richard Shavzin
---
I saw Mike on TV many times. I immediately liked him. I voted for Mike Hodge many times before I finally met him in the spring of 2013. Doesn't seem such a long time to know somebody, but two National Conventions, two successful TV/Theatrical Contract negotiations, three elections, and more than a dozen National and Local Board meetings later… you get the full measure of a person; particularly one of great skill and humanity such as Mike. We shared many a meal together, many a car ride, many a laugh, many friends, and many late-night conversations about pretty much everything, SAG-AFTRA in particular.
There wasn't a story I could tell Mike that he didn't have his own anecdote for, always putting a nice relatable bow on whatever topic we'd share. And he loved regaling me (everyone, really) with stories: about his family, his DC years with The Washington Post, and the many plays he was in.  I once showed up to a SAG-AFTRA function all decked out in a nice suit and a hand-tied bowtie. He appreciated my craftsmanship and then went on to tell me of his experience in Master Harold and the Boys, where his character sported a bowtie. Wardrobe gave him the option of either tying his own or wearing a clip-on. He wanted authenticity, so they showed him how to tie one, but after one performance where he nearly missed his entrance, he abandoned all efforts and went with the clip-on thereafter. We laughed. A lot.
Rarely has anyone so impacted me in such a short period of time. I, and those of us who knew him, have been blessed by the grace of a true friend and stellar human being.    
Jack Mulcahy
---
It is with regret to hear of the passing of a wonderful guy.  Mike and I were often in auditions in New York City for the same roles, and he got many good roles and I didn't.  We always had a good laugh, thinking that one day big breaks would come.  And they did from time to time.
I wish your family well, Mike. I'll bet that no matter your situation that you left this Earth with a positive attitude; your smile and joking will be remembered by me and I'm sure many others.  My Blessings for a life well done.
J.J.R. Ramey
---
Mike was a rare breed, both larger than life & completely down to earth. As a leader, I looked up to him & looked forward to working with him. His awe-inspiring compassion was evident in even the quickest conversations. The type of skipper who took the time to get to know you and make sure your value was known even while securely steering the ship. He was a mentor and a friend and his loss is profoundly felt within our union and artistic community.
Nick Fondulis
---
I don't know where to begin with my remembrances of my beloved friend, union colleague and spiritual big brother, Mike Hodge. We were friends for around twenty years. He was the first person that, when I began serving on the legacy SAG Board of Directors, took me under his wing to make sure I was brought up to speed on the steep learning curve of union board service. We had countless conversations about practically every topic in the human experience, at all hours of the day and night, on the phone, in person and at restaurants all over the country.  He made sure I was brought into the fold and educated about our SAG and now SAG-AFTRA union contracts. 
He was fearless and tireless in his advocacy for all members of our union but also for those who can get overlooked in life. In and out of union service, he was a man of the world.  He chatted with everyone, from all walks of life, regardless of their backgrounds and origins.  There was always a place at the table of Mike Hodge.  He truly did feed the hungry, clothe the shirtless and house the homeless.  I can go on and on about my love, respect and joy of friendship, but as President Hodge would always say to me, "Say what you need to say, Brother Scullin, speak from your heart, keep it brief and be focused."  Mike, you were a true gift to us and especially to me. I will miss you always!
Kevin Scullin
---
Thanks, Mike, for your exemplary presence, a calm in the center of the storm, yet richly alive, an eternal mentor to us all.
Maureen Donnelly
---
My beautiful Mike Hodge is with the angels now.  The press accounts I read did not include my favorite story Mike told me. It speaks to who he is and how he handled adversity. It is what made him such a great leader. In 1964, when President Lyndon B. Johnson launched "The Great Society," college students went door to door to talk to people who were living in poverty to discuss what their needs were. The goal of the outreach was to eliminate poverty and racial injustice. Mike did that one summer in West Virginia, and one day, the door opened and a very angry white man pointed a shotgun in Mike's face and ordered him to get off the porch. Mike very calmly started talking to the man, and eventually the gun lowered. Of course I was horrified as he told me the story, but Mike just smiled. "It was so great," he said. "He eventually invited me inside and we sat and talked for about two hours. We found so much common ground." Anyone who has ever witnessed this man's grace at a SAG-AFTRA meeting, whether a membership meeting or local or national board meeting, knows the power of his calm, measured voice. He met anger with peace, he answered derision and criticism by saying, "Okay... okay..." as he let people vent; he simply listened and never met adversity with anything but grace. If I can have one ounce of his grace, I will be living a great life. Rest now, my beautiful hero.
With love from Liz Zazzi
---
My memories of Mike Hodge are numerous, and I'm sure we can all recollect the voice, the calmness, focus, the enormous generosity, and the wonderful presence of Mike Hodge.  But I'd like to briefly share our mutual love of Robert Graham shirts. I have two; I think Mike had at least five, if not more. I was always amused when we both showed up wearing our own specific Robert Graham shirt and the mood it helped us each reflect. We even each had one that was close in color and pattern (but not quite). We'd make a comment and a nod of mutual respect (even if we'd already seen the other's shirt). It was tongue in cheek and filled with amusement. There is so much I'll miss about Mike, but it's that sense of joyful amusement at the creative beauty of the world around us I'll miss most. 
William Charlton
---
Mike was grace incarnate.  For all his wisdom and experience, he remained open and humble.  I offer this story in support of his generosity of spirit.
Post-merger the President's Forum came into being, and it was 'decided' that NY and LA would be at the table with the smalls and mids ~ not everyone was on board.  At our first meeting, Mike expressed that he didn't think the Forum was necessary as we had in place national committees, board meetings and staff to discuss and handle our needs.  In time, Mike shared with the room how wrong he had been and that he came to realize he had no concept of the challenges that the smaller locals faced, particularly those with no brick and mortar and no dedicated staff.  He could not believe the load that the member leaders in the smalls and mids carried, and he apologized to us for his ignorance.  From that moment on, he championed us and never looked back.  With grace and humility he helped to bridge the gap between the smaller locals and the major markets.  We can't imagine the President's Forum without all twenty-five locals present.  Mike's spirit will always be with us and I will carry him in my heart always
Sheila Ivy Traister
---
Beyond his booming, silky voice and colorful patterned shirts, was a man I shared too many teleconferences with and who I sat next to, over the past four years, at a variety of meetings.
My all-time favorite moment with Mike was after a January marathon meeting; it snowed 25" in NYC. The roads were closed to all cars! Somewhere we found the energy and humor in walking right down the middle of Broadway- a small band of SAG-AFTRA brothers and sisters, united. What a special and wonderful moment. Your memory lives on Mike Hodge. Thank you for your kindness.
Ilyssa Fradin
---
The last time I spoke to Mike we were discussing a challenging subject and he said, "You know, I love your passion." What I loved about Mike was that even in a heated discussion he'd see the positive gift inside the situation. It's a life lesson to all of us, especially those of us lucky enough to have known and worked with him.
Anita Hollander
---
To the immediate family and the D.C. Black Repertory Co. Family of our loved and recently "SPIRITUALLY REASSIGNED" brother, Michael B Hodge: I extend shared condolences!!! My heart is rendered jagged and shredded over the shocking swiftness of the departure of our beloved MIKE HODGE!!! Always the voice of reason in our "REP" Dressing Rooms which, to ascertain long standing rumors, I joyfully participated in amping up the volume and occasional volatility. Mike was the presiding voice of reason because he truly loved playing that role for his "REP" family!!!
Many years later, when Mike expanded his familial interests to include the "working performers" of this country, it always fascinated me and gave me a "good all over feeling when MIKE would acknowledge my presence at the SAG-AFTRA OFFICE, even if but for a couple of brief moments, a hug and a laugh or two!!! I will miss saying, "MY BIG BROTHER'S THE PRESIDENT UP IN HERE!!!" We will all miss that secure comfort of knowing all was well and in good hands when MICHAEL B. HODGE was the voice of reason in the room!!!
REST WELL BROTHER!!!
Kene Holliday
---
The assuring voice, the insightful presence and the generous Spirit, all will be deeply missed. In our conversations, he was supportive and encouraging, offering suggestions and insights from his worldly understanding of life and experiences. I was always excited to see Mike, whether in person or in film; he made the world better and safer. He was a great person, not by who he knew, but by what he did, for everybody. With deep sympathy,
Carol Rhodes Dyson
---
Mike, today the union you worked tirelessly to unify and organize will get to wish you Godspeed. I will be there, as I know you will in spirit. If I could speak at the service, I would keep it short, for brevity is the very soul of wit. You were a large man, Mike, but you had to be. You had an enormous heart and gave of yourself endlessly. I did not get the chance to know you well or work as closely as many with you, but I remember that you were one of the most positive people I've ever met. Our friendship was mostly on social media, and I saw how, even when you vehemently disagreed with someone, you tried to find common ground with that person to build something out of the disagreement. I know you carried that over to your day to day life, too. Whenever I was up at the offices, whether for a party or a meeting, to take a class or even just to hang out after a softball game, if you saw me you'd make a point to greet me and always had a good word to say about what I was up to, whether it was encouragement or support or even just a "try again".
You were a beacon, a lighthouse on a stormy night. You told us "There is danger here, but let's navigate it together and we can find a safe harbor." In these trying, uncertain times, when the very existence of our union, indeed our nation, is under threats from evil and foul-minded people of all stripes, your beacon will be greatly missed. It will take many multitudes to carry on your work, Mike. I will try to be one of them.
Carl Salonen
---
Some years ago, I was going through a personal crisis that seemed endless and caused me great pain and many a sleepless night.  My dear Mike and I had planned to meet for lunch as we did once every couple of months or so when we could fit it into our schedules.  We usually met somewhere near the Guild when we were on Madison, and had happily planned to meet one day mid-week at around noon. 
When I awoke the morning of our scheduled lunch, I was in a bad way and didn't feel like imposing my negative mood on anyone, especially my darling Hodge.  I decided to call him and beg off, as I was pummeled with emotion and immobility.
ME:  "Mike, sweetheart, I think I need to cancel our lunch today.  I'm having a difficult morning and…"
MIKE:  "Great!  I'll see you at Noon!"
ME:  "But, Mike…really…I'm having a hard time.  I'm really upset and feeling pretty helpless right now."
MIKE:  "Which is why I will see you for lunch at Noon, Miss Traci."
I hung up the phone, pulled myself out of bed, and got myself ready for my day including my coveted lunch with the indomitable Mr. Hodge.  When we sat down to lunch, I warned him again of my mood and ordered my Caesar Salad with extra grilled chicken.  And Mike began to talk.  As usual, he spoke lovingly of his family, a ritual that always made me smile.  Then he tackled my situation - brilliantly.  As we left the restaurant he added, "I know you have a busy day, and I know you're feeling rocky…but I'd better hear from you when you get home or I'll be calling you at two in the morning."   I laughed, hugged him, and went about the business of dealing with my dilemma, grateful for Mike's words of wisdom.
The day got away from me and by the time I got home that evening, I was spent.  I made a quick dinner; got my son tucked into bed, and crawled under the covers hoping for some much needed sleep. 
After a few fitful hours, I rose just before 2 a.m. to get some water when my cell phone rang.  "Who the heck is calling me at 2 a.m.?" I thought, hoping it wasn't some call regarding my "dire" situation. 
I looked at my cell phone as it continued to ring.  MODGE, it said on the screen.  It was Mike.  Why was he calling me so late?  I hope he's okay, I thought as I answered.
MIKE:  "Well, hello, Miss Traci.  You didn't check in with me."
ME:  "What? I…"
MIKE:  "I told you that if I didn't hear from you, I'd be calling you at 2 a.m.  Well, here I am calling you."
I laughed.  It was so very "Mike" to keep his promise, and to hold you to yours.  So very "Hodge" to be accountable, and to expect the same.  Lots to be learned from this Gem Of a Human Being.  So very much.
Two in the morning turned into three in the morning as we chatted and he, once again, quelled my fears with his most soothing voice.  A voice that I will never forget and will always hold dear to my heart.
Since September 9th, I have had a couple of late-night rings on my cell phone.  Some from friends in Sweden, some in Los Angeles where the hours are different, but friendship still remains timeless.  When I groggily awake with these "rings", I wonder if it may be Mike.  Mr. Hodge, calling to see if I am all right.  To "check up" on me.  I wonder if I will see MODGE on the face of my phone, signaling his late-night support.
I believe that we continue as energy after our time here on Earth.  I believe that what we "give" we "receive".  Mike Hodge, my dear "MODGE" gave me precious gems that I will hold forever.  Mike Hodge was my mentor, my friend, my supporter, my brother, and I will take his "call" at any hour, on any day.  And, he will call.  I love you, Mike.
With deep love and tremendous admiration,
Traci Godfrey