The Official E-Newsletter of the SAG-AFTRA Michigan Local
STANDING ROOM ONLY AT VOICEOVER WORKSHOPS   
Michigan members were again privileged to have SAG-AFTRA member Paul Liberti travel in from New York to conduct three voiceover workshops. The first was Contemporary Commercial Voiceover, the second was Audio Book Narration Skills and Techniques, and the third was Animation and Character Development.  
Liberti previously visited Detroit through a program sponsored by the SAG-AFTRA Foundation, and participants urged the local leadership to invite him back. Members were especially fortunate to have these workshops at the beautiful Studios on the Pond in Farmington Hills, where a sound booth and studio were at their disposal. Special thanks to Paul Liberti and the hosts at Studios on the Pond.
2015-2017 MICHIGAN LOCAL BOARD
Eric Wydra – President
Nicole Hakim Yohn – First Vice President
Jo-Jo Shutty-MacGregor – Second Vice President
Phil Elam – Third Vice President
Shane Carson – Secretary
Dan Lemieux
Jacqua Scott 
Patricia Sweeting
Peter Tocco
Nancy Wagner
Message From the President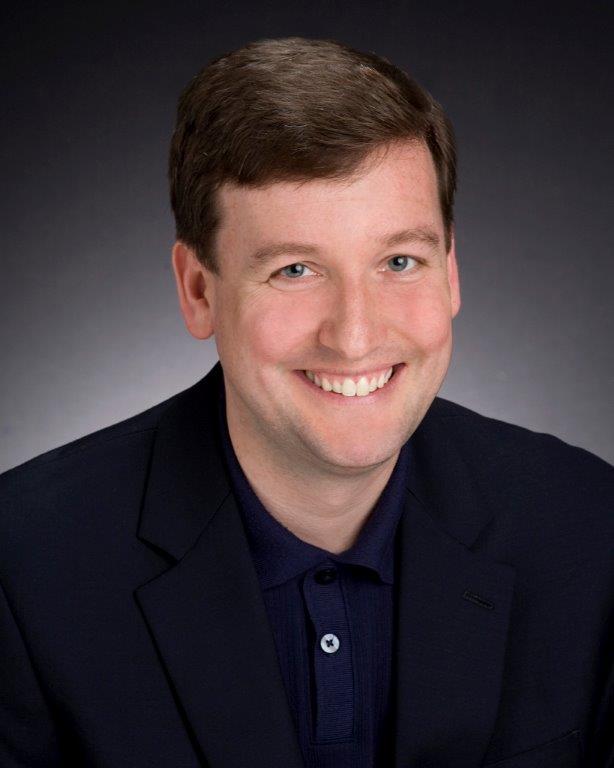 Happy holidays, SAG-AFTRA Michigan members!
I can't believe 2016 is quickly coming to an end. As I look back at this last year, I am energized by the activities and events that SAG-AFTRA Michigan members participated in. From Coffee Connections to voiceover seminars to time spent volunteering with students through the A Call to Arts initiative, SAG-AFTRA members have been busy! The personal highlight for me was our annual membership meeting held at Forgotten Harvest in April. I thoroughly enjoyed hearing from Executive Vice President Rebecca Damon, mingling with fellow members and the volunteer activity of packing food that was delivered to people in need. Everyone participating had so much fun while we were volunteering. It really emphasized to me how strong we are as a union when we work together, stand together and support each other and the communities we live in.
I took over as president of the Michigan Local in July, succeeding Jayne Bower. I would like to offer a personal word of thanks to Jayne. She has served on the boards of AFTRA and then SAG-AFTRA for many years and has made an incredible impact in the lives of our local members. I have learned a great deal from Jayne the last several years working together on the Local Board and I look forward to continuing to support our membership. We do have a hardworking, energetic board and I'm extremely thankful for the board members' creativity, dedication and passion for union service.
As your president, I want to make sure that we are offering the types of programs, events, activities and services that you desire. When I took over the role in July, our President Gabrielle Carteris called me to introduce herself. We discussed on the call that we both felt one item above all was extremely important: member engagement. As such, I would like to hear from you. Feel free to suggest ideas for future events, what kind of member educational seminars you would like to participate in, community outreach you feel we should consider or any ideas to increase our membership. Also think about ways to increase the number of SAG-AFTRA commercials (radio and TV) produced in Michigan or any other questions you might have. One of my goals is to ensure that our members feel engaged and supported by their union. My email address is michigan.president@sagaftra.org — please feel free to contact me and I promise a reply to every email. Whether you work as a broadcaster, an on-camera actor, a voiceover artist, a stunt performer or a musical artist, we are all SAG-AFTRA and together we can accomplish incredible things.
I hope to see many of you at the SAG Awards party on Jan. 29, 2017, at the Triple Nickel in Birmingham. I wish you and your family a happy and healthy holiday season and a wonderful 2017!  
Eric Wydra
President, Michigan Local Board
Attending a National Board Meeting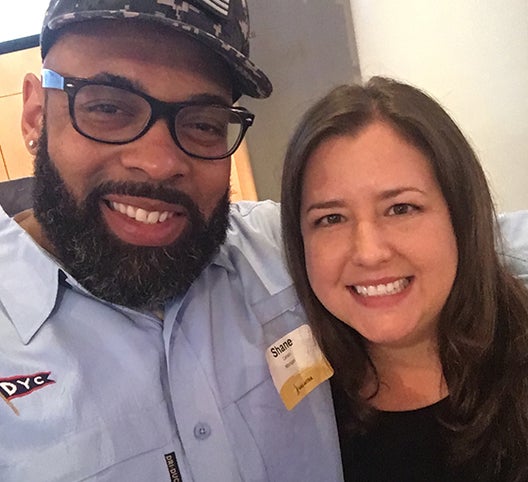 Shane Carson and EVP Rebecca Damon
Hi! I'm Shane Carson, secretary and board member-at-large for the Michigan Local.   
On the weekend of Oct. 14–16, I attended my first SAG-AFTRA National Board meeting. I was an alternate to Michigan Local's National Board representative, Peter Tocco. The meeting was held in Los Angeles and the experience was amazing, to say the least! Below is a short review of a few things that made this trip so memorable.
After arriving in L.A. and getting checked into the hotel, I met with our Michigan Local administrator and was brought up to speed, while learning about certain protocols — including certain do's and don'ts that should be adhered to during the various plenary sessions.  
By 8 a.m. on Saturday, I was ready to face my mission with an eager smile on my face and backpack — that of course contained the requisite notebook, pen and highlighter — while patiently standing in the lobby of the Beverly Hills Hilton Hotel waiting to be transported to the gorgeous SAG-AFTRA Plaza building.
During the course of the meetings, I continually found myself to be in awe of the level of detail that goes into making our union move forward. The number of "moving parts" that go into ensuring our members have the best chances of receiving the best possible wages, working conditions and safety standards in the various industries that our union represents is absolutely mind-boggling. To witness and to be part of how the "recipes" actually get made at of one of the worlds' most prestigious and highly regarded performers' unions was unforgettable.
Best of all, the people were golden! The committee meetings, sessions, reviewing of reports, and the overall events were strictly business and very professionally handled. On Saturday alone, our day ran from 9 a.m.–8 p.m.!  
In the spirit of former U.S. President John F. Kennedy's 1961 inaugural address speech when he said, "Ask not what your country can do for you — ask what you can do for your country,"  I ask all of my fellow union brothers and sisters — myself included — from this day forward to not be passive, and ask what we all can do for our union.  
Broadcasters Celebrate the Holiday Season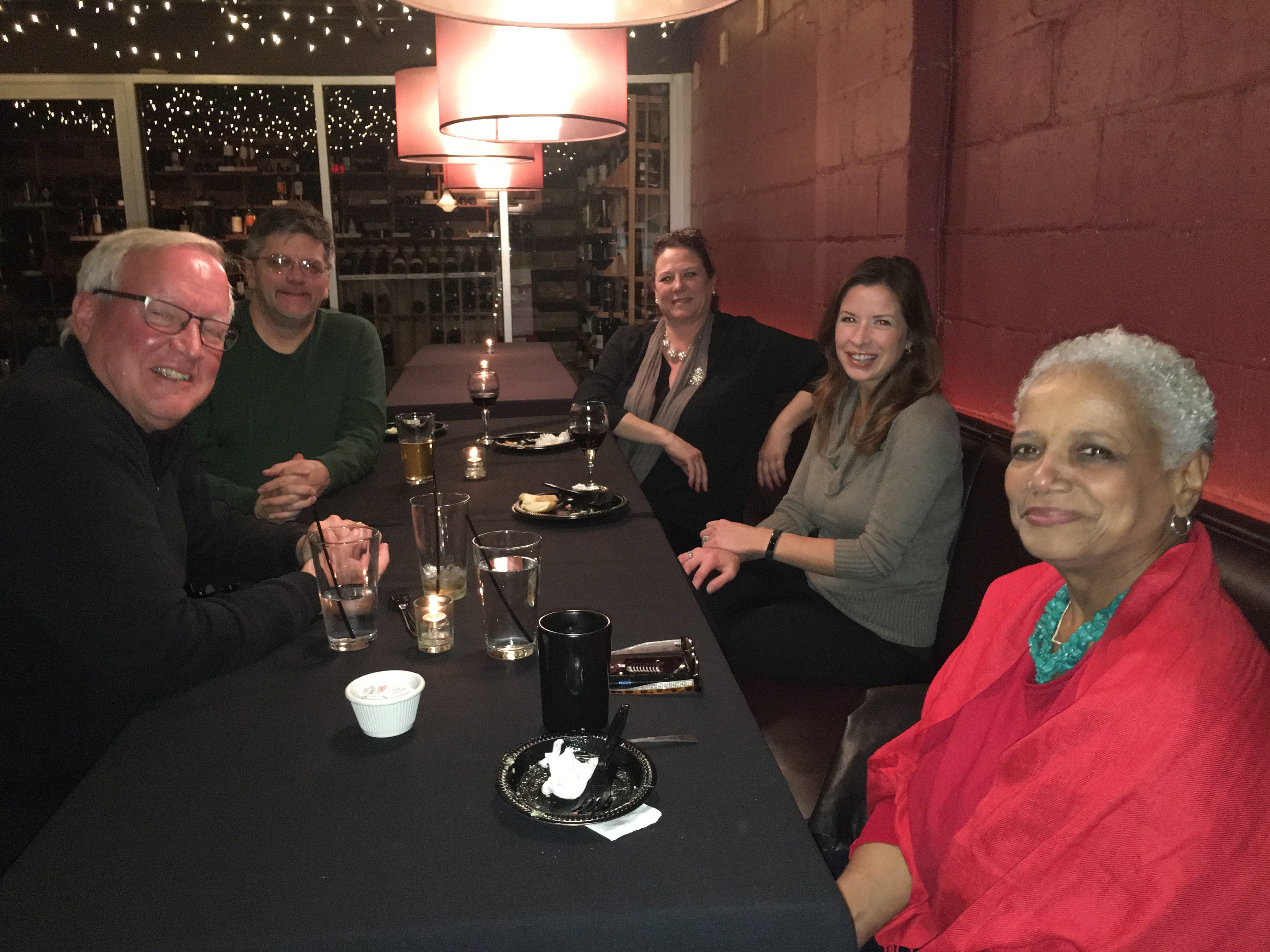 SAG-AFTRA Michigan Local broadcasters celebrate the holiday season at Bastone's restaurant in Royal Oak on Tuesday, Dec. 6. Michigan Local Board members joined them in the festivities with lively conversations and tasty party food. Happy holidays to all who were not able to attend the gathering.
Michigan Board Member Retreat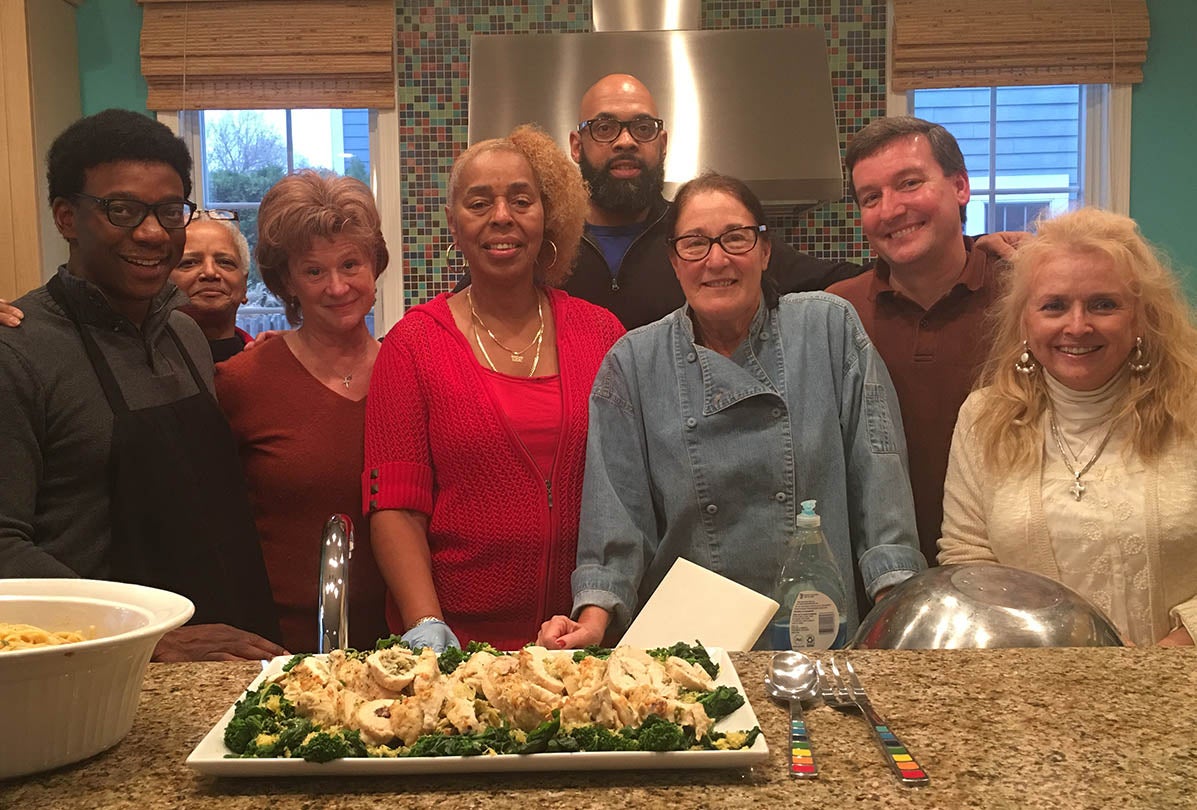 Michigan Local leaders at the Dec. 4 retreat
Michigan Local members should be very comfortable in knowing that their fellow leaders — the Michigan Local Board members — have a thirst for studying and learning best practices toward becoming the most effective of leaders. Recent board meetings have included educational sessions regarding techniques for brainstorming and problem-solving, along with key attributes for good leaders. With continued enthusiasm for such materials, the board members participated in a leadership retreat on Dec. 4. As seen in the photo above, one activity involved problem-solving around the preparation of a meal — facilitated by a professional chef. All members left the retreat with new and enhanced leadership skills.
Coffee Connections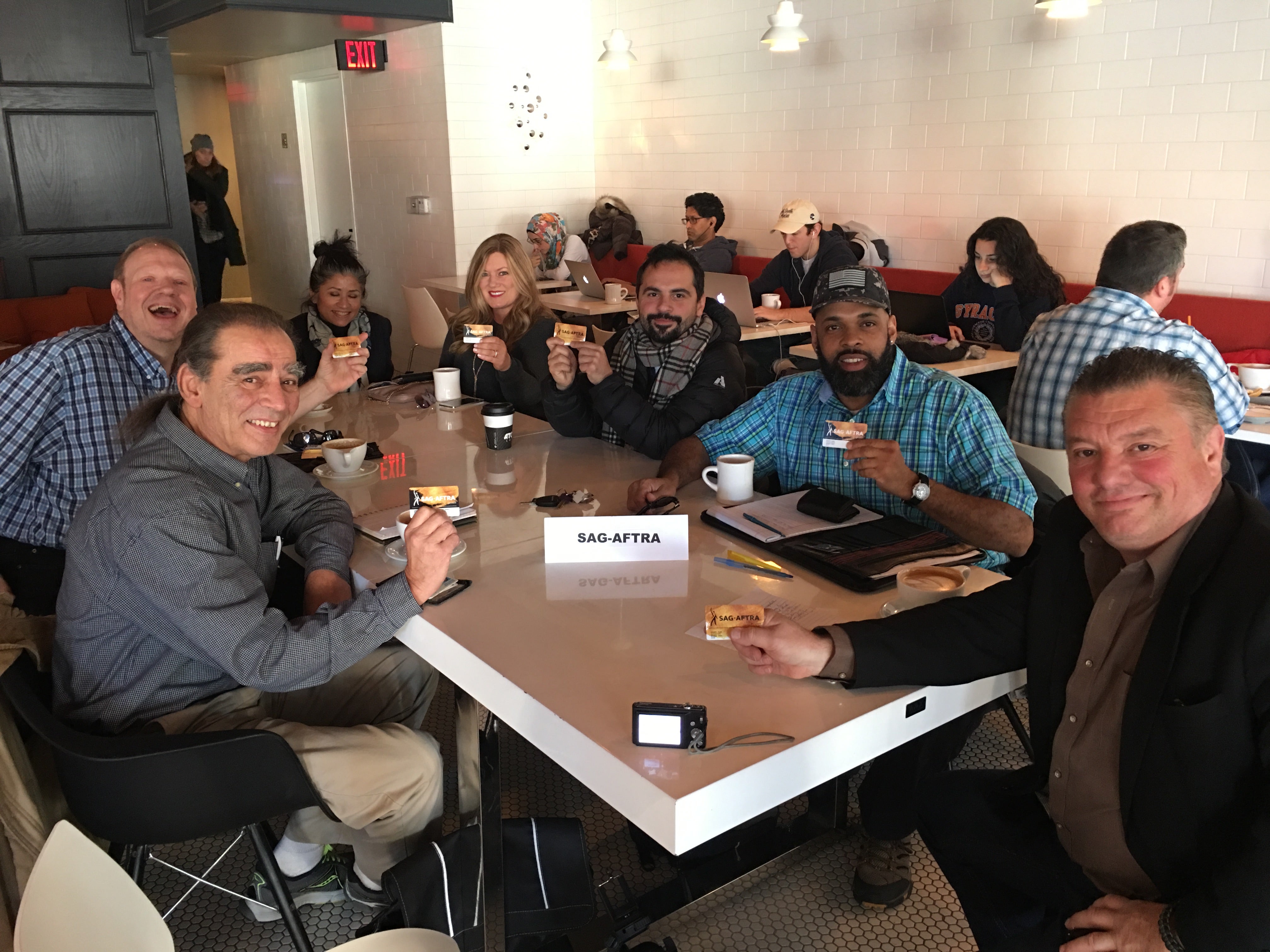 Members at the Coffee Connection on Nov. 21
Members continue to join in on Coffee Connections throughout Michigan. Such gatherings are great member-to-member opportunities for the discussion of issues, accolades and overall camaraderie of fellow sisters and brothers.
Upcoming AFL-CIO Metro Activities  
We're rapidly approaching the end of another year.As 2016 draws us closer to the dawn of a new year, we in organized labor look back on the gains and losses of this past year and wonder what might be ahead in 2017. SAG-AFTRA Michigan Local Board member Pat Sweeting put the question to Rick Blocker, president of the Metropolitan Detroit AFL-CIO. Here are some issues they are working on: 
• Exploration of "fair share" payment written into the "right-to–work" law.
• Continued organizing of new members throughout the Michigan unions.
• Continued emphasis on the importance of collective bargaining.
• Discussions regarding the upcoming 2018 elections in Michigan.
• Building relationships with present Michigan legislators, even if they are perceived as opponents to the AFL-CIO. As Blocker noted, "Talking has solved a lot of problems in this world."