The Official E-Newsletter of the Michigan Local
WANT TO GET INVOLVED? HERE ARE TWO WAYS
1. A Call to Arts: Become a Mentor to Students and Other Members
In response to President Obama's national call to service and mentoring, SAG-AFTRA and the American Film Institute are collaborating to mentor aspiring storytellers and creative and performing artists interested in pursuing careers in the cinematic arts. Are you intrigued? Might this be a way for you to combine your love for your craft with an act of fulfillment and kindness? Click here to learn more, register and start logging your mentor hours.
2. Support the Fair Play Fair Pay Act
Join thousands of musicians and music-lovers in supporting bipartisan legislation to reform music licensing and make sure music creators receive fair pay for their work. The act requires fair pay on all types of radio, ending the FM radio loophole that lets FM radio play artists' music without paying the artist (unlike SiriusXM and Pandora), and stops digital services' groundless refusal to pay artists for playing music made before 1972. Tell Congress to stand up for fair pay for music creators. Click here to learn more.
SPECIAL ISSUE FEATURING MEMBER ACTIVITIES IN MICHIGAN
Membership Meeting and Theatrical Contracts Workshop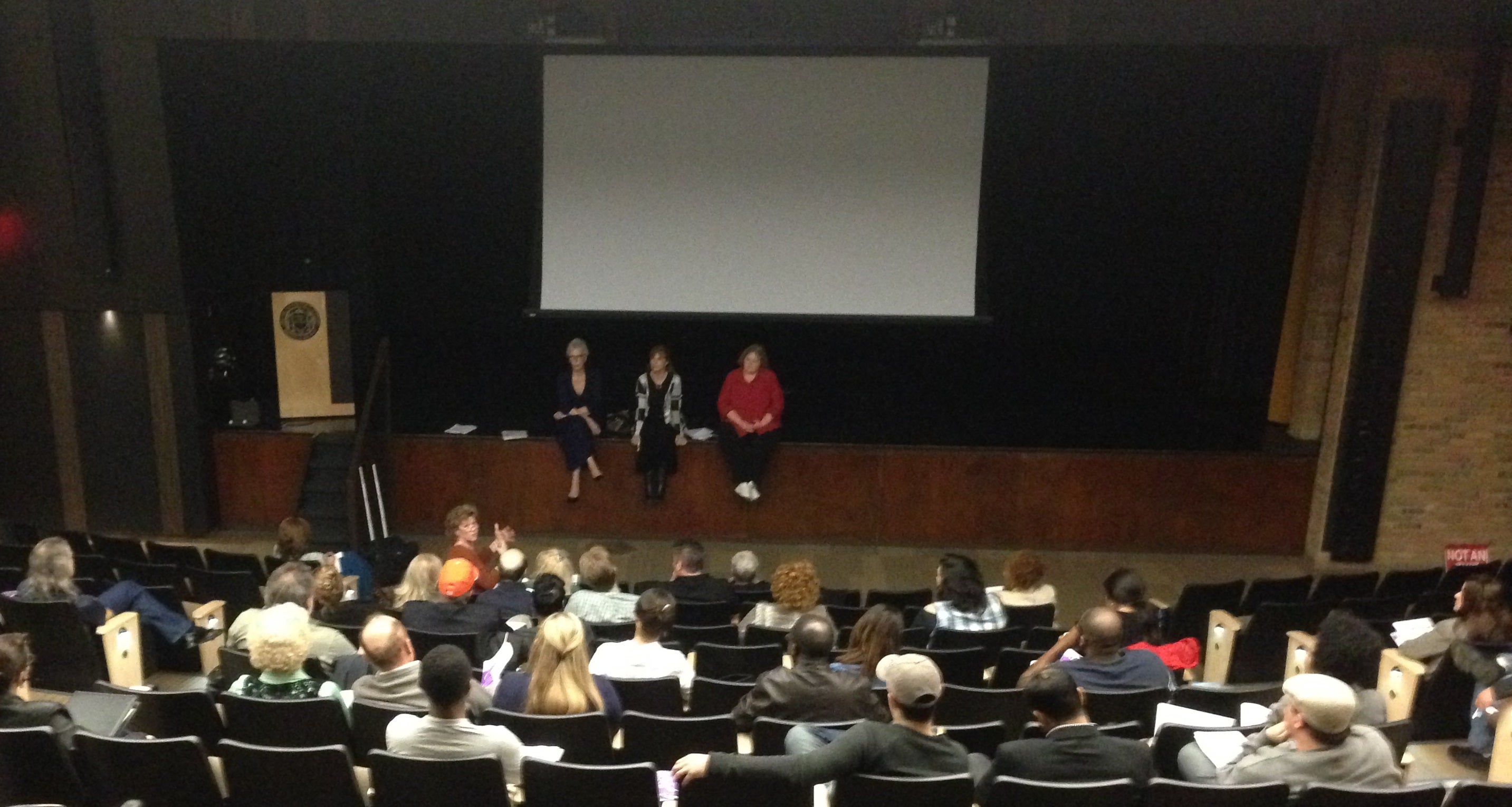 Workshop with Kathy Mooney, Janet Pound and Kathy Byrne
On April 13, the Michigan Local held its annual membership meeting at Lawrence Technological University. Members enjoyed a pizza dinner and mingled with each other, and then gathered to hear news about their union. The meeting concentrated on member activities and how members can become more involved with their union. Included was an introduction to the SAG-AFTRA President's Task Force on Education, Outreach and Engagement.*
Following the meeting was a workshop called Getting Your Foot in the Door through the Low Budget Contract. Special panelists were Kathy Byrne, director of TV/Theatrical Contracts in Chicago, and owners of Pound Mooney Casting, Janet Pound and Kathy Mooney. Students of LTU and local independent filmmakers were also invited. The workshop highlighted the descriptions of the various SAG-AFTRA low budget contracts, how a producer can easily use these contracts and tips for members who wish to perform under these contracts. She also talked about how performers can be empowered to have conversations with filmmakers that may result in flipping a job, and how they could protect themselves by making sure that productions are signed to a SAG-AFTRA agreement before they begin their work (contact SAG-AFTRA to verify union status of the project).
The evening concluded with a dessert reception — one that continued until the doors had to close. Special thanks to Lawrence Technological University for hosting the evening.
*For more information on the President's Task Force on Education, Outreach and Engagement and how you can get involved, click here.
Your Voiceover Career Workshop with Randy Thomas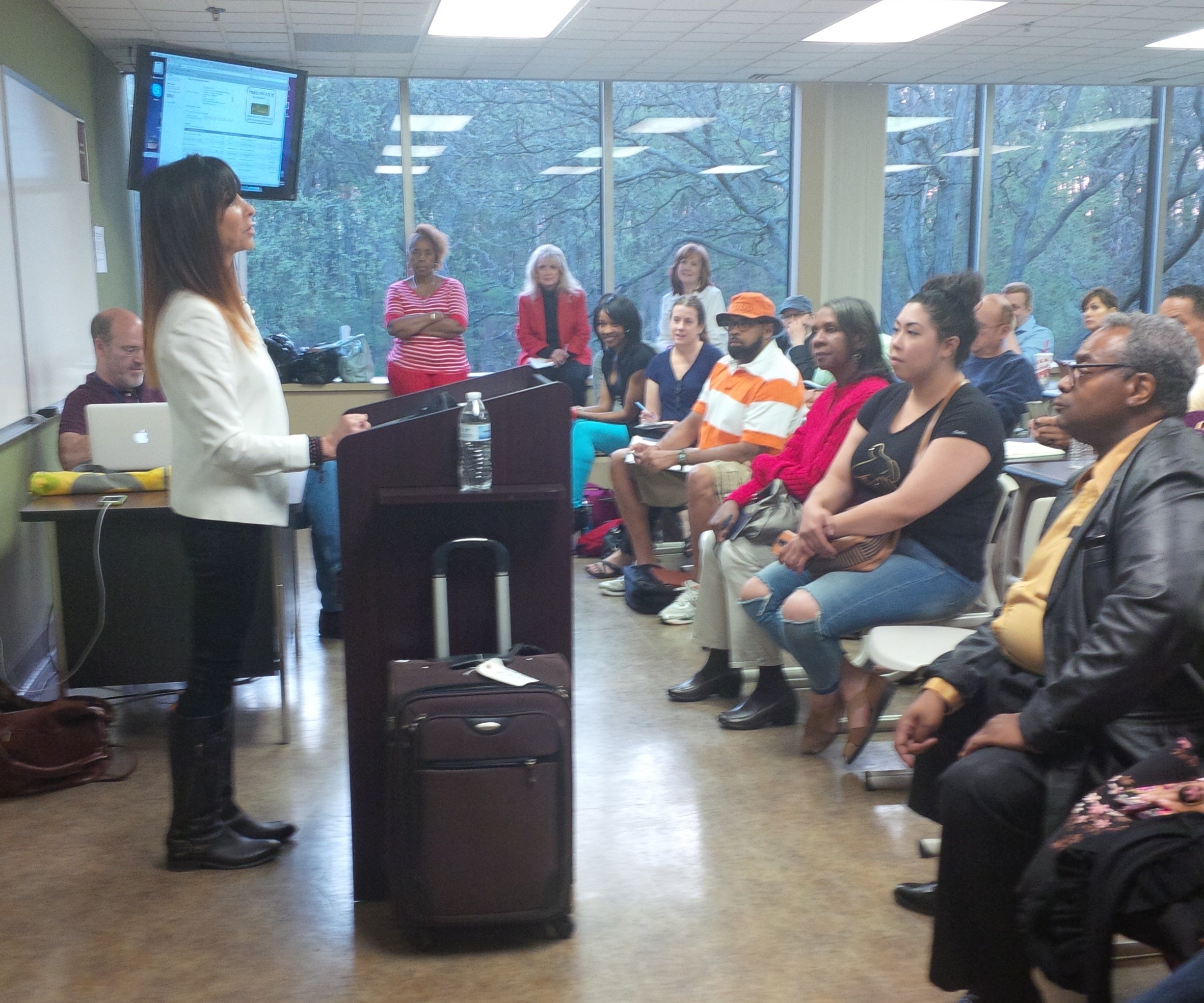 Randy Thomas addresses a full house.
It was standing room only on May 4 at Specs Howard School of Media Arts in Southfield, as the SAG-AFTRA Michigan Local hosted the Your Voiceover Career workshop, featuring SAG-AFTRA member Randy Thomas. Randy was the first woman to live announce television's Academy Awards' show. She has been the voiceover announcer for the Tony Awards for more than a decade and has been the voice of TV's Entertainment Tonight along with hundreds of commercials. Randy shared her advice on auditioning, securing union work and taking care of your voice and body. She began her career in Detroit radio, which made the evening all the more meaningful for SAG-AFTRA Michigan members and the many Specs Howard students in attendance.
Members Meet in Grand Rapids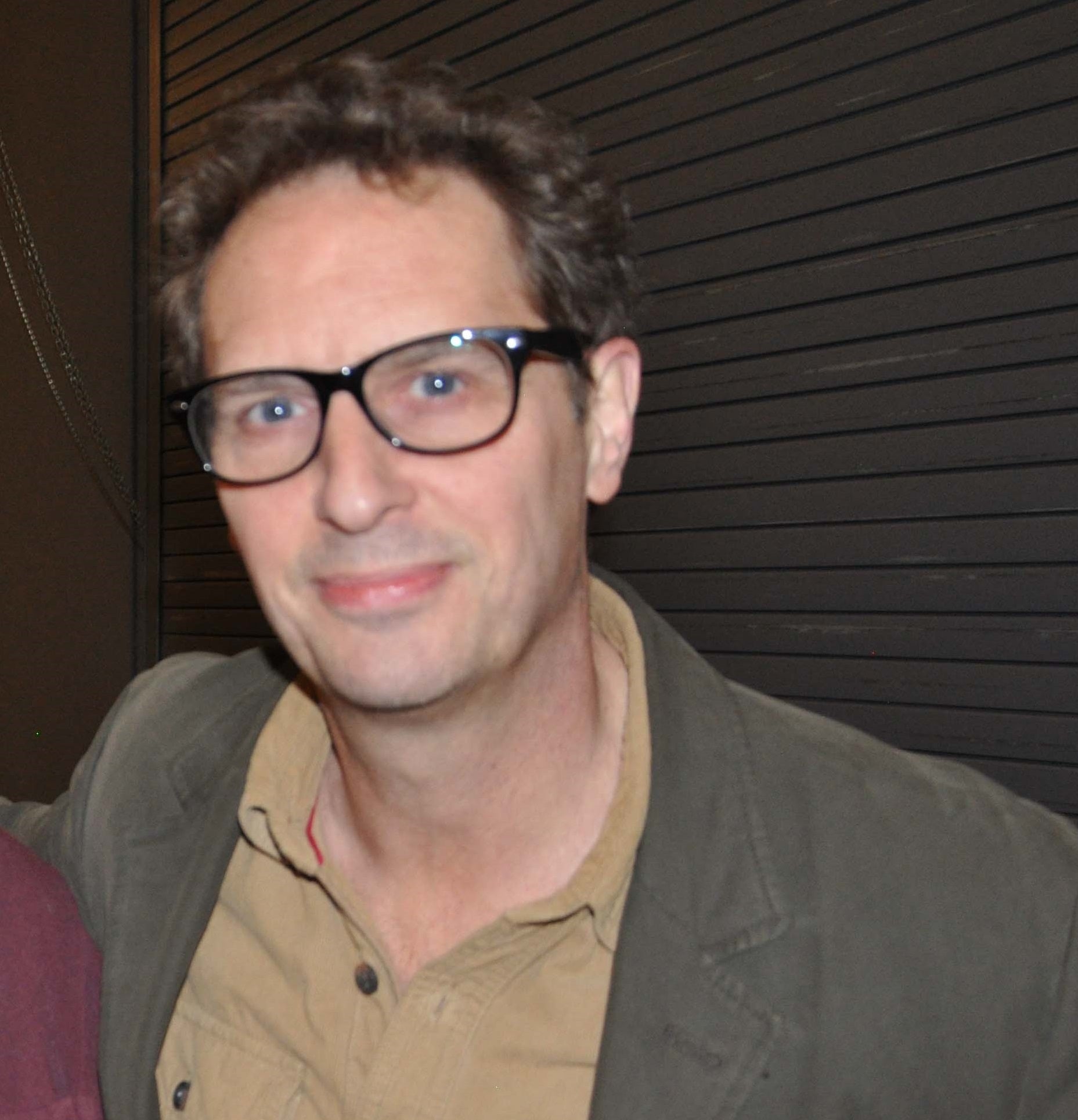 Ralph Lister at the Grand Rapids meeting
On May 18, SAG-AFTRA Director of Locals Administration Marcia Fishman joined West Michigan members for an informal local meeting. Nine members gathered over pizza at Compass College of Cinematic Arts. One made the trip from the Grand Haven/St. Joseph area, and three members made the trip from the east side of the state. Lively discussions always come out of a meeting of these members, and this evening was no exception. Conversations focused on how to help filmmakers understand the process of using union talent in their films, as well as brainstorming ways to get more work for the talent here. We'll look forward to a few coffee connections over the summer and fall months.
Members Volunteer at Reading Night
When a Detroit teacher contacted SAG-AFTRA and practically pleaded to have our members come and read for Pulaski Elementary School's Reading Night, members answered the call. Judy Dery read to a room full of pre-kindergarten through fifth graders, and Shane Carson accepted the challenge of reading to students in the sixth through eighth grades. They were then invited into the school cafeteria to join the students for dinner. Way to go, Judy and Shane!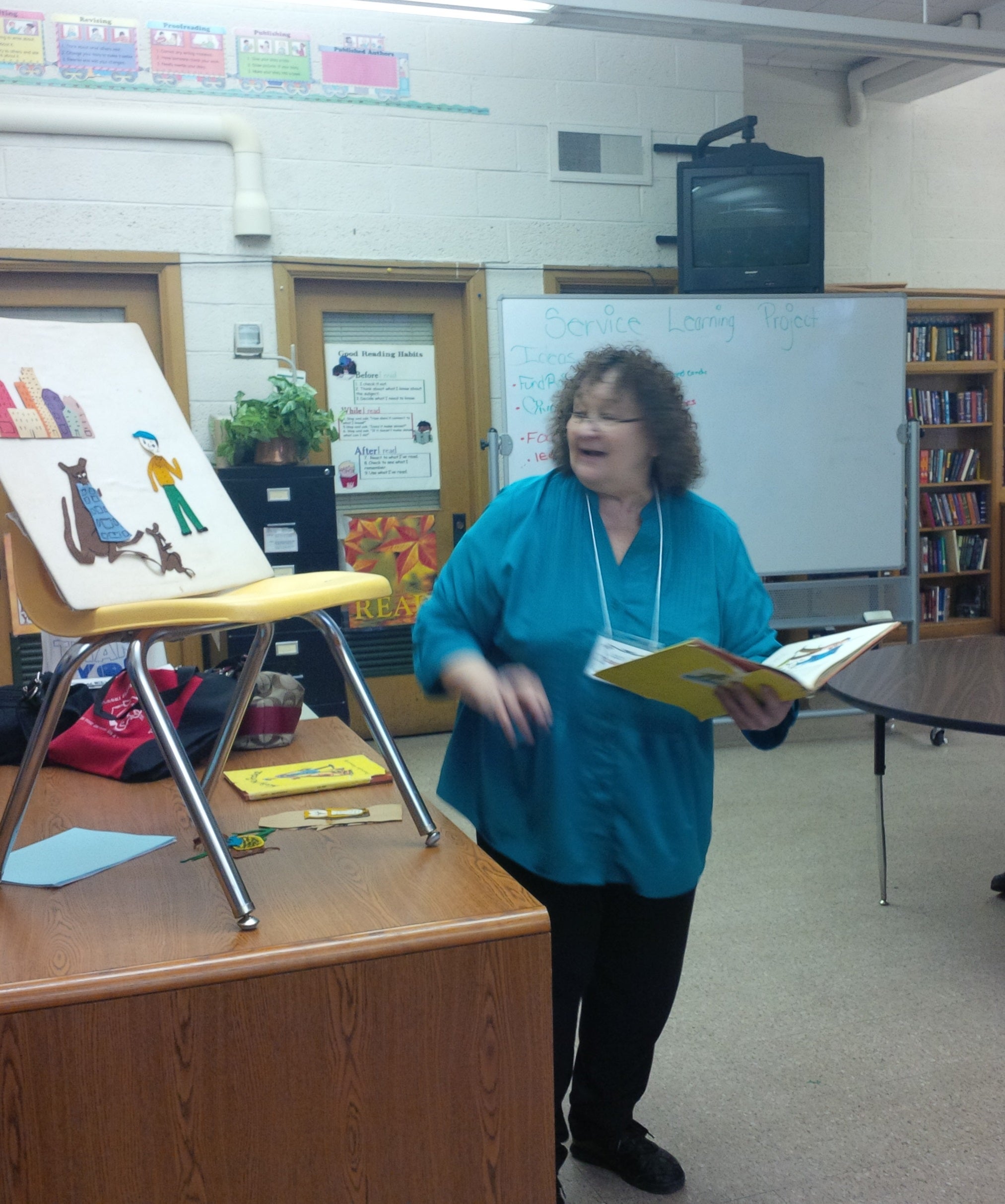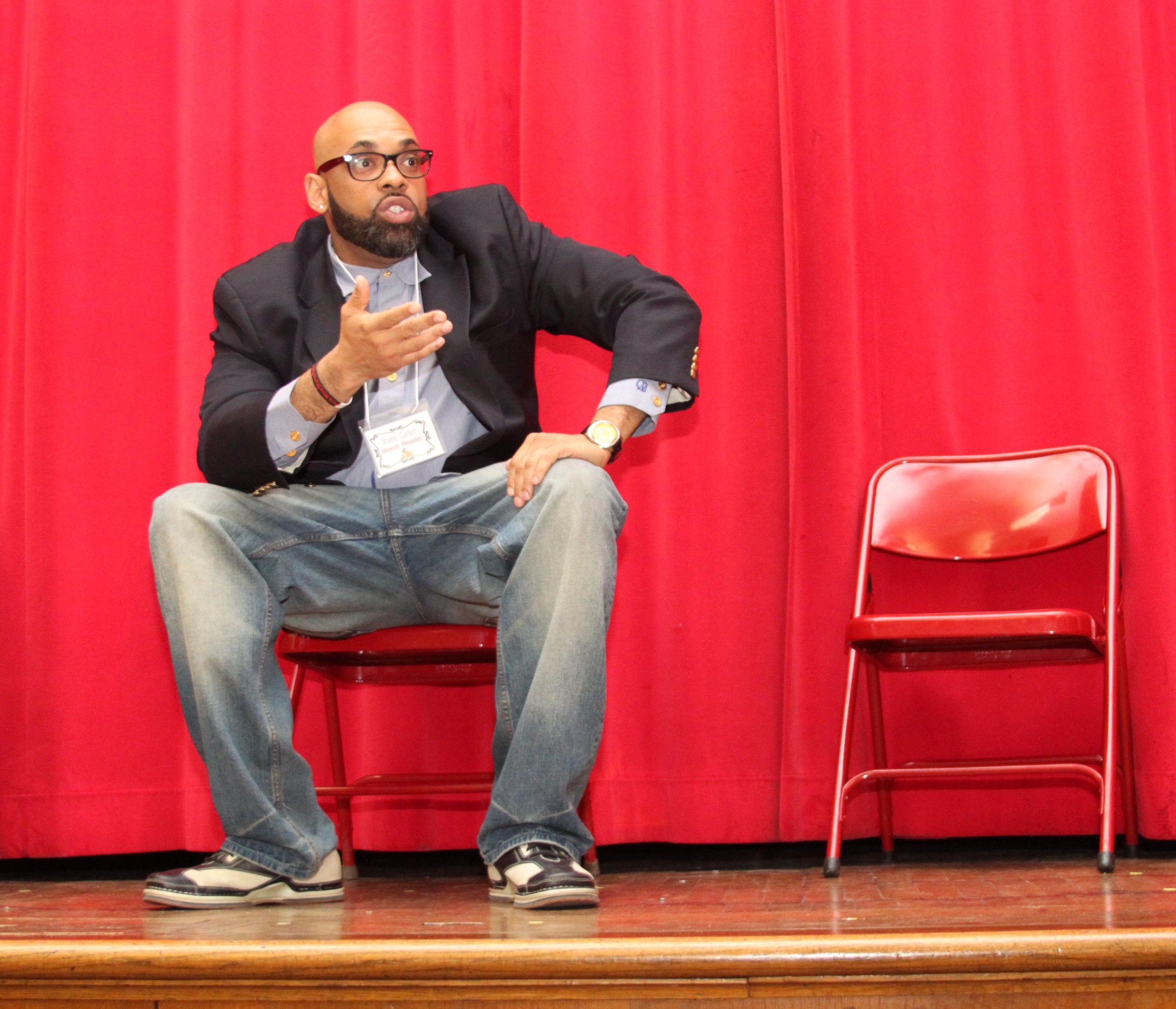 Left, Judy Dery. At right, Shane Carson at Pulaski Elementary School's Reading Night