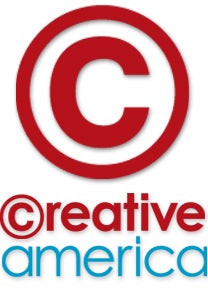 Dear Screen Actors Guild Member,
 
As an actor, you know the harm that is caused when people steal your work. That's why Screen Actors Guild has partnered with Creative America, a new grassroots organization that gives the members of the entertainment community a powerful, unified voice in the fight for stronger laws and policies to protect American jobs and creativity.
 
Creative America is a coalition of SAG, AFTRA, DGA and IATSE, along with studios and networks, working together to fight back against content theft. But we can't do it without your help. Here's what you can do:


Visit the Creative America website at creativeamerica.org and sign up to be a supporter.
"Like" the Creative America Facebook page at facebook.com/creativeamerica. Add your comments and share posts with your friends. Being part of Creative America's online community helps you stay informed and get the word out to others.
Follow Creative America on Twitter @creativeamerica.
Avoid rogue websites that profit off of distributing illegal content.
 
Be part of the fight to stop content theft. It only takes a minute and it helps protect your future.
 
In unity,
 
Ken Howard