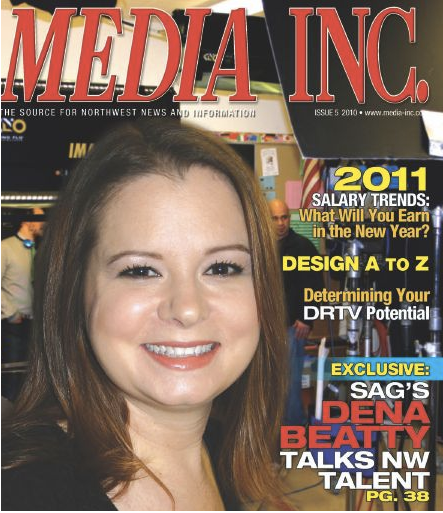 Pacific Northwest SAG members were delighted to find their executive director Dena Beatty as the cover story in Media Inc., a Northwest media marketing publication. Portland National Board Member Mary McDonald-Lewis says, "With our talent, film incentives, burgeoning film and animation industry, this is exactly where Screen Actors Guild belongs — front and center in the eyes of the media industry."
Adds Seattle National Board Member Abby Dylan, "SAG is as important to all media production, whether film, television or new media as production houses, ad agencies, and any other industry partner found in the pages of Media Inc.  It's important for the talent of Portland and Seattle to be a part of this conversation."

From Media Inc. #5, 2010: "SAG in the NW: Big Talent, Bright Future," by Katie Sauro.

"'The word's out — we're here, and we're strong.' Thus proclaims SAG's Pacific Northwest executive director Dena Beatty, beaming proudly at the significant growth the Guild has experienced under her guidance. Since taking over the position a little more than five years ago, Beatty has seen the region swell with exceptional performers and actors — with new members joining SAG regularly — and the creative opportunities have blossomed as well."

Cover photo by Paul Yarnold
Click here to view a digital copy of the magazine.

Click here to view the article.