March 2, 2009
THE ARDUOUS AUDITION PROCESS
By Meagan Lewis
Casting Agent

In 2005, David Mamet wrote a piece for the Los Angeles Times called "The Tyranny of the Audition." What he so brilliantly addressed was the arduous and sometimes ridiculous nature of the auditioning process on the actor. That being said, as a casting director, it is my duty to make this portion of the process as painless as possible for the actors that come to my office. Just as every actor is different, so is every casting director.

There are certain things, however, that can make the process go easier for both parties. First, always bring a headshot and résumé—even if you know the casting director has 12 copies already. We are a forgetful lot and tend to misplace headshots always at the moment when we need them most, so the more copies the better. Also, if you are just getting started in the business and are suffering the understandable angst that goes into the process of deciding on the perfect photo—should it be color or black & white, full body, profile—don't let it make you crazy! In all honesty, we are looking for a true representation of you. If you are new to the process and don't have a headshot, please bring a photo of yourself and a résumé. Even if the only thing on your résumé is a high school play and an acting class, we want to know what you have done and the photo should be a recent shot.

On to the reading… Some casting directors prefer you know the material and others do cold readings. The only thing that is certain is that casting directors like actors. Our job is to help the actor achieve the best possible reading. If a casting director is giving you direction you think is completely wrong, please keep in mind they have had conversations with the director about the role and have an insight you may not be aware of. Also, you should feel comfortable talking about the various directions you would like to take the character; again, casting directors like actors. What you may not realize is that the audition process can be just as daunting for the casting director as it is for the actor.

These are just few insights for you. My name is Meagan Lewis, and I am new to the Louisiana film community. I have relocated after working in New York, Los Angeles, Baltimore and Boston, and I can't wait to meet the local SAG community. Headshots and résumés can be sent to RPM Casting, 1001 South Broad Street, Unit 209, New Orleans, LA 70125.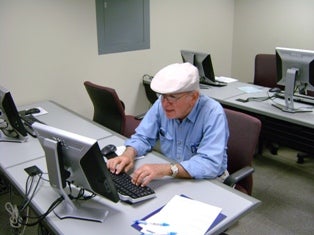 John Wilmot at a recent local iActor training session.
AN INTERVIEW WITH LOCAL MEMBER JOHN WILMOT
By Jason Tomlinson
South Region Executive

John Wilmot has been a performer in the New Orleans area for more than 50 years. He has acted in numerous films, television and stage productions as well as been a principal performer in more than 1,000 national radio and television commercials. John was gracious enough to sit with me and answer a few questions about life as an actor in New Orleans.

How did you get started in acting?

It was my senior year at De La Salle High School and I was forced into doing a play by one of the brothers under threat of detention. He probably couldn't really have sent me to detention for not doing a play, but those brothers could be very imposing when they wanted to be. Back then, acting wasn't thought of as it is today. The tough, macho guys did sports—not theater. So I reluctantly did it. It was a war drama about some soldiers holed up in Italy. I made my entrance from the back wall of the stage. I started up, raced out of the hole under heavy enemy fire, and tumbled off the stage straight into the first row of the audience. Not the greatest first experience to have. But I climbed back up on stage and finished the play. And despite that, it was still pretty well received.

Next, Ursuline Academy, a local all-girls school, asked me to be in their senior play. At first I declined because I had been getting a lot of ribbing from my friends. And as I said, back then acting wasn't really thought of as a macho activity. But then I thought about it and realized it was a great way to meet girls! So I accepted and offered to do it again the next year as a college freshman at Loyola. The first film I did was This Property is Condemned with Robert Redford and Natalie Wood. I worked as Robert Redford's stand-in. The second was The Cincinnati Kid with Steve McQueen and Edward G. Robinson. But after that, my film career dried up for 10 years. Back then one person controlled all of the casting in New Orleans. One day on a set I stood up to him for mistreating extras. I had just gotten tired of seeing some of these people be treated so poorly. Of course he canned me from the picture and I left the set with him screaming, "You'll never work in this town again!" So for 10 years, I had no film work. Finally after a while, I began to audition again because another casting person emerged.

Did you ever go out to Los Angeles?

Yes, when I was about 26 I gathered up all of my good reviews, left the bad ones behind, and rode a train for three days to Los Angeles. And within two weeks I was able to get an agent. It was the same agent who represented Scott Brady, a major star at the time. They sent me to NBC and I was in line to do a TV show called Mr. Novak. Then they sent me to Universal and they wanted to put me on as a contract player. All of this had dropped into my lap out of the blue. I went out to Los Angeles to take small steps and all of a sudden manna from heaven had been dumped into my lap! When I was out there I did the nightlife scene and saw and met a lot of actors who kind of like me had a lot of opportunities basically thrust upon them right when they had started up. We all had all of this work without really having to "pay our dues," so to speak. I saw how burned out with the scene they were and didn't really know if I could handle it that well at the time. At that point I really recognized my immaturity and I didn't want to just rush into anything. So I told the producers I would sign the contract after I returned from New Orleans. I had a few things I needed to tie up before I was ready to commit myself for the long haul. But the producers basically said it is now or never. So I went back to New Orleans and built a legitimate career. I did a lot of commercial work and didn't take a vacation for six years. But that was fine with me because I loved what I was doing. I managed two radio stations and I loved the challenge of FM broadcasting.

How have things changed for the local actor since the tax incentive structure was put in place?

There is a big misconception out there that local actors are getting tons of additional work because of all of the additional opportunities that do exist now. But the thing people don't realize is the competition for these roles has increased with the amount of roles we have here. Before, we were mainly competing against one another, but now we are up against people from North Carolina, Florida, the East Coast, West Coast. When I got the part I had in Last Holiday with Queen Latifah I was up against some pretty heavy-duty people. I did six films in 2008. Some were weekly contracts, some days. One thing to remember is if you are going to compete with these actors from other areas, your credentials need to be in top shape. No old photos. Keep that résumé updated. You need to look and sound just as good if you are going to compete with some of these actors.

Could you describe the process you go through when preparing and executing an audition?

I study the script or whatever sides they give me. I try to get as familiar as I can to the character, trying to relate. I want to get a good handle on what the scene is all about and I try to break it down character by character. Where did this character come from before he entered this room and where is he going after he leaves? So after you do that you are prepared when you enter that room. When you are in the room you need to stand, focus, concentrate and deliver. Sometimes I have the lines memorized for smaller things, but usually I'm just familiar with it. You want to be able to look up but you don't want to try to necessarily do it all from memory because you could forget something halfway through and blow it if you can't regain your composure. And listen to what they say after. They may ask you to adjust something. And you better pay real good attention to this. You don't know the reason they are asking you to do this. It could be that something you did made a bell go off in their mind about some completely different role in another project they may think you are right for. And as an actor you should always feel free to ask certain questions. An example would be, how tight are they shooting this scene? This will let you know how big or small you want to play it. You want to be respectful and responsive to anything they suggest you do but by the same token you should feel free to question and in almost every case they will welcome questions. This will show a deeper interest in the role. But for all the respect you need to show of their time, don't forget it is your time as well. If you have a bad start, which can happen sometimes, don't be afraid to ask to start over. Take a deep breath and give it another shot. That has worked a number of times for me and it sometimes makes all the difference in the world.

If you could choose, where would you like to be in line to audition? Beginning, middle, end?

I shoot for somewhere in the middle. Sometimes they won't be able to grant that request but that is where I would prefer to be. The reason I'm pretty adamant about that is when you are the first or second person in, the casting people are not really sure about themselves. The first few people sometimes act to sort of break the ice. You are sort of the trainee for them before they have really gotten going. You are not really getting their best shot. Even the casting people are sometimes unsure of themselves at first, even though they don't show it. And you don't want to go at the end because a lot of times they are tired and they just want to go home. So the middle is best. Shoot for the middle if you can.

If there was one thing you could teach young actors in the process, what would it be? What is a typical rookie mistake you see all the time?

I think the biggest thing is when they go in and they do it a certain way and the casting person asks them to adjust and they can't because they have a prefixed idea of how the role should be played and their mind shuts down. You need to be prepared as best you see it but keep your mind open if they ask you to change things. Ask questions, but don't try to debate with them. But there is no way to be completely prepared. When an actor is practicing at home, he or she has an idea of how the audition is going to go. It is unavoidable to not imagine the room one way with so many chairs and people in the room. As you prepare, you could be thinking of a well-lit, pleasantly warm room with only the casting director and no one else there. When you actually get in there it could be a poorly lit room with six people and freezing. When we get in there it isn't like you imagined a lot of the time. You can't get too fixated on it being one way, you better be prepared to adjust on the run. An audition encompasses more than just reading. They are seeing how you respond to direction as well. So if you can't adjust to what they are telling you because you have it in your mind it is to be played a certain way, you may come off as being difficult to direct. 

Another thing for auditions and when on the set is be on time. Build up the time to be there early. When they tell you to do something, do it. Don't linger if they tell you to leave, they may need to set up for another shot. Be attentive to everything around you. But conversely, when they ask you to sign documents, don't rush to do it. And ask questions! There are sometimes things that need to be clarified. Don't be timid about asking for a copy of your contract. In virtually every case, it takes some pushing to get that copy, even though the rules say you need one before working. Don't let them mail it. You want a copy in your hand. It has helped me in the past. There have been times where I had asked for a copy of my contract signed by the producer and they tried to say I had only worked a day but I had actually worked a week. So they were on the hook for the full week because I had that document. Give it to me now, not later.

I know that actors of all levels of experience get intimidated by the thought of "rocking the boat." I still feel intimidated. I don't want to rock the boat. I have to compose myself and very politely make my stand about this. Be courteous about it—but be firm. You just have to assert yourself in these situations. That's something a young actor has to remember, it's not just all glamour, there is a business part of this and you have to be creative and business-minded. You are patting your belly and rubbing your head at the same time, which really is a skill in itself. You have to do it. There are too many times where they say they will take care of it later and it doesn't happen. You have to take a stand. It's an uncomfortable feeling that you have to work to overcome. So I try to be patient with all of this; I say something to the effect of "I would appreciate it if I could have this contract and I can't go to the set unless I get it." You are not rocking the boat; you are doing what you should be doing. There are certain business things that have to be handled. You don't have to be nasty about it, just firm. You may not feel comfortable but, hey, you're an actor—act like you are comfortable. Act sure of yourself. Even in recent years I still get unsure of myself when it comes to these discussions. You just have to act like you're not scared or upset.

Why do you think it is important to be a member of the Screen Actors Guild?

It truly identifies you as a professional. Take the situation where two actors are up for the same role and the casting people are just torn. Both are perfect for different reasons and it's a dart-throwing, coin-flipping situation where they don't know what to do. The one who has the professional label, that's the one who will get it. But even more important, being a member of a union gives you an opportunity to earn a pension and medical care. Not only at the end of your career but throughout it. I'm actually just getting cranked up in my career. When you work on these films you get paid pretty good money. If you don't join and no one else joins or others drop out, there won't be a union. And while you have been riding the coattails of others, that base rate upon which you were being paid starts dropping as the union gets weaker. In the long run you are just hurting yourself by not joining SAG. To play the long suit, join as soon as you can. And start trying to earn credits. If you don't ever become vested, you still are getting the contractual day rate because of the union. Join as soon as you can to sustain the union so that it can sustain the level of compensation we otherwise would not be making.

How would you address someone who says, "I understand but I don't want to pass up non-union work…"

You are playing the short suit. I know a number of people that this day could have had pensions for life and free medical but they kept doing that non-union work. While they were making some smaller bucks, they missed out on some much bigger bucks by not joining the union. So you can't serve two masters. If you are serious about the business and you want to be paid the highest possible rate, then join the union. You won't be as successful financially in the long suit if you just play that little hit-miss thing because you will be working for nickels and pennies instead of hundreds of dollars. I have been a SAG member for almost 40 years but I didn't join SAG until I was 40 years old. I was a member of AFTRA and did my commercial work under AFTRA contracts. For not a very big percentage of my earnings in the form of dues I was able to get fully vested in both SAG and AFTRA. It just makes too much sense to not take advantage of the benefits that being a member of the union brings you.

TEACHING IS DOING
By Peter Gabb
Lousiana Council Member

Once we realize we are serious about acting, we want to get training and start looking for a teacher. It is important we don't get caught up in that old truism, "Those who can do, do, and those who can't, teach." Like all truisms, there is some truth in it. Often, those who can't make a career in the field try teaching. But it doesn't end there. What we all seem to overlook is that teaching is something one does, and some people can't do it, regardless of how good they are in the field. If you have any doubts, raise your hand if, in all your school days, you ever had a teacher who couldn't teach. More than one, right?   

All right, now we admit that teaching is doing. Certainly, a teacher has to know his stuff, but don't assume a great actor will necessarily make a great acting teacher. By comparison, how many great coaches were great players? How many great players made lousy coaches? If you're looking for an acting teacher, audition them just like they audition you, not by tracing their acting success, but the progress of their students.

PRODUCTION UPDATE
The Guild has been contacted by the following productions about becoming signatory to one of Screen Actors Guild's collective bargaining agreements. Please be advised these producers may not have completed the signatory process at this time. It is the responsibility of each member to confirm that each producer has signed the applicable contract before making an agreement to render services. Failure to confirm the signatory status before rendering services may lead to disciplinary charges being filed. If you have any questions, please contact the office at (504) 585-7324.

Alabama
Cotton – Low Budget Affirmative Action
New Moon Films LLC
Location: Birmingham
Start Date: January 19

Sons of Thunder – Theatrical
Insight Entertainment LLC
Location: Montgomery; Atlanta
Start Date: March 1

Louisiana
Caged Innocence – Theatrical
United Spirits LLC
Location: Shreveport
Start Date: To be determined

The Chameleon – Theatrical
Chameleon Productions LLC
Location: Baton Rouge
Start Date: February 2, 2009

Dead Whisper – Theatrical
Dead Whisper Pictures LLC
Location: New Orleans; Big Bear, CA
Start Date: To be determined

Dead of Night – Theatrical
Long Distance Films Inc.
Location: New Orleans
Start Date: To be determined

Disconnect – Theatrical
Triumphant Pictures
Location: New Orleans
Start Date: March 10, 2009

The Expendables – Theatrical
Alta Vista Productions LLC
Location: Shreveport
Start Date: To be determined

Eyes of the King – Theatrical
Location: Louisiana (non-specific)
Start Date: To be determined

Happy Holidays Katherine Sloane – Theatrical
Happy Holidays Katherine Sloan LLC
Location: New York, NY; New Orleans
Start Date: February 1, 2009

Mania – Low Budget
Mania Productions LLC
Location: New Orleans
Start Date: March 10, 2009

Three Stories about Joan – Theatrical
Three Stories Productions LLC
Location: Shreveport
Start Date: To be determined

True Blood – TV Series
HBO
Location: Baton Rouge
Dates: February, April and June 2009
truebloodbr@gmail.com

Mississippi
No upcoming productions to report.

COMMERCIAL AUDITIONS: ALWAYS SIGN IN AND OUT
By Marilyn Kirschen
South Region Business Representative

Whether you're attending an audition for a principal role or an interview as an extra, always remember to sign in and out at the casting session. It is a requirement for the producer to provide Audition Report Forms at all SAG commercial casting sessions.

These sheets are submitted to the union and assist us in gathering valuable data. They even could serve to generate some additional payment to you if there are violations at the audition or interview. Generally we cannot pursue a claim for you if you do not fill in the audition report completely and sign out.

The relevant sections of the Commercials Contract are as follows:

"If, at either a first or second audition, the principal performer is required to remain for more than 1 hour from the time of call or arrival, whichever is later, he/she shall be compensated for all time on said call in excess of 1 hour, at straight time, in ½-hour units, at the rate of $35.45 per unit."

"A third audition shall be not less than 2 hours, for which the principal performer shall be paid a minimum fee of $141.80. For all time in excess of 2 hours, the principal performer shall be paid at straight time in ½-hour units, at the rate of $35.45 per unit."

"Extra performers (other than hand models) may be called for the first interview which shall not exceed 1 hour without payment of an interview allowance. For the second hour of interview, extra performers shall be paid 1/8 of such extra performer's applicable minimum wage…"

In addition, in order to process any payment for overtime on a first or second audition or payment for a third or fourth audition, advertising agencies and payroll houses need an identification number. Some companies will not pay if there is no Social Security number or member ID written on the audition sheet. Writing "on file" or any other variation is not the same as writing an identification number and will not protect your contractual rights. We do not recommend that you use your Social Security number, but we ask you to always write down your member ID. That way, if you are ever owed monies from an audition, you will be paid.

For clarification or additional information regarding commercial auditions, contact Marilyn Kirschen, business representative, at (800) SAG-0767, option 5, ext. 228, or via e-mail at mkirschen@sag.org.

iActor: ONE CLICK COULD CHANGE YOUR CAREER
Simple, functional, convenient and free, iActor—SAG's revolutionary online casting directory—is an essential career and production tool. iActor is the only online casting directory that exclusively features SAG members and automated Station 12 cast clearance.

Available to all casting directors working on signatory productions, iActor allows casting professionals to search through members' headshots, résumés and media by any combination of terms, such as gender, ethnicity, special skills or credits.

By creating their résumés and adding their headshots, SAG members will be at the fingertips of the industry's top casting professionals. Members even can use the service to e-mail résumés to casting directors directly, any time of the day or night. To sign up, simply log on to SAG.org. It could change your career.

SAG FOUNDATION SCHOLARSHIPS
Apply today to find out whether the Screen Actors Guild Foundation can help you or a family member with your education or career transition. The 2009 John L. Dales Scholarship application for eligible SAG members and children of members is available now at SAGFoundation.org. Click on Scholarships to view eligibility requirements. There are two types of scholarships, standard and transitional, and the application deadline is March 16, 2009. For more information, contact Davidson Lloyd at (323) 549-6649 or dlloyd@SAG.org.

The Screen Actors Guild Foundation is a humanitarian, educational and philanthropic organization that offers substantive assistance to Guild members and the greater community through its programs. For more information, or to make a charitable donation, please visit SAGFoundation.org.

I AM PWD CAMPAIGN
The Performers With Disabilities Tri-Union Committee of Screen Actors Guild, the American Federation of Television and Radio Artists and Actors' Equity Association launched a major disability rights campaign to increase the visibility and equal employment opportunities for actors, broadcasters and sound recording artists with disabilities throughout the entertainment and news media—I AM PWD (Inclusion in the Arts & Media of People With Disabilities)—with an announcement October 6, 2008, at news conferences in Los Angeles, New York and Washington, D.C., to coincide with National Disability Employment Awareness Month.

Florida Branch President and Co-chair of the Guild's National Performers with Disabilities Committee Steve Gladstone observed, "The struggle for inclusion for performers with disabilities is not unlike the struggle for civil rights in the 1960s. Because we exist on our sidewalks, in our grocery stores, back alleys, court rooms, dance halls and in lovers' triangles, we belong on our big and small screens. We are ordinary folks who are assumed different, but indeed are the same as anyone else."

Robert David Hall, national chair of the Tri-Union Performers with Disabilities Committee, said, "I'm fortunate to have a good career as an actor and creative artist. The normal struggles any performer faces, however, are complicated tenfold by our industry's reluctance to include people with disabilities in the full landscape of entertainment. In the 21st century, media is the world's common cultural environment. Society's values and priorities are expressed and reflected in film, television, theater, news and music. If you aren't seen and heard, you are invisible. People with disabilities are largely invisible within the arts and media landscape. I AM PWD will awaken the general public to the lack of inclusion and universal access for people with disabilities by uniting with a network of industry, labor, community and government allies."

SAG's National President Alan Rosenberg said, "Screen Actors Guild is committed to inclusion of all actors, and will work tirelessly to advocate and seek visibility and equal employment opportunities for performers with disabilities, as they are an integral part of the diverse landscape of the Guild membership and the American Scene."

AEA President Mark Zimmerman said, "Actors' Equity acknowledges that the growth and vitality of our collective industry is dependent upon the principles of equality, diversity and inclusion, and wholeheartedly endorses the I AM PWD campaign. The theater should, and must, reflect the true diversity of our society."

"Our responsibility as union members is to challenge any and all roadblocks to inclusion and access in the workplace," said AFTRA President Roberta Reardon. "AFTRA has led the fight against all forms of discrimination on so many fronts throughout our history and I am proud to be part of this important day in announcing this landmark disability rights campaign. Now is the time to stand together to combat discrimination and truly integrate our brothers and sisters with disabilities into the promise of the American Scene."

The mission of the Tri-Union PWD Committee is to serve as the means to enhance the status and promote the advancement of performers with disabilities; nurture members' knowledge and skills; improve members' professional careers through the sharing and dispersing of information; promote the profession as a whole; further the understanding of the profession and foster understanding and respect for the disabled performers within; develop and improve working standards; and assist in the continuing development of ethical standards for practitioners in the industry.

Over the course of the three-year I AM PWD campaign, the group will reach out to the entertainment and media industries, the general public, political and legislative leaders and to national and global civil rights, labor and community allies in an effort to urge the entertainment industry to open up equal opportunities for disabled performers.

Interested allies are urged to join the I AM PWD network of supporters by signing up at IAMPWD.org.

CHECK OUT thesagshop.com
Visit thesagshop.com for the latest in must-have, union-made merchandise. Buy gifts and accessories that demonstrate your good taste and your union pride.

CONTRACT 2009
Express your thoughts on all of the contracts being negotiated this year. Send your responses, comments and questions to Contract2009@sag.org.

HOW TO CONTACT US
Have a question about contracts, talent agents or your dues status? Need to file a claim? South Region Executive Jason Tomlinson is ready to assist.

Telephone: (504) 585-7324
or (800) SAG-0767
E-mail: jtomlinson@sag.org
Fax: (504) 585-7326
Mail: Screen Actors Guild
1100 Poydras St., Suite 2900
New Orleans, LA 70163

---

For address changes, removals, and misdeliveries, please follow the procedures at:
http://www.sag.org/Content/Public/Email_OptOut.htm