The Official E-Newsletter of the Los Angeles Local
JOIN THE SAG-AFTRA FILM SOCIETY

The 2013-2014 season will kick off in May, just in time to watch those hot summer blockbusters. Because Film Society membership is in popular demand, we encourage all applicants to apply as soon as possible. Membership is granted on a first-come, first-served basis and fills quickly.
Members who have participated in the Film Society in the past know this is a fantastic deal and here's why:
More bang for your buck. Movie tickets are expensive. When you spend $109 on membership, you get access to more than 50 new and prerelease films a year (through April 2014), and receive member-only discounts at local restaurants.
Access to top filmmakers and actors. Each season, there are many additional off-site bonus screenings featuring top producers, directors and film actors. Members have participated in recent Q&A sessions with notable performers such as Amy Adams, Bradley Cooper, Sally Field, Richard Gere, Dustin Hoffman, Jennifer Lawrence, Julia Stiles, Omar Sy, Chris Tucker, Jackie Weaver and Shea Whigham.
Movies make perfect dates. Mark your calendar for the year ahead so you are always ready for the next studio release with your fellow SAG-AFTRA members.
Don't miss out on this amazing opportunity. Space is now available, but not for long. For more information, click here, call (323) 549-6658 or send an email.
SAG-AFTRA WOMEN IN FILM SERIES
Los Angeles Local Co-President and SAG-AFTRA National Vice President Gabrielle Carteris was the featured speaker for Women in Film's January 2013 breakfast, during which she discussed her professional career as an actor and shared valuable insights with WIF members and guests.
"Know what you want. Be true to yourself. You deserve success. You deserve to be paid for your art," said Carteris in an opening statement that aimed to illustrate the value of women professionals in the entertainment industry.
With an extensive career as an actor, Carteris provided industry-specific tips and personal advice to the audience of industry professionals. During the event, WIF members also inquired about her role on Beverly Hills, 90210, reality television, Aaron Spelling and the importance of SAG-AFTRA and member involvement.
When speaking about union work, Carteris explained, "I said no to non-union work because it's not worth weakening our contracts. Whoever says it's easier to do non-union doesn't see it's only easy for that second. It's about the big picture." She told the audience that SAG-AFTRA provides many resources for its members, including health insurance, pensions, safe working conditions and craft-based career resources, among other benefits and programs.
Carteris also told the audience that the mission of the new union is not only to organize work, but to organize a work force that values themselves. She stated, "The union itself is just a name. The members make the union."
DEALS AND DISCOUNTS FOR L.A. MEMBERS
Are you getting discounts around town with your SAG-AFTRA membership? If you aren't, check out these local member deals and take advantage of all that being a SAG-AFTRA member provides.
Burke Williams Day Spa
First-time guests receive discounted pure relaxation massage or spa-style facial.
Westwood Music
Get 10 percent off any merchandise purchase, string instrument repair or music lesson.
Additional Discounts
More of these great deals on beauty, theater and fitness can be found on the Los Angeles Local page.
For more information, contact the Los Angeles Executive Office at (323) 549-6459.
Message from Co-President Vaughn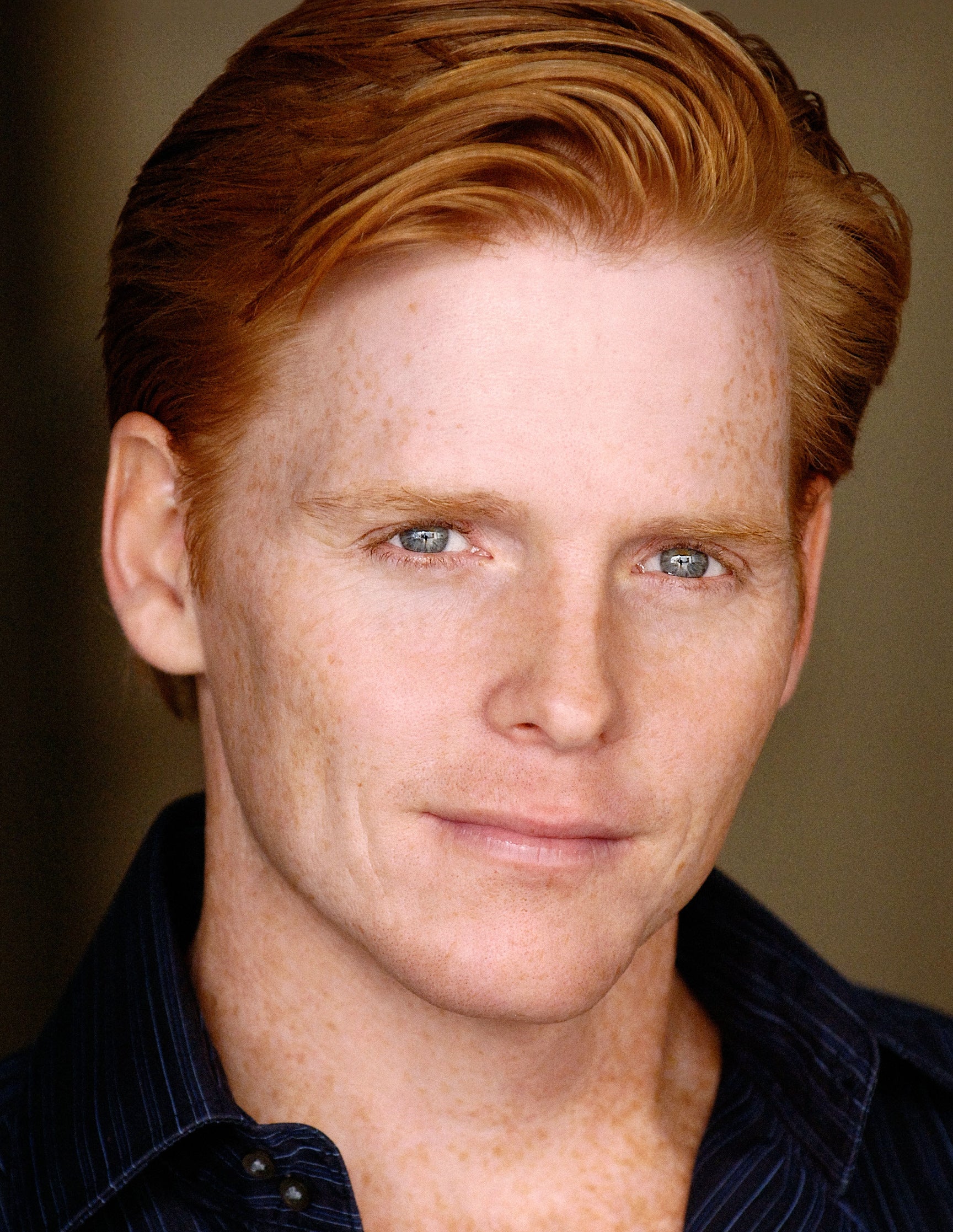 Dear Members,
Happy anniversary! March 30 marks one year since SAG and AFTRA members delivered their historic merger vote, and it has been a busy and productive one. Our second year promises to be even busier, with many important events ahead. Here's a quick look at some of what the next 12 months should include:
Commercials Contract Vote
If the current negotiations are successful, a contract could be voted on by members this spring.
SAG-AFTRA Nationwide Elections
This summer, SAG-AFTRA members will get to choose who fills every elected office in our union (more below).
SAG-AFTRA National Convention in Los Angeles
From Sept. 26-29, hundreds of elected delegates from across the country will assemble in Los Angeles for our first national convention.
SAG-AFTRA TV/Theatrical Contract Nationwide W&W Process
This fall, members will have the opportunity to help prepare for the TV/Theatrical Contract negotiations.
SAG-AFTRA TV/Theatrical Contract Negotiations in Los Angeles
Look for these vital contract talks to begin early in 2014.
All that and much more will be coming your way during SAG-AFTRA's second year. It's an exciting roster of events that will determine the direction of our union and complete a crucial transition that began one year ago.
Many significant milestones were passed in our first year. In addition to securing the first-ever industrywide music video contract with major record labels, we successfully negotiated dozens of broadcast contracts across the country. Here in Los Angeles, SAG-AFTRA won an important organizing victory by adding KPCC-FM — one of the top public radio stations in the nation — to the list of broadcast units we represent. And we are currently negotiating the first-ever SAG-AFTRA Commercials Contract.
Those contract activities are only part of our evolution; another aspect has been the consolidation of the legacy staff and operations structures into a unified organization. Working with elected leaders and staff across the country, National Executive Director David White has carefully managed the continuing process of streamlining and integration. SAG-AFTRA members expect and deserve solutions that will put our new union on the strongest possible footing for years to come, even when that means shedding familiar old ways in favor of new approaches.
So, in the year since merger, we have negotiated numerous contracts, waged multiple successful organizing campaigns, and taken important steps to consolidate and streamline SAG-AFTRA staff and operations. As that work continues, one of the most critical areas of our transition will begin in less than two months: Starting May 15, nomination petitions will be available for those interested in running for elected office in SAG-AFTRA.
The 16-month transitional co-governance of prior SAG and AFTRA elected representatives will end this summer, and SAG-AFTRA members will have the opportunity to elect representatives of their own. Our first election will be unique, because every elected position will be open — from national president right down to hundreds of convention delegate seats across the country. Most important, it will be the first opportunity for SAG-AFTRA members to elect SAG-AFTRA leaders without reference to our legacy unions — making our transformation even more complete. Full election details will be available in the upcoming issue of the national magazine and on the SAG-AFTRA website in May.
Please make sure to mark June 9 on your calendar. That's the date of our next Los Angeles Local membership meeting, and I hope to see you there.
Onward together,
Ned Vaughn
Message from Co-President Carteris 
Dear Fellow Members,
I can't believe it has been a year since we merged our two unions and became SAG-AFTRA. It is amazing how quickly time passes. This is the perfect time for us to pause and reflect on the past year. As you know, the creation of this new union was no small feat. Once the membership voted to unite SAG and AFTRA, the real work began. Across the country, locals comprised of legacy SAG branches and AFTRA locals were put together. Here in Los Angeles, we integrated our legacy staffs into one cohesive work force — helping us recognize what is needed in L.A. while improving communications with our members and the union. While constitutions were crafted and approved, across the country we began the Commercial Wages and Working Conditions (W&W) meetings, set up our commercial negotiating team and are currently in the midst of negotiating one of our biggest contracts in SAG-AFTRA.
Recently, I visited New York for the beginning of the negotiations and must say we have an incredible team of members and staff working on our behalf. It is clear that the W&W Committee and staff worked diligently in assembling the interests of members around the country. The participation of members in this process was extremely important to the comprehensive package presented to the Joint Policy Committee (JPC). Negotiations should be completed in early April, and we hope to provide a contract for your approval shortly thereafter.
In addition, we have been organizing broadcast shops in Los Angeles and negotiating local broadcast contracts. We have an incredible opportunity to negotiate the first KPCC-FM contract in Los Angeles with a 70-member-strong unit. During this time, our staff also negotiated broadcast contracts for our members at KPFK-FM and Total Traffic Network.
What I am struck with, in our preparing for these negotiations, is how you as members recognize how rapidly our industry is changing. I am hoping and encouraging you, as the backbone of what makes this union strong, to get involved. 
As a local, we supported SEIU workers at the Motion Picture Television Fund Hospital, along with other sister unions in our industry. It is apparent that now more than ever we must stand strong within our union and unite our voices with the labor movement if we are to be effective in maintaining what we have worked for and organized, as we move forward.
This leads us to the first and perhaps the most important elections of this new union. The election process of leadership will be familiar, yet different from past elections. We realize there are questions regarding the new election process and be assured that members will be kept fully informed. The national magazine, due later this spring, and beginning in May the SAG-AFTRA website will explain in detail the election process and hopefully answer your questions.
With elections, convention, an L.A. Local membership meeting in June and ongoing and new programs coming, we urge you to read all communications from the union.
I want to thank you for helping build our union, SAG-AFTRA. As Henry Adams once said, "Unity is vision."
In solidarity,
Gabrielle Carteris
SAG-AFTRA Los Angeles Local Membership Meeting June 9
Join Los Angeles Co-Presidents Gabrielle Carteris and Ned Vaughn, the SAG-AFTRA Los Angeles Local Board of Directors and your staff for the SAG-AFTRA Los Angeles Local Membership Meeting. Members can ask questions of elected representatives and staff.
When: Sunday, June 9, 2013
  11 a.m. – 12 p.m./Mixer
  12 p.m. – 3 p.m./Membership Meeting
Where: SAG-AFTRA
  Promenade Level
  5757 Wilshire Boulevard, First Floor
  Los Angeles, California
Validated Parking Provided
This meeting is only open to paid-up SAG-AFTRA members in good standing. Unfortunately, no guests allowed. There will be an opportunity for members to ask questions of elected and staff. Parents/guardians of young performers under 18 years old are welcome. No RSVP necessary. SAG-AFTRA MEMBERS, PLEASE BRING YOUR MEMBERSHIP CARD FOR ADMITTANCE (paid through April 30, 2013). All bags larger than 14 inches in any dimension will be prohibited from entry. No pets or animals, with the exception of animals in service.
Trailblazers: Stunt Performers of Color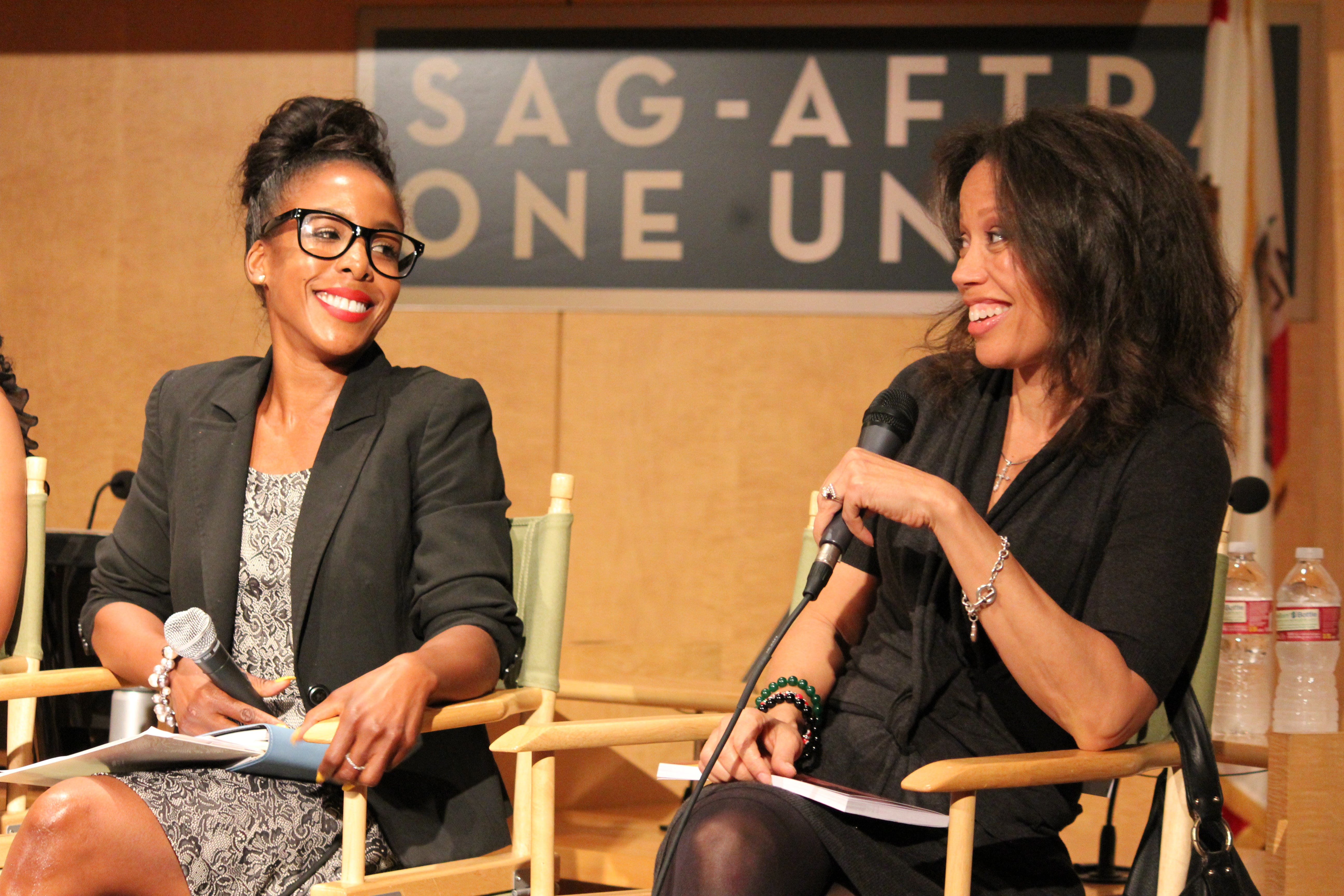 Crystal Michelle and Angela Meryl at Making the Action Happen: Stunt Performers of Color
The bigger the stunt, the better the action, right? But, what about the stunt performer?
SAG-AFTRA, in partnership with the Beverly Hills/Hollywood NAACP, presented its fifth event in the Profiles of Color program series: Making the Action Happen: Stunt Performers of Color. This engaging panel examined the history of stunt performers of color and the lives of these bold and courageous stuntmen and women. The panel, moderated by SAG-AFTRA Policy, Diversity and Advocacy Director Ray Bradford, featured stunt performers Jade David, Liana Mendoza, Angela Meryl, Crystal Michelle, Bob Minor, Simon Rhee and April Weeden.
The panel not only examined issues of color and gender barriers, but emphasized the level of commitment required to be a successful stuntperson. "It takes a special individual to be a stunt performer," explained Mendoza. Each panelist told stories that demonstrated their level of commitment to their craft, including details of dangerous and difficult stunts, excruciating injuries and near-death experiences. It was quickly apparent that stunt work required blood, sweat and maybe even a few tears.
Ron Hasson, branch president of the Beverly Hills/Hollywood NAACP, presented certificates on behalf of the branch and Rep. Karen Bass, honoring all panelists for their commitment, contributions and dedication to the community.
Walk for a Cure at the EIF Revlon Run/Walk 
Join fellow SAG-AFTRA members and thousands of walkers and runners in the fight against women's cancers at the 20th annual Entertainment Industry Foundation Revlon Run/Walk for Women on May 11 in Los Angeles. The EIF Revlon Run/Walk for Women raises vital funds that support research to determine the cause of women's cancers and find a cure. Opening ceremonies begin at 8 a.m. at the Los Angeles Memorial Coliseum at Exposition Park
To participate, register here with a credit card and indicate you are part of the SAG-AFTRA Team. If you do not wish to sign up online, call team captain Leslie Slomka at (323) 549-6447 to get a registration form. Volunteers are also welcome. If you have questions or need additional information, call Leslie Slomka or email her. We look forward to seeing you there!
MOVE LA Asks: How Do You Reinvest and Rebrand Your Career?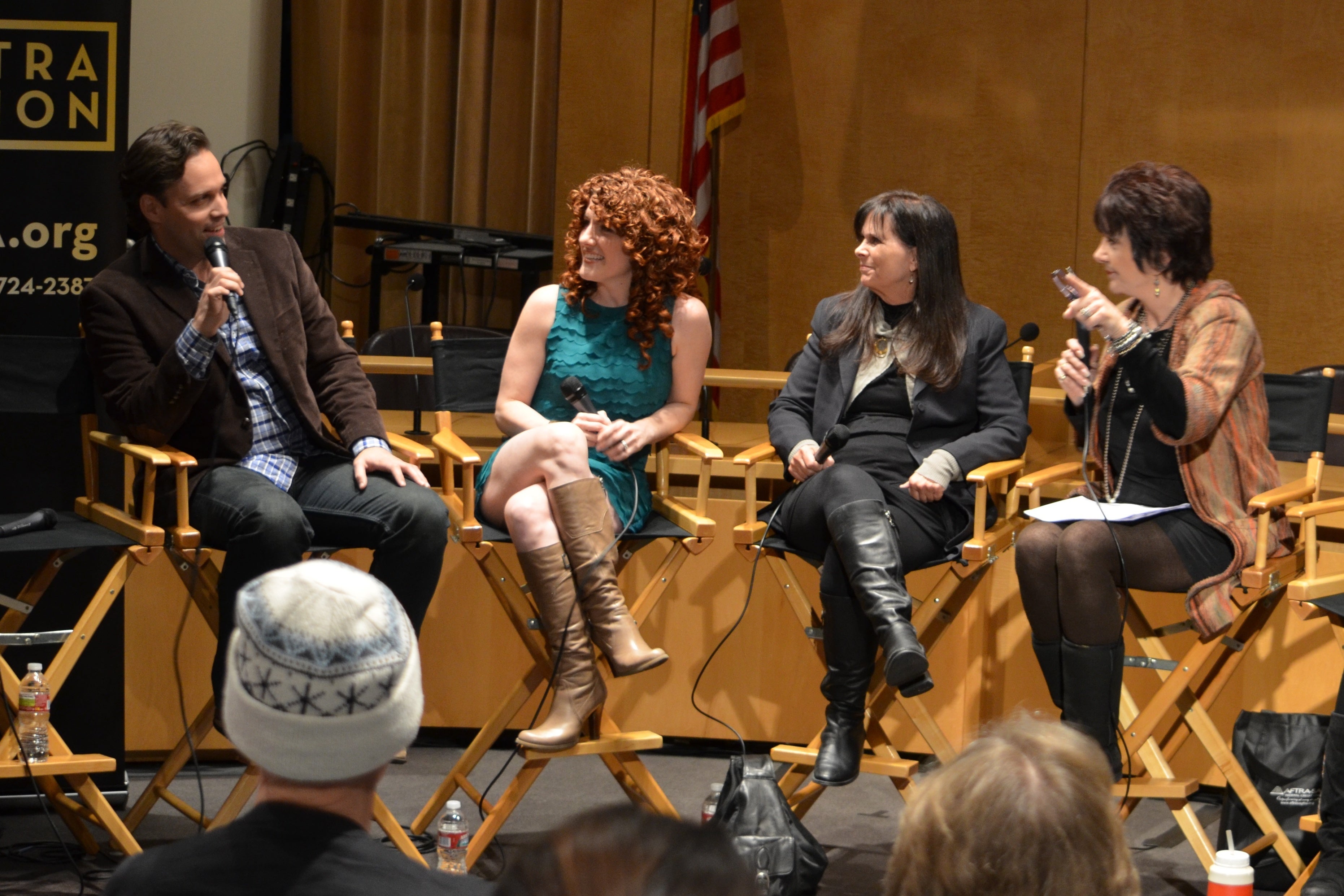 As an entertainment industry professional, you know how fast the industry evolves; especially with the rise of social media tools. As a result, there are moments when you must reinvest and/or rebrand your career to remain current. MOVE LA recently hosted Act II of Your Career: Reinvesting and Rebranding, a panel featuring industry experts who explained the importance of your Internet presence, professional image and presentation.
More than 150 members gathered at SAG-AFTRA for the program moderated by SAG-AFTRA member actor Lee Garlington and featuring industry professionals Jodie Bentley and Kevin Urban (co-founders, The Savvy Actor), Lisa Berman (agent, Berman/Sacks Talent Agency), Pam Dixon (casting director), SAG-AFTRA member actor Benito Martinez and Deborah Mellman (publicist, Mindful Media Group).
The evening began with a candid discussion about what it means to "brand" yourself and the importance of doing so. Dixon, described good branding as, "Showing why you are different than someone else I am looking at." Other panelists placed more emphasis on social media: what it is, how to use it and how often it should be used. Bentley discussed the power of a social media presence and its importance to performers. She explained that casting directors may look at an individual's social media presence and how many followers and friends are on the performer's profile. "Influence over your community is what casting directors look for," said Bentley.
During the question-and-answer period, the panelists provided many useful tips and resources for performers. Interested in more details about this discussion? View the entire event here.
For more information about the MOVE LA Committee, click here.
 ● Sagaftra.org/movela ● Facebook: /sagaftramovela ● Twitter: @sagaftramovela ● (323) 549-6894
SAG-AFTRA LA Presents the Golden Age of Radio … Love is On the Air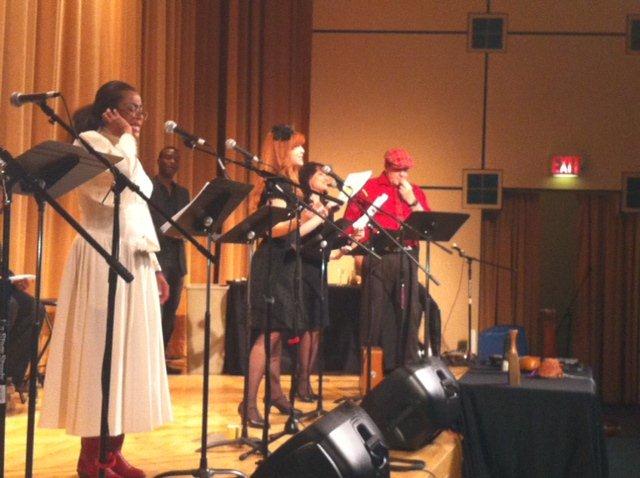 Since it began in 2010, the SAG-AFTRA Radio Play (SARP) Committee has recreated radio classics that celebrate the history of live radio broadcasts and entertain the SAG-AFTRA members and radio fans in attendance. The programs, free of charge and offered in partnership with the Autry Museum, are presented in the museum's Wells Fargo Theater without props or staged acting techniques, brought to life through the actor's talented voices. Members who participate — whether as the show's director, cast or crew — have the opportunity to enhance their creative and voiceover skills, among the other benefits of participating.
In February, in the spirit of Valentine's Day, the SARP Committee presented Love is On the Air to a full house, featuring Blondie, directed by Bob Telford, and The Judy Canova Show, directed by Clyde Sacks. Each show kept the crowd laughing throughout the evening. Audience members had the opportunity to visit the museum galleries and enjoyed light refreshments before the night's entertainment began.  
The SARP Committee will return to the Autry Museum in June. For more information, contact the Member Education Programming Department, (323) 634-8277.
Protecting Young Performers, Conversations with SAG-AFTRA
Ever find yourself concerned about the type of food served on set and whether your child would eat it? Most performers may not, but if you are a parent of a young performer this could be a very important issue. This was one of the many topics discussed by concerned parents at the last Conversations with SAG-AFTRA panel discussion presented by The Actors Fund Looking Ahead Program and its Leadership Council Parents Group, which seeks to create community and support for parents of young performers. Panelists included Elizabeth McLaughlin, co-chair SAG-AFTRA National Young Performers Committee; Zino Macaluso, national director/senior counsel, Agency Relations; Ilyanne Morden Kichaven, executive director, Los Angeles Local; and Ray Rodriguez, assistant national executive director, Contracts. Panelists updated parents on merger and resources and support available to SAG-AFTRA's young performers, among other topics. Parents expressed concerns they had for their children while on set and asked questions about SAG-AFTRA contracts.
Tina Hookom, The Actors Fund's director of social services for the Western Region, commented, "It was very useful to hear history and new information, and important to hear the core intentions of the union."
To learn more about the Looking Ahead Program, click here.
Fun with Fellow Members at L.A. SAG Awards Viewing Party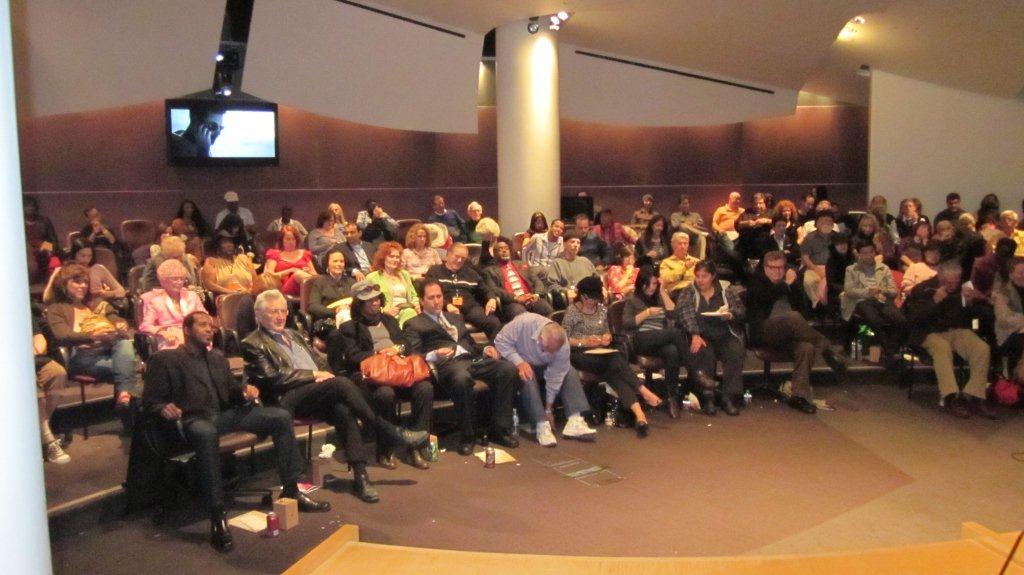 There is no better way to watch the SAG Awards than with fellow SAG-AFTRA members at the official SAG Awards viewing party. Nearly 250 Los Angeles Local members turned out to SAG-AFTRA headquarters to attend the annual L.A. Local SAG Awards viewing party on Jan. 27. The SAG Awards viewing party, which reached capacity in 10 minutes, is still the most popular event produced by the Los Angeles Host Committee. This year, the show was screened in both the James Cagney and Frank Maxwell Board Rooms to accommodate the audience of enthusiastic Los Angeles Local members.
To capture the glitz and glamour of the evening, members watched red carpet arrivals while enjoying a light supper, made their own predictions for winners on voting cards and entered raffles to win door prizes awarded throughout the evening. It was an evening filled with enjoyment and fun for all in attendance.
Check out the 2013 highlights and new details on the 2014 SAG Awards here.
Workshop Examines Relationships with Agents and Managers
Are you professionally ready to have representation (agent or manager)? During this workshop, learn how to research representation, create a focused target list and ask the right questions. Register today for Getting, Keeping and Maximizing Relationships with Agents & Managers with Richard Lawson.
When: 2-4 p.m., Tuesday, April 2, 2013
Where: SAG-AFTRA
James Cagney Board Room – Lobby Level
5757 Wilshire Blvd.
Los Angeles, CA 90036
Parking will be validated
For more information and to RSVP, click here. Questions? Call (323) 634-8277.
Save the Date
Los Angeles Local Healthcare SafetyNet Committee proudly presents the free SAG-AFTRA Traditional-Alternative Health Fair
Wednesday, May 15
10 a.m. – 3 p.m.
SAG-AFTRA Headquarters
5757 Wilshire Boulevard
Los Angeles
More Details to Follow
LOS ANGELES LOCAL
5757 Wilshire Blvd., 7th Floor
Los Angeles, CA 90036
Main Switchboard (323) 954-1600
la@sagaftra.org
Fax (323) 549-6445
For SAG-AFTRA departmental contact information, click here.