The Washington - Mid Atlantic Local Participates in Toys for Tots Campaign
Start:
11/13/2012 - 5:00pm
We are very pleased to announce that this holiday season the SAG-AFTRA Washington - Mid Atlantic Local will be joining forces with the AFL-CIO, the Building and Construction Trades Department of the AFL-CIO and Helmets to Hardhats in their 4th annual campaign to collect toys and monetary donations for the U.S. Marine Corps Reserve Toys for Tots Program.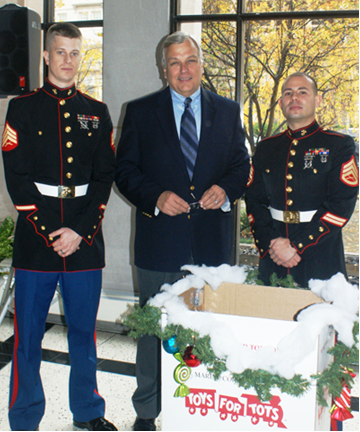 The Washington - Mid Atlantic Local started their Toys for Tots drive today.
Local Co-President Kirk Penberthy attended the Toys for Tots Kickoff Ceremony at the AFL-CIO.
When: Monday through Friday (9 a.m. – 5 p.m.)
Now until noon on Thursday, Dec. 13, 2012
 
Where: SAG-AFTRA Office
7735 Old Georgetown Road
Suite 950
Bethesda, MD 20814
 
What: Donations of new, unwrapped toys for infants through age 16. Monetary donations can also be dropped off at the local office. Please make checks payable to "DC Toys for Tots."
 
The coordinated efforts of last year's participants resulted in over $77,000 in toys and monetary donations to the Toys for Tots program. We hope that our local's added participation will help to increase those donations and bring even more smiles to children.
 
If you have any questions or need additional information, please contact Anee Raulerson at anee.raulerson@sagaftra.org or at 301-657-2560, ext. 864.
 
Thank you in advance for your participation!