Join Us for a Holiday Open House to Benefit the Washington – Mid Atlantic Local's Toys for Tots Campaign
Start:
12/12/2012 - 10:30pm
End:
12/13/2012 - 12:30am
The SAG-AFTRA Washington – Mid Atlantic Local will be hosting a holiday open house for its members at the local office. Light refreshments will be provided. We only ask that you bring a new, unwrapped toy or monetary donation for the local's Toys for Tots campaign. Meet your staff and fellow members, see your local office, and bring the gift of joy to a child all in one day.
 
What: Holiday Open House
 
When: 2:30 - 4:30 p.m., Wednesday, Dec. 12, 2012
 
Where: SAG-AFTRA Office
7735 Old Georgetown Road, Suite 950
Bethesda, MD 20814
 
Please Bring: Donations of new, unwrapped toys for infants through age 16. Monetary donations can also be dropped off or mailed to the local office. Please make checks payable to "DC Toys for Tots."
 
If you are unable to attend the open house, you can still participate in the Toys for Tots campaign by bringing your donation to the local office between 9 a.m. and 5 p.m. Monday through Friday. Donations will be accepted at the local office until noon on Thursday, Dec. 13.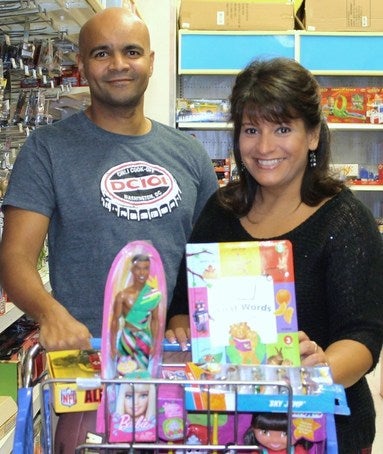 Taking a note from Santa's playbook, Local Board member Greg Roche and Local Co-President Julie Wright take a minute to check their list twice while participating in the Toys for Tots campaign.
 
If you have any questions or need additional information, please contact Anee Raulerson at anee.raulerson@sagaftra.org or at 301-657-2560, ext. 864.
 
With donations from local members and staff, our partners at the AFL-CIO, the Building and Construction Trades Department of the AFL-CIO, Helmets to Hardhats, and members of the union community, we hope to brighten the day of children throughout the region this holiday season. Please make your donation today.