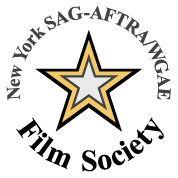 Online registration for the 2016-2017 season of the New York SAG-AFTRA/WGAE Film Society will start on Thursday, July 14th.  Details to follow in early July. 

Film Society at a glance:
Membership is by application only and accepted on a yearly basis.
The season's renewal is $140 for those with a tan barcoded membership card; $150 for new members or for members needing a new tan card. 
During the season, replacement of a barcode membership card—for any reason—is $25.
Your membership card will admit you (and an accompanied guest) to view the screenings of 24+ films during the season. (Additional bonus screenings may be scheduled during the season.)
The new season begins in Sept. and runs through Aug. 31, 2016.
Check the hotline or this website for film titles and screening updates.
Unless otherwise specified, screenings will take place on Mondays and Tuesdays at 1 p.m., 3:30 p.m., 6 p.m., and 8:30.
Interested in a free membership to the Film Society? Please see details regarding this exciting new referral program by clicking here.
DGA Theater
New York Film Society Screenings are held at the DGA theater unless otherwise noted.
Directors Guild of America Theater
110 West 57th Street
(between 6th and 7th Avenues)
New York Film Society Contact Information
Film Society Hotline: (212) 827-1592
Film Society Email: nyfilmsociety@sagaftra.org
NY Film Society Office
1900 Broadway, 5th Floor
New York, NY 10023
Tel. (212) 827-1448
Fax (212) 944-6774
More Information
To receive email blasts of our upcoming viewing schedule please send an email with your name, SAG-AFTRA Member # and updated email information to nyfilmsociety@sagaftra.org.
To update your mailing information with SAG-AFTRA please contact the New York Membership office at (212) 944-6243 or nymembership@sagaftra.org.
Please Remember...
No Smoking! No food or drink–including water!
Your Film Society membership will be in jeopardy
Click here for our rules and guidelines.
July Dates at the DGA Theater at 110 West 57th Street (between 6th and 7th Avenues)


Monday, July 11
CAFÉ SOCIETY
Regular Times 1, 3:30, 6 & 8:30 p.m.
Starring: Jeannie Berlin, Steve Carell, Jesse Eisenberg, Blake Lively, Parker Posey, Kristen Stewart, Corey Stoll, Ken Stott
Directed by: Woody Allen
Written By: Woody Allen
Courtesy of Amazon Studios and Lionsgate
Running time: 96 Minutes
Rated: PG-13
Nationwide Release: July 15, 2016


Tuesday, July 12
THE BFG
Regular Times 1, 3:30, 6 & 8:30 p.m.
Starring: Mark Rylance, Ruby Barnhill, Penelope Wilton, Jemaine Clement, Rebecca Hall, Rafe Spall, Bill Hader
Written by: Melissa Mathison based on The BFG by Roald Dahl
Courtesy of Walt Disney Studios Motion Pictures
Running time:  115 Minutes
Rated: PG **Please note that the age restriction has been reduced to 10 years old.**
Nationwide Release: July 1, 2016


Monday, July 25
CAPTAIN FANTASTIC
Regular Times 1, 3:30, 6 & 8:30 p.m
Starring: Viggo Mortensen, Frank Langella, Kathryn Hahn, Steve Zahn
Directed by: Matt Ross
Written By: Matt Ross
Courtesy of Bleecker Street
Running time: 118 Minutes
Rated: R
Nationwide Release: July 8, 2016



Tuesday, July 26
STAR TREK BEYOND IN 3D
Extended Times 12, 3, 6 & 9 p.m.
Starring: John Cho, Simon Pegg, Chris Pine, Zachary Quinto, Zoe Saldana, Karl Urban, Anton Yelchin, Idris Elba
Directed by: Justin Lin
Written by: Simon Pegg and Doug Jung
Courtesy of Paramount Pictures
Running time: 120 Minutes
Rated: PG-13
Nationwide Release: July 22, 2016

Screening times are subject to change due to the running time of the films changing.