Member Discount: Produced By: New York, Oct. 28
Start:
10/28/2017 - 8:15am
Member Discount: Produced By: New York, Oct. 28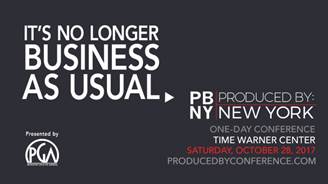 As a loyal member of SAG-AFTRA, you strive to stay current and connected with the industry. One of the best ways to accomplish this is to take full advantage of all the opportunities New York has to offer by joining the Producers Guild of America (PGA) for Produced By: New York.
When: 8:15 a.m. – 7:30 p.m., Saturday, Oct. 28
Where: 1 Time Warner Center
(Enter at 58th Street, between Eighth and Ninth Avenues.)
New York, NY 10019
This year the PGA is offering SAG-AFTRA members an even more significant discount to attend the one day conference of panels, workshops, mentoring roundtables and networking events.
Produced By: New York is your gateway to business relationships – new and old.
Meet with like-minded creative teams in a peer-to-peer industry setting. Connect with top names in financing, budgeting, production, marketing, distribution and augmented and virtual reality.
Session highlights include:
360 Profile: Amazon Studios: A wide-ranging discussion with head of motion picture production Ted Hope and head of comedy, drama, and virtual reality Joe Lewis.
Content is King: Meet the Buyers: Featuring senior executives from History, National Geographic, TLC and others.
The Power to Shake It Up: A panel of visionary women creating spaces for fresh voices to tell their stories.
Conversation with Anthony Bourdain and Lydia Tenaglia: The duo share producing stories and insights from their many projects.
James Schamus: Does Cinema Have a Future?
Scripted Series Content: From Pitch to Post
Producers' Masterclass: The Power of Creative Collaboration
Mentoring Roundtables: Small groups of up to eight attendees will have the chance to ask questions of and seek advice from top producers. Roundtables are available to all paid attendees for an additional $100 fee.
Register: Use promo code SAGAFTRA17 for a $50 discount off the regular industry rate. Produced By: New York is presented by the Producers Guild of America. For more information and to register, click here.
The products and services noted herein are provided as an informational service to SAG-AFTRA members and are administered by entities independent of SAG-AFTRA. Any questions must be handled by the provider. This information is not intended to serve as an endorsement nor is any warranty or guarantee implied.