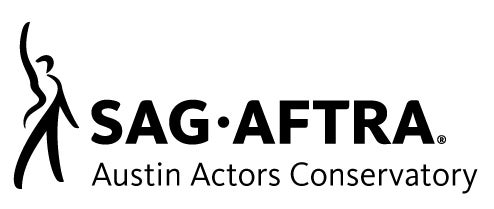 The Austin Actors Conservatory is dedicated to providing unique and relevant education workshops, seminars, readings and creative opportunities in Austin. Our mission is to provide professional training and industry networking opportunities that will raise the level of professional talent, create homegrown industry opportunity and bring more business to members.

The Austin Actors Conservatory offers information you can use!

• Professional Actor Training
• Demo/Headshot/Resume Workshop
• Agent and CD Panels
• On-Camera Technique Workshop
• Producer Panels
• Voice-over Workshop
• Industry Contract Seminars
• iActor® Training
• New Media and Video Gaming Info
• State Film Incentive Information
You can become a MEMBER of the Conservatory if you are a current/paid-up member of SAG-AFTRA. A yearly membership fee of $35 gives you access to workshops, seminars and Script to Screen readings throughout the calendar year. Click HERE to apply online, or click here to download the MEMBER application and mail it with your check.

If you are currently not a member of SAG-AFTRA, you can become a FAN of the Conservatory by completing the FAN application. Each seminar and workshop will be available to you for $35. Click here to download the FAN application, circle the event you wish to attend and mail it with your check.

Make checks payable to SAG-AFTRA CONSERVATORY and mail to:

SAG-AFTRA
ATTN: Austin Actors Conservatory
15110 Dallas Parkway, Suite 440
Dallas, TX 75248

To learn more about the Script to Screen program, click here.

Need more information?
(800) 922-3872 or (214) 363-8300
Email: sheila.rosenberg@sagaftra.org

2015 Workshop Schedule
To register for the event, go to:
http://www.sagaftra.org/locals/houston-austin/austin-conservatory
Times and locations to be announced. Events subject to change.
January 18 – Tom Todoroff Master Acting Class
January 25– SAG Awards Viewing Party
February 28 – Meagan Lewis, CSA (New Orleans Casting Director)
MEMBERS ONLY
April 26 – Regional CD Workshop – MEMBERS ONLY
May 17 – Agent Seminar - MEMBERS, FANS AND GENERAL PUBLIC
June 20 (Sat) – Master Class with CD Barbara Divisek and Director Ray
Bengston 10am-1pm – MEMBERS ONLY PARTICIPATION – AUDITING
BY FANS/PUBLIC
August 23 – Script to Screen Live Read
September 13 - MIXER AT W – MEMBERS and INDUSTY ONLY
October 18 – Just Shoot Yourself – MEMBERS, FANS AND GENERAL
PUBLIC
The Austin Actors Conservatory is dedicated to providing unique and relevant education workshops, seminars, readings and creative opportunities in Austin. Our mission is to provide professional training and industry networking opportunities that will raise the level of professional talent, create homegrown industry opportunity and bring more business to members.