Broadway in the Boros: 2017 – Brooklyn, June 23
Start:
06/23/2017 - 12:00pm
Broadway in the Boros: 2017 – Brooklyn, June 23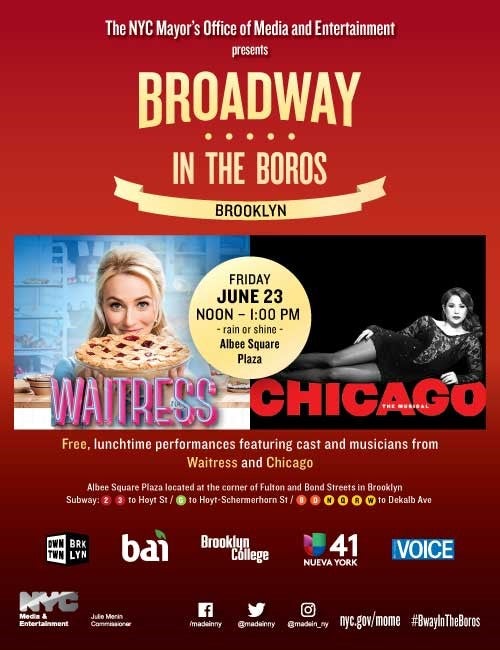 Mark your calendars! This summer Broadway comes to public parks and plazas throughout the city when the Mayor's Office of Media and Entertainment presents a spectacular line up of shows for
Broadway in the Boros: 2017
. These live performances will feature the casts and musicians from hit Broadway musicals and are free and open to all.
When: Noon – 1 p.m., Friday, June 23
(Rain or shine)
Where: Downtown Brooklyn at Albee Square Plaza
(Corner of Fulton and Bond Streets)
Save the dates for the next three shows:
July 21: Queens
July 24: Bronx
July 28: Staten Island
 
For details about all shows visit nyc.gov/mome.
Join the conversation online at #BwayInTheBoros.

The products and services noted herein are provided as an informational service to SAG-AFTRA members and are administered by entities independent of SAG-AFTRA. Any questions must be handled by the provider. This information is not intended to serve as an endorsement nor is any warranty or guarantee implied.