13th Annual SAG-AFTRA New York Broadcast Mentoring Program
Start:
04/08/2017 - 10:00am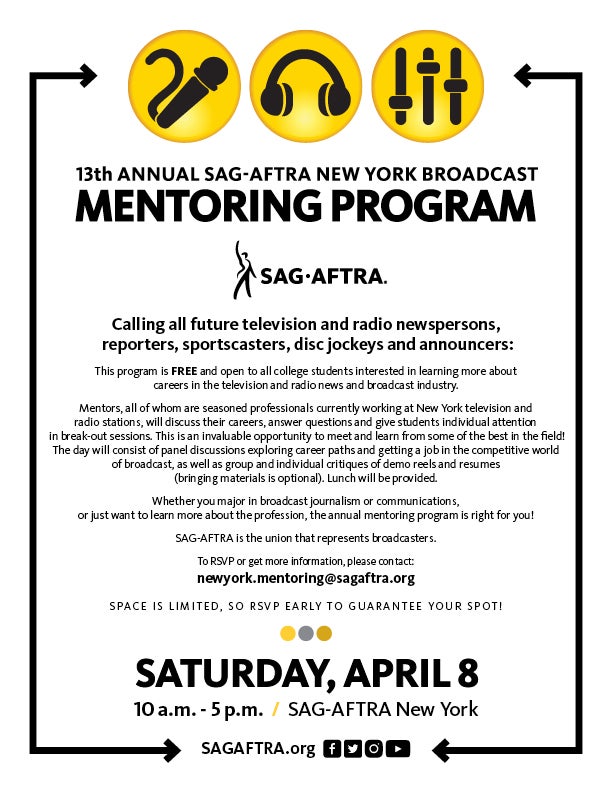 Calling all future television and radio newspersons, reporters, sportscasters, disc jockeys and announcers:
When: 10 a.m. – 5 p.m., Saturday, April 8
Where:  SAG-AFTRA
1900 Broadway, 5th Floor
New York, NY 10023
(Between 63rd and 64th Streets)
This program is FREE and open to all college students interested in learning more about careers in the television and radio news and broadcast industry.
Mentors, all of whom are seasoned professionals currently working at New York television and radio stations, will discuss their careers, answer questions and give students individual attention in break-out-sessions. This is an invaluable opportunity to meet and learn from some of the best in the field! The day will consist of panel discussions exploring career paths and getting a job in the competitive world of broadcast, as well as group and individual critiques of demo reels and resumes (bringing materials is optional). Lunch will be provided.
Whether you major in broadcast journalism or communications, or just want to learn more about the profession, the annual mentoring program is right for you!
SAG-AFTRA is the union that represents broadcasters.
To RSVP or get more information, please contact: newyork.mentoring@sagaftra.org
SPACE IS LMITED, SO RSVP EARLY TO GUARANTEE YOUR SPOT!